Man arrested on warrants
|
December 10, 2021 1:00 AM
PRIEST RIVER — A man wanted on a trio of warrants connected to a sex offense case was arrested at gunpoint near Mac's in Priest River after concerns were raised he might try and shoot it out with police.
James Ray Holbert, 45, was being sought on two felony charges of lewd conduct and a felony charge of witness intimidation, Bonner County Sheriff's Det. Barry Reinink said.
Police were advised Holbert had made comments he might try and shoot it out with police if they tried to arrest him. Holbert, who was known to carry weapons, also was known to keep a "go bag" with him, Reinink said.
Reinink said law enforcement worked to make the arrest go as peacefully as possible and without putting Holbert into a corner where something could go wrong.
While Holbert initially tried to reenter his vehicle, where a rifle was later found, he ultimately surrendered peacefully, Reinink said.
Holbert was booked into the Bonner County Jail where he is being held on the charges. At a first appearance hearing, Holbert's bail was raised to $500,000.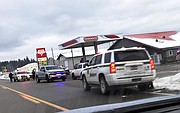 Recent Headlines
---