Fiber-optic broadband now in Blanchard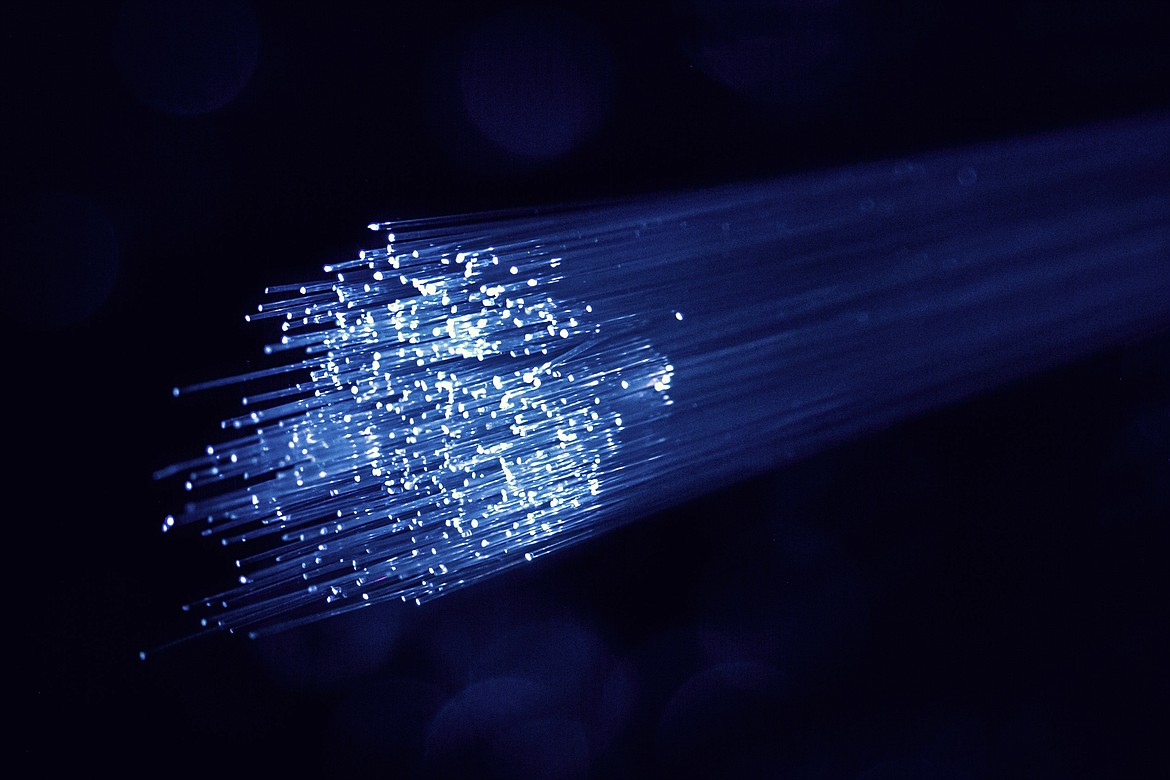 An image of fiber optics used for high-speed internet infrastructure.
(Photo Courtesy – Denny Muller)
BLANCHARD — Blanchard just got an upgrade.
A speedy infrastructure project has been completed in the Blanchard area. Northwest Fiber, doing business as Ziply Fiber, finished laying fiber-optic infrastructure in the Blanchard area.
The $1.3 million project was paid for in part through CARES Act II funds. The new infrastructure will allow for citizens to better participate in telehealth appointments and remote working and education. The project was signed and approved by Bonner County cCommissioners in October.
In Blanchard, 693 homes will be able to utilize heightened broadband capabilities credited to fiber-optic technology.
Fiber-optics are made of flexible glass or transparent solids, as wide as a human hair. Instead of sending electrical currents through copper wires, fiber-optics send light pulses through reflective fiber optic cables.
Both technologies can transmit information seemingly instantly. However, fiber-optics can transmit nearly 10 times more information in the same amount of time compared to copper wires. Fiber optics are able to maintain signal quality over long distances much better than copper.
"Fast broadband connectivity has become something of a necessity rather than a luxury," said Dan Miller, senior vice president of Ziply Fiber. "Different people are looking for different things from fiber service. Everyone's got their own needs."
The expansion is one portion of Ziply's multi-year $500 million investment in the state, company officials said. The project will focus mostly on smaller and rural towns, Ziply officials said in a press release earlier this year.
"Reliable connectivity should be accessible to everyone," said Harold Zeitz, CEO of Ziply Fiber. "Whether you're in a lively metropolis or a picturesque rural community like Blanchard."
The project did not use any county funding. County commissioners drew up a contract earlier this year with Ziply Fiber after initially denying the project in July. The project was later passed in October after the commission was able to clarify their legal questions regarding the spending of CARES Act money.
In the Idaho Broadband Fund grant application, CARES Act money is allowed to be spent on projects that "expand rural broadband capacity to assist with telework, telehealth, distance learning and public safety."
"It's like turning a light on and off going down a cable," Miller said of fiber-optic technology. "We've been building fiber in communities around the Northwest since summer 2020. It was a sizable project. It's exciting to be able to have [fiber] in areas that have been underserved for quite some time."
Fiber is expected to meet the broadband needs of the Blanchard area for many years, said Zeitz.
"Fiber-optic networks bring immediate access to [broadband] services that should meet all residences and businesses connection needs well into the future," he said.
Recent Headlines
---