Anti-mandate resolution passed by Idaho Sheriff's Association
▶️ Listen to this article now.
SANDPOINT – Idaho's 44 sheriffs gathered in Boise last week for the Idaho Sheriffs' Association's Winter Conference.
In a post to the Bonner County Sheriff's Office Facebook page, Wheeler said an "anti-mandate" resolution he had brought before the association passed without opposition.
The resolution states that Idaho sheriffs will uphold the rule of law in Idaho, and won't enforce policy that is not based in the law.
"The Sheriffs in the Great State of Idaho recognize their obligations to the people in their individual counties. As such, we will not enforce any unlawful edicts, actions, or executive orders done under the color of law, without actual laws being duly passed," the resolution reads in part.
Wheeler told the Daily Bee that he wrote the resolution based on concerns from his constituents.
"The resolution that I promoted was passed, because we Idaho sheriffs agree in principle with this commonsense issue," Wheeler said Tuesday. "People are very appreciative for the non-enforcement of 'so-called' mandates which have no foundation in law."
A similar resolution was passed by Bonner County commissioners earlier this year. Commissioner Steven Bradshaw authored an "anti-mandate" resolution rejecting county action in response to mandates implemented by higher levels of government.
"I just want you to know, as your sheriff, the Bonner County Sheriff's Office will not enforce a mask mandate." Wheeler said at the Sept. 14 county commissioners meeting. "The Bonner County Sheriff's Office will not force inoculations. And there will be no cases brought before the prosecuting attorney. No one will be prosecuted for resisting those mandates. So you will be free, at least in Bonner County."
"If anyone comes knocking at your door and says 'roll up your sleeve,' please call the sheriff's office. We will come to your house and we will remove that person."
Wheeler educated other state sheriff's about how mandates can more easily be enforced in counties accepting federal coronavirus relief funding, commonly known as ARPA or CARES Act funds.
"At the Winter Conference, I had the opportunity to discuss a range of issues that are important to my constituents with the other sheriffs. Many of the sheriffs were not aware of the strings associated with the ARPA funds and were thankful for that discussion."
Counties receiving federal funding are required to abide by rules and regulations associated with the money, and how it is spent.
Historically, these stipulations are met with opposition by officials in the county's executive and legislative branches.
"These are God-given rights and they will not be breached in Bonner County," said Wheeler.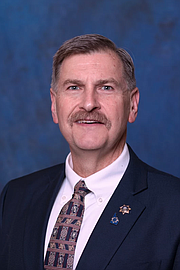 Recent Headlines
---