Drivers cause 6 snowplow accidents in 2 weeks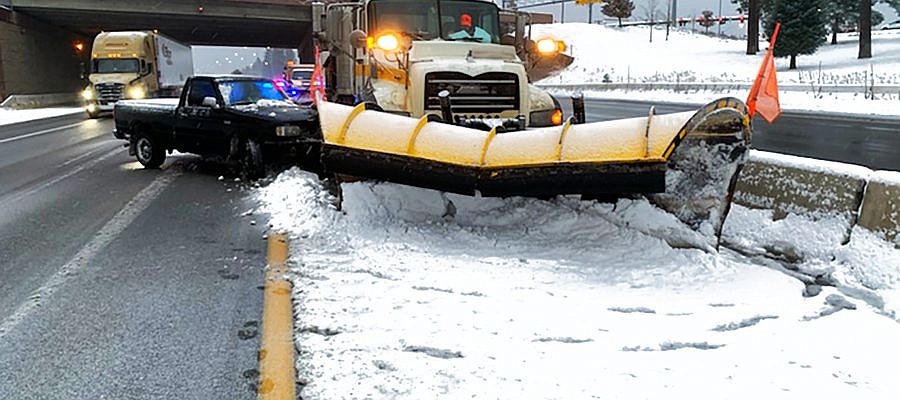 In the last two weeks, four accidents were caused by drivers passing snowplows on the right-hand side, eventually crashing into a portion of the snowplow called a "wing-plow." ITD urges drivers to remain behind snowplows where road conditions are safest.
(Photo courtesy IDAHO TRANSPORTATION DEPARTMENT)
SANDPOINT — Winter is officially here and the Idaho Transportation Department is urging motorists to drive with particular caution during the upcoming holiday weekends, especially around snowplows.
This year alone, four snowplows have been struck by motorists, according to ITD data, causing significant dangers for everyone involved including passing drivers.
"In just the last two weeks, there have been four incidents of drivers striking plows and two incidents of drivers forcing them off the road," said Megan Jahns, ITD public information officer. "This compares to eight plow strikes recorded last year."
Jahns attributes the spike in plow collisions to drivers passing plows on the right.
"The wing plow is a popular target," Jahns said. "Drivers don't realize there's a smaller plow that extends from the side. We have lights on it, but when that snow is billowing over the top, you can't see it."
Jahns's advice for drivers is to never pass a snowplow on the right, especially if it's pushing snow into the lane of travel.
"I don't know why anyone thinks that's a good idea, frankly, driving into a plume of snow that you can't see the other side of," Jahns said.
When asked about passing a snowplow on the left, Jahns said it depends, citing that road conditions are safer behind a snowplow.
"Anytime you see a plow on the road, slow down, give them space, and honestly sit back and hang out behind them while they make the road nice," Jahns said. "The road is always better behind the plow than it is in front of it."
Although winter brings unforeseen circumstances, drivers and passengers can always plan to be safe on the roads.
Planning extra time to travel during winter weather can create a safer environment for everyone.
"Any good winter driver plans extra time to get where they need to go," Jahns said. "Another way to know how much extra time to plan is looking at 511."
511 is a national hotline dedicated to traffic and transportation information. The hotline is now available as a mobile phone app, in addition to other methods such as call and text. Jahns encourages people who are traveling on the road to know what they are getting themselves into before venturing into harsh weather and road conditions.
"Set yourself up for success. If it's snowing, check the weather before you go, check 511, and leave early."
ITD places Bonner County in District 1, which contains the five northernmost counties in Idaho. This winter will be the first for 25% of snowplow drivers in District 1, according to Jahns.
"We put them through rigorous training before we put them behind the wheel of a plow," Jahns said. "We ask that drivers give them space, and they will treat you nicely. You know, just that mutual respect."
Even though District 1 is currently fully staffed when it comes to snowplow drivers, the ITD is looking for drivers with a CDL license to apply.
"Winter is always a challenge. We'll take any and all help we can get," Jahns said.
Those interested can view current openings and submit an application or resume by following links found on dhr.idaho.gov/job-seekers. Seasonal and full time positions are available.
Recent Headlines
---