Upset-minded Bulldogs unable to close the deal against Post Falls on Senior Night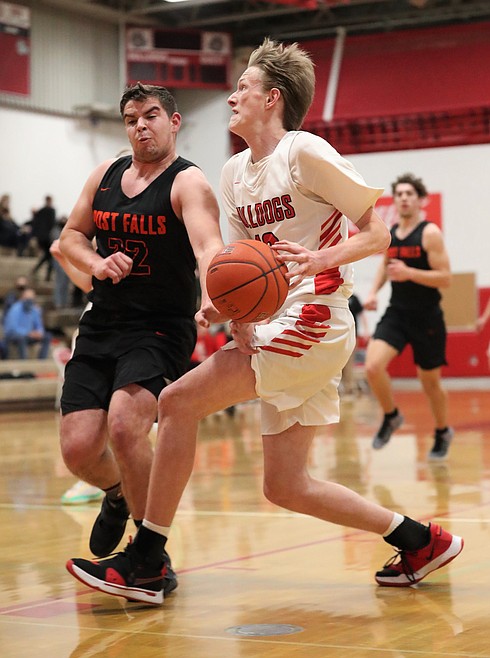 Senior Stone Lee (right) looks to attack the basket during the first half of Wednesday's game at Les Rogers Court. Lee had 10 points and three rebounds in the game.
(Photo by DYLAN GREENE)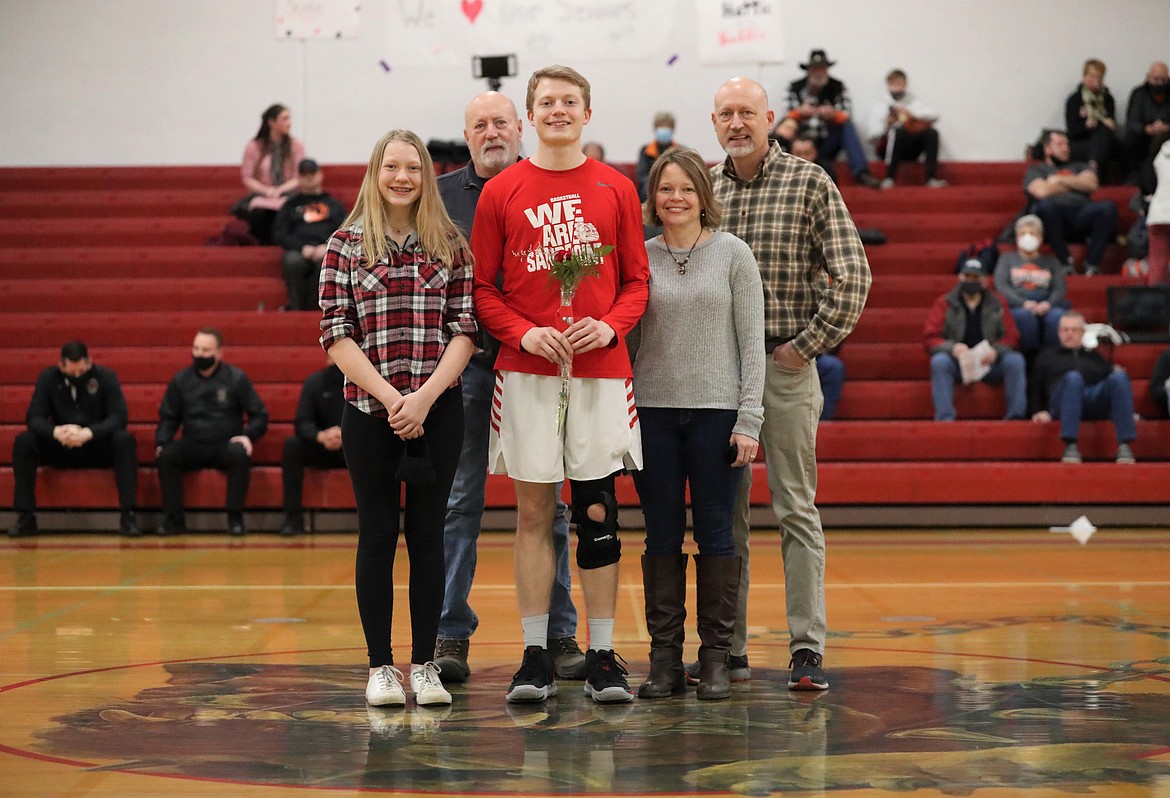 Darren Bailey poses for a photo with his family on Senior Night.
(Photo by DYLAN GREENE)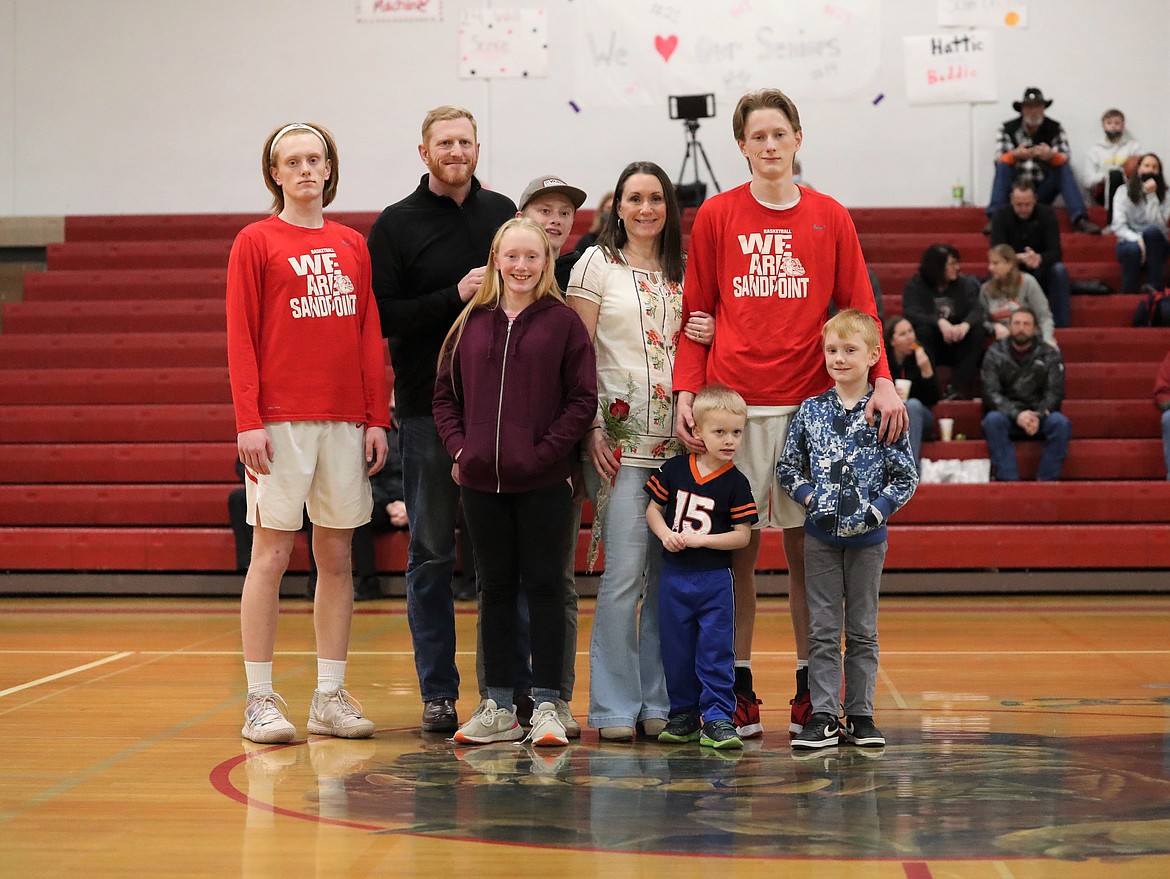 Stone Lee poses for a photo with his family on Senior Night.
(Photo by DYLAN GREENE)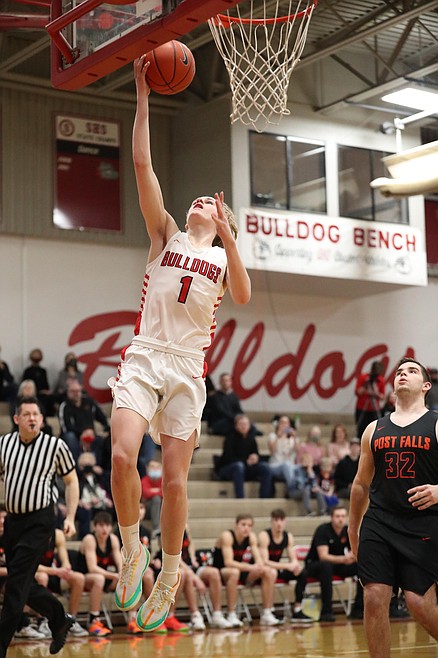 Colin Roos converts a lay-in on Wednesday.
(Photo by DYLAN GREENE)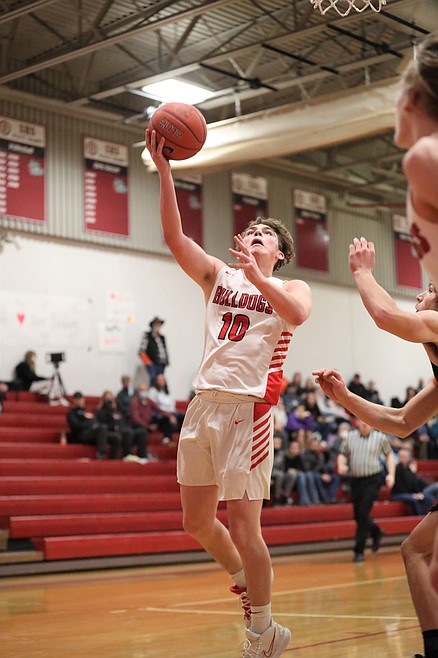 Arie VanDenBerg attempts to hit a layup during the fourth quarter of Wednesday's game.
(Photo by DYLAN GREENE)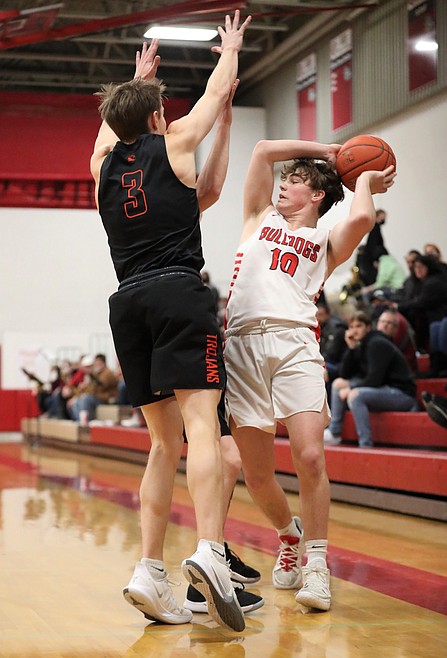 Arie VanDenBerg looks to pass the ball to an open teammate while trying to avoid stepping out of bounds on Wednesday.
(Photo by DYLAN GREENE)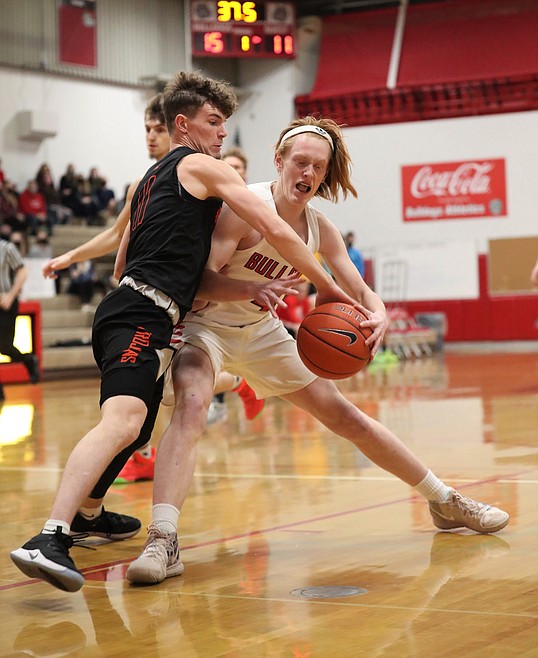 Rusty Lee gets down low in the paint and fights a Post Falls player for possession of the ball on Wednesday.
(Photo by DYLAN GREENE)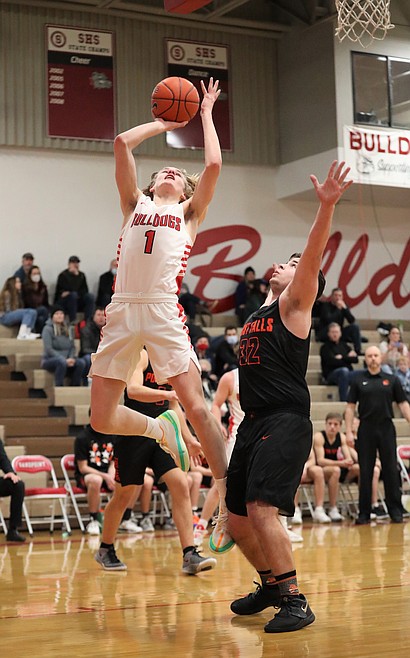 Colin Roos elevates for a layup on Wednesday.
(Photo by DYLAN GREENE)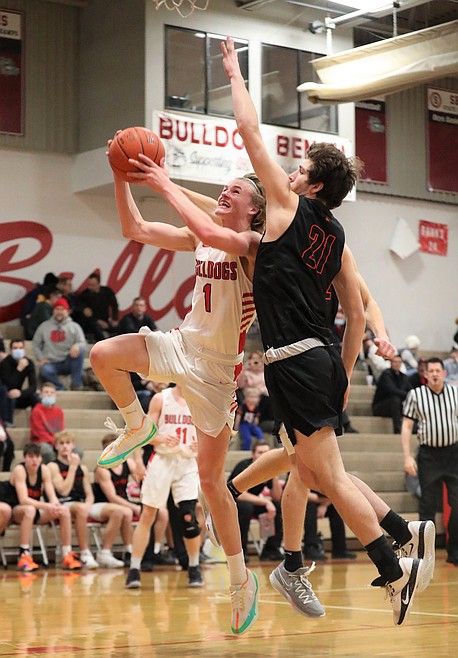 Colin Roos fights through the Post Falls defense to attempt a layup.
(Photo by DYLAN GREENE)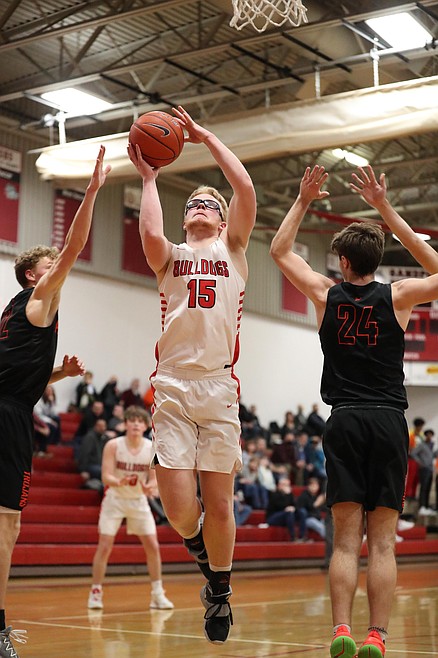 Ethan Butler attempts a layup during the fourth quarter of Wednesday's game.
(Photo by DYLAN GREENE)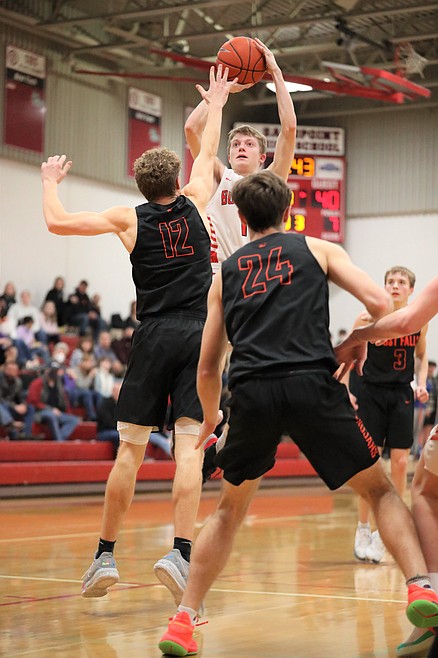 Darren Bailey rises up for a shot over the Post Falls defense.
(Photo by DYLAN GREENE)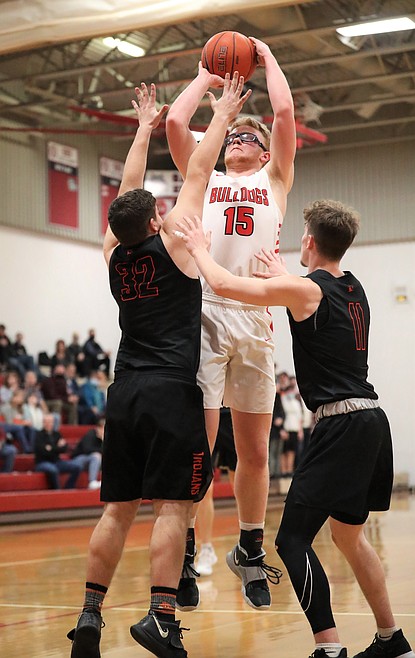 Ethan Butler elevates for a jumper over the Post Falls defense.
(Photo by DYLAN GREENE)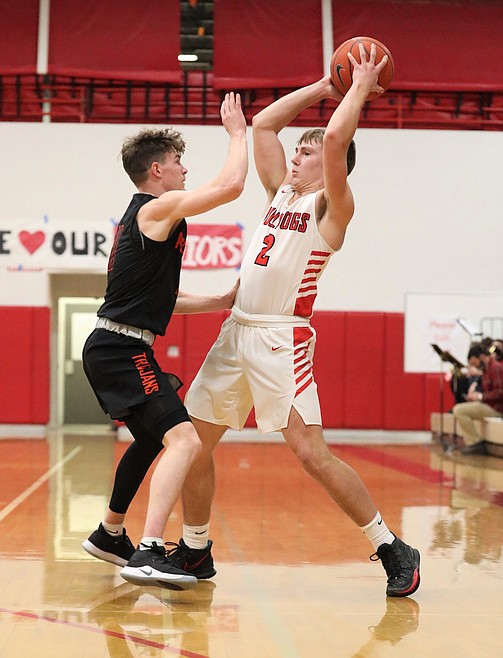 Parker Pettit prepares to fire a pass over a Post Falls defender on Wednesday.
(Photo by DYLAN GREENE)
Previous
Next
by
DYLAN GREENE
Sports Editor
|
February 10, 2021 11:59 PM
SANDPOINT — Sandpoint couldn't have scripted a better start to Wednesday's Senior Night game against Post Falls.
The Bulldogs jumped out to a 17-13 first-quarter lead over the 5A Trojans and carried a three-point lead into halftime.
But SHS couldn't close the deal on the upset and sputtered in the second half of a 59-45 loss to Post Falls.
Sandpoint scored just three points in the third quarter and didn't record a basket until there was just over two minutes left in the period. This allowed the Trojans to carry a 40-31 advantage into the fourth quarter and they sealed the season sweep.
"We went flat and kind of got away from what we did in the first half," interim head coach Mike Roos said about the second half. "I just told the guys, 'Don't reinvent it, just run what we can do.'
Despite the loss, the Bulldogs gave the Trojans everything they could handle after losing by 22 points at Post Falls just over a week ago.
SHS used the emotions of Senior Night to their advantage early on. The Bulldogs came out flying and senior Stone Lee had a lot to do with it. He scored eight first-quarter points.
Roos said they were able to find Lee in the post and he did a great job of finishing through contact.
"I thought it was great for him to come out and play and get some buckets, we needed them," Roos said about Lee. "I think we recognized him in a few spots and where he can score from."
Sandpoint has struggled early in games most of the season, but they had no problem with that on Wednesday.

"The last few games we've been trying to start quicker," Roos said, "and not just have a giant deficit to makeup throughout the entire game, so they did do that. Going into halftime with a lead on Post Falls is pretty big. I don't know the last time we've had that."
But turnovers became a problem for the Bulldogs in the second half and they could never recover. SHS finished with 22 turnovers.
"They full-court pressed and guys were getting tired to where they weren't running our plays," Roos said.
Prior to the game, the Bulldogs honored their two seniors — Stone Lee and Darren Bailey.
Roos said the pair left their mark on the program and it's tough to find two nicer kids.
"They're super good kids and I enjoy having them," he said. "They're very coachable."
Colin Roos led the team with 11 points, five rebounds and three steals. Lee finished with 10 points and three rebounds, Ethan Butler tallied seven points and seven rebounds and Bailey and Max Frank each scored five. Parker Pettit dished out four assists.
The Bulldogs (4-13) will look to end a seven-game losing streak when they host Lake City at 7 p.m. Tuesday for their final home game.
Post Falls 13 12 15 19 — 59
Sandpoint 17 11 3 14 — 45
POST FALLS — Anderson 2, McLean 15, Hauser 2, Rodriguez 2, Peterson 2, Rutherford 2, Ballew 10, Sciortino 0, Lee 4, Horning 15, Christensen 5, Shields 0
SANDPOINT — Roos 11, Pettit 2, Frank 5, R. Lee 0, VanDenBerg 5, Bailey 5, S. Lee 10, Lane 0, Butler 7.
---