Wampus Cats wrap up regular season with loss at Wallace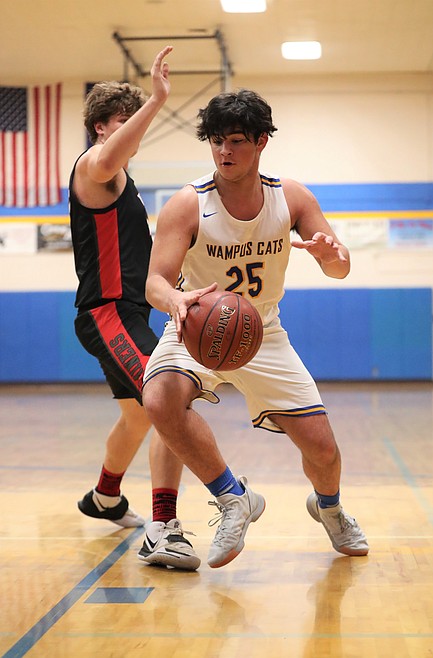 Sophomore Antonio Mayorga gets down low in the paint during a home game against Wallace on Feb. 1.
(File photo by DYLAN GREENE)
by
DYLAN GREENE
Sports Editor
|
February 17, 2021 11:05 PM
WALLACE — A strong fourth quarter wasn't enough for Clark Fork boys basketball to take down Wallace in its regular season finale on Wednesday night.
The Miners won 62-42 to complete a season sweep of the Wampus Cats. Wallace won at Clark Fork 57-32 on Feb. 1.
"This game hurts because it was the seniors last game at Wallace and we wanted to walk out with a victory for them," head coach Heath Beason said after the game, "and we fell just short, so that was disappointing."
Clark Fork scored 21 points in the fourth quarter, the same amount of points they tallied across the first three quarters. Wallace led 33-16 at the half and outscored the Wampus Cats 31-9 in the second and third quarters.
Beason said his team started the game off really well, but things fell apart in the second quarter.
"We got complacent in the second quarter," he said. "We started turning the ball over, missing shots and not playing sound defense or offense."
Beason said he was proud of his team for not folding down the stretch despite the large deficit.
"We came back and started fighting hard," he said.
Senior Cameron Garcia led the team with 18 points, Carter Sanroman had 10, Chris Wade tallied six and Sam Barnett added five.
Now the Wampus Cats (3-12) will focus all their attention on the 1A Division II District 1 championship game at Mullan at 6 p.m. Wednesday. The winner of the game will advance to the state tournament. The Tigers won the coin toss tiebreaker for the No. 1 seed and the right to host the title game.
"This week we need to make some corrections and get more sound all the way around," Beason said. "We've got Mullan and we need to be on our game or we're not going to succeed next week."
Clark Fork 12 4 5 21 — 42
Wallace 17 16 15 14 — 62
CLARK FORK — Garcia 18, Sanroman 10, Barnett 5, Wade 6, Shelton 0, Reuter 1, Mayorga 2, Matteson 0, Howard 0.
WALLACE — Tesky 7, Farkas 5, Hogamier 15, Allison 0, Jaramillo 0, Bailey 13, Morin 2, Murdoch 0, Denson 11, Hull 3, Hammerberg 2, Goldade 4.
---