Diamondbacks bite Bulldogs in semis; SHS focuses on bringing home third-place trophy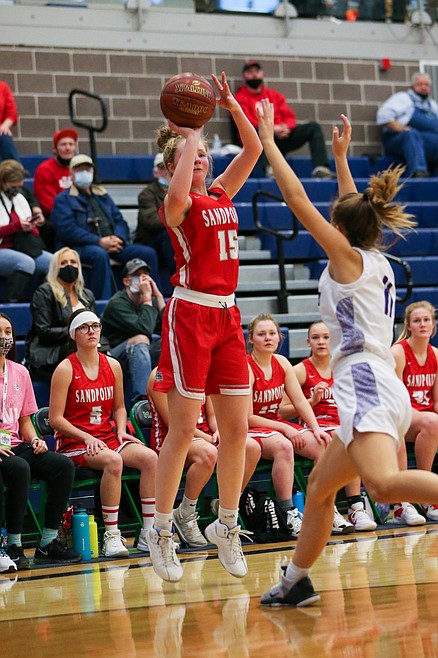 Sophomore Karlie Banks hits a 3-pointer during Friday's 4A state semifinal against Century at Mountain View High School.
(Photo courtesy of JASON DUCHOW PHOTOGRAPHY)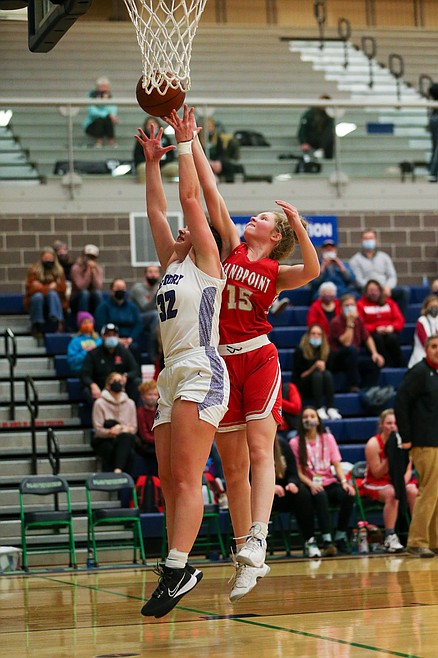 Karlie Banks (right) fights with Century's Taylor Bull for a rebound on Friday.
(Photo courtesy of JASON DUCHOW PHOTOGRAPHY)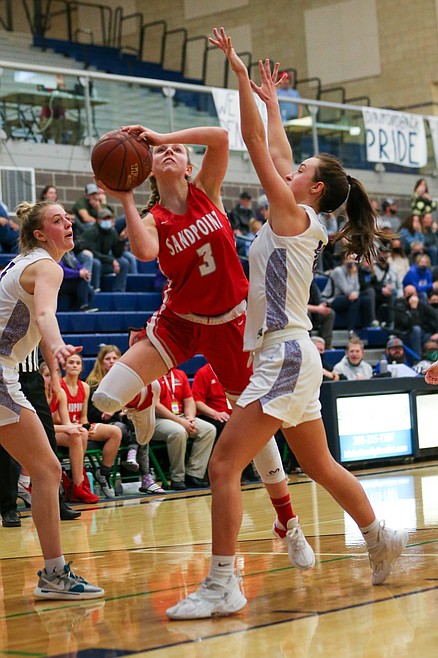 Sophomore Daylee Driggs drives and attempts a contested shot during Friday's game.
(Photo courtesy of JASON DUCHOW PHOTOGRAPHY)
Previous
Next
by
DYLAN GREENE
Sports Editor
|
February 19, 2021 8:35 PM
MERIDIAN — Century led from start to finish in a 44-25 win over Sandpoint on Friday in the 4A state semifinals at Mountain View High and ended the Bulldogs' hopes of reaching their first state title game since 1996.
With the defeat, Sandpoint (12-11) heads to the third-place game and will face Burley at 11 a.m. PST Saturday.
Head coach Will Love said this loss hurts, but his team fought valiantly.
"Like the girls I'm disappointed, but I'm really proud of their effort tonight," he said after the game. "They worked extremely hard and that was the thing we asked them to do beforehand and I think they represented Sandpoint well, and Century really had to work to get that win."
The Bulldogs struggled offensively against the Diamondbacks (18-5), shooting just 25 percent from the field. Love said Century's size gave them fits all game.
"They're really long," he said. "I think we had to get used to their length and they play really great defense ... and so for us we just weren't able to get comfortable against that."
Love said going into the game, the Bulldogs were focused on being dialed in from 3-point range, but the team finished 1 of 13 from beyond the arc.
"It just wasn't a good night from outside," he said.
Early on, the Bulldogs were able to hold their own against the second-ranked team in 4A and trailed 10-8 after the first quarter.
But the Diamondbacks struck in the second quarter and turned a 15-12 advantage midway through the frame into a 25-14 halftime lead just like that.
In the third quarter, Sandpoint clamped down defensively and held Century to just six points. They also forced the Diamondbacks to commit five turnovers in the frame.
But offensive rebounds by Century started to hurt the Bulldogs and that allowed the Diamondbacks to control possession for most of the quarter. This limited Sandpoint's chances offensively and Century maintained a 31-20 advantage heading into the final quarter.
In the first half, the Bulldogs and Century each had 15 rebounds, but in the final 16 minutes the Diamondbacks outrebounded Sandpoint 18-8. Love said that differential on the glass was too much to overcome.
"We had told the girls that was going to be a huge thing was rebounding the basketball and limiting their opportunities on second-chance points," he said. "It was a big factor because ... they were able to run clock."
The Diamondbacks outscored SHS 13-5 in the fourth to secure their fourth straight trip to the state title game.
Kaylee Banks scored a team-high 12 points and also had two assists and two steals. Bella Phillips grabbed six points and five rebounds, Karlie Banks tallied three points, seven rebounds and three steals and Hattie Larson added two points, eight rebounds and two steals.
Ashton Adamson scored a game-high 14 points for Century and Tenleigh Smith, an Idaho State commit, had 11 points, five assists, four rebounds and two steals.
Despite losing, the Sandpoint defense was still stellar and held Century to 3 of 13 from behind the 3-point line.
"We've been playing championship defense and I knew that it was something that would translate here at state," Love said. "I think we've impressed some people down here and surprised them a little bit."
Now the Bulldogs will shift their focus to capturing a third-place trophy. SHS finished third at state in 2015 and 2016.
Sandpoint will face a familiar opponent on Saturday. The Bulldogs took down Burley 40-39 in their opening game at state last year. Love said his team will be highly motivated to capture a state trophy.
"They wanted to play for that state title," Love said, "so I think they are going to be ready because they want to have some hardware to remember this season by."
Sandpoint 8 6 6 5 — 25
Century 10 15 6 13 — 44
SANDPOINT — Gammon 0, Driggs 0, Strock 0, Reinink 0, Lyons 0, Tomco 0, Cessna 0, Phillips 6, Kar. Banks 3, Larson 2, Platte 2, Kay. Banks 12.
CENTURY — Merrill 1, Richards 0, Horsley 0, Adamson 14, Te. Smith 11, Gardea 0, Ta. Smith 9, Bull 9.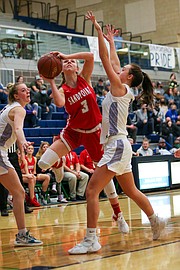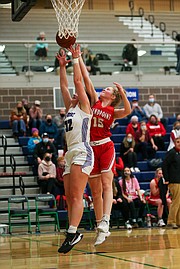 ---