Ambridge, Dickson grab district titles, berths to state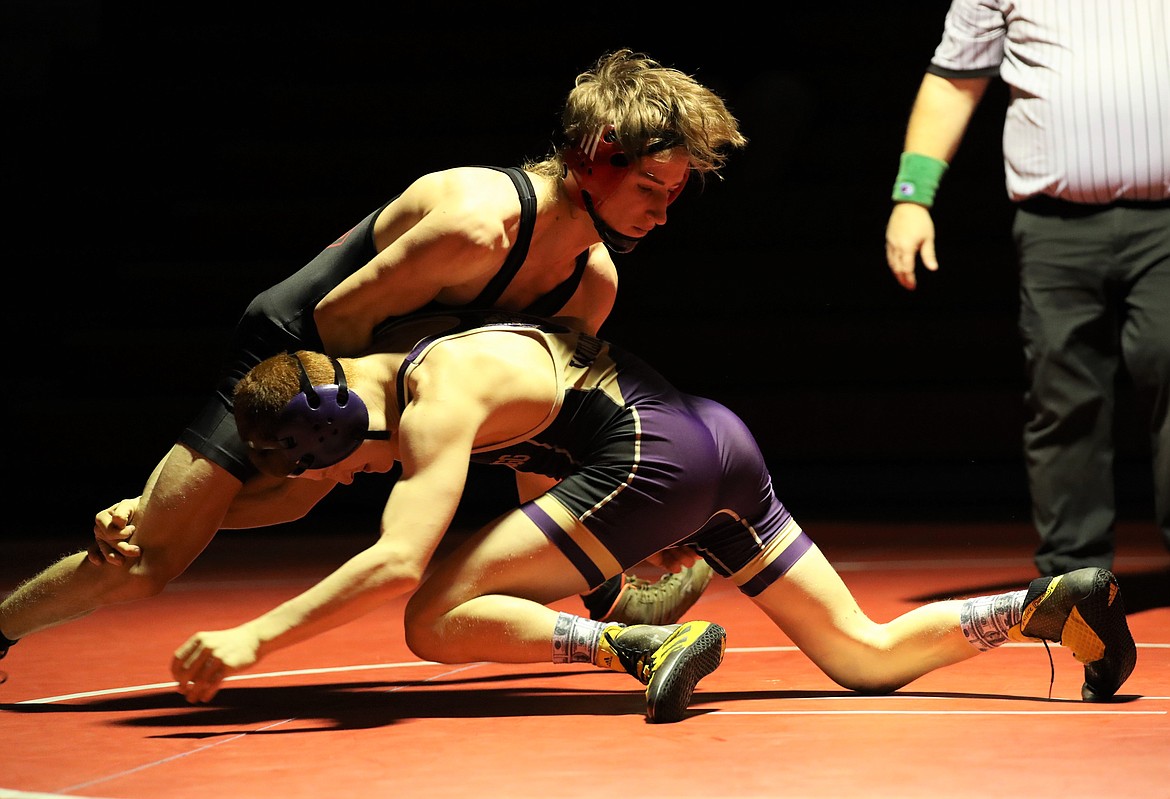 Sandpoint's Tanner Dickson (left) takes on Kellogg's Raymond Heely in a 120-pound match on Jan. 6 at Les Rogers Court.
(File photo by DYLAN GREENE)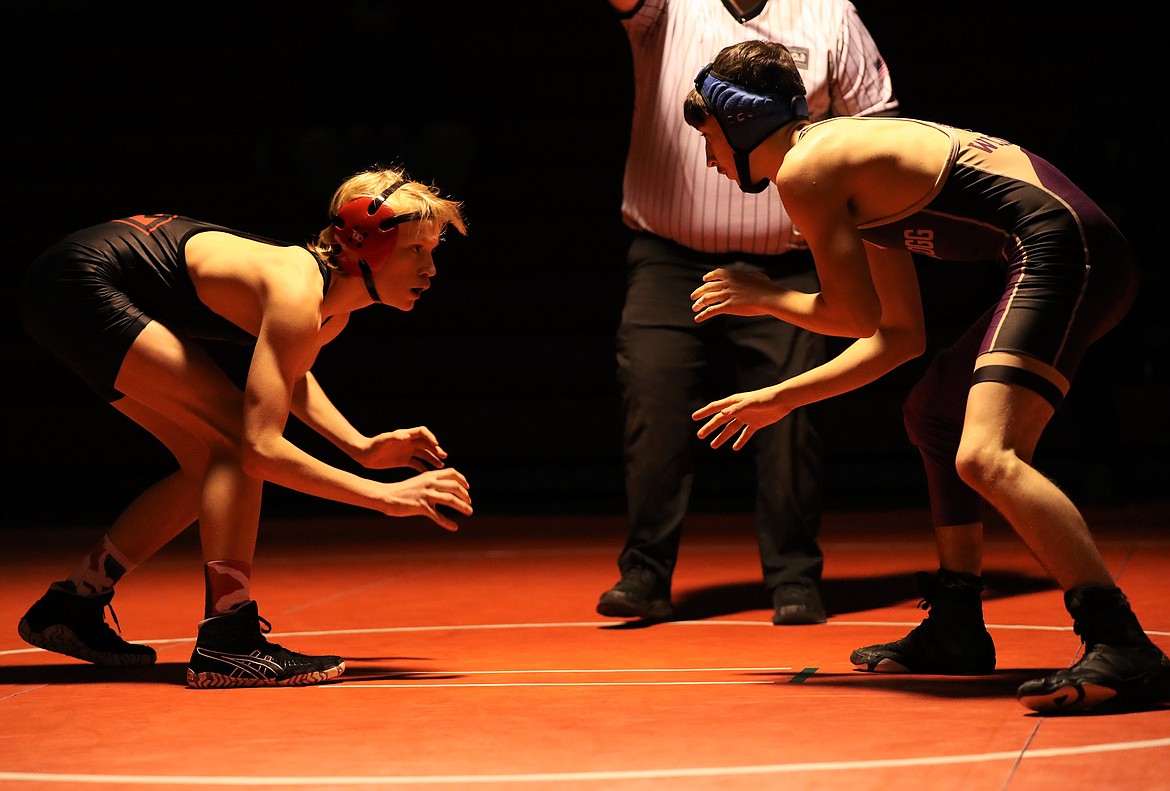 Sandpoint sophomore Forrest Ambridge (left) battles Kellogg's Dakota Eixenberger in a 113-pound bout on Jan. 6 at Les Rogers Court.
(File photo by DYLAN GREENE)
Previous
Next
by
DYLAN GREENE
Sports Editor
|
February 20, 2021 1:00 AM
RATHDRUM — Senior Tanner Dickson and sophomore Forrest Ambridge secured district titles and berths to state at the 4A Region 1 wrestling championships at Lakeland High on Friday night.
Dickson pinned Moscow's Sam Young in 39 seconds at 120 pounds and Ambridge defeated Moscow's Jason Swam 9-3 at 113 to punch his second straight trip to the state tournament.
As a team, Sandpoint finished second with 320 points, 100 behind first place Lakeland. It's the Hawks 13th straight 4A Region 1 title.
Head coach Jake Stark said his team gave the Hawks quite the fight.
"I felt like we held our own," he said. "We definitely gave Lakeland a run for their money. I think they thought they had a pretty clean sweep and we fought every match with them really good."
Besides Dickson and Ambridge, the Bulldogs had six other wrestlers make it to first-place matches. Andrew Duke (98), Shane Sherrill (132), Sam Becker (160), Blake Sherrill (182), Austin Smith (195) and Matt Thurlow (220) all lost their title bouts and claimed second in their respective weight classes.
"I thought we performed really well," Stark said. "We got some upsets and we got upset a couple times."
Raphael Eldridge (138), Trevan Adam (152), Calvin Hinds (160), Christian Troumbley-Karkoski (170), Owen Wimmer (182) and Carson Laybourne earned third-place finishes and Justin Lewis (113), Wyatt Marker (138), Jacob Crum (152) and Kai McKinnon all finished fourth.
Stark said it was really nice to see Dickson breakthrough for a district title.
"It's been a long four years and he's been in the district final a couple times," he said, "and for him to pull it off his senior year, he did it."
Stark also had high praise for Ambridge.
"Forrest wrestled really good," he said. "He really had a big heart, went for it and succeeded, and I'm really proud of him."
Only the first-place finisher in each weight class earned a guaranteed spot to the state tournament next Friday in Nampa. At-large bids to state will be determined on Sunday night and Stark is hoping to get at least five.
"Something that's not in our favor is we haven't had a lot of matches this year, so we don't have really killer records with a lot of wins," he said.
TEAM SCORES
Lakeland 420, 2. Sandpoint 320, 3. Moscow 223.
FIRST PLACE MATCHES
98 — Matt Williams, LL, p. Andrew Duke, SHS, 1:11. 106 — Xzavier Brown, M, p. Skyla Zimmerman, M, 1:38. 113 — Forrest Ambridge, SHS, d. Jason Swam, M, 9-3. 120 — Tanner Dickson, SHS, p. Sam Young, M, 0:39. 126 — Peyton Wysong, LL, p. John Meredith, LL, 1:23. 132 — Lucas Williams, L, p. Shane Sherrill, 2:16. 138 — Eli Lyon, M, d. Andrew Bollinger, M, forfeit. 145 — Riley Siegford, LL, d. Diego Deaton, M, 7-0. 152 — Soren Sabatke, LL, p. Blaise Wright, LL, 5:29. 160 — Cooper Johnson, LL, p. Sam Becker, SHS, 1:05. 170 — Devon Suko, LL, p. Micah Harder, M, 0:50. 182 — John White, LL, p. Blake Sherrill, SHS, 1:03. 195 — Hayden Berger, LL, d. Austin Smith, SHS, 6-0. 220 — Logan Kearney, M, p. Matt Thurlow, SHS, 1:34. 285 — Sam Feusier, LL, p. Preston Jeffs, L, 1:23.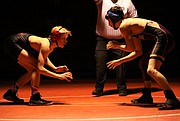 ---