Extra COVID vaccines prompt special weekend clinic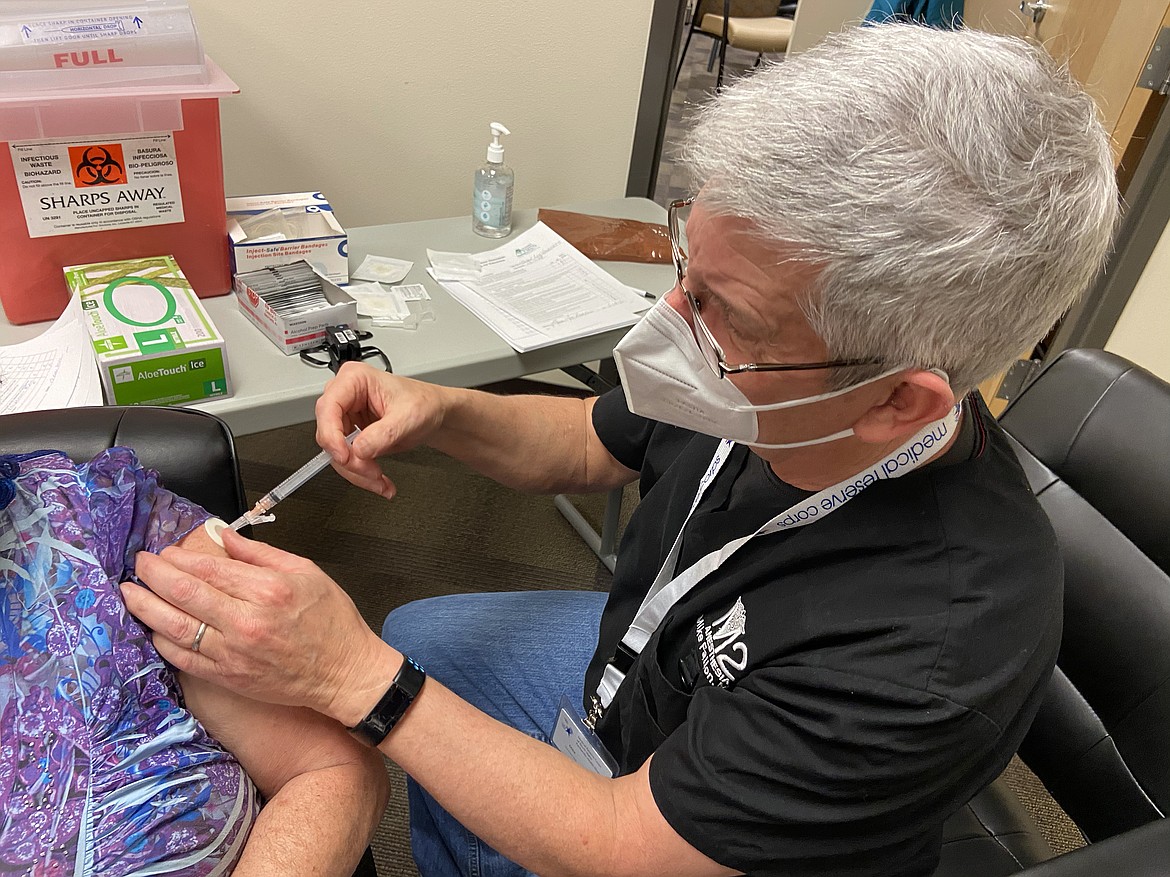 A member of the Medical Reserve Corps gives a Bonner County resident a COVID-19 vaccination shot after Bonner General Health received an extra shipment when doses were left over after long-term healthcare facilities didn't use all of the allotment.
(Photo by CAROLINE LOBSINGER)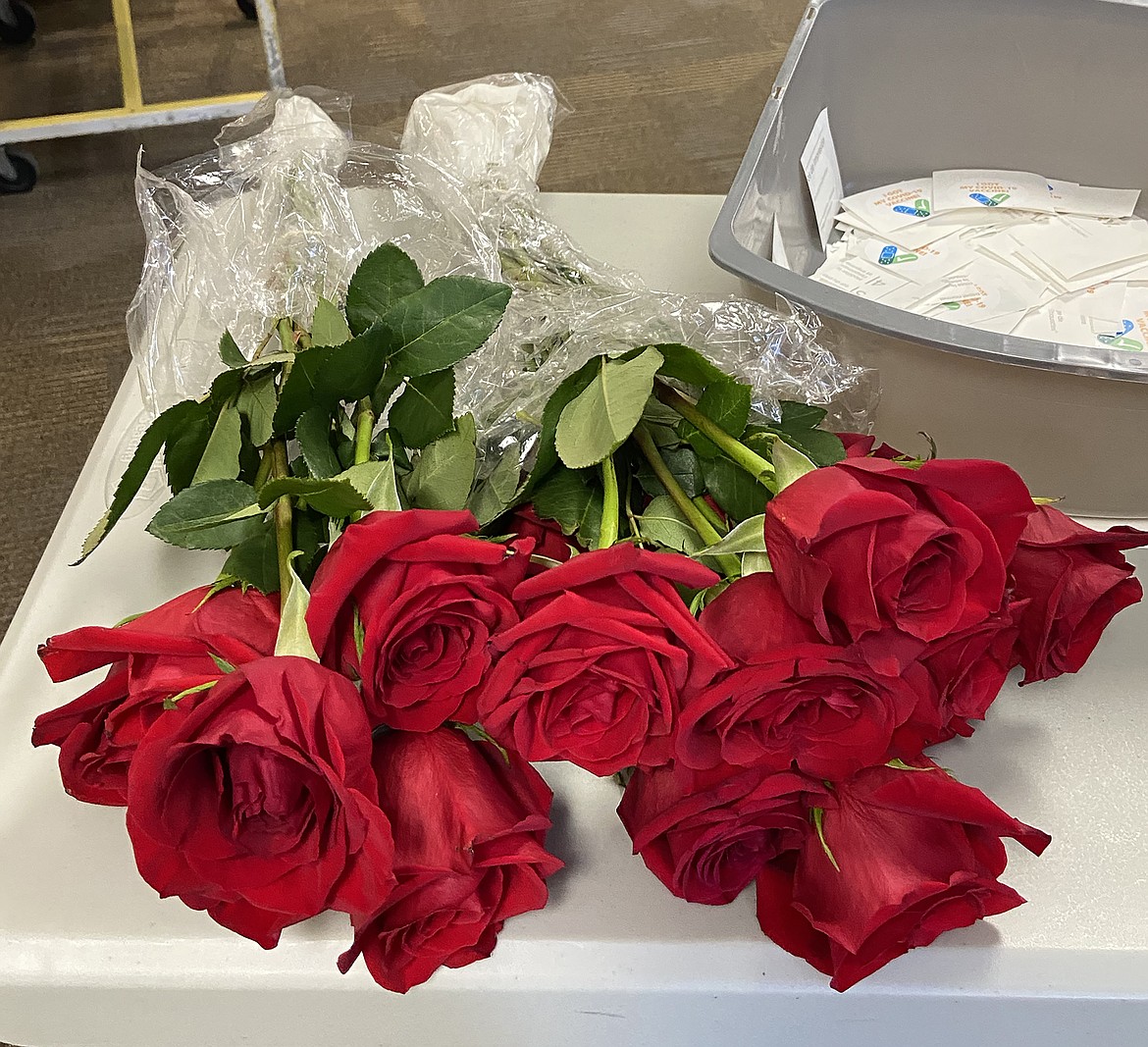 A woman was so thrilled to be receiving her COVID-19 vaccine Saturday, she brought along roses to give to those who made it possible.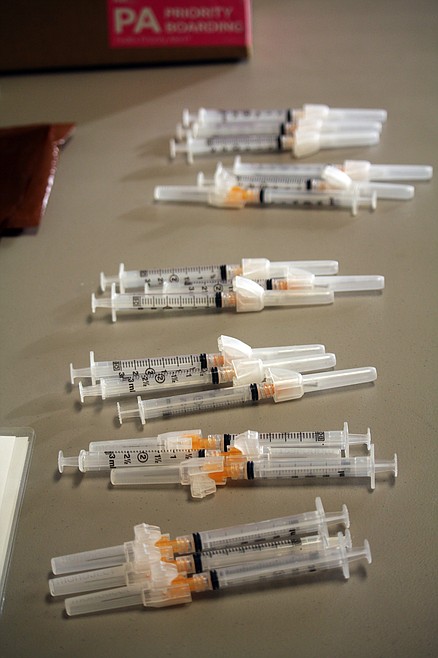 Syringes filled with COVID-19 vaccine await their use Saturday's shot clinic which saw 480 doses distributed by the Sandpoint hospital.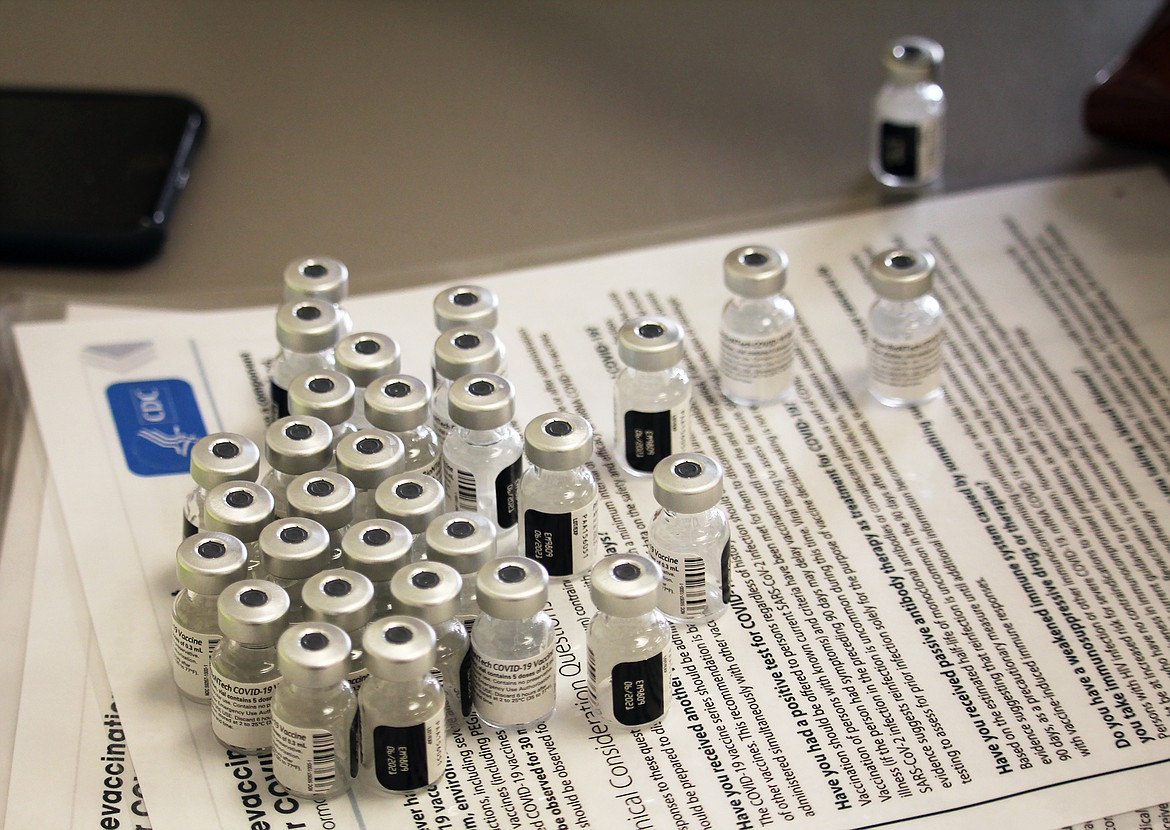 Vials of COVID-19 vaccine — about a third of the amount received by Bonner General Health as part of a special shipment — during Saturday's shot clinic which saw 480 doses distributed by the Sandpoint hospital.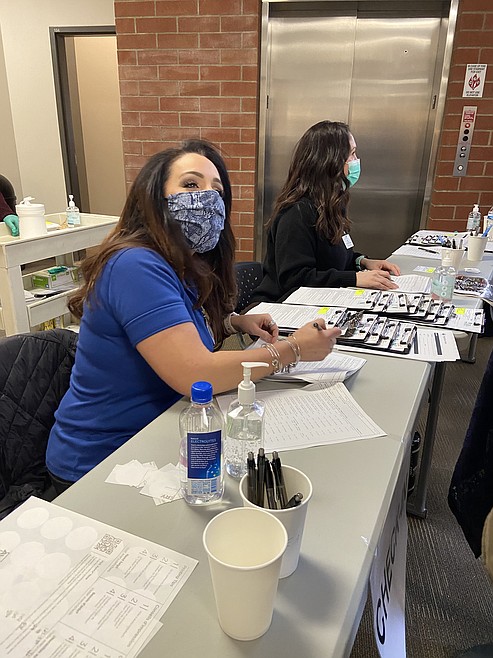 Bonner General Health staff check in county residents at an extra COVID-19 vaccination clinic on Saturday.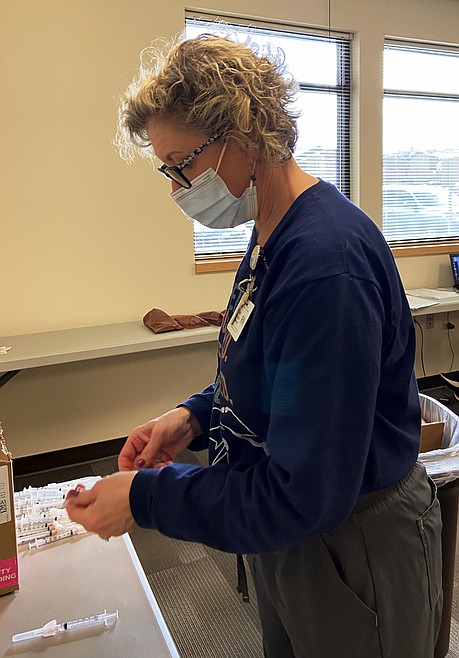 BGH's Trisha Mayhew gets COVID-19 vaccinations ready after the hospital received an extra shipment. About 480 people received vaccinations Saturday after Bonner General scheduled a special shot clinic to ensure the doses ended up in residents' arms.
Previous
Next
by
CAROLINE LOBSINGER
Staff Writer
|
February 21, 2021 1:00 AM
▶️ Listen to this article now.
SANDPOINT — When Bonner General Health was offered extra doses of the COVID-19 vaccine, they didn't hesitate to say yes.
Leftover after long-term healthcare facilities staff and residents were vaccinated, BGH was offered the doses because it has the freezer capable of safely storing the vaccine at the extremely cold temperatures required to keep it viable.
Then, with the extra doses on hand, BGH staff and volunteers swung into action and organized a weekend vaccination clinic in addition to the daily clinic already offered by the Sandpoint hospital.
The hospital received enough doses to be able to vaccinate 480 on Saturday. That is in addition to the 350 first doses it gives each week from vaccines received from Panhandle Health, said Trish Mayhew, who is helping run the hospital's vaccination clinics.
To keep the process running smoothly, Mayhew said BGH opted to do 11 vaccinations per half hour.
The vaccination process has gone smoothly, with no problems, she said.
"We have not wasted one vaccine, which has been awesome," Mayhew said. "We have an on-call list of about 800 people who are able to get to Bonner within 15 to 20 minutes. So, at the end of the day, we kind of do a final count according to how many vaccines we have drawn up and are available and the schedulers will call them and people will get here right away so we don't have to waste it."
With a waiting list in the multiple thousands, and an average of 300 or so doses per week, Mayhew said she understands individuals' frustrations with how long the process seems to be taking.
However, she noted the region — unlike some areas of the country — hasn't had any problems with its supply distribution and has been able to hold its daily vaccination clinics. In addition, as the distribution amount increases in the state — and the health districts and those that receive the doses — those numbers will go up.
And hope is on the horizon in that regard. All indications are that the allocation for Idaho is going to go up, which means more vaccines will end up in Idahoans' arms, said Daniel Holland, director of BGH's Diagnostic Imaging department.
The first dose is allocated by the state, which gets its allotment from the federal government. The state than disperses the vaccine to the seven health districts, which then sends them out to the counties based on population. That amount is then distributed to the various sites administering the vaccines, Holland said.
"So one of the questions people have, 'How do I know I'm going to get my second dose?' Because we've given you a first dose," he added. "We can only give first doses based on our state allocation. We give second doses based on that pre-given first dose."
If folks have registered, be patient. If they haven't, do so. After they've submitted their application and received a confirmation email, then sit back and wait to be contacted, Holland said.
"If they've they've received that email that we received it, then we have it," he said. "They don't need to call us, they don't need to show up at the door, we do have it and we will get to you as soon as that allocation increases. We're trying to go through them in the order that they came in based on the subcategory that was selected."
And if someone has registered at more than one of the five county locations — BGH, Kaniksu Health, Family Health Center, Sandpoint Super Drug and White Cross Pharmacy? Holland said that is just fine with him.
"I'm encouraging people to go to multiple spots," he added. "Some people are saying no you shouldn't do that. I do not care. Wherever you can get your vaccine, get in and get it and just let us know [if you get a shot elsewhere] if you were on ours so we can take you off our list."
Just stay within Bonner County since the doses are allocated based on county population, Holland said.
While several nurses, a check-in person and others staff the daily vaccination clinics, Saturday's event saw several dozen people with a host of community volunteers turning out to help BGH put on the clinic to ensure all 480 people received their vaccine.
A team of everyone from the Diagnostic Imaging and Community Development to the nursing and pharmacy staff banded together to make the clinics happen, said Holland.
And that can be puzzle of moving pieces, he said. From figuring out how many people can receive a dose that day — it varies depending on which vaccine is received — how many doses are in each vial, which again, varies. For each first dose given, an appointment needs to be made for that person to receive their second dose.
But despite all the moving pieces and changing schedules, the entire team has made it happen, Holland said.
And being able to give the vaccine, to offer hope to the community through the vaccine more than a year past the start of the pandemic, has boosted everyone's spirits.
"This has been energizing," Holland said. "Where when we've been dealing with this for so long without necessarily an answer to help get out, and all the sudden we have an answer.
"The sheer joy that the people are experiencing coming in and being able to get that vaccine, feeling like they're one step closer to getting their life back, has been incredibly energizing. It kind of gives you that will to keep going."
Those receiving the vaccine are equally as energized, and have been nothing but complimentary about the process and by the staff volunteering their time to give the vaccines.
"They're just really appreciative that we're stepping up and doing this, that we're willing to open our doors and get people in," Holland said.
Holland said all hospital staff have proud to be a part of helping out, saying they feel a responsibility to the community they live in and of which they are a part.
To register for a vaccination at BGH, go online to bonnergeneral.org or, if residents don't have a computer or don't have reliable internet access, they can call the hospital's COVID hotline at 208-265-3323 and someone will help them register over the phone.
When individuals arrive for their vaccination, they are checked in to make sure they are registered at BGH, fill out a pre-vaccination checklist and are given a vaccination card with the vaccine's lot number and expiration. A nurse then talks to individuals to explain the process and go over their checklist. After receiving their vaccine, they are monitored for 15-30 minutes, depending if they've indicated a past episode of an anaphylactic reaction. They're then free to go on their way, Mayhew said.
"So hopefully from the time they check in to the time they leave, it's less than 20 minutes," she said.
As they manned the check-in station, BGH public information officer Erin Binnall and CEO Sheryl Rickard said it was great to see everyone coming in the doors, excited to be taking a step closer to a safer life and for hospital staff to be able to serve their community.
"It's been a great day," Binnall said.
Caroline Lobsinger can be reached at clobsinger@bonnercountydailybee.com and followed on Twitter @CarolDailyBee.
---