Bill passes House, would deny discriminating against unvaccinated
by
VICTOR CORRAL MARTINEZ
Hagadone News Network
|
February 25, 2021 1:00 AM
BOISE — The Idaho House of Representatives conducted a third reading of House Bill 140 and passed the bill, which would add a new chapter to Title 44 specifying employers or companies that contract with the state of Idaho shall not discriminate against unvaccinated persons.
The bill, which passed with 49-21, will now be sent to the Senate to be debated and read.
Rep. Heather Scott, R-Blanchard, and Rep. Sage Dixon, R-Ponderay, both voted in favor of the bill.
A bill is passed by a majority of those present. When a bill passes in one house it is then transmitted to the other house where it will follow a similar path. If a bill fails to pass, it is filed in the office of the Chief Clerk or Secretary of the Senate depending on the house of origin.
"'Discrimination against unvaccinated persons' means a company or employer maintaining a policy of subjecting any employee to termination or refusal to hire, failure to promote, reassignment with significantly different responsibilities, a reduction in pay, or a significant change in benefits on the basis of such employee's vaccination records or because such employee refuses to be vaccinated against any illness or disease because of a medical contraindication or for reasons of conscience, including religious or philosophical beliefs."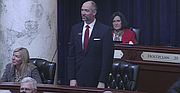 ---