Court unseals documents connected to riot arrest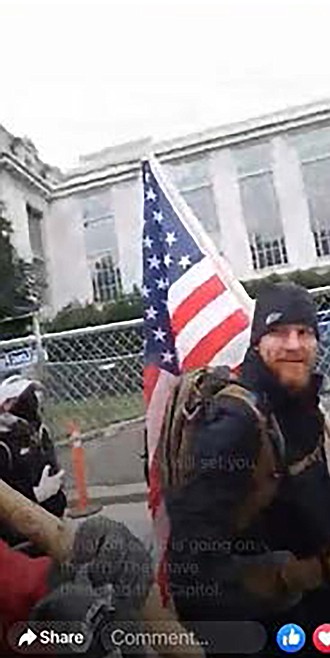 A screenshot shows Michael Anthony Pope of Sandpoint at the Jan. 6 march to the Capitol building.
|
February 25, 2021 2:59 PM
A Washington, D.C., federal court has unsealed a statement of reasons for the arrest of Michael Anthony Pope, 32, of Sandpoint and his brother, William, of Kansas in connection to the insurrectionist unrest in Washington, D.C. on Jan. 6.
Michael Anthony Pope is charged with two felonies and five misdemeanor charges, according to U.S. District Court records. The felony charges allege Pope obstructed an official proceeding and engaged in civil disorder on the day Congress convened to certify Electoral College ballots, which cemented Joseph Biden's presidency and the defeat of former President Donald Trump.
Misdemeanor charges against Pope include entering and remaining in a restricted building, disorderly and disruptive conduct in a restricted building, disorderly conduct in a capitol building, impeding passage on capitol grounds and demonstrating in a restricted facility.
This is a breaking story that will be continue to be updated with more information.
Recent Headlines
---