Thieves target catalytic converters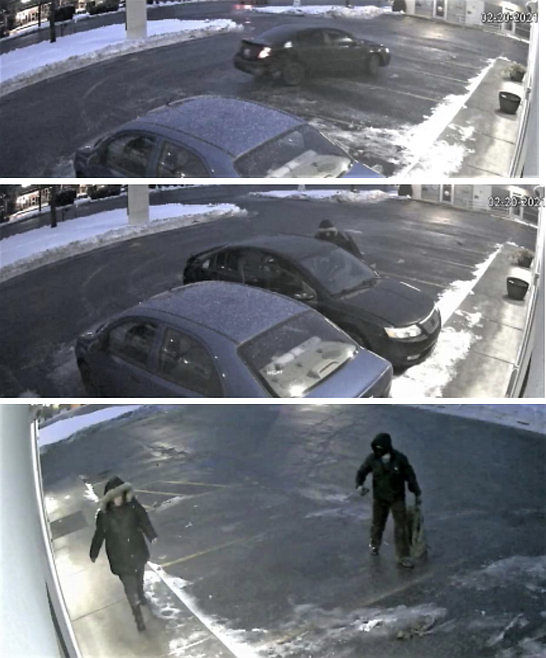 Suspects and their car
CDAPD/Photo
|
February 25, 2021 1:05 AM
The Coeur d'Alene Police Department is investigating multiple reports of thefts of catalytic converters from passenger cars, RVs and moving trucks during the past five months. This is in addition to similar thefts in Kootenai and Spokane counties.
The theft, damage and repair costs for the victim of a catalytic converter theft can exceed $1,000, according to a police press release.
According to Car and Driver, thieves target catalytic converters because of the value of precious metals in them, including palladium and rhodium, and they are relatively easy to steal — "a few minutes and pipe cutter."
"From about $500 an ounce five years ago, the price of palladium quintupled to hit a record of $2,875 an ounce last year, and is now hovering between $2,000 and $2,500 an ounce, above the price of gold," the New York Times reported. "Rhodium prices have skyrocketed more than 3,000 percent from about $640 an ounce five years ago to a record $21,900 an ounce this year, roughly 12 times the price of gold."
A recent theft in Coeur d'Alene occurred at a closed business during the week of Feb. 20, in the 3200 block of North Government Way. Police said surveillance photos show two suspects, a male and female, and the vehicle they were driving.
Detectives are requesting if anyone knows the identity of these suspects, or has any other information related to the theft of any catalytic converters, to call the department at 208-769-2320 or e-mail a tip to policetips@cdaid.org.
To help prevent these types of thefts, police say park your vehicle in a secure garage or a well-lit area, install motion lights in your driveway or parking area, install a catalytic converter protection device and report suspicious activity.
Police also recommend etching your car's VIN number, license plate number or other unique identifier on the catalytic converter to make it easier to identify if stolen and later recovered. And if you have a high-riding vehicle, such as a truck, van or SUV, as well as a lower-profile vehicle, park the low-profile one next to the bigger vehicle to make access underneath it more difficult.
---