Skier causes avalanche on Blue Mountain
SANDPOINT — The Idaho Panhandle Avalanche Center issued a warning early Tuesday morning recommending against travel in slide-prone areas of the Selkirk and Cabinet mountains.
The warning comes after an alpine skier caused a slab avalanche slightly below the summit of Blue Mountain, a popular backcountry destination on the northern side of Schweitzer Mountain Resort.
One person was caught in the slide, although there were no partial or complete burials, according to the observation posted to IPAC's website. The avalanche had a crown height of 2 feet and a width of 150 feet. The slide had a width of 850 feet and began on an eastern aspect on a slope of 35 degrees.
The bed surface was old snow and the weak layer in the snowpack was storm snow, the observation said. A recent avalanche and recent loading by snow and wind are cited as red flags in the incident.
Blue Mountain, which has a summit of 6,662 feet, is known for drawing skiers and snowboarders looking for fresh snow, solitude or a hearty uphill walk. The hiking route to the summit begins near the unloading point of the Idyl Our T-bar surface lift. Skiers and snowboarders pass through a designated gate posted with warnings that they are proceeding at their own risk into an area that is not scouted by the ski patrol or where avalanche-control work is conducted.
The Panhandle Avalanche Center said recent heavy snow combined with wind will likely create widespread areas of unstable snow. The warning also applies to the Silver Valley and northwestern Montana.
The warning is set to expire on Wednesday morning.
"Large amounts of snow over the past week have created a couple new problems within the snowpack," avalanche forecaster Jeff Thompson.
Thompson said there is a weakness — buried surface hoar — approximately 2 feet beneath the surface. If triggered, the layer can avalanche on any slope steep enough to slide.
"The avalanche center has received multiple reports of natural and human-triggered avalanches over the last 48 hours. Many of them on slopes not known to slide in the past," Thompson said.
Thompson added that the persistence of buried surface hoar layers, the problem may persist for a couple of days or weeks.
Info: idahopanhandleavalanche.org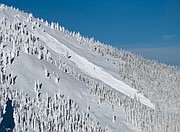 Recent Headlines
---