Lakeside overwhelms Wampus Cats, sweeps season series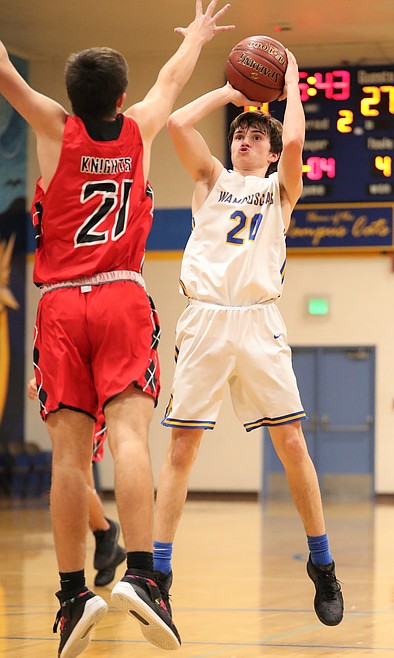 Junior Sam Barnett pulls up for a mid-range jumper in the first half of Thursday's game.
(Photo by DYLAN GREENE)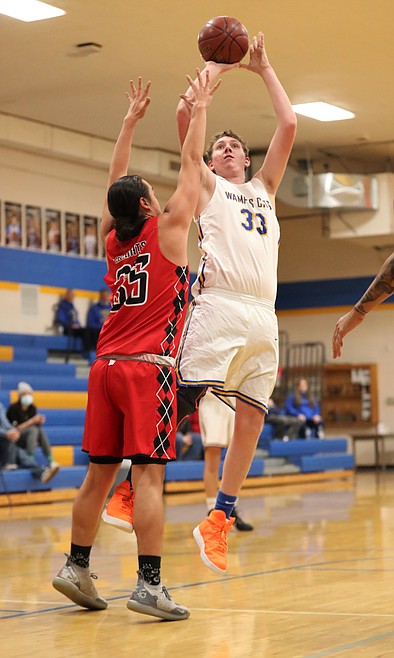 Senior Chris Wade pulls up for a jumper on Thursday.
(Photo by DYLAN GREENE)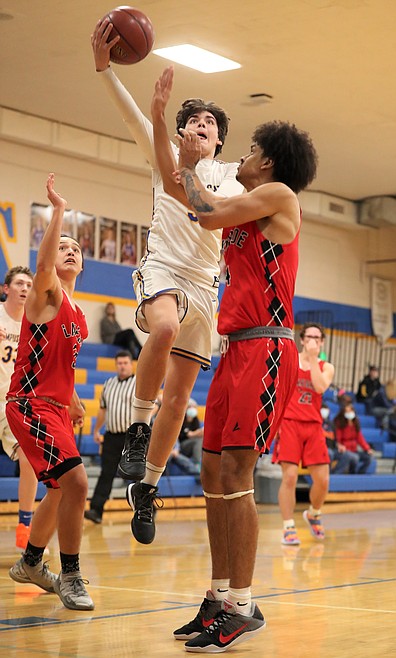 Carter Sanroman elevates for a layup over the Lakeside defense on Thursday.
(Photo by DYLAN GREENE)
Nathan Shelton (left) tries to fight past a Lakeside defender on Thursday.
(Photo by DYLAN GREENE)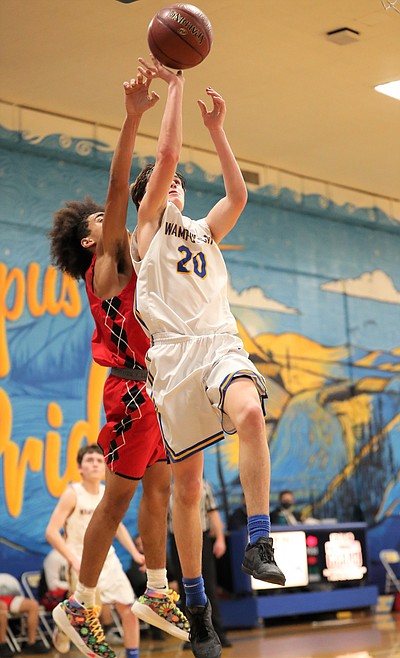 Sam Barnett has a shot attempt blocked by a Lakeside player on Thursday.
(Photo by DYLAN GREENE)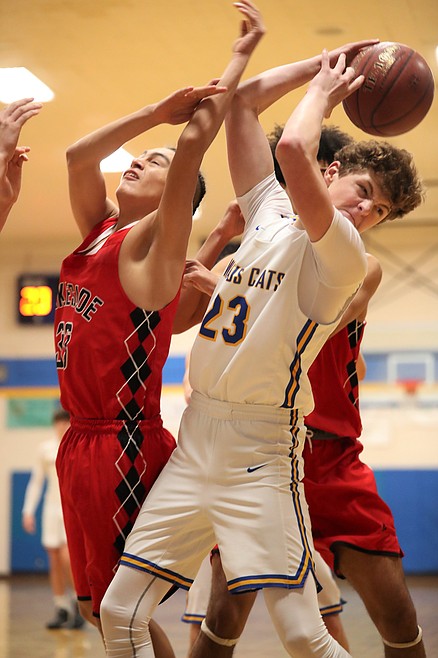 Freshman Ethan Howard (right) battles for a rebound on Thursday.
(Photo by DYLAN GREENE)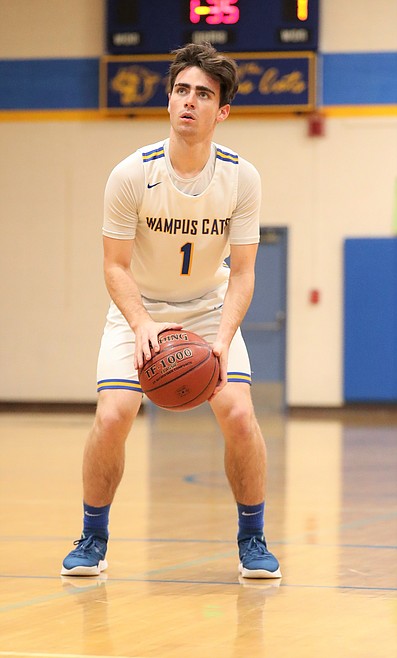 Senior Cameron Garcia attempts a free throw on Thursday.
(Photo by DYLAN GREENE)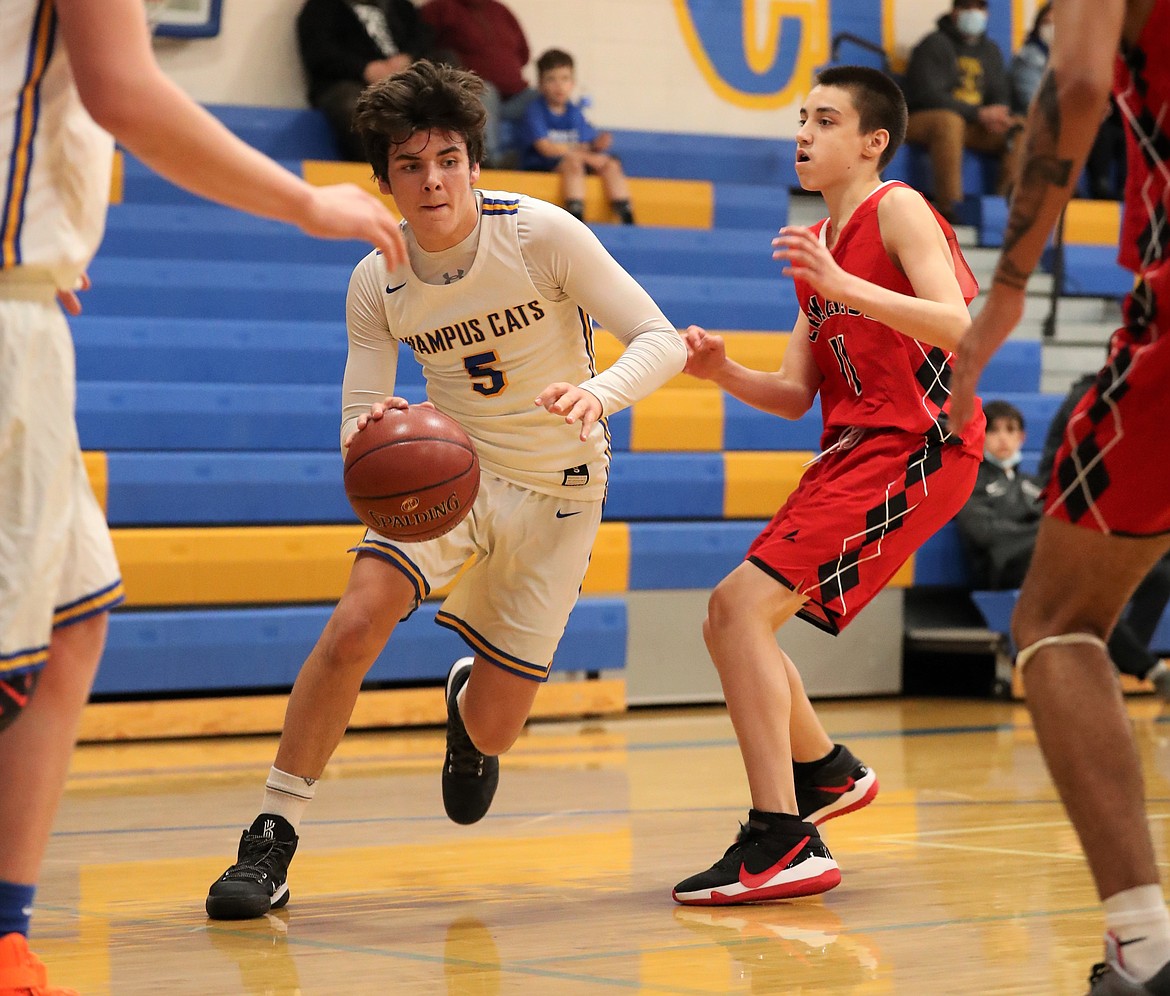 Junior Carter Sanroman bends the corner and drives toward the basket on Thursday.
(Photo by DYLAN GREENE)
Previous
Next
by
DYLAN GREENE
Sports Editor
|
January 7, 2021 11:31 PM
CLARK FORK — Clark Fork boys basketball faced a daunting task Thursday night.
The defending 1A Division II state champion Lakeside Knights came to town.
To earn a victory, the Wampus Cats needed to play a perfect game and hope the Knights underestimated them. Unfortunately, that didn't happen and Lakeside secured a 80-38 win.
Lakeside's height, depth, athleticism and quickness was too much for Clark Fork to handle.
Early on in the first quarter, the scrappy Wampus Cats hung with the speedy Knights. But midway through the period, Lakeside turned up the intensity defensively and went on a 18-1 run to end the quarter.
The Knights' press led to nine turnovers by Clark Fork in the opening quarter.
"They like a really fast tempo and we don't have that much in our league, so it's a whole new game for us," assistant coach Stillman Berkley said about Lakeside. "They are a very competitive team and it shows."
The Wampus Cats were able to find more of a rhythm on offense in the second quarter scoring 13 points, but the Knights continued to pour it on and took a 46-21 lead into the locker room.
The clock started running in the fourth quarter and Lakeside grabbed its second win over Clark Fork this season.
In the first matchup between these two teams on Dec. 15, Lakeside scored 91 points and won by 56. Berkley said he saw a lot of improvement from his Wampus Cats on Thursday night.
"Last time we couldn't break the press to save our lives and tonight we were able to," he said.
Carter Sanroman and Cameron Garcia rose to the occasion and combined for 31 points and five 3-pointers to lead Clark Fork. Garcia also had three rebounds, two assists and two steals. Senior center Chris Wade had 5 points and five rebounds.
Four players reached double figures for Lakeside and Vander Brown led the way with 20 points, six assists and five steals.
Despite the loss, Berkley said his team gained plenty of experience.
"Lakeside is the cream of the crop and that's pushing us to our limit," he said, "so I think we're going to take a lot away from this game and translate that into practice and get things a lot more crisp."
Clark Fork (1-6) hosts Wallace at 7 p.m. next Thursday.
Lakeside 25 21 26 8 — 80
Clark Fork 8 13 9 8 — 38
LAKESIDE — Brown 20, Abuan 7, Higgins 16, SiJohn 4, Q. Hall 10, J. Hall 15, Louie 0, Matt 8.
CLARK FORK — Garcia 15, Sanroman 16, Reuter 0, Barnett 2, Howard 0, Shelton 0, Wade 5.
---