Top-ranked Coeur d'Alene locks down Sandpoint, ends Bulldogs' winning streak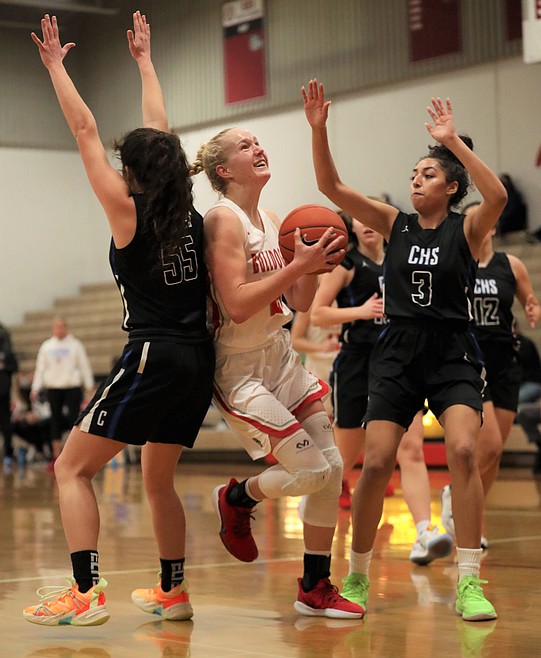 Senior Hattie Larson splits the Coeur d'Alene defense and attacks the basket on Saturday.
(Photo by DYLAN GREENE)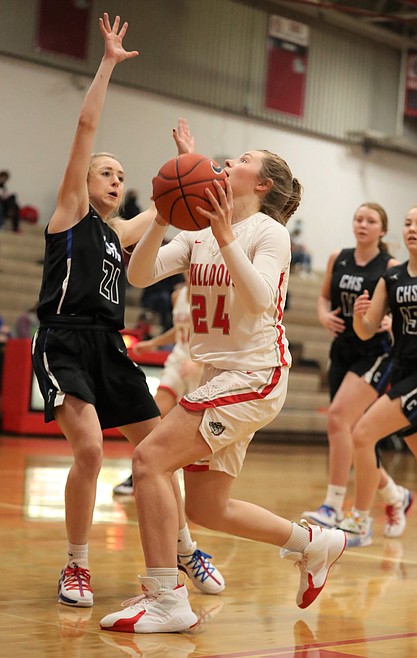 Senior Kaylee Banks attacks the paint and converts a layup on Saturday.
(Photo by DYLAN GREENE)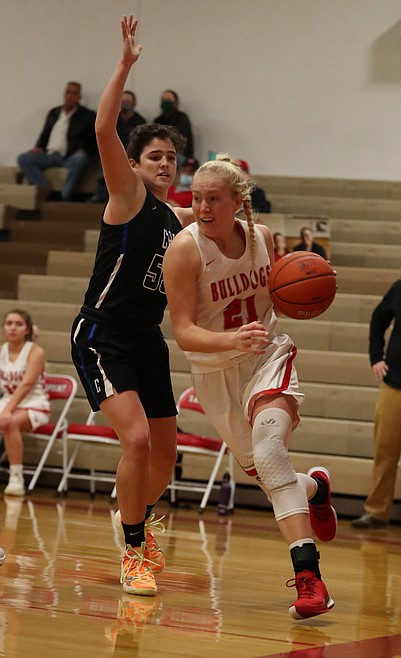 Hattie Larson drives baseline during Saturday's game.
(Photo by DYLAN GREENE)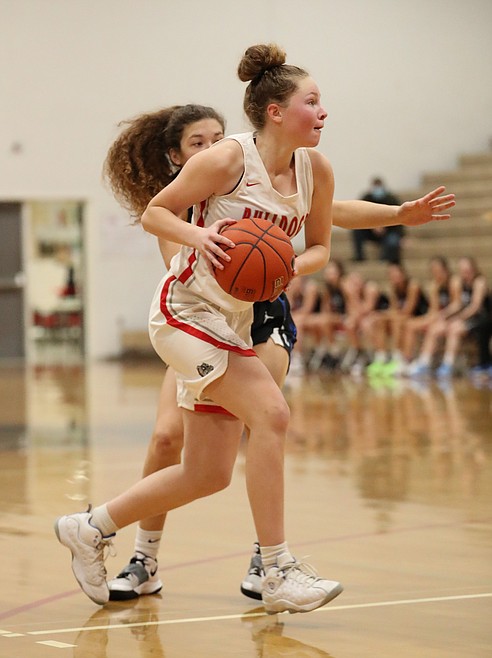 Sophomore Karlie Banks drives toward the paint on Saturday.
(Photo by DYLAN GREENE)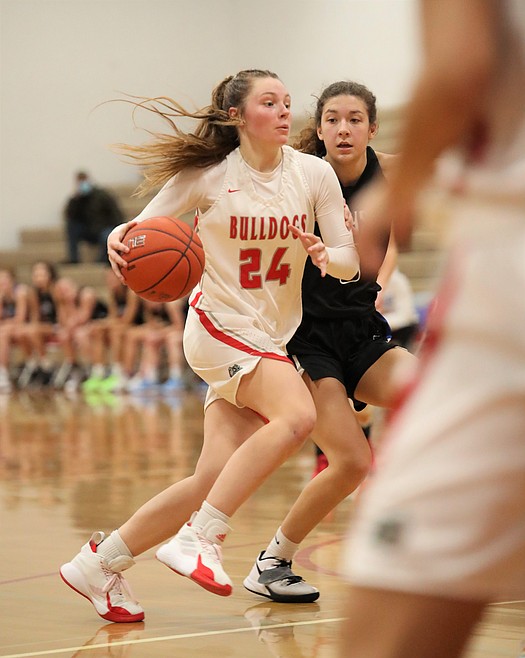 Senior Kaylee Banks drives toward the basket during the second half of Saturday's game.
(Photo by DYLAN GREENE)
Previous
Next
by
DYLAN GREENE
Sports Editor
|
January 9, 2021 10:14 PM
SANDPOINT — Coeur d'Alene emerged victorious in a 4A-5A Inland Empire League battle at Les Rogers Court on Saturday.
Sandpoint girls basketball had its fair share of opportunities, but 25 turnovers derailed the Bulldogs in a 55-29 loss to the Vikings.
Coeur d'Alene, the third-ranked team in 5A, set the tone early with their press and rode that momentum the rest of the way to improve to 8-0 in IEL play and end the Bulldogs three-game winning streak.
"Coeur d'Alene did a really good job of flying around," head coach Will Love said about the Vikings press. "That's why they are ranked third in the state ... It's tough to simulate something like that in practice. We've been pressed this year, but not at that level, not at a 5A state tournament level, so it definitely got us a little bit flustered."
Coeur d'Alene head coach Nicole Symons said her team fed off their play on defense.
"We take great pride in it," she said. "We spend most of our practices focusing on defense because for me I just love defense and I think it drives teams, it drives the energy."
Both teams took the court on Saturday with little rest. The Vikings beat rival Lake City the day before while Sandpoint was fresh off a big win at Moscow on the same night and didn't get back home until after midnight.
Both coaches knew their teams would have some tired legs and early on both struggled to find the bottom of the net.
Sandpoint got off to a fast start right from the tip. Senior guard Kaylee Banks received the ball, attacked the Coeur d'Alene defense and finished a layup to get the Bulldogs on the board within the first 10 seconds. On the next possession, her younger sister, Karlie Banks, buried a 3-pointer to give SHS a 5-0 lead.
But after that, the Bulldogs got ice cold and missed eight straight baskets the rest of the first quarter. This allowed the Vikings to go on a 16-0 run. Sandpoint didn't score again until two minutes into the second quarter when Karlie Banks hit another 3-pointer.
The Coeur d'Alene defense had a lot to do with Sandpoint's struggles offensively. They forced 16 first-half turnovers to take a 25-13 advantage into halftime.
The Vikings outscored SHS 30-16 in the second half to hand the Bulldogs their third loss at home this season.
Coeur d'Alene used a balanced attack to down Sandpoint. Jaelyn Brainard-Adams, Emma Whiteman and Skylar Burke all scored 12 points for the Vikings.
Karlie Banks led Sandpoint with 9 points, Kaylee Banks had 8 and Daylee Driggs, Riley Cessna and Sofia Platte each finished with 3. Bella Phillips led the team with five rebounds.
Love said Friday's win at Moscow took a lot out of his team, but they never stopped battling against the Vikings.
"I was really proud of the kids because today was tough," he said. "It was a tough turnaround with an emotional win [Friday] and a long bus ride so the kids were competing, we just got rushed and we couldn't get settled down."
Love said if the Bulldogs (5-5, 2-3 IEL) converted some more of their shots in the paint — especially in the first half — they could have gave a talented Coeur d'Alene squad a run for their money.
Despite the loss, Love said the team learned what it takes to play back-to-back days.
The Bulldogs will work on finishing around the basket in preparation for hosting Lake City at 7 p.m. Thursday, Love said.
Coeur d'Alene 14 11 11 19 — 55
Sandpoint 5 8 7 9 — 29
COEUR d'ALENE — Mitchell 3, Matheson 2, Brainard-Adams 12, Whiteman 12, Symons 1, Ja. Johnson 2, Je. Johnson 0, Younker 9, Chavez 2, Phenicie 0, Burke 12, Naccarato 0.
SANDPOINT — Gammon 0, Driggs 3, Reinink 0, Lyons 0, Tomco 0, Cessna 3, Phillips 2, Kar. Banks 9, Larson 1, Platte 3, Kay. Banks 8.
---