Lake City completes season sweep of Bulldogs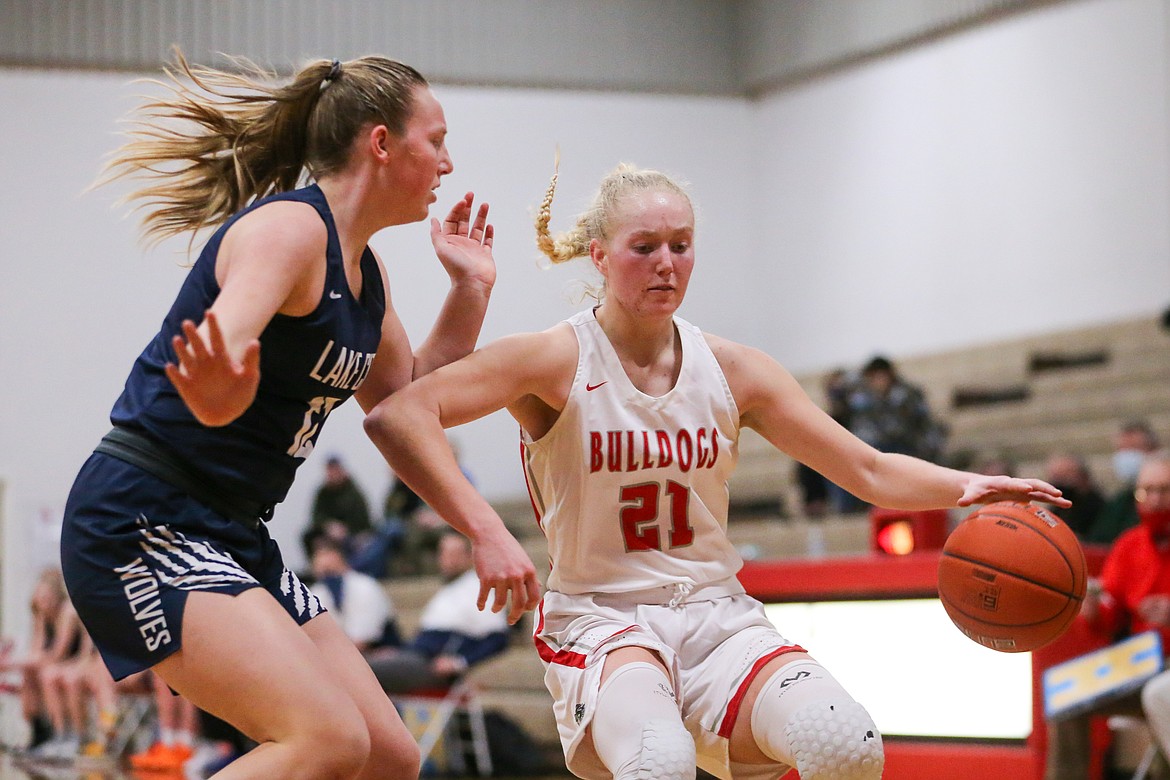 Senior Hattie Larson (right) tries to fend off Lake City's Emberlyn Reynolds during the second half of Tuesday's game.
(Photo courtesy of JASON DUCHOW PHOTOGRAPHY)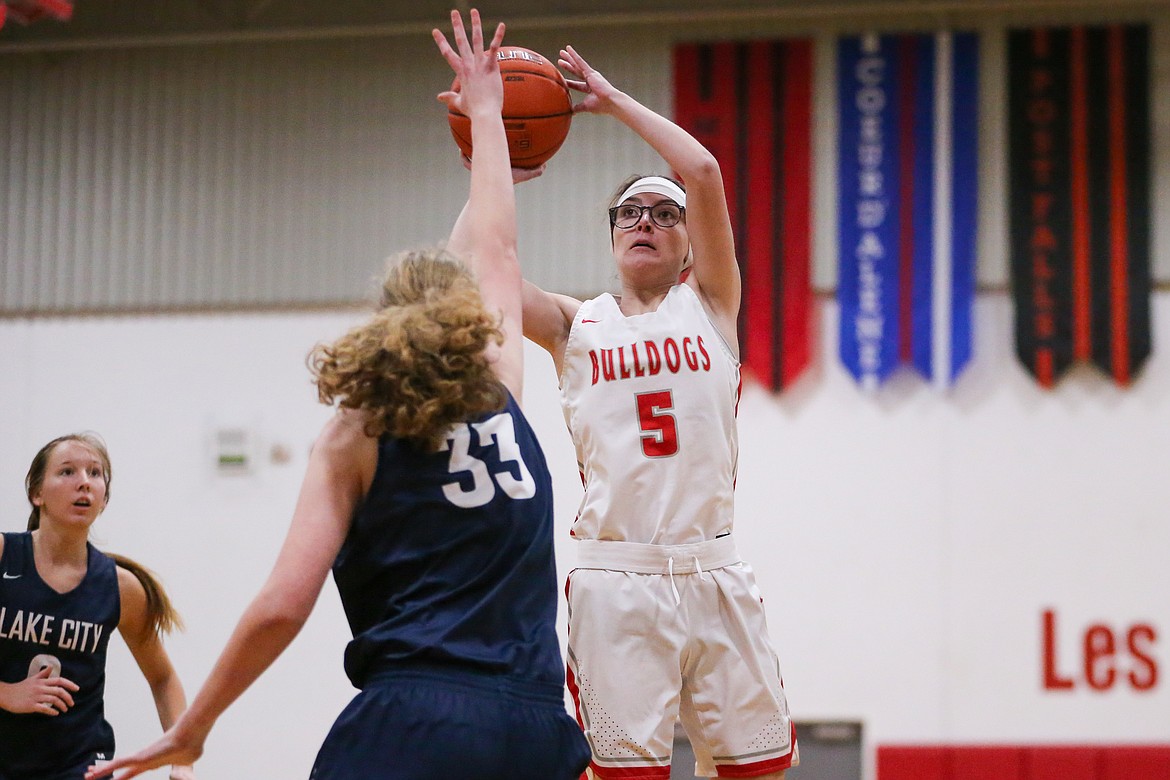 Sophomore Anna Reinink pulls up for a jumper during Tuesday's game.
(Photo courtesy of JASON DUCHOW PHOTOGRAPHY)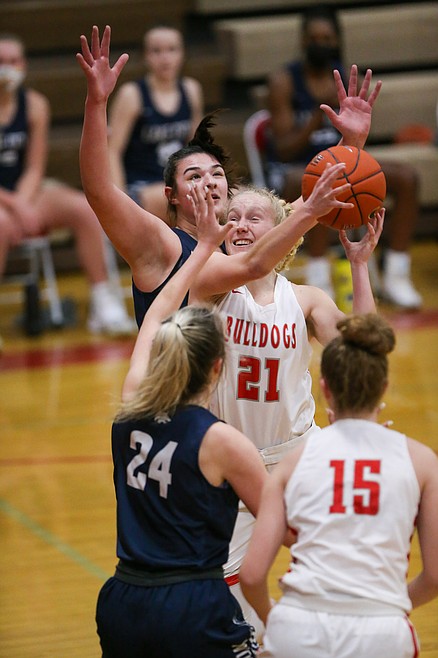 Hattie Larson battles Lake City's Brooklyn Rewers for a rebound on Tuesday.
(Photo courtesy of JASON DUCHOW PHOTOGRAPHY)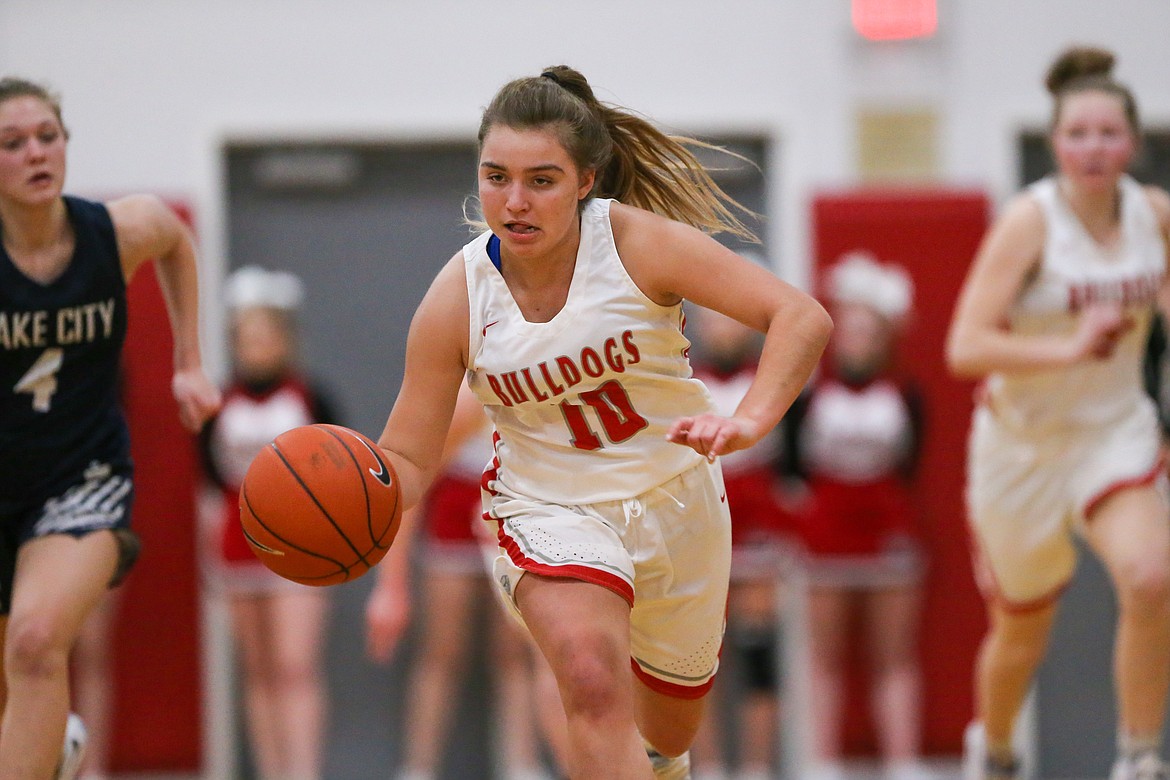 Junior Destiny Lyons dribbles the ball up the court during the second half of Tuesday's game.
(Photo courtesy of JASON DUCHOW PHOTOGRAPHY)
Previous
Next
by
DYLAN GREENE
Sports Editor
|
January 12, 2021 11:32 PM
SANDPOINT — Coming in, Sandpoint knew they would have to limit Michigan State commit Brooklyn Rewers if they wanted to compete with the Timberwolves.
But unfortunately, the 6-foot-4 Lake City center wasn't the only player the Bulldogs had to worry about on Tuesday night at Les Rogers Court. Kendall Pickford showed up and buried a trio of 3-pointers to help the Timberwolves secure a 55-26 Inland Empire League victory and complete a season sweep of the Bulldogs.
Rewers and Pickford combined for 32 points and Lake City hit six 3-pointers. Head coach Will Love said the Timberwolves are an extremely tough team to defend when they catch fire from the outside.
"We at first got a little too far extended, especially on their shooters," he said, "and then we kind of backed off a little bit and then they started to hit some shots, so we had to find that range. There was times when we did it tonight, but then all of the sudden when you're trying to find that range they've got a 6-foot-4 girl that's going to Michigan State that they can throw the basketball up to."
Halfway through the first quarter, the Bulldogs were showing their fight and hanging with the Timberwolves. Then Lake City went on a 15-0 run that lasted into the second quarter.
Defensively, Sandpoint held Lake City at bay at times, but on the other end of the court the Bulldogs struggled to get shots up over Lake City's twin towers.
The Timberwolves took a 31-14 lead into halftime and two minutes into the fourth quarter their advantage reached 30 points, and the clock started running.
Kaylee Banks led the team with 9 points. Bella Phillips tallied 5 points and six rebounds, and Hattie Larson added 4 points, four rebounds and two assists.
Tuesday was Sandpoint's second straight game against a tough 5A IEL opponent.
"With Coeur d'Alene and Lake City, this exposed some stuff that we definitely need to work on and some things that I've got to change and correct," Love said, "but I think it's a learning experience for our kids. I saw some kids get better out there."
Love said his team also learned how to guard a dominant player in the post which will help when the Bulldogs (5-6, 2-4 IEL) head to Lakeland at 5:30 p.m. Friday to face Katy Ryan and the Hawks.
Lake City 20 11 12 12 — 55
Sandpoint 7 7 4 8 — 26
LAKE CITY — Pickford 15, Miller 2, Zufelt 3, Shanley 6, Reynolds 4, Roberts 0, Rewers 17, Jenkins 2, Jo Parks 2, Hawkins 6, Cogley 0.
SANDPOINT — Driggs 2, Reinink 2, Lyons 0, Tomco 1, Cessna 0, Phillips 5, Kar. Banks 3, Larson 4, Platte 0, Banks 9.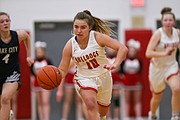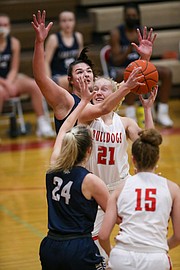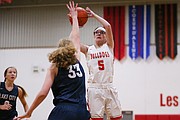 ---