Spartans open IML play with losses at Bonners Ferry, Kellogg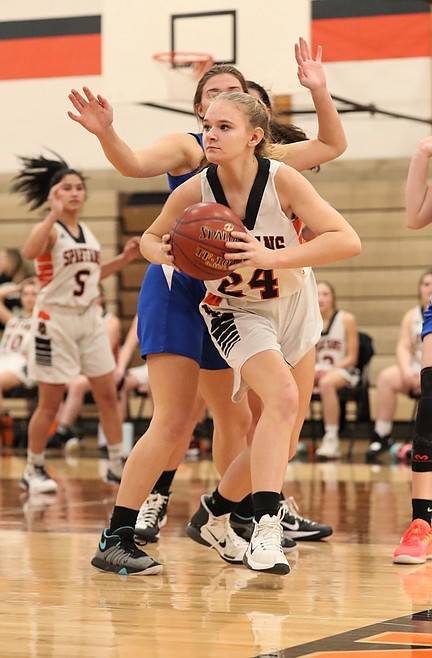 Freshman Helena White secures a rebound and looks to kick the ball out to a teammate during a game against North Idaho Christian on Jan. 4 at PRLHS.
(File photo by DYLAN GREENE)
by
DYLAN GREENE
Sports Editor
|
January 13, 2021 1:00 AM
KELLOGG — Kellogg took down Priest River 53-17 in Intermountain League action on Tuesday night.
The Spartans stayed within striking distance and only trailed by 11 at the half, but the Wildcats depth was too much to overcome.
"Really excited with how physical we were in the first half," head coach Gary Stewart said. "We were diving for loose balls and bumping the cutter ... We got some great looks against their man defense, but that only lasted a couple of minutes. We couldn't back up our great defense with hitting shots on offense. Nobody was on and that's tiring to try and maintain that defense without rewarding yourself on the offensive end."
Lilly Freitas led the team with 6 points, Abbey Shockey had 5, Hannah Palfrey tallied 4 and Makia Fitzmorris added 2.
Last Thursday, Priest River tipped off IML play at Bonners Ferry, the fourth-ranked team in 3A. Going into that game, Stewart was concerned his team would get bogged down by the Badgers' full-court pressure. But instead, Holly Ansley became the Spartans biggest problem.
"We had no answer for," Stewart said.
Ansley scored 24 points in third quarters of action for the Badgers and surpassed 1,000 career points.
"I didn't do anything special against her," Stewart said. "We just played straight up man and tried to run different people at her, but it didn't matter. She was just way more skilled than we were that night."
Bonners Ferry built a 26-point halftime lead to cruise to a 61-24 win.
"We handled their pressure pretty good full-court wise the whole game," Stewart said. "We had moments where we turned the ball over, but overall I was surprised at how well we handled their pressure."
Stewart said Palfrey was aggressive all night against the Badgers. She led the team with 8 points. Freitas and Fitzmorris each finished with 4 points.
Stewart said the Spartans had plenty of chances to score against the Badgers.
"We missed quite a few lay-ins," he said. "We actually had open looks breaking their press and just couldn't get it to drop."
Priest River (3-9, 0-2 IML) heads to rival Timberlake, the No. 2 team in 3A, at 4 p.m. Saturday.
Priest River 6 9 7 2 — 24
Bonners Ferry 21 20 14 6 — 61
PRIEST RIVER — Rantala 2, Freitas 4, Pound 2, Burgess-Duquette 0, Fitzmorris 4, Thompson 0, Palfrey 8, Kingery 2, White 0, Barton 2, Shockey 0.
BONNERS FERRY — Bayer 3, Burt 0, Villaluz 4, Sa. Hill 0, Bliss 1, Blackmore 3, Abubakari 6, Ansley 24, Si. Hill 7, Sumpter 7, Pinkerton 6.
Priest River 6 3 6 2 — 17
Kellogg 10 10 20 13 — 53
PRIEST RIVER — Rantala 0, Freitas 6, Pound 0, Burgess-Duquette 0, Fitzmorris 2, Thompson 0, Palfrey 4, Kingery 0, White 0, Barton 0, Shockey 5.
KELLOGG — A. Van Hoose 0, Jerome 6, Kurst 0, E. Van Hoose 6, Hill 4, Lee 4, G. Nearing 12, H. Cheney 19, Reed 4, M. Cheney 1, Potts 0.
---