Sandpoint soars past Timberlake, completes season sweep of Tigers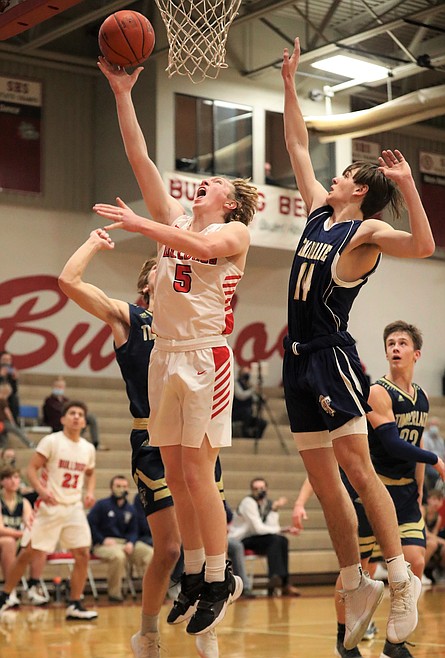 Junior Jacob Eldridge elevates to convert a layup during the first half of Thursday's game against Timberlake at Les Rogers Court.
(Photo by DYLAN GREENE)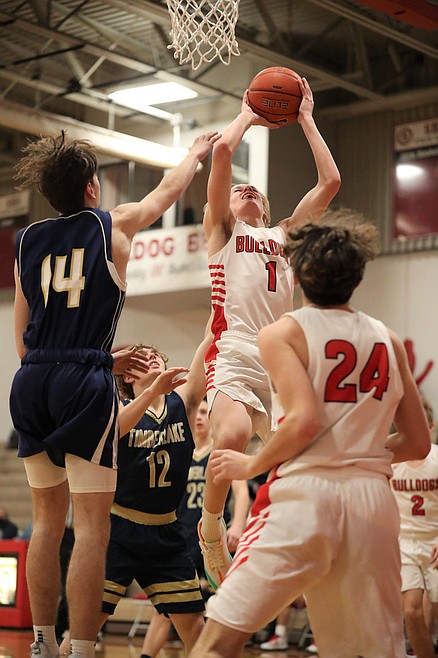 Sophomore Colin Roos (center) converts a layup while a handful of Timberlake players surround him during Thursday's game.
(Photo by DYLAN GREENE)
Randy Lane pulls up for a jumper on Thursday.
(Photo by DYLAN GREENE)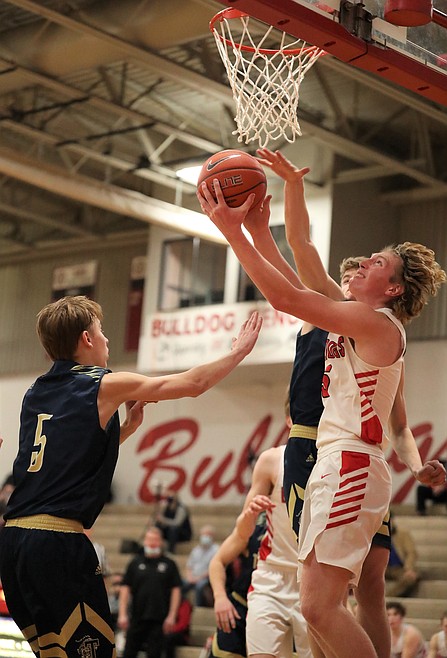 Jacob Eldridge attempts to hit a contested layup during the second half of Thursday's game.
(Photo by DYLAN GREENE)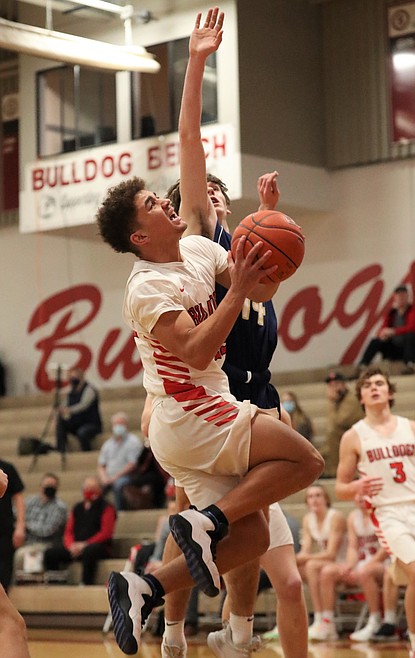 Senior Elijah Larson fights through contact and attacks the basket on Thursday.
(Photo by DYLAN GREENE)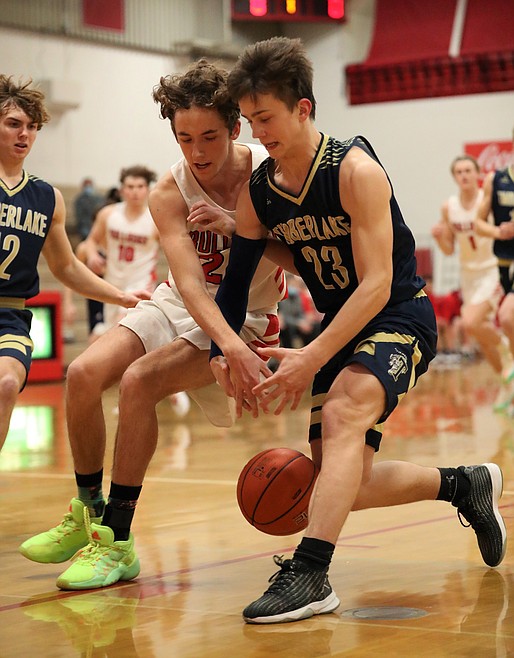 Sophomore Randy Lane (left) battles a Timberlake player for possession of the ball on Thursday.
(Photo by DYLAN GREENE)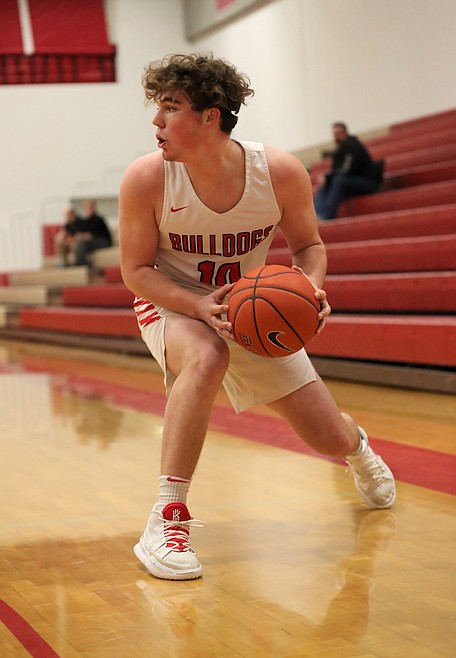 Sophomore Arie VanDenBerg looks for an open teammate on Thursday night.
(Photo by DYLAN GREENE)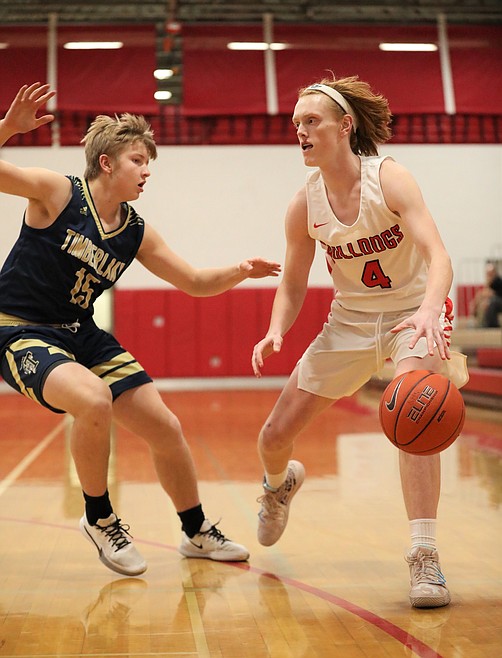 Sophomore Rusty Lee looks to attack during Thursday's game.
(Photo by DYLAN GREENE)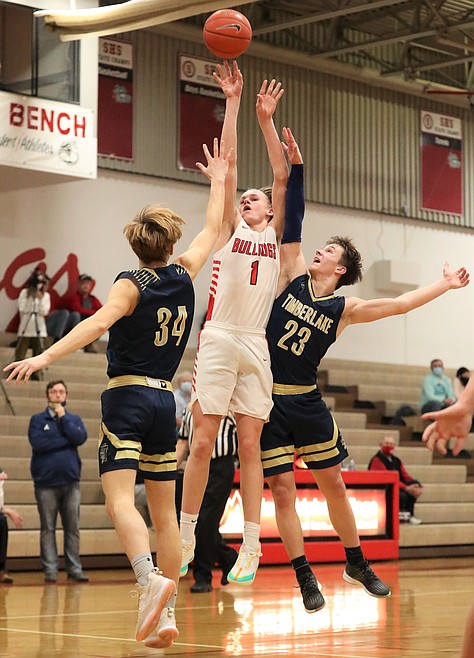 Sophomore Colin Roos pulls up for a jumper over a pair of Timberlake defenders on Thursday.
(Photo by DYLAN GREENE)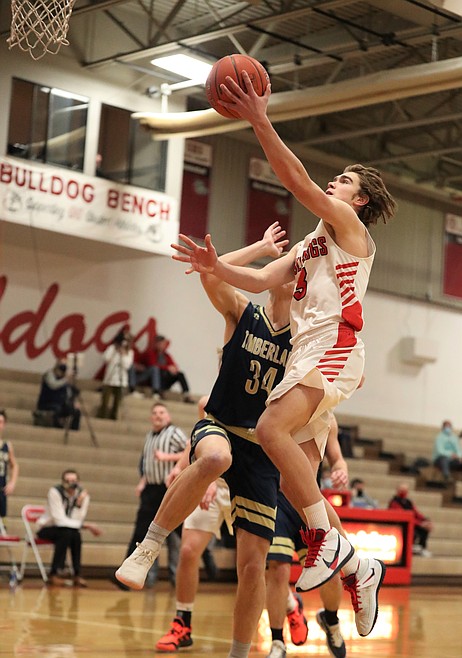 Freshman Max Frank attacks the basket and converts a layup during Thursday's game.
(Photo by DYLAN GREENE)
Previous
Next
by
DYLAN GREENE
Sports Editor
|
January 14, 2021 11:39 PM
SANDPOINT — After multiple postponements, Sandpoint and Timberlake finally met for the second time this season Thursday night at Les Rogers Court.
The Bulldogs were looking for the season sweep and they did just that, taming the Tigers 72-47.
On Dec. 3, Sandpoint took down the Tigers on their home court 59-45.
The loss snaps a three-game losing streak for the Bulldogs.
Head coach Mike Roos was glad to get his first win under his belt.
"I think having a win, it gets their spirits up and it's like, 'Hey the stuff we're running out there does work, we can do this whether it's a 5A team or 4A or 3A," he said. "I think they are kind of grasping that now."
The Bulldogs jumped on the Tigers early and built a 10-2 lead in the first quarter. Timberlake responded by going on a 10-2 run of its own to tie the game at 12-12 a minute into the second quarter.
Sandpoint slowly distanced itself from the Tigers, and carried a 28-21 advantage into the locker room.

In the second half, the Bulldogs took a stranglehold on the game with their unselfish play on the offensive end.
Sandpoint picked apart Timberlake's 2-3 zone and whipped the ball around until they found the open shooter. The ball movement was nearly flawless and it was exactly what Roos was looking for.
"You get it into the short corner in a 2-3 zone or any zone it puts pressure on the defense to defend all the way to the baseline," Roos said, "and then we started to get to the interior and then we started to get the extra pass to the perimeter ... They just found their way with it and kept working on it."
The Bulldogs scored 44 points in the second half to cruise to their third win of the season.
Defensively, Roos said his team did a great job crashing the glass, securing rebounds and limiting the Tigers' second-chance points.
Four Bulldogs reached double figures. Arie VanDenBerg led the way with 14 points and four 3-pointers. Colin Roos tallied 12 points, eight rebounds, four assists and two steals. Jacob Eldridge poured in 12 and Stone Lee added 11. Darren Bailey and Parker Pettit each scored 7, and Randy Lane finished with a team-high six assists.
The Bulldogs (3-5) will play their third game in four days 7 p.m. tonight at rival Lakeland.
Timberlake 7 14 11 15 — 47
Sandpoint 12 16 23 21 — 72
TIMBERLAKE — Riley 8, T. Menti 5, Paslay 4, Yetter 10, Millsap 0, Antone 0, Higgins 15, T. Menti 0, Simpson 5, Swensen 0.
SANDPOINT — Roos 12, Pettit 7, Frank 4, R. Lee 0, Eldridge 12, VanDenBerg 14, Bailey 7, S. Lee 11, Larson 0, Lane 5.
---