Missing scuba diver found dead in Lake Pend Oreille
by
KEITH KINNAIRD
News editor
|
January 15, 2021 1:00 AM
HOPE — A Sagle scuba diver who went missing in Lake Pend Oreille was found dead earlier this month.
The unidentified 58-year-old man was diving with a partner amid the submerged wreckage of railroad cars near Trestle Creek on New Year's Day. The diving partner, 47-year-old Jacob Powlison, said he last saw his partner near the wreckage at a depth of 95 feet.
Powlison, Bonner County sheriff's officials said, had been out of the water for 48 minutes and told deputies he could not see any telltale bubbles issuing from his partner's scuba equipment.
The sheriff's dive team, Marine Patrol and firefighters from the Sam Owen and Northside fire districts conducted an extended search. The initial search involved sheriff's divers making multiple dives into the night to search around two of the sunken railroad cars at depths of over 100 feet.
The search continued for another six days, with the dive team making repeated dives. The Kootenai County Sheriff's Office assisted in the search by sending multiple vessels equipped with side-scan sonar, in addition to a remotely operated vessel.
The Bonner County sheriff's dive team located the missing diver on Jan. 7. His body was found at a depth of 104 feet and approximately 20 yards south of the lower train car.
"He's been recovered," Undersheriff Ror Lakewold said on Thursday.
Bonner County Coroner Robert Beers' investigation determined the victim suffered a heart attack and subsequently died of drowning.
"The official cause of death was drowning but it was initiated by the massive heart attack," Lakewold said.
The area where the victim was found is a draw for divers due the train car wreckage. Seven railroad cars carrying gravel plunged into the lake in 1904, according to a Sandpoint Magazine feature on scuba diving in Lake Pend Oreille.
Four of the rail cars were later recovered, but three slipped into deeper waters, the feature said.
Lakewold said the area is also popular with divers hunting for artifacts related to the development of the railroad line at the north end of the lake.
The death may be the first scuba-related fatality in recent Bonner County history. Lakewold said he could not recall any such deaths over the last 20 years.
"There's risk involved from a sports standpoint, but most recreational divers maintain a high level of consideration on safety," said Lakewold.
Water temperatures in Lake Pend Oreille have ranged from 35 degrees to 37 degrees this month, according to the U.S. Geological Survey.
"We would like to thank all the agencies that assisted in the search, and extend our deepest condolences to the family and friends of the victim," the Bonner County Sheriff's Office said in a news release.
Keith Kinnaird can be reached at kkinnaird@bonnercountydailybee.com and followed on Twitter @KeithDailyBee.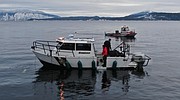 ---