Local mother, advocate writes book about daughter
by
RACHEL SUN
Staff Writer
|
January 17, 2021 1:00 AM
When Jessica Rachels was working in childcare 16 years ago, she didn't know that her job was putting her at risk for a virus that would impact the daughter with whom she was pregnant.
That's because when Rachels became pregnant with her almost 15-year-old daughter, Natalie, no one had told her about cytomegalovirus.
The virus, which falls into the herpesvirus group, is transmitted through bodily fluids. Most healthy individuals don't experience symptoms, but women who are pregnant and contract the virus can pass it along to the fetus, causing birth defects.
People who work in child care are also at a greater risk of contracting the virus, Jessica learned, because children with CMV tend to have high levels of the virus in their saliva and urine. However, by the time she learned about the risks she wasn't able to do anything.
Over the years, Natalie has had 15 surgeries — and she's going to have more. Rachels said she had to deal with feelings of guilt as a mother for not knowing the risks about the disease beforehand, and having to see her daughter go through discomfort because of her disabilities.
"It's a grieving process," Rachels said. "There's this virus, and no one had told me."
Still, there are many things Natalie is able to do, and Rachels focuses on those. Natalie can laugh, and smile, and coo. She loves playing on her iPad, lights, music and playing peek-a-boo, to name a few.
As Natalie grew up, Jessica worked to advocate for CMV awareness when she could, and sat on the Idaho Council on Developmental Disabilities.
Her work included advocating for greater educational efforts about CMV, including literature which was sent out to child care centers and churches.
Two years ago, she said she was inspired to write a book to help people better understand CMV — from Natalie's perspective.
Natalie is nonverbal, so Rachels used her intimate knowledge as Natalie's mother and a person who had learned to read her moods in writing the book.
"I think I have the gift of empathy," she said.
The book's title, "Natalie Bug: My Life with Cytomegalovirus (CMV)" is based on her nickname, "Natalie Bug" because of her love of lights.
"The joke is that if I were a bug, I would fly towards the bug zapper," a line in a book reads.
The book also includes definitions for specific language used in the book, making it accessible for children, or people who might not be familiar with CMV.
In Amazon reviews for the book, customers called it a labor of love and a beautiful family project.
"Like the girl in the story, lovingly nicknamed Natalie "Bug", our daughter's brain was impacted from congenital cytomegalovirus (CMV)," wrote one reviewer. "Adults and children will learn ways to share love with children who can't speak for themselves, and the public will learn about CMV prevention, including advocating for new law."
The book is being sold at some local shops and online, including the Corner Bookstore in Sandpoint, Sandpoint Super Drug and Amazon. For every purchase, $1 is also donated to the National CMV Association.
Rachels said she wanted to write the book because even though other books had been written about CMV, she hadn't seen one from the perspective of someone who has congenital CMV.
"I thought it would be really neat and the reader would connect more," Rachel said. "It took two years to work on it from start to finish."
To create the book, Rachels enlisted the help of one of her other daughters, Makala.
Makala, who is 13 years old, took art lessons with their neighbor, Miss Dorothy, and created the illustrations over the span of a few months.
"About every other week I'd work on one of them, and I had a couple drafts," Makala said. "I thought it was important."
Because of her sister's disability, Makala said, things can be more difficult for her and her family. She wanted to help make sure no one else has to go through the same thing.
"She's happy, and she's a wonderful sister," Makala said. "But it's harder."
Although Natalie isn't able to talk, Makala said, she loves life more than anyone else she knows.
"My sister isn't able to talk or walk, but she is the happiest person I know," she said.
Rachel Sun can be reached at rsun@bonnercountydailybee.com and followed on Twitter @RachelDailyBee.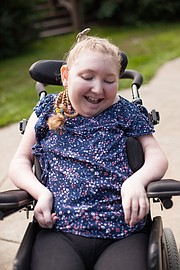 Recent Headlines
---