Fire crews provide update on Trestle Creek Complex to community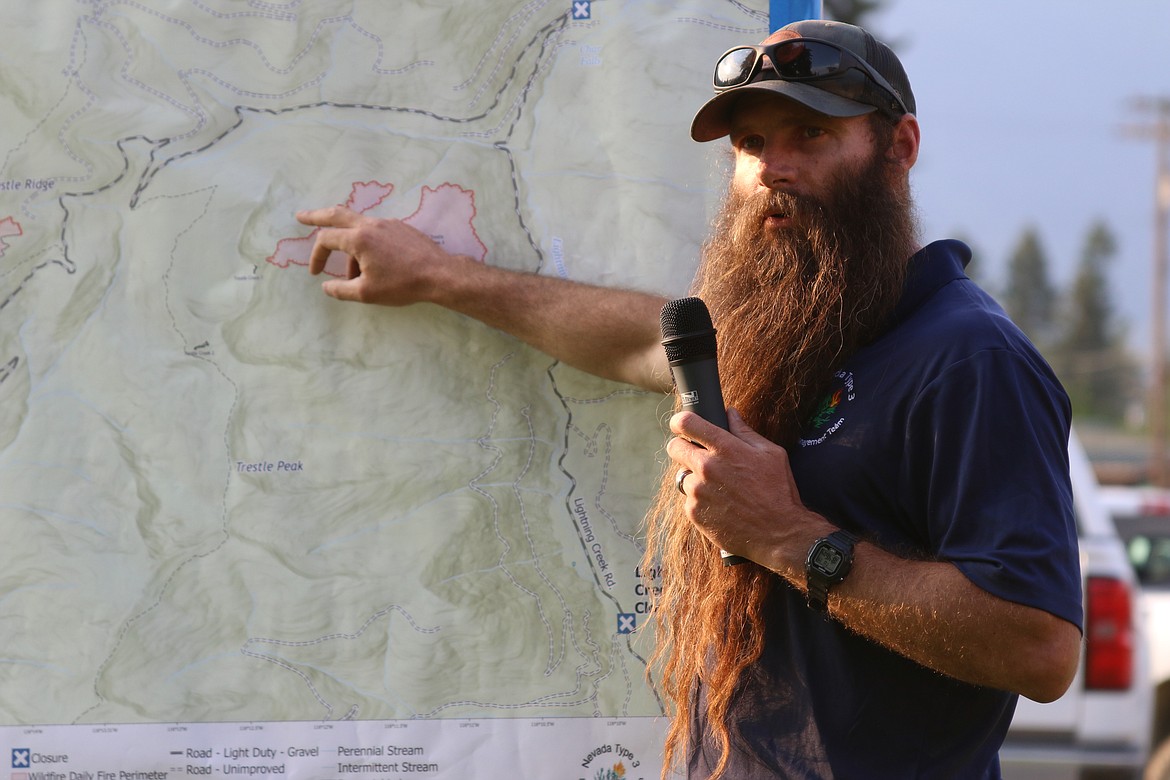 Andy Bertelson points to the section of the fire where crews are using aerial because ground crews are unable to safely reach fire lines.
Photo by RACHEL SUN
by
RACHEL SUN
Staff Writer
|
July 21, 2021 1:00 AM
▶️ Listen to this article now.
As firefighters continue to battle the Trestle Creek Complex wildland fire, the Trestle 6, the largest fire in the complex, is continuing to slowly burn and expand, but is unlikely to reach homes, officials told members of the public at a community update Tuesday evening at the Clark Fork High School.
Because of the terrain of Trestle 6, some areas are unsafe for firefighters to fight on the ground, so incident command has been using aerial drops to control the fire, particularly on the west end, said Jess Harvey, public information officer trainee for the Nevada Type 3 Incident Management Team.
However, the incident has not been wind-driven, but a slow spread as individual trees catch on fire and spread sparks.
"We haven't gotten to the point where we're notifying people or knocking on doors, the fire activity hasn't gotten to that point," said Incident Commander Andy Bertelson. "With the new resources we got in, I don't think we're going to be looking at that. But everything is set up if it does."
For regular fire updates, residents can sign up for Nixle alerts by texting 888-777, or visiting the Nixle website at nixle.com, said Bonner County Sheriff Daryl Wheeler. Residents can also look up a fire map on inciweb.nwcg.gov.
Although there are no homes currently in a danger zone, the sheriff's office is prepared to go knocking on doors should the need arise. Last year, department personnel knocked on 680 doors during fires in September.
The county uses a "ready, set, go" approach, Wheeler said. "Ready" means residents should be preparing for a possible evacuation. "Set" means people should load their cars and be ready. During this time, sheriff's officers will personally knock on doors. "Go" means residents should immediately evacuate.
As of Tuesday, an additional 111 firefighters came to aid in efforts to staunch the Trestle Creek Complex fires. In total, roughly 240 to 250 firefighters are working the complex fires, Bertelson said.
The Nevada Type 3 incident management team, which has been heading incident command, will have their last workday on Friday. Currently firefighters are camping out at the Bonner County Fairgrounds, though a new team will be camping out near the fires.
Across the west, firefighting resources are stretched thin, said Dorothy Harvey, public information officer for the Nevada Type 3 incident management team. Conditions in the area are also reaching records in terms of heat and drought.
"[The fires were] preceded by the second-driest spring ever recorded in Bonners ferry, and that driest spring in Priest River," Harvey said.
The fact that six out of seven lightning strikes caused fires speaks to the extreme flammability of the fuel, she said. Moreover, the Coeur d'Alene dispatch zone saw several human-caused fires.
The demand for fire firefighting resources means that things like aerial support are no longer assigned to single fires, but assigned based on need, Harvey said.
Currently, the Complex Fires have support from three Fire Boss aircrafts, some helicopters, scoopers and tankers, Bertelson said.
The area is also set to have a red flag warning until 10 p.m. Wednesday night, said Brad Milam, due to lighting Tuesday evening and Wednesday morning followed by dry and breezy conditions. However, the fuel conditions of subalpine fir have kept firefighters from seeing "extreme" fire behavior.
"We're seeing some creaking around some isolated torching, it'll pick up and torch out a group of trees, throw a bunch of spots down the way a little bit. And then a couple days later, it'll pick up and do it again," he said. "So that's why you're not seeing a big column."
Firefighters reminded the public that the closures of Trestle Creek and Lightning Creek roads are for the safety of both firefighters and the public, and thanked them for cooperating.
The public has been extremely supportive, Bertelson said, which crew members appreciate. He's been asked numerous times what people can do to help.
"Coffee packets and Emergen-C packets, or Liquid I.V., I guess, is another one. That stuff for the guys on the hill is huge," he said. "Just to have a cup of coffee, get back to work and then rehydrate."
---