Festival unveils poster artwork for summer concert series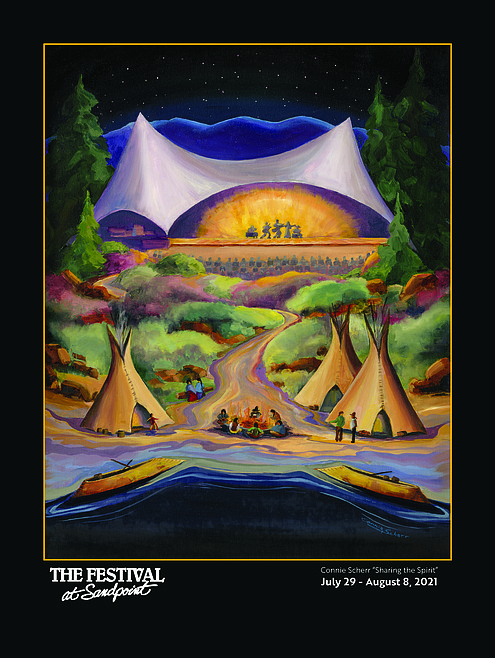 A number of years ago, Festival at Sandpoint poster artist Connie Scherr visited New Mexico and the Southwest where there were paintings of both former and current residents of the area. Seeing the connection between the past, present and future, she knew she wanted to embody this in her work. Above is her poster, "Sharing the Spirit".
(Courtesy image)
Connie Scherr was finally able to unveil her 2020 Festival at Sandpoint poster artwork, "Sharing the Spirit".
After being selected as the Festival at Sandpoint's 2020 poster artist and the cancellation of events, Scherr and The Festival unveiled the piece at a recent sponsor and patron appreciation and poster unveiling event.
A number of years ago, Scherr visited New Mexico and the Southwest where there were paintings of both former and current residents of the area. Seeing the connection between the past, present and future, she knew she wanted to embody this in her art.
When conceptualizing the poster art, Scherr said she thought about Sandpoint's community both past and present, including the Native American tribes, early explorers and settlers who may have camped along the shores of Lake Pend Oreille and shared the same sense of community and tradition that she experiences in Sandpoint.
Scherr imagines early residents and visitors trading, sharing food and drink, swapping stories, and playing music. Scherr thinks the Festival is the current embodiment of this history and describes it as "homely."
"We have been in Sandpoint for so long, and when we go to The Festival, we get the opportunity to see people from my husband's high school, and friends we haven't seen in years. We get to come together again and share food, drinks, stories, listen to music under a tent, and enjoy our beautiful surroundings."
Signed prints of the poster are now on sale to the public for $10. The original artwork's bidding has begun and will continue through the Festival until the winning bid is announced at the Grand Finale on August 8.
---