Fires & faces: How smokey skies affect your skin
by
DIANA MARIE NELSON Contributing Writer
|
July 28, 2021 1:00 AM
The increase in air pollution over the years has had major effects on the skin. Various air pollutants such as ultraviolet radiation, polycyclic aromatic hydrocarbons, volatile organic compounds, oxides, ozone, cigarette smoke, and particulate matter affect the skin as it is the outermost barrier. Air pollutants damage the skin by inducing oxidative stress.
Seeing smoky skies these days is a troubling sight. Many are in various stages of evacuation which takes its toll on us mentally and physically. We know that exposure to wildfire smoke, which is particulate matter, can be problematic on the lungs, heart, and other vital organs. Now, scientists are learning how this air pollution may harm the skin—our largest and most exposed organ.
Wildfire pollution contains fine particulate matter called PM2.5. These tiny particles are known in the medical community for getting lodged in the lungs and bloodstream, in turn causing problems for internal organs.
Data by researchers at the University of California, San Francisco and Berkeley, was published in the journal JAMA Dermatology citing the significant increase in pediatric and adult patients to Bay Area clinics complaining of itchiness and eczema following the 2018 northern California Camp Fire. This wildfire was the deadliest and most destructive in California history.
Even though San Francisco is 175 miles from the origin of the Camp Fire, the city saw a nine-fold increase in baseline P2.5 levels.
The research team analyzed more than 8,000 dermatology clinic visits by more than 4,100 pediatric and adult patients over the course of the fire's burn. They recorded patients' reports of atopic dermatitis— or itchiness—before, during, and after the fire. They compared these numbers to the number of visits during the same time frame between 2015 and 2016. They found that 89% of the patients that experienced itch during this period did not have a known previous diagnosis of atopic dermatitis, also known as eczema.
Smoke from wildfires contain various gases and liquids which can penetrate the outer barrier and damage cells. These can disrupt and trigger oxidative stress or cause inflammation.
The California study found that even short bursts of exposure to the smoke, it appears, can noticeably damage the skin barrier. For people with eczema, the skin is usually already susceptible to dryness and inflammation.  The additional irritants from air pollution can cause flare-ups and itchiness. For people with normal skin, too, the air pollution seems to cause itchiness and other symptoms of eczema. One dermatologist noted, "Even normal skin, which is working perfectly normally as a barrier, has its limits.
What This Means For You
Living in a place where you may be exposed to wildfire smoke means making adjustments in lifestyle. During these periods of time experts recommend staying inside a cool, air-conditioned space when possible. If you do go outside, it's best to wear long sleeves and pants which provide a layer of fabric protection to keep contaminants off your skin. Before COVID was even on our radar, wearing a mask during wildfire season was a standard recommendation for those with breathing issues.
Minor changes in your skin care routine will help in a major way. Be sure to cleanse your face twice a day with a gentle cleanser. Follow this with a serum and/or moisturizer, and lastly, protect with a sunscreen. At night, exfoliating can feel particularly good. Be aware of new rashes or itchiness and contact your medical professional for diagnosis and additional care.
We are blessed to live in one of the most spectacular places on the planet. If we didn't think so, we wouldn't endure the almost annual wildfires that threaten the beauty of this place. We do what we need to do: protect our homes, our properties, and our cherished heirlooms. While we're at it, let's protect our skin too.
Diana is a certified clinical cosmetologist, cosmetologist, and make-up artist. Diana can be contacted at dianamarienelon1210@gmail.com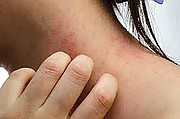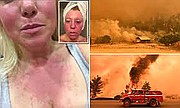 Recent Headlines
---