'They've been going nonstop': SHS football attacking offseason, building toward next step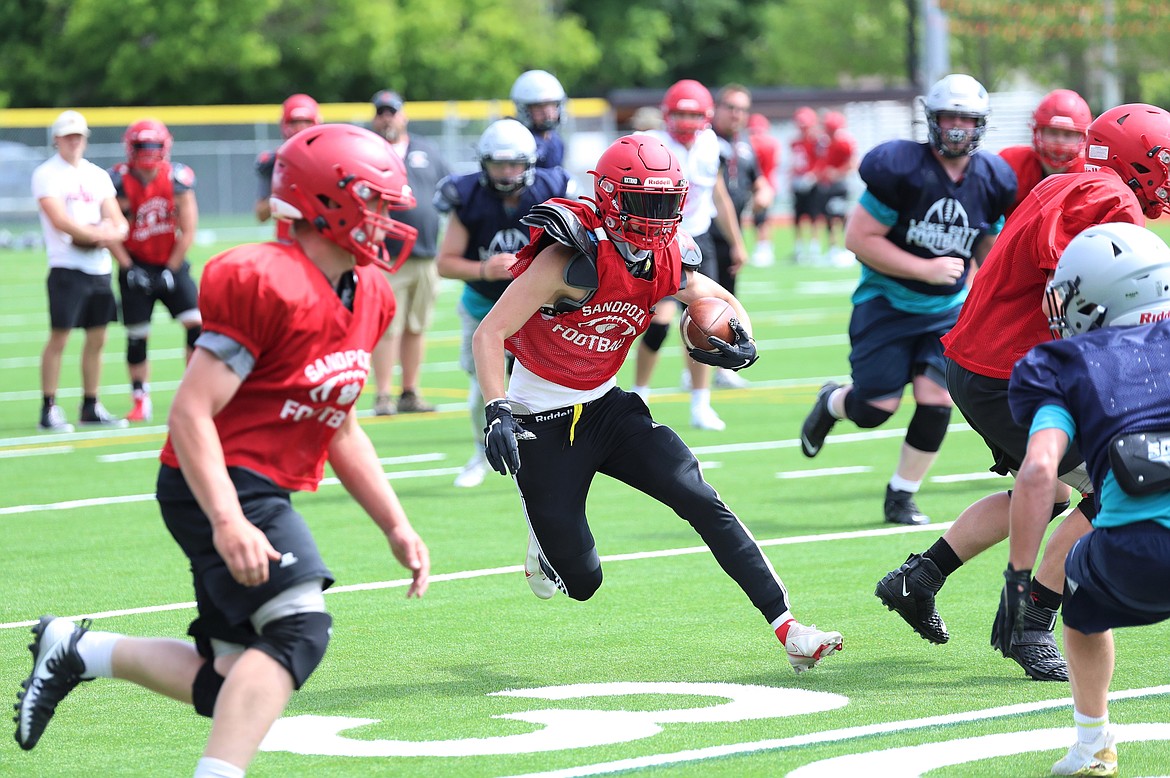 Wide receiver Luke McCorkle slices through the Lake City defense on a screen play during Wednesday's scrimmage at War Memorial Field.
(Photo by DYLAN GREENE)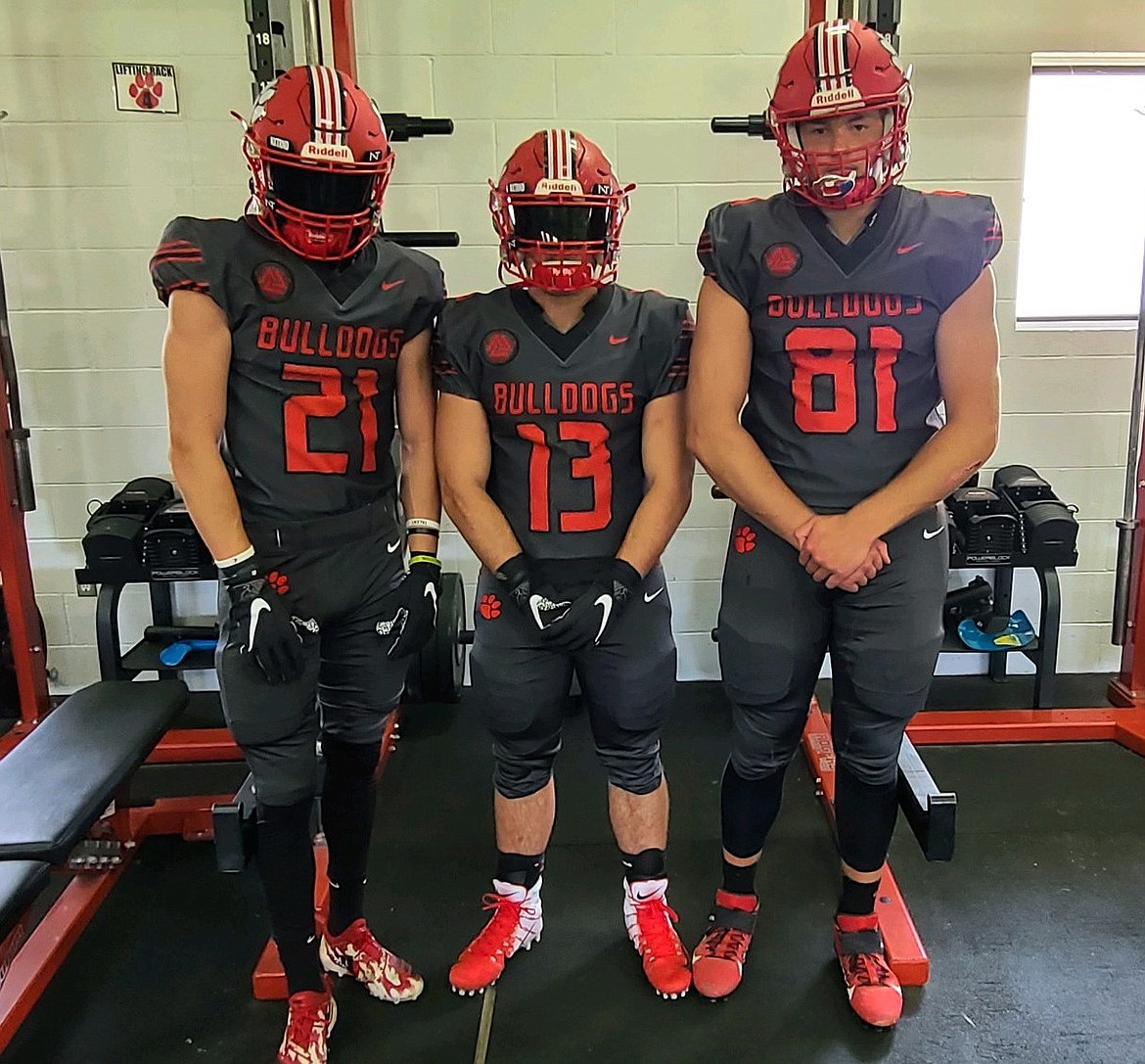 Players show off the new anthracite-colored alternate uniforms the football team will wear this fall to honor the history of the program.
(Photo courtesy of RYAN KNOWLES)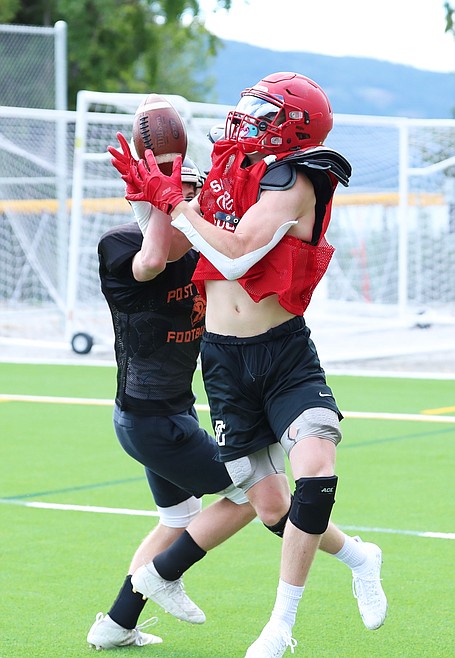 Wide receiver Cody Newhart attempts to haul in a touchdown catch on Wednesday.
(Photo by DYLAN GREENE)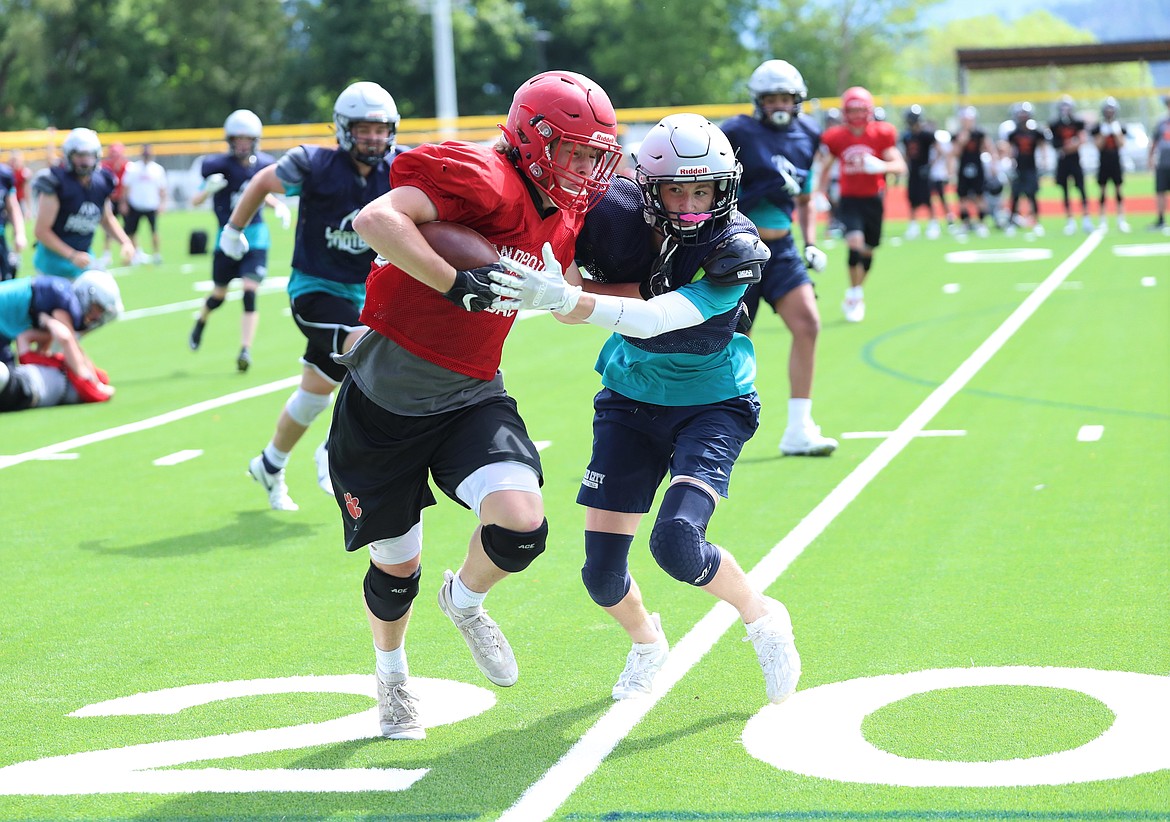 Owen Wimmer stiff arms a Lake City defender on Wednesday.
(Photo by DYLAN GREENE)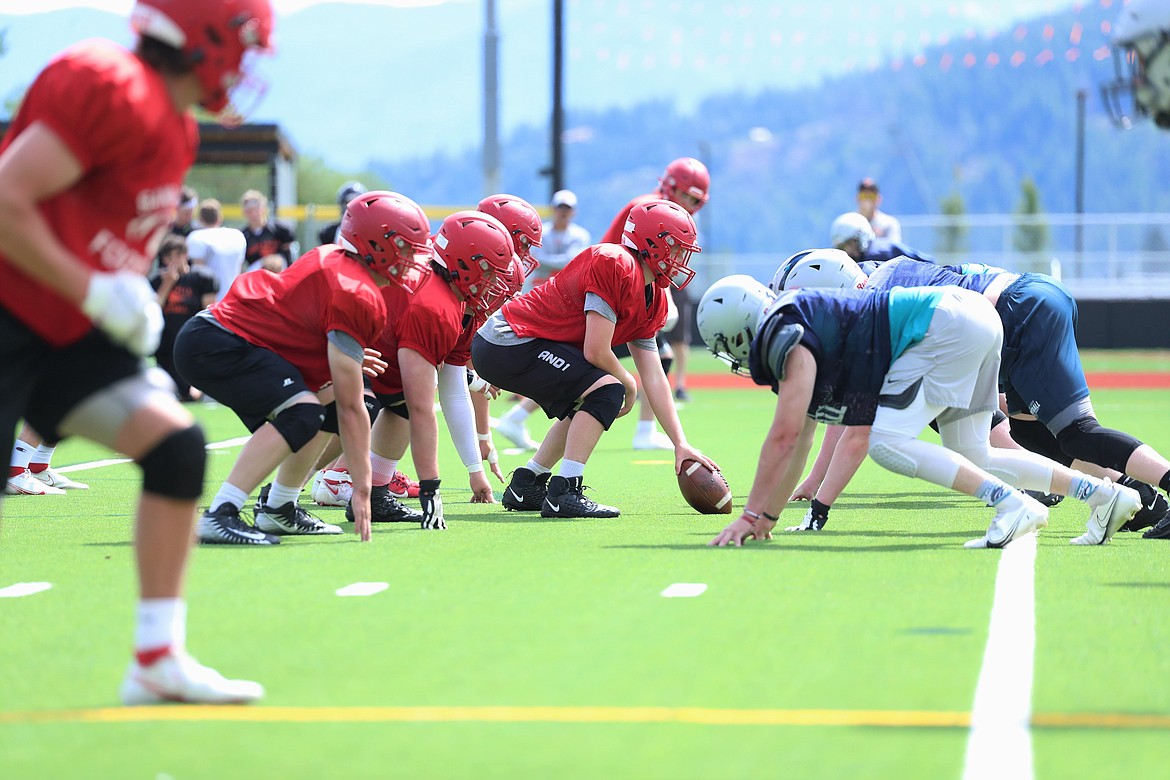 The Sandpoint offense lines up against the Lake City defense on Wednesday.
(Photo by DYLAN GREENE)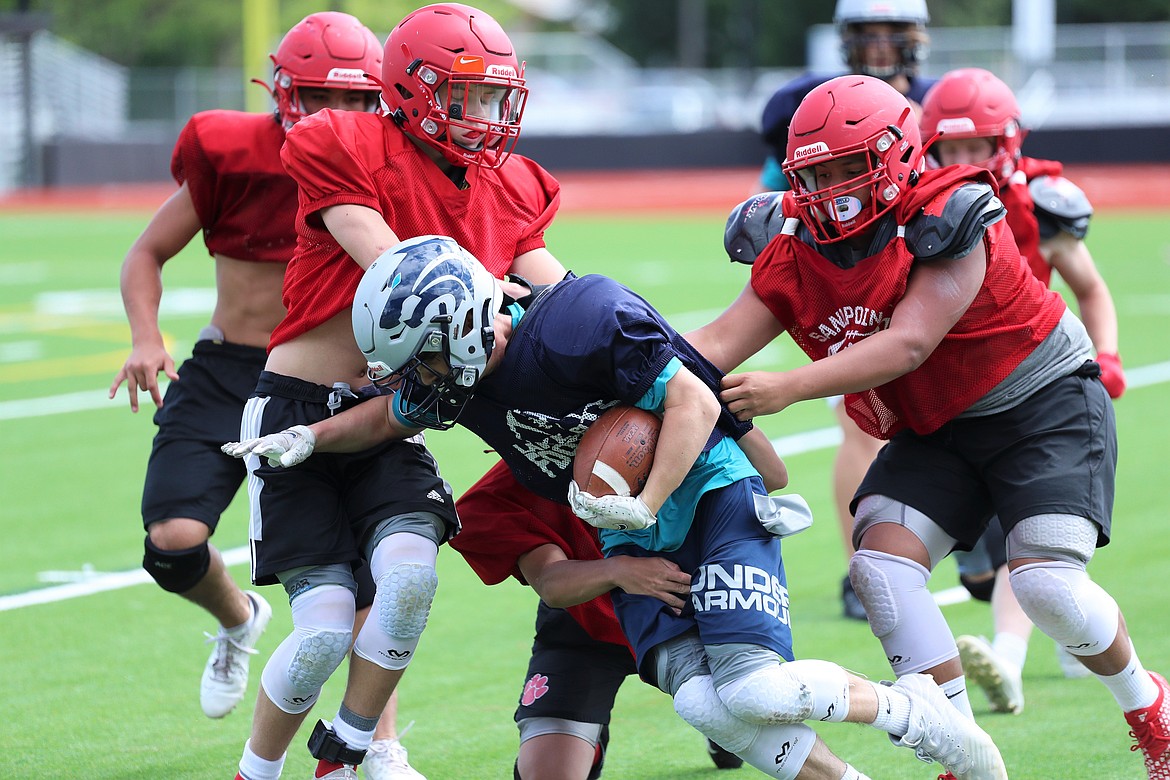 Junior varsity players swarm to tackle a Lake City running back on Wednesday.
(Photo by DYLAN GREENE)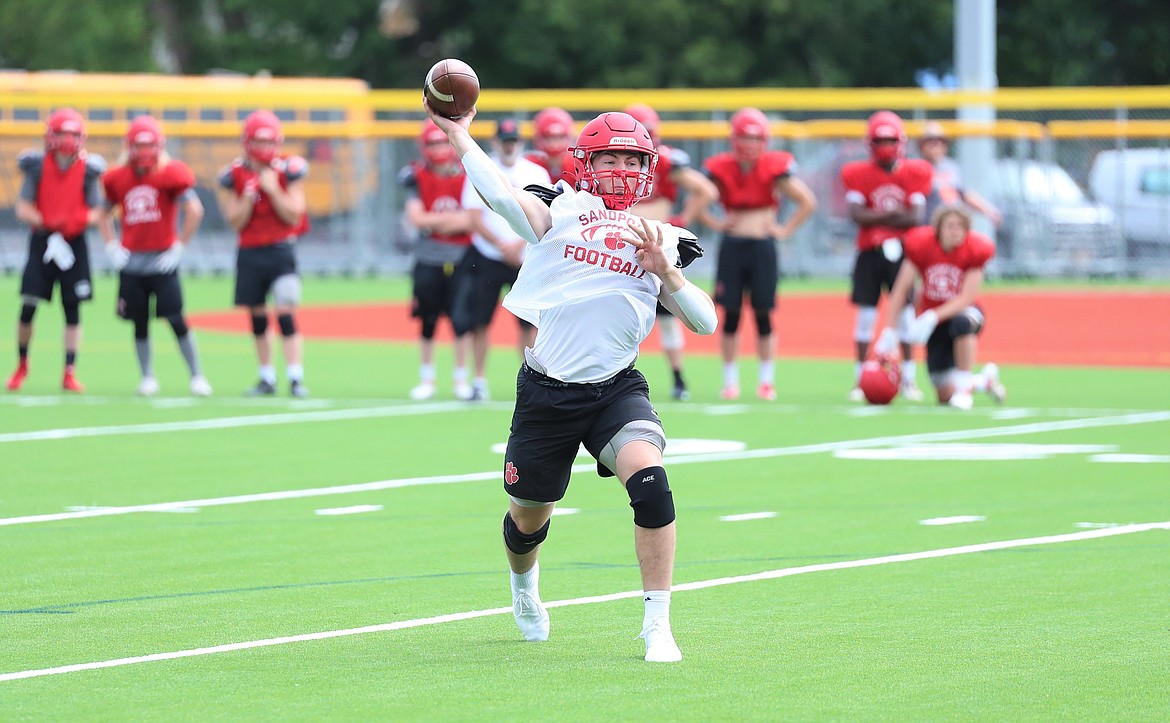 Quarterback Parker Pettit throws a pass into the end zone during a scrimmage against Post Falls on Wednesday.
(Photo by DYLAN GREENE)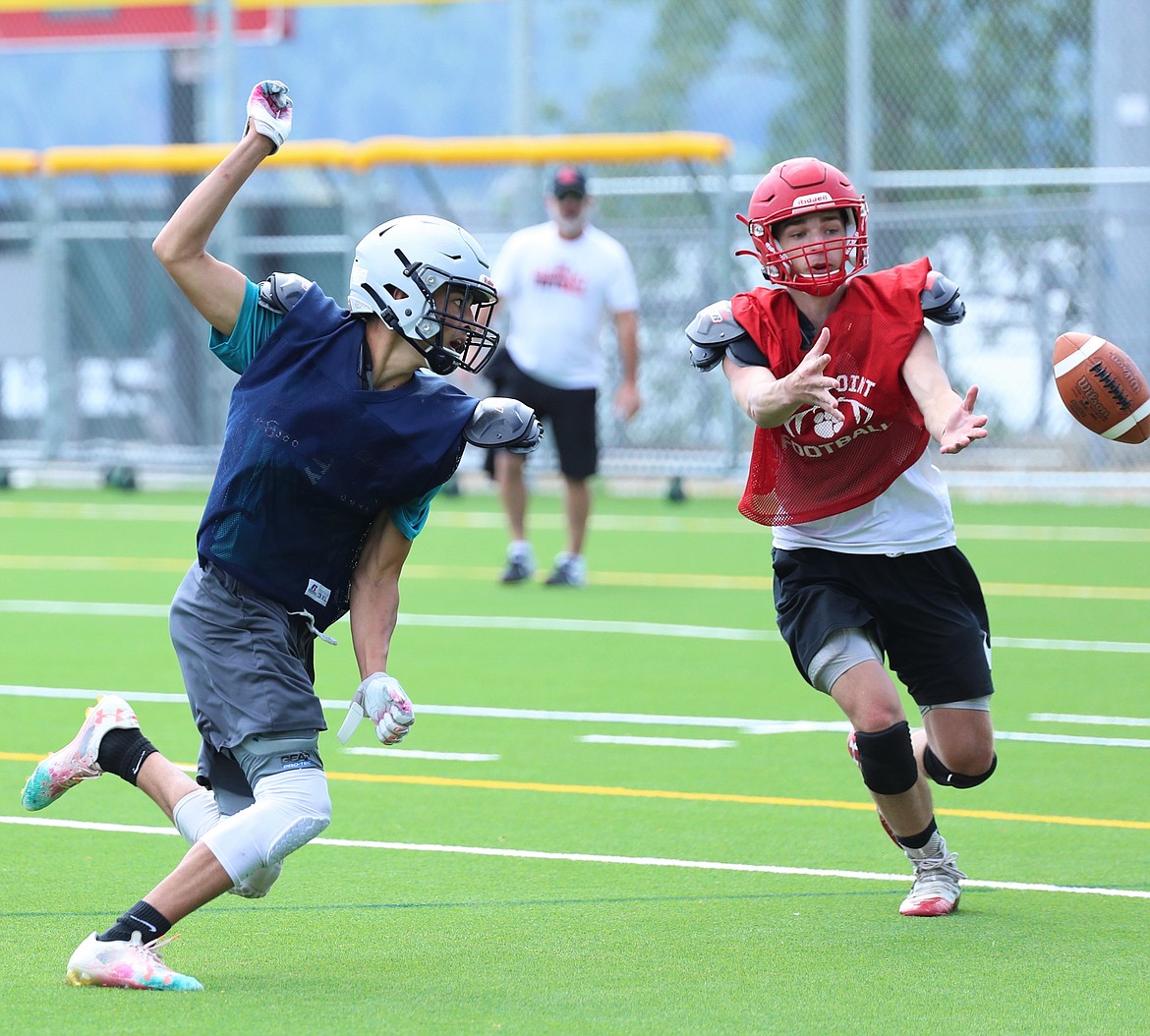 Safety Cody Steiger nearly secures an interception on a tipped pass during a scrimmage against Lake City on Wednesday.
(Photo by DYLAN GREENE)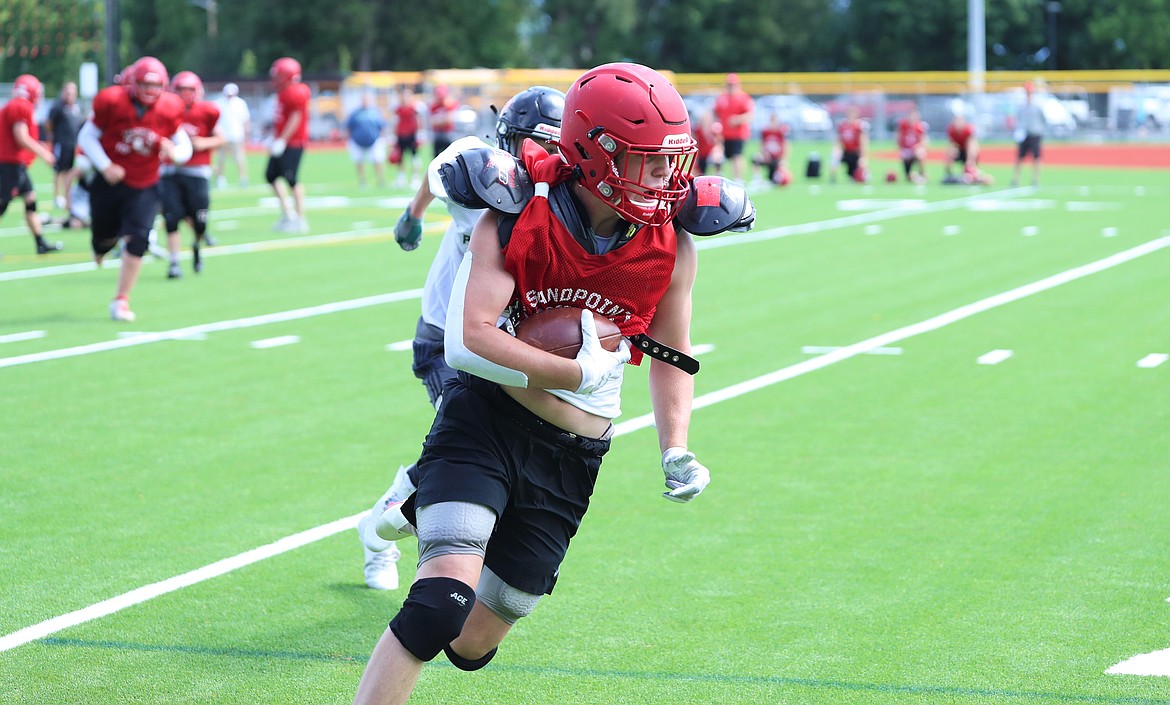 Arie VanDenBerg turns up field after securing a catch on Wednesday.
(Photo by DYLAN GREENE)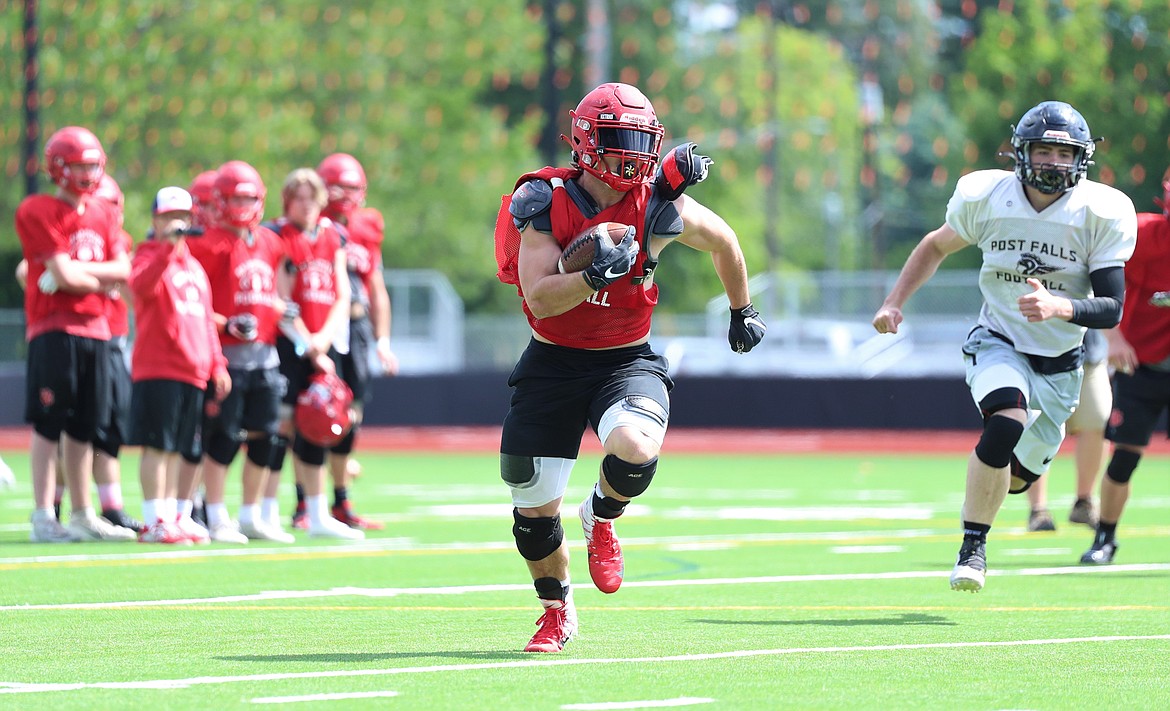 Running back Gerrit Cox turns the corner and heads toward the end zone for a touchdown on Wednesday.
(Photo by DYLAN GREENE)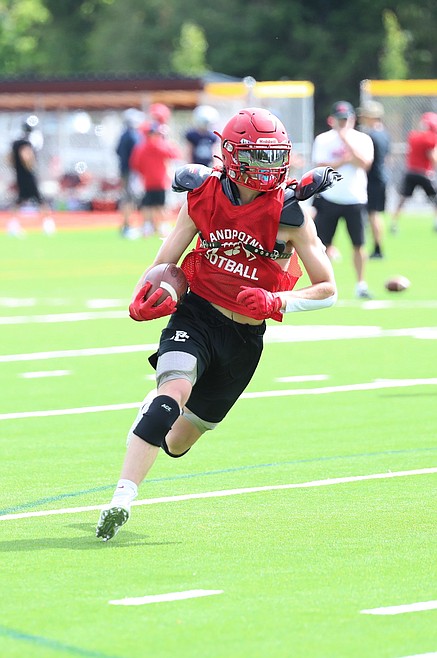 Wide receiver Cody Newhart turns upfield after securing a catch on Wednesday.
(Photo by DYLAN GREENE)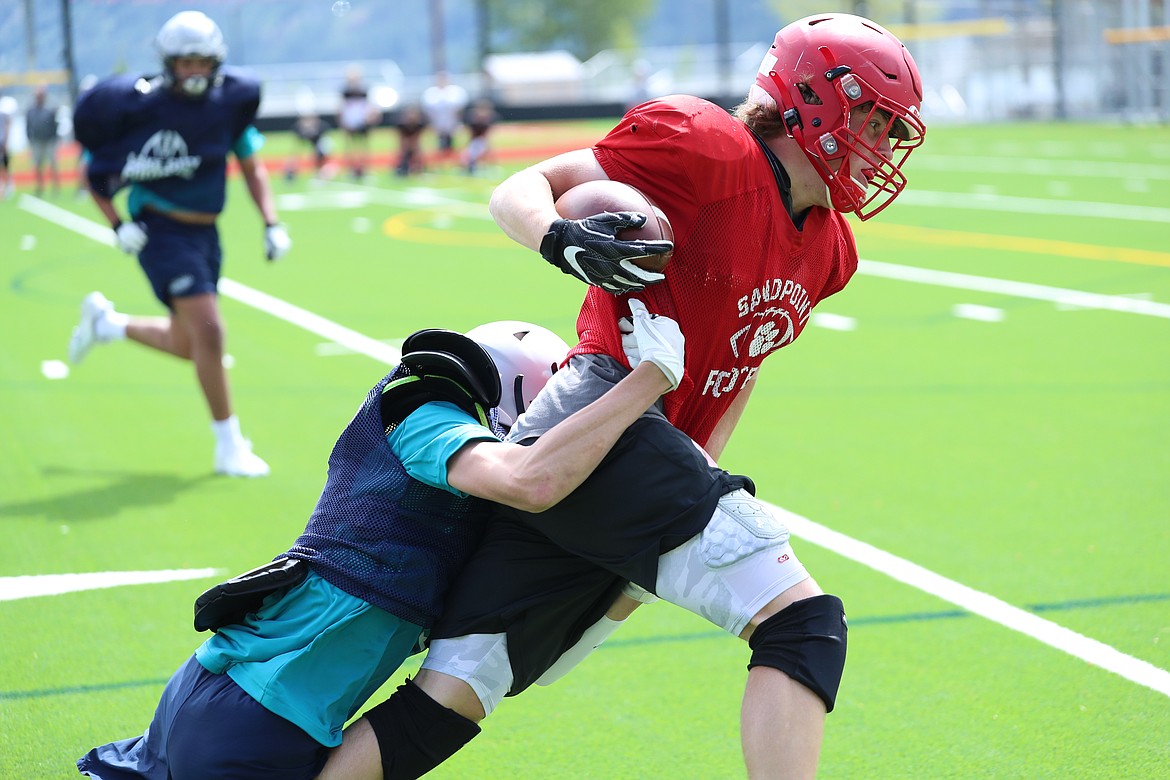 Running back Owen Wimmer drags a Lake City defender with him as he tries to fight through a tackle and head upfield on Wednesday.
(Photo by DYLAN GREENE)
Previous
Next
by
DYLAN GREENE
Sports Editor
|
June 17, 2021 1:00 AM
SANDPOINT — Sandpoint football put the entire 4A classification on notice last fall when they stormed to the state semifinals.
But that was just the beginning of what head coach Ryan Knowles hopes to build at SHS. The work to reach the next step is taking place right now.
The Bulldogs held their first spring practice on May 25 and are currently in the midst of one of the toughest and longest weeks of their offseason.
Tuesday marked the 10th practice for the team over the past month and on Wednesday, Sandpoint hosted a scrimmage with Lake City and Post Falls, two teams they will face this fall, at War Memorial Field.
On Thursday (today), they head to Post Falls for another multi-team scrimmage that will include league rival Lakeland, and finally on Friday, the Bulldogs will wrap up a jam-packed week in Post Falls against teams from the Inland Empire and Intermountain leagues.
It's a busy schedule, but not out of the ordinary for this time of the year. In 2020, there were no camps or scrimmages due to COVID-19 and that presented a lot of question marks for schools entering last season.
Knowles said it's great to have a full offseason again because it allows the team to build deeper bonds with each other. He added that each rep matters.
"Every day is critical," he said. "Every day is huge, huge growth."
Friday also marks the end of Sandpoint's ability to wear pads this summer. The state has a 10-day window for teams to strap on pads during the offseason and the Bulldogs will have gotten in six full days at the conclusion of this week.
The Bulldogs have had a core of about 45 players show up to practice each day this offseason, with the turnout reaching as high as 61 once. Knowles said those numbers are really impressive given the different commitments the kids are trying to balance during the summer.
"Football is alive and the buzz is out there," he said.
Knowles said about 50 freshmen have been practicing over the past few weeks as well and they will be traveling to a scrimmage in Post Falls on Friday.
This past week, a handful of Bulldogs participated in three different camps around the region. Six players took part in the third annual Spokane Showcase hosted by Whitworth University, Parker Pettit, Arie VanDenBerg and Levi Balison went down to Boise State University for a one-day camp, and Jacob Gove headed to Seattle for a Kohl's Kicking camp.
After Friday, the Bulldogs will continue to hold 7-on-7 drills throughout the summer and will step in the weight room nearly every day. However, for the most committed players on the team, the end of May didn't mark the start of their offseason. That group has been grinding and bulking up in the weight room every week since mid-December, and that dedication is paying off.
"They've been going nonstop and it shows," Knowles said.
Recently, the team announced they will have alternate uniforms this fall. Knowles said the brand new anthracite-colored jerseys were meant to be a reward for the team if they met their fundraising goal for this year, which they did. However, Jared Vasquez, an SHS alum, stepped up and made a donation to pay for the new uniforms.
When Knowles started tossing around the idea of getting alternate uniforms, he knew he wanted to do something that would honor the history of Sandpoint football and those that have left their mark on the program.
He turned that vision into reality.
On the right side of every jersey is a patch that contains a valknut, the numbers 41 and 64 and the words "Remember the Fallen." The valknut is a symbol of three triangles that is tied to Norse mythology and used to remember those that have fallen in battle.
The two numbers represent a pair of individuals that had a tremendous impact on the Sandpoint football program before and after their passing, Knowles said. No. 64 is for David Lyon, who was killed in Afghanistan in 2013 while serving his country, and No. 41 is for Tucker Taylor, who died in a tragic skiing accident at 17.
The presence and legacy of both those Bulldogs is still felt to this day and Knowles hopes these jerseys will let everyone know they aren't forgotten.
"It's just a great way to honor some great teammates and tie in who we are," he said. "I want this team to always remember who we are and try to emulate those people to the best of our ability."
Knowles said his team earned those uniforms and the Bulldogs plan on selling T-shirts that look just like them this fall.
Last year, Sandpoint's program motto of "Protect the Point," was able to deliver the team a third-place state trophy. But after falling to Skyline 20-0 in the semis and taking a moment to reflect, the players weren't satisfied with that result, Knowles said. They wanted more.
"No one was content with that," he said.
This year's motto of "Red Alert" reflects that hunger and is meant to let others know that the Bulldogs are coming, and here to stay.
---