Sandpoint resident chasing history, dream of qualifying for the Iditarod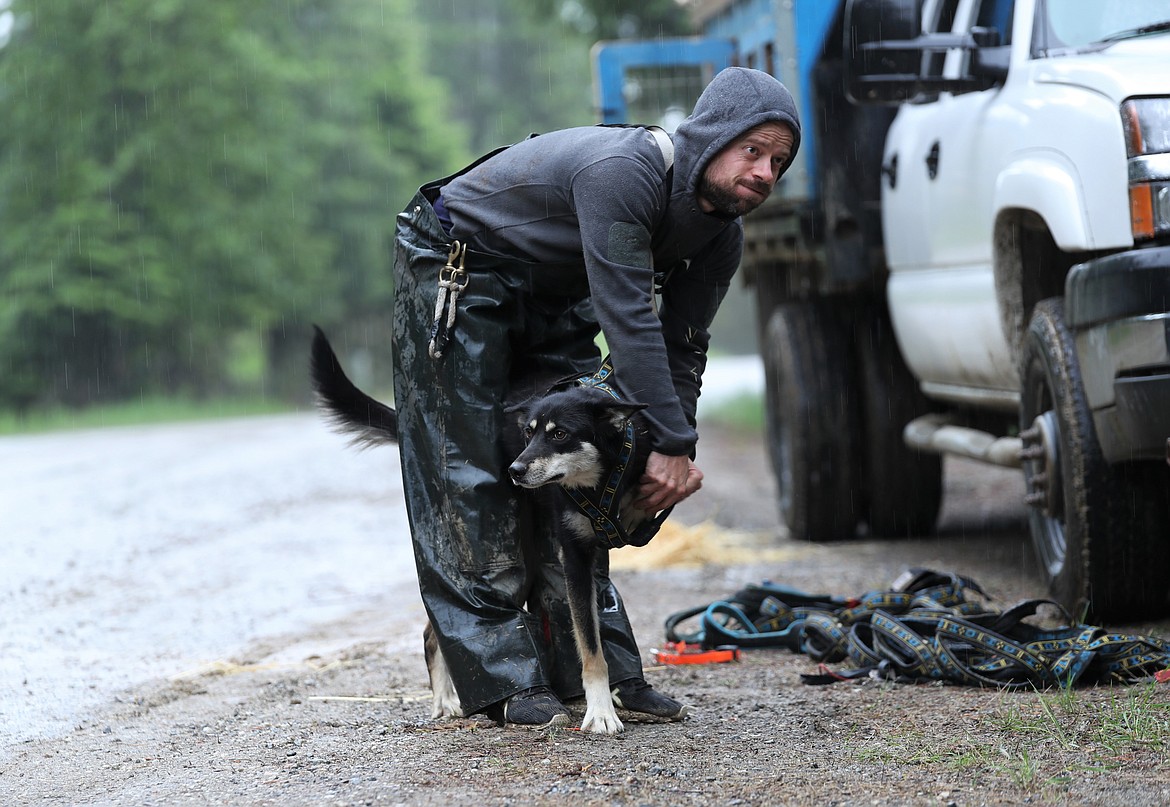 Jed Stephensen puts a harness on one of his puppies, Sadie, as he prepares to take his sled dog team on a training session in early June.
(Photo by DYLAN GREENE)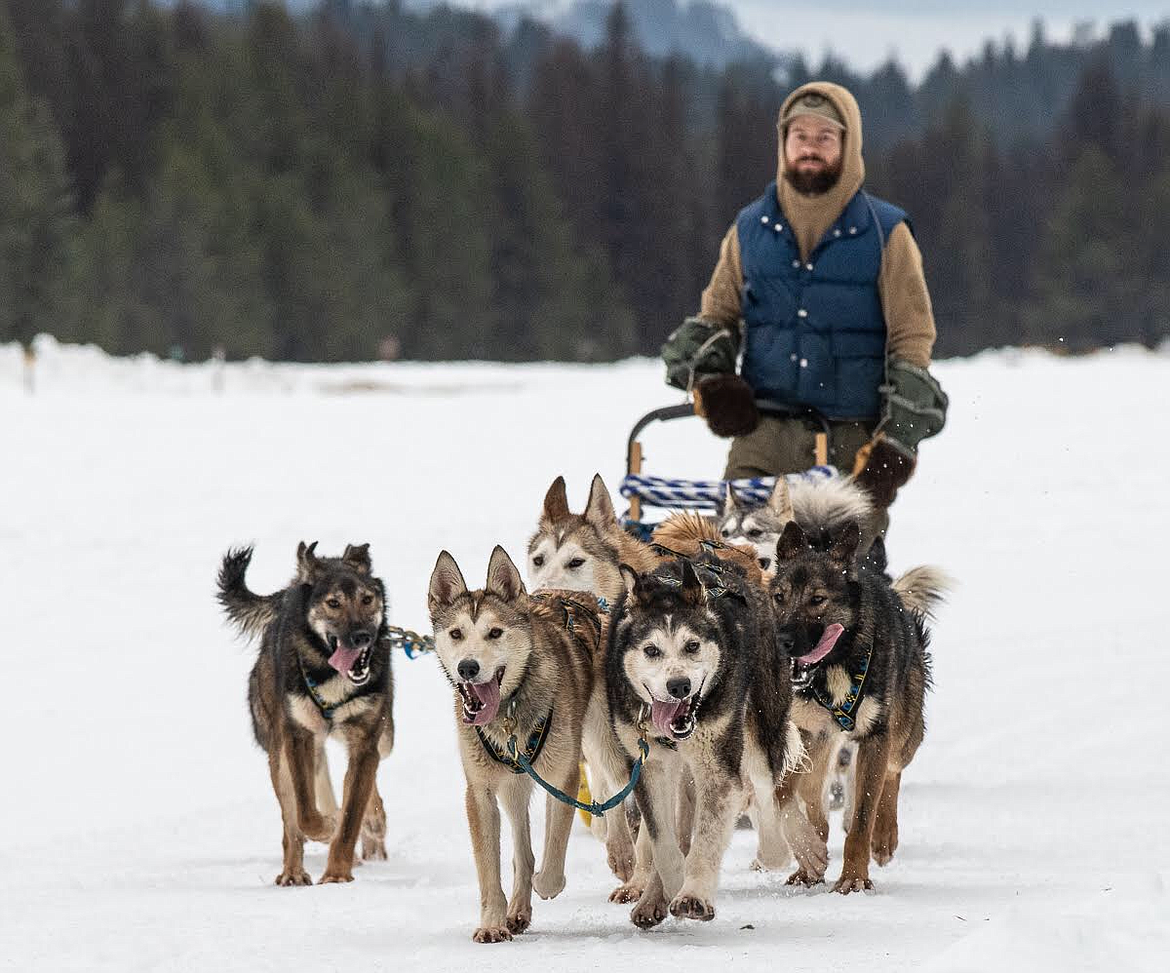 Jed Stephensen and his team of sled dogs compete in the 2020 Priest Lake Sled Dog Race.
(Courtesy photo)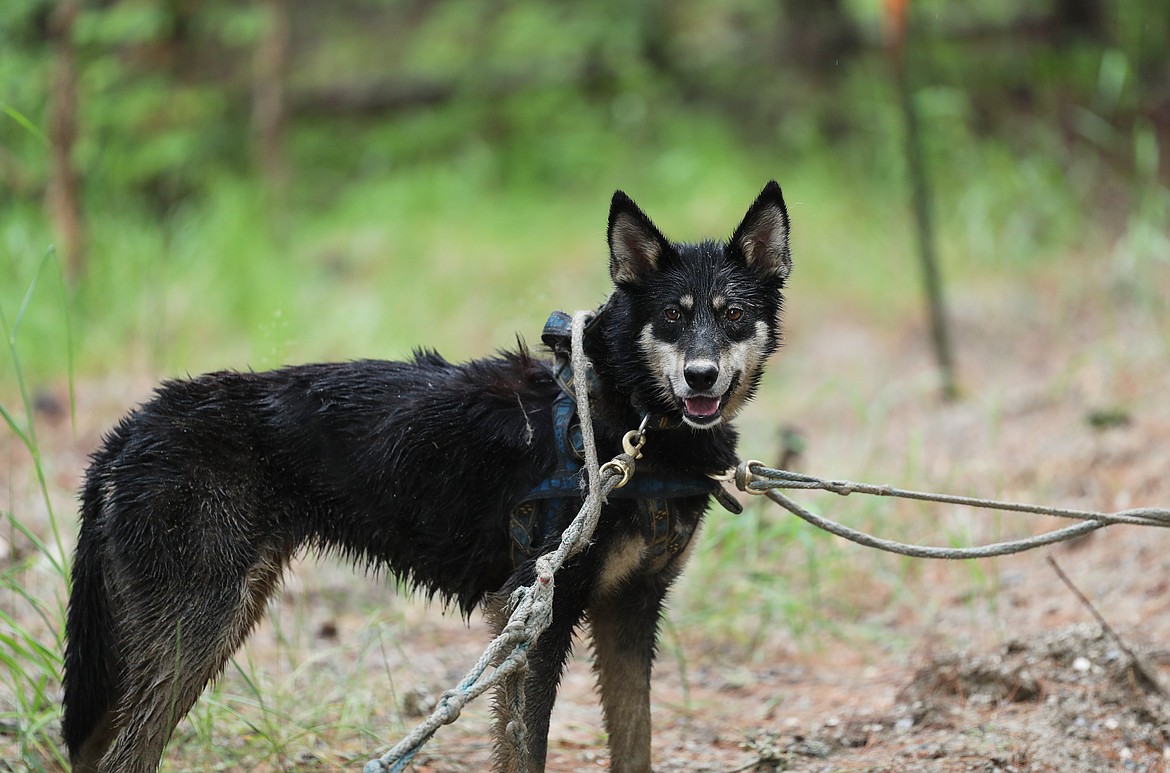 Sadie, a puppy that is all tangled up in her harness, rests after a recent training session.
(Photo by DYLAN GREENE)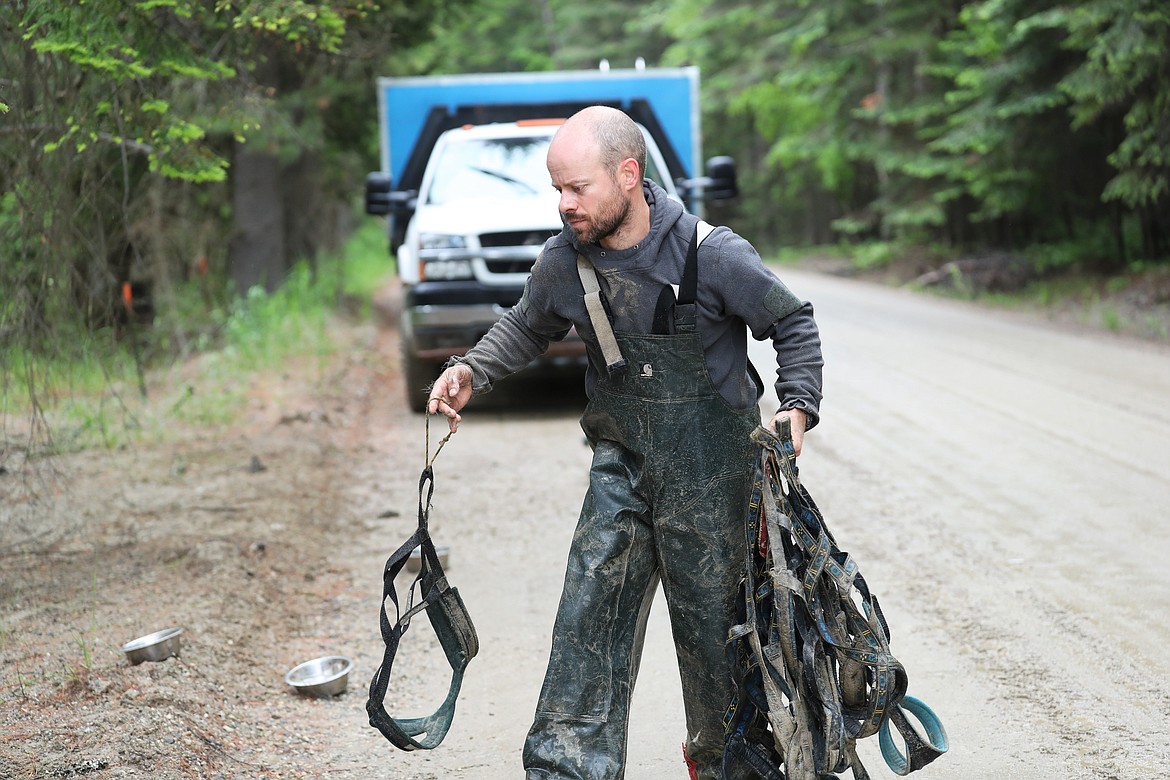 Jed Stephensen picks up the harnesses for the sled dogs following a training session.
(Photo by DYLAN GREENE)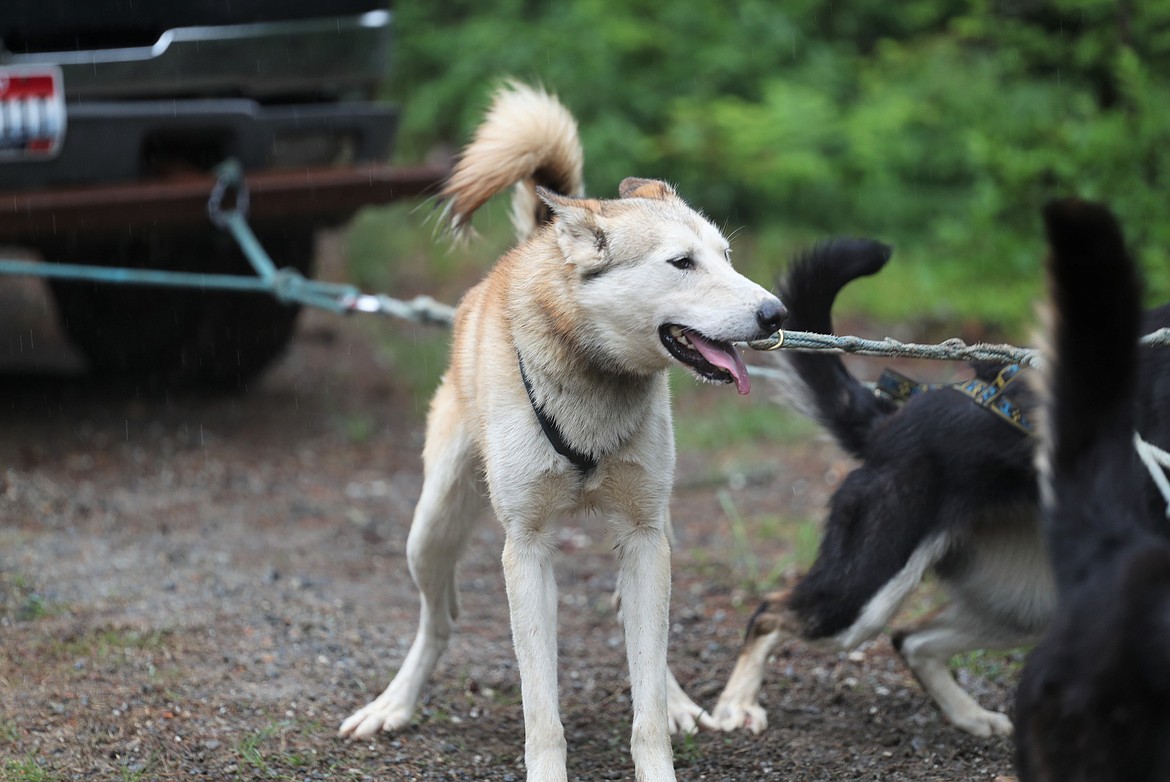 Sun Bear, aka Sunny, gets ready to take off for a training session.
(Photo by DYLAN GREENE)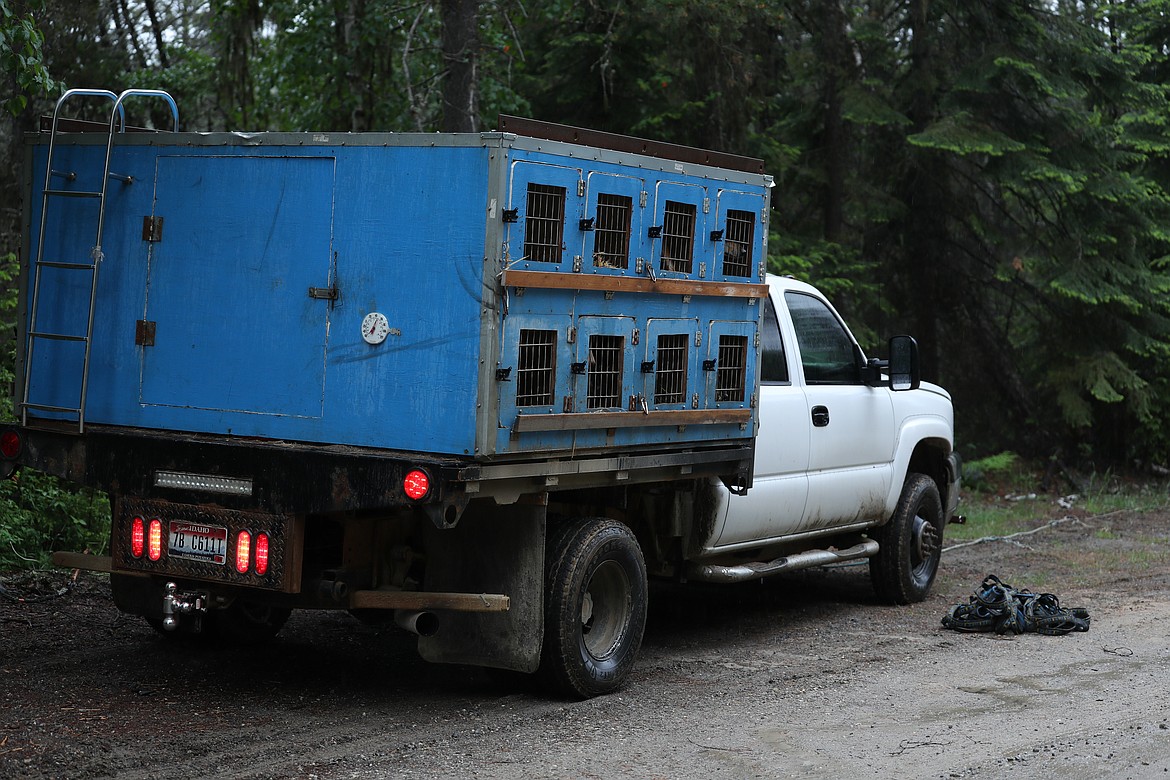 This is the truck Jed Stephensen uses to carry his 17 sled dogs. He calls it the Millennium Falcon.
(Photo by DYLAN GREENE)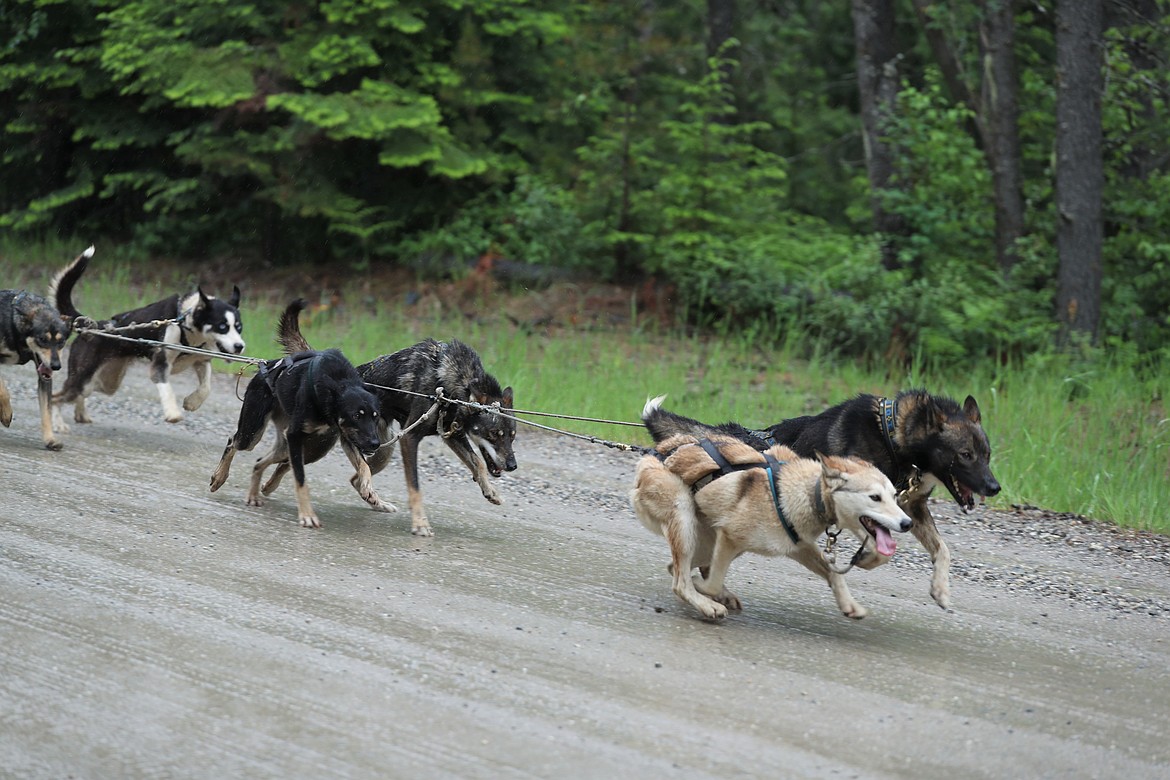 The lead dogs guide the way during a training session.
(Photo by DYLAN GREENE)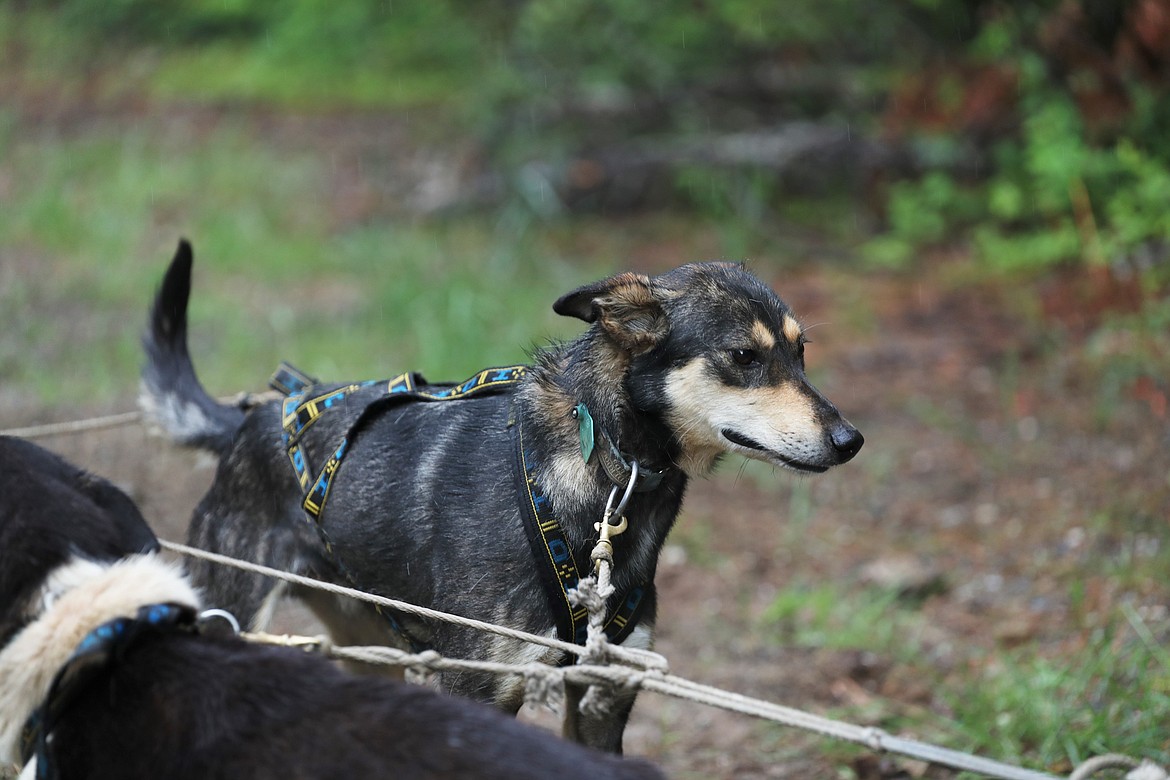 Kyle gets ready for a training session.
(Photo by DYLAN GREENE)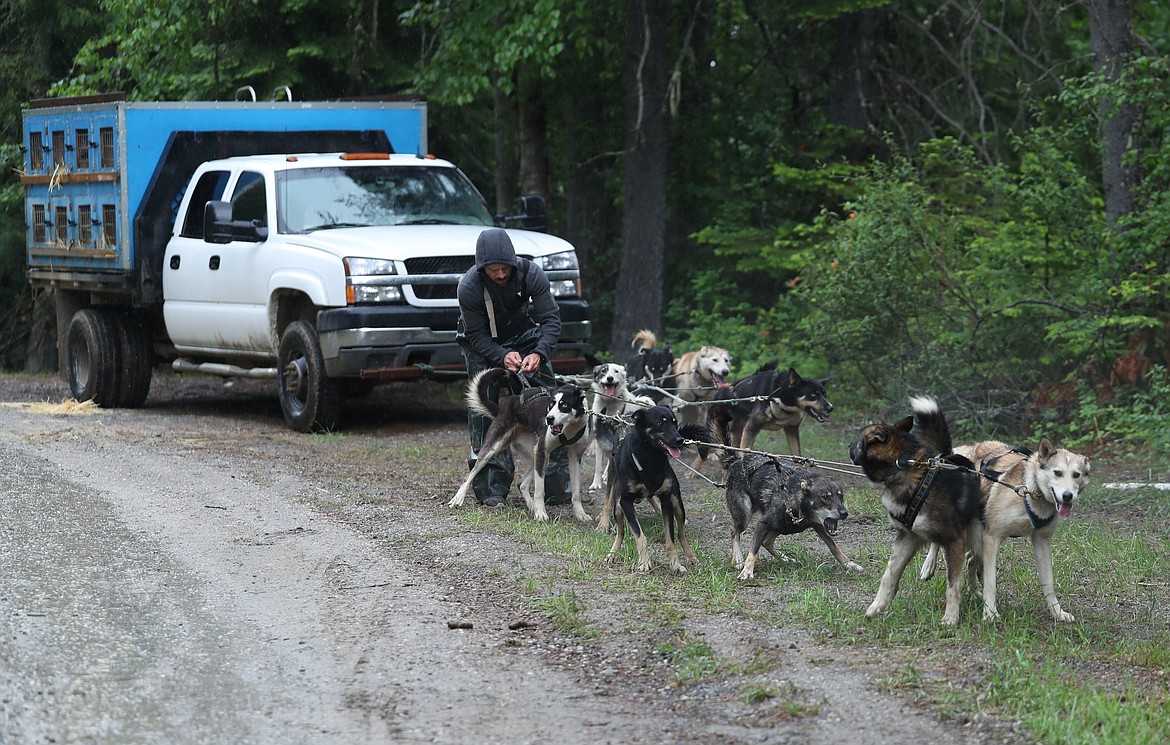 Jed Stephensen untangles the dogs before taking off for a training session.
(Photo by DYLAN GREENE)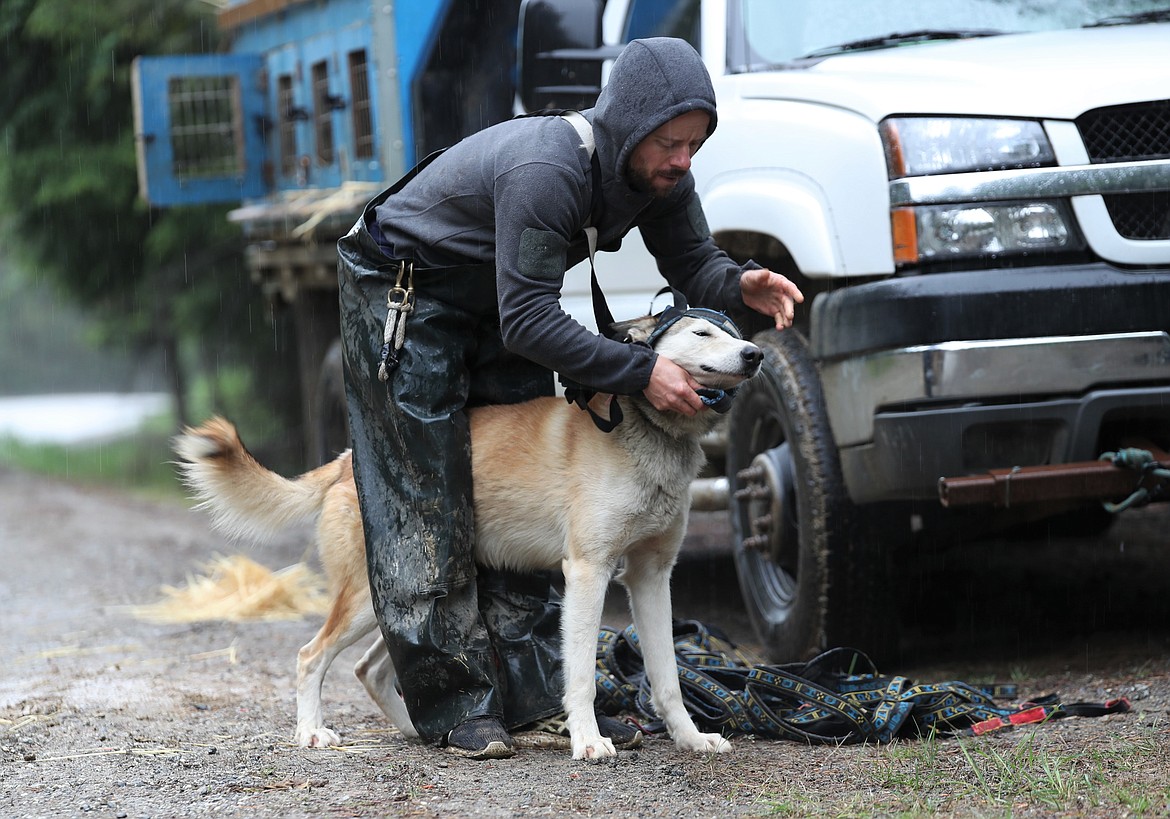 Jed Stephensen puts a harness on Sun Bear, aka Sunny.
(Photo by DYLAN GREENE)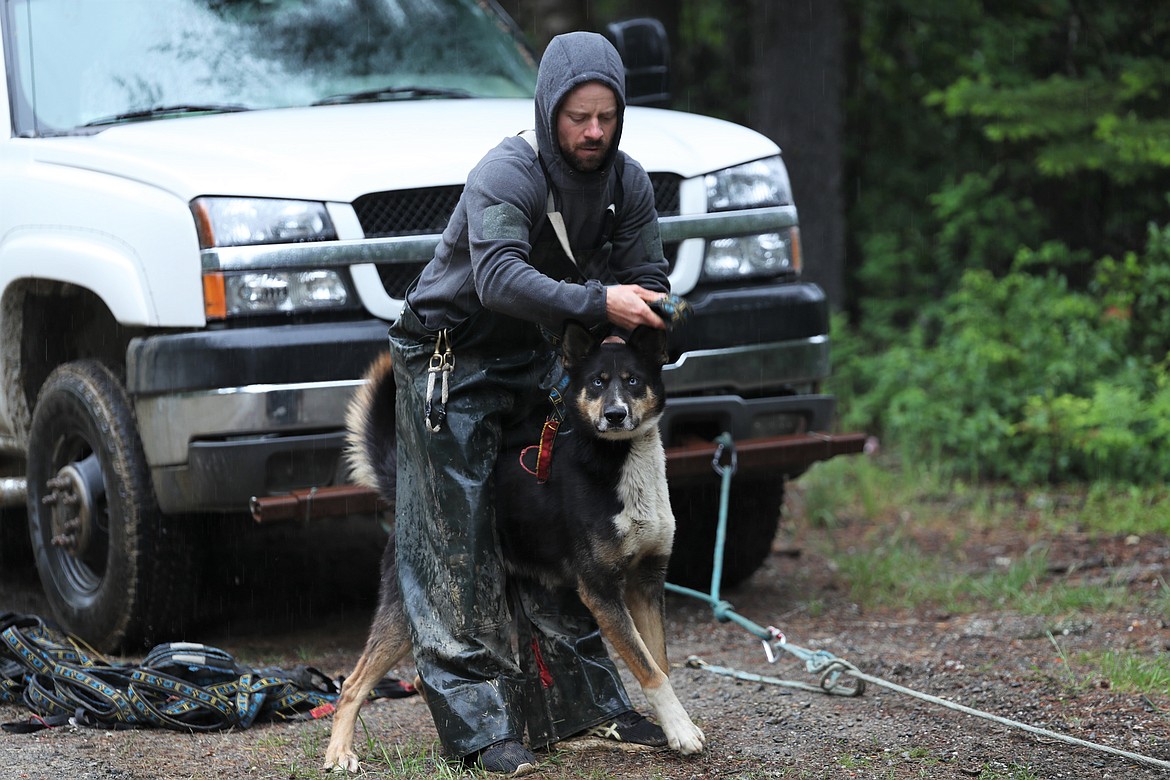 Jed Stephensen puts a harness on Sampson.
(Photo by DYLAN GREENE)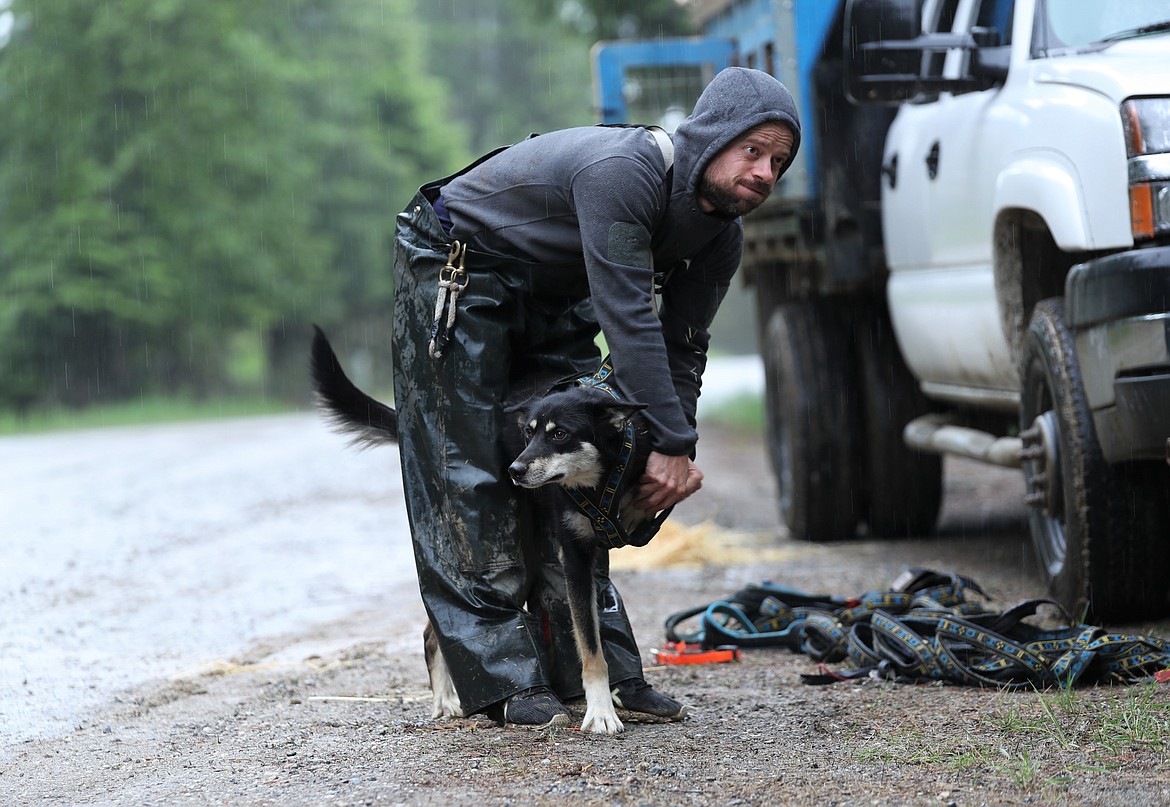 Jed Stephensen puts a harness on Sadie.
(Photo by DYLAN GREENE)
Jed Stephensen puts a harness on Marian.
(Photo by DYLAN GREENE)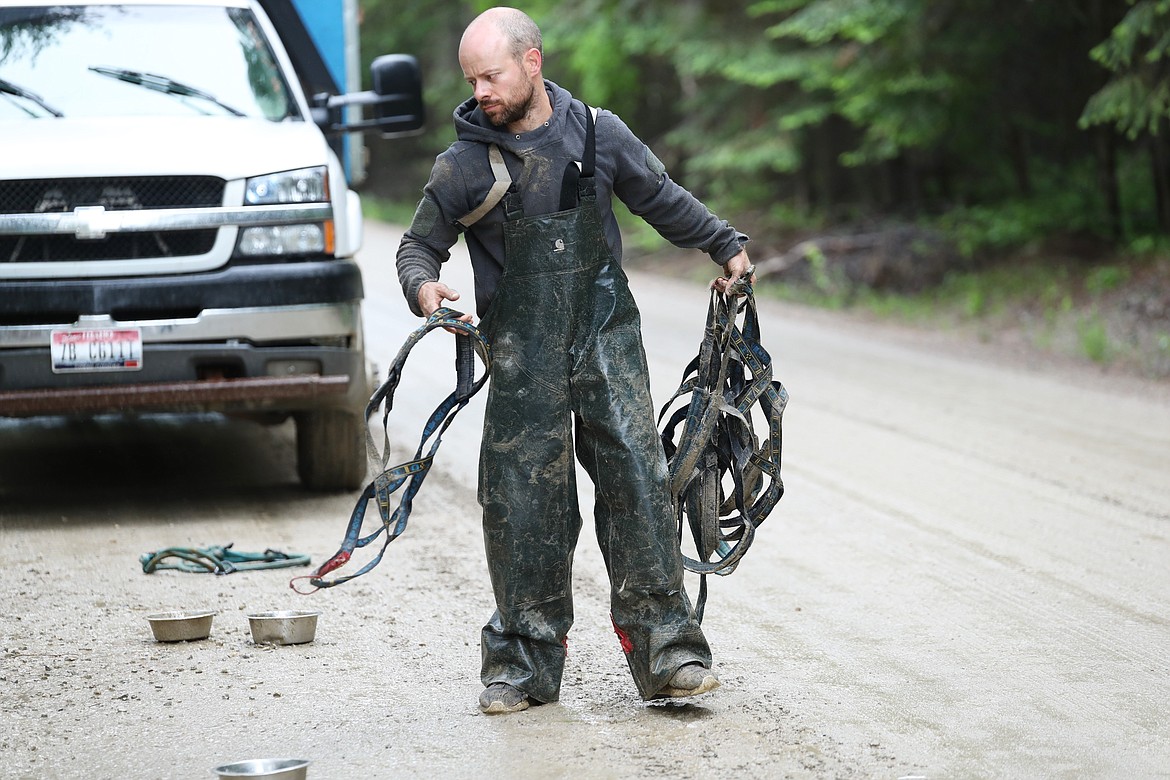 Jed Stephensen picks up after a training session.
(Photo by DYLAN GREENE)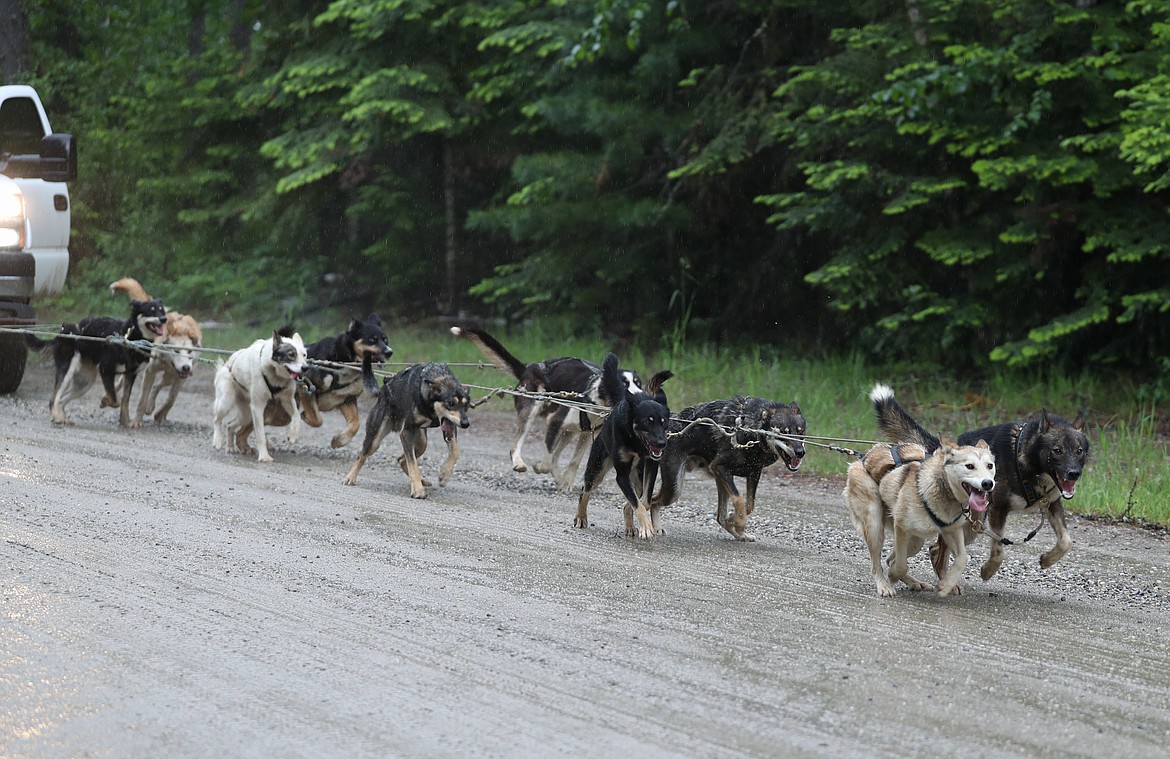 The sled dogs take off on a training session.
(Photo by DYLAN GREENE)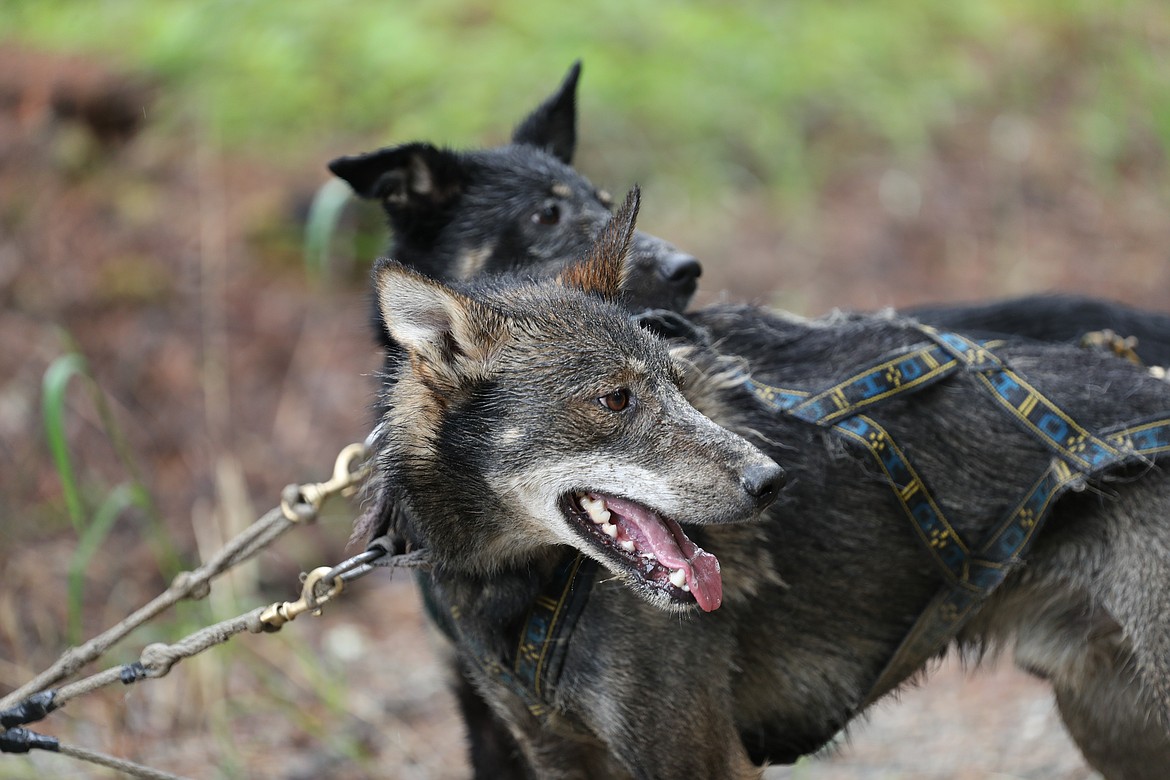 Dogs rest after a training session.
(Photo by DYLAN GREENE)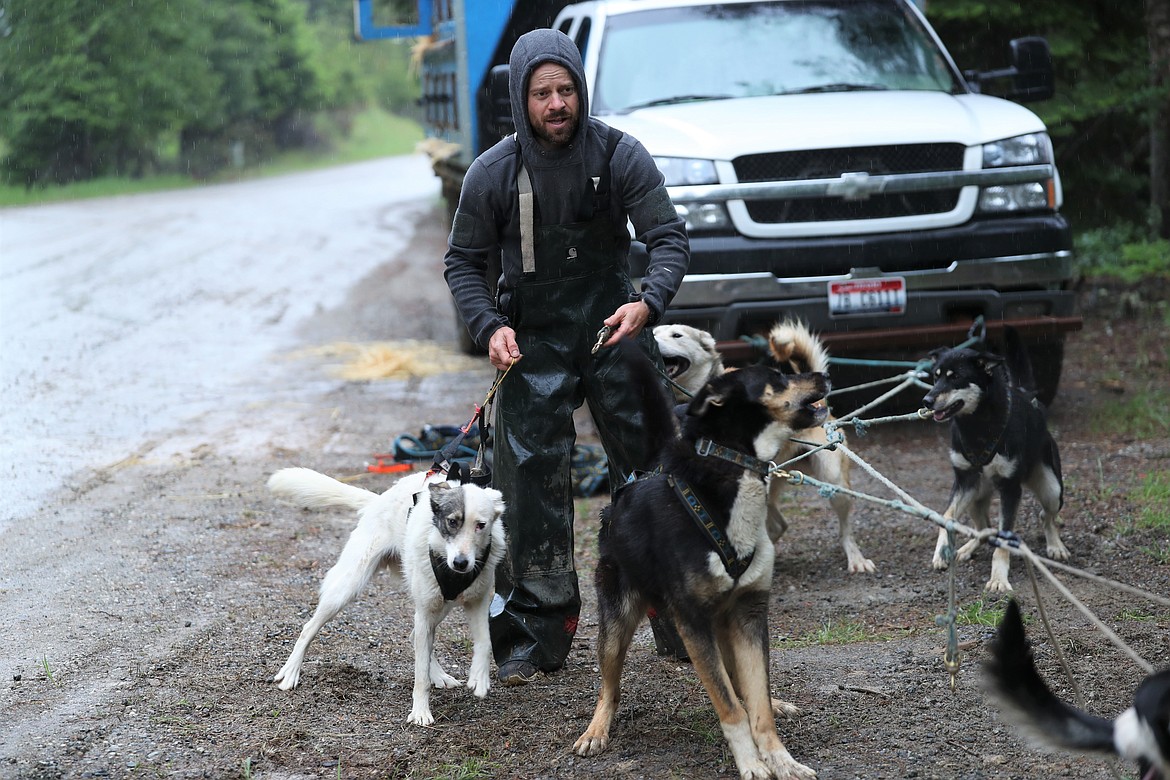 The sled dogs get excited as Jed Stephensen hooks them up for a training session.
(Photo by DYLAN GREENE)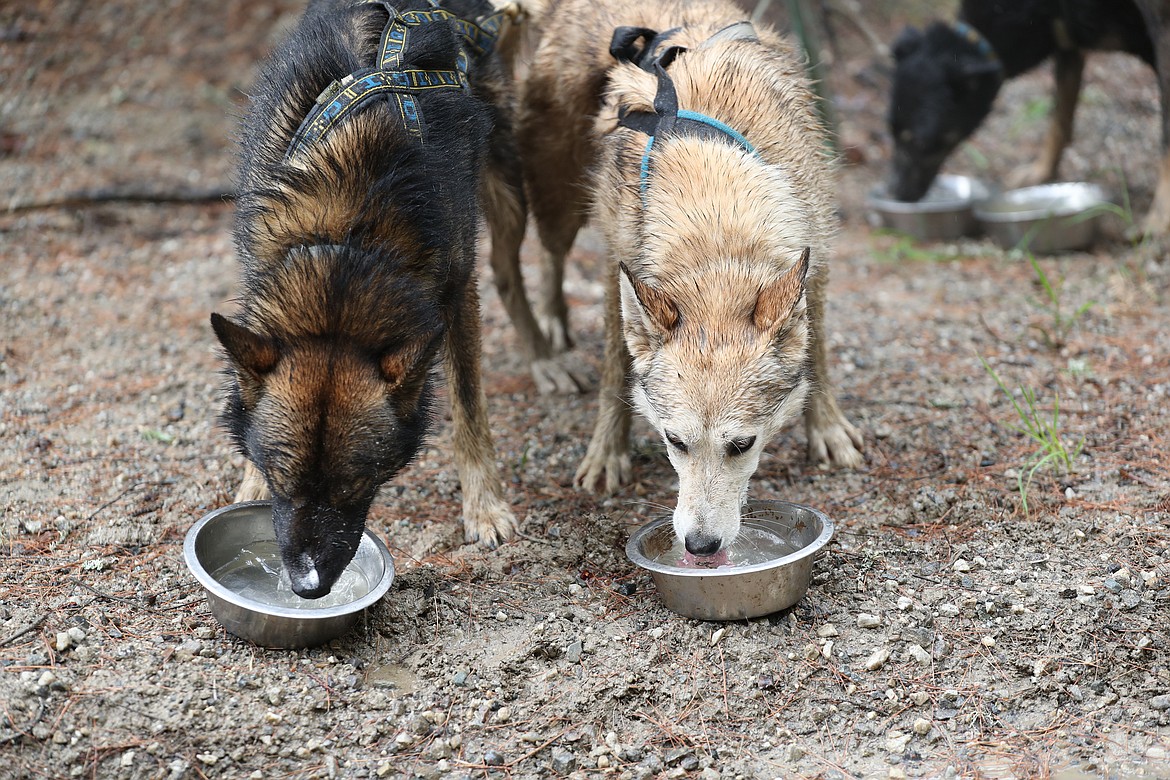 A pair of dogs drink water after a two-mile training session.
(Photo by DYLAN GREENE)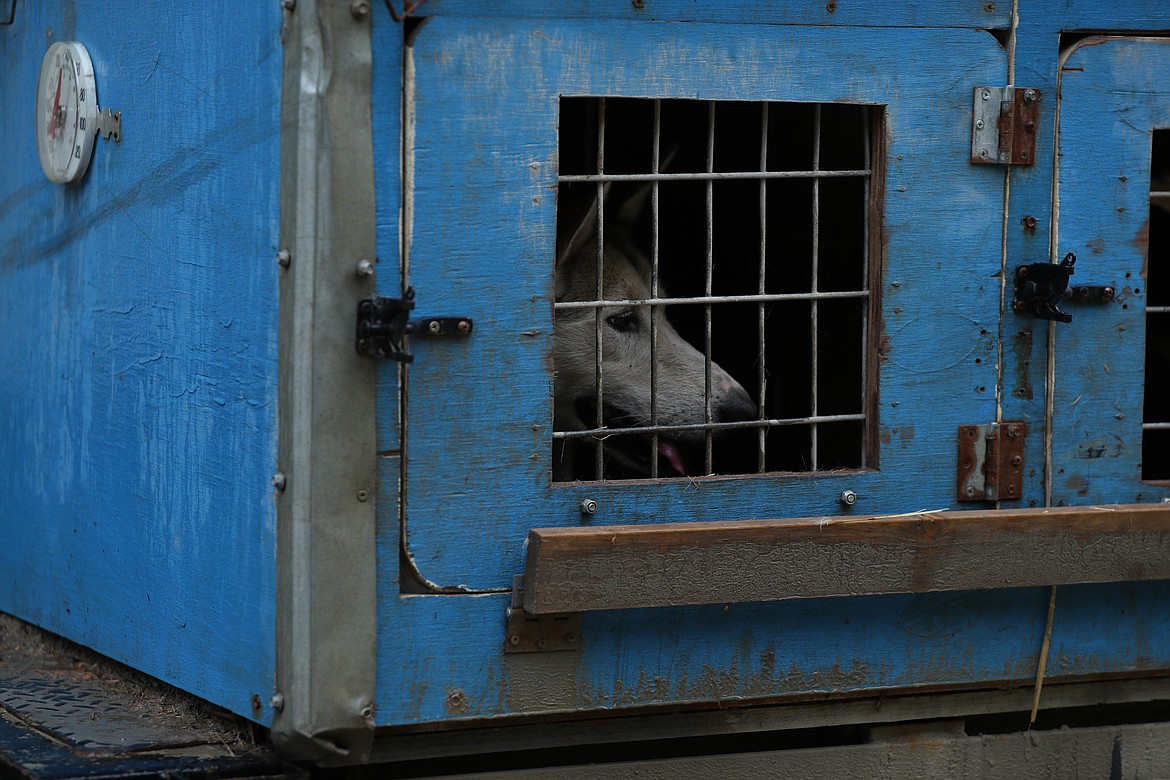 A dog waits to get out of the dog barn for a training session.
(Photo by DYLAN GREENE)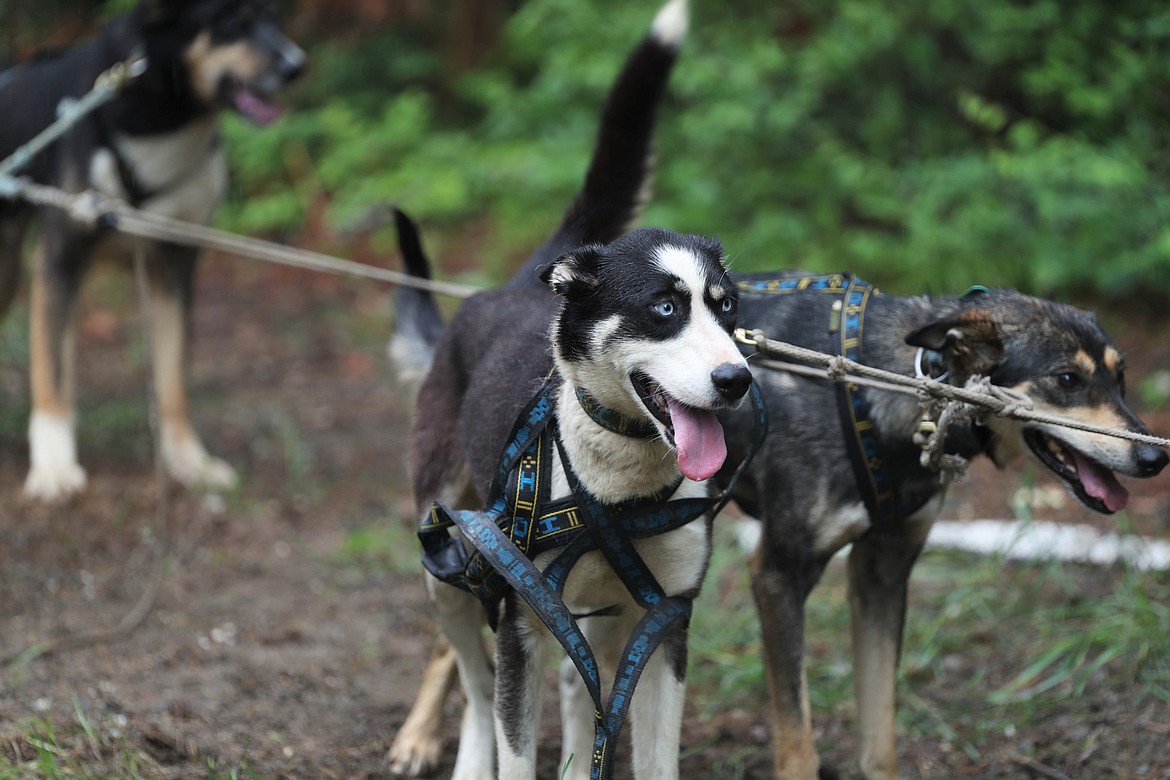 Bristol, a puppy, gets ready to take off on a training session.
(Photo by DYLAN GREENE)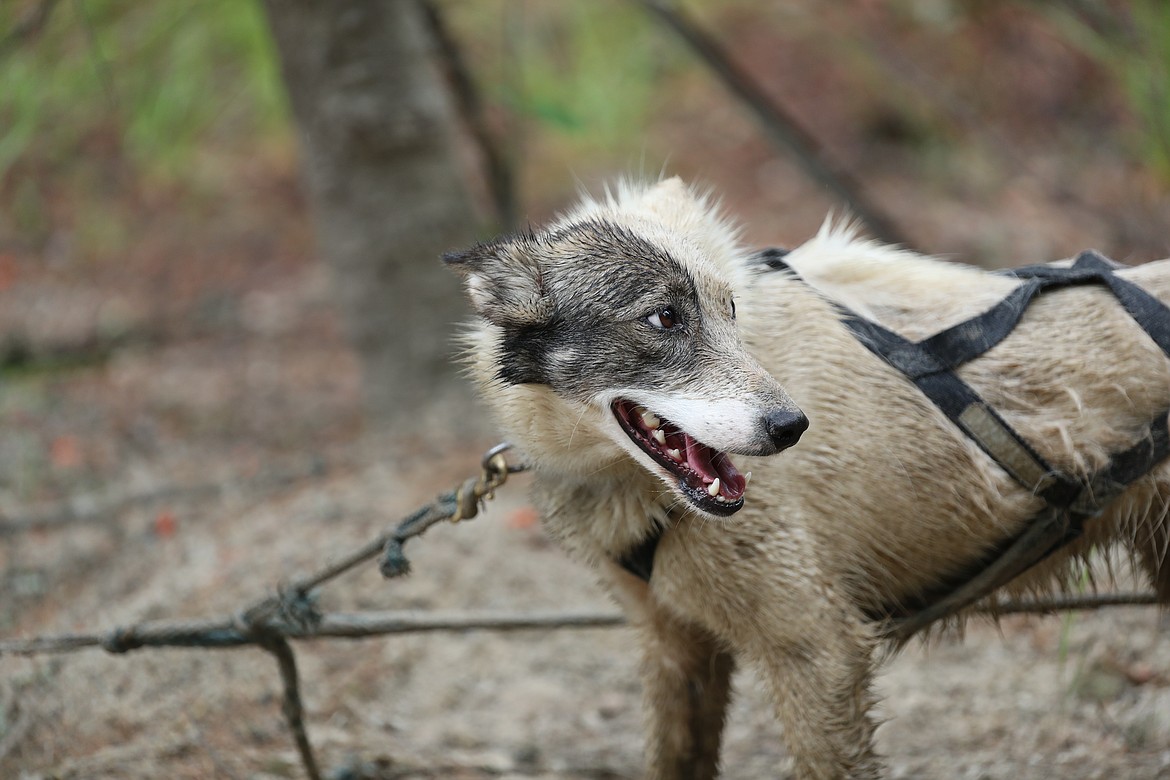 Marian cools down after a training session.
(Photo by DYLAN GREENE)
Previous
Next
by
DYLAN GREENE
Sports Editor
|
June 20, 2021 1:00 AM
▶️ Listen to this article now.
SANDPOINT — Only two people have accomplished what Jed Stephensen is chasing — the triple crown of sled dog racing.
While the odds may seem daunting, the Sandpoint resident isn't letting anything prevent him from fulfilling his lifelong dream of racing in the Iditarod.
The 37-year-old musher, who also works part time as an emergency room nurse at Bonner General Health, is wired differently. Stephensen is driven by aspirations only a select few choose to pursue and is willing to push himself to the edge to make them come true.
Stephensen, who has lived in Sandpoint for six years, is also the owner of Nordic Wayfinding, a business he founded a year ago with the main focus of educating the public about sled dog racing and its demands.
Training for what is labeled as "the last great race on Earth," is a year-round commitment that is expensive and time consuming. As an ER nurse, a business owner, a husband and a father of two twin boys, finding that time can be nearly impossible. But somehow, Stephensen does it.
"I'm always pushing the limits," he said. "I don't know how to live otherwise."
What is the Iditarod?
Started in 1973, the Iditarod is run across the Iditarod National Historic Trail in Alaska. Simply put, it's a nearly 1,000-mile sled dog race that spans from Anchorage to Nome. The race can take eight to 15 days to complete.
The legendary race is held annually and Stephensen is aiming for a trip to the 2023 Iditarod. To qualify for the event, Stephensen must complete three races that add up to a total of 800 miles.
He will start with the 200-mile Eagle Cap Extreme in Joseph, Oregon. The 300-mile Idaho Sled Dog Challenge in McCall, Idaho is up next and then Stephensen's quest to qualify for the Iditarod wraps up at the 300-mile Race to the Sky in Lincoln, Montana.
In 2019, Stephensen competed in a pair of Iditarod qualifiers for the first time. He finished one and was unable to complete the other.
The qualifiers are held within about three and a half weeks of each other in January and February of 2022. If Stephensen completes the three races, he would join a select group. Only two other people have finished the Rocky Mountain Triple Crown.
"For what I'm trying to do, there's just not many of us," he said.
The feat would allow Stephensen and his sled dogs to compete in the 2023 Iditarod.
And this dream Stephensen is after is something he is doing, for the most part, all on his own. His dad, Doug, helps him train the dogs in the winter and his seven siblings, who essentially form Nordic Wayfinding's board of directors, help run the business, otherwise the full weight of looking after the 17 dogs falls on his shoulders.
Up in Alaska, some sled dog teams have two to three handlers that can run the dogs multiple times a day. They have four-wheelers and endless amounts of trails, and some mushers aren't involved with the daily upkeep of the dogs.
Stephensen doesn't have those luxuries, especially living in North Idaho. But that doesn't bother him.
"When I decided to do it, I wanted to do it with my own dogs that I've raised and with my own idea of how I wanted to do it," he said. "I didn't want anybody holding my hand."
The origins of the dream
Growing up, Stephensen was raised on Alaskan stories from books written by famous author Jack London. His dad, who grew up in Venezuela, had London's books that touched on sled dog adventures read to him as a child by his grandmother, and Doug passed on the tales to Stephensen.
Although Doug never mushed, he handed over the passion for the craft to his son.
"His Alaskan stories were kind of his go-to stories," Stephensen said, "and so that was kind of imprinted in my mind."
Stephensen was born and raised in Germany, but eventually his family moved to the U.S. At age 15 when the internet was just taking off, Stephensen reached out to a former Iditarod musher, Billy Snodgrass, living in Jackson Hole, Wyoming. Stephensen, who was living in Kansas at the time, asked Snodgrass how he could get into mushing and not long after, he headed out to Wyoming to train for three weeks in the summer at about 9,000 feet.
It was Stephensen's first taste of mushing, but he was hooked. Just a few years later when he was attending Brigham Young University-Idaho and studying English, he only lived about two hours away from Snodgrass, so he started doing dog sled tours for him.
After graduating from college, he went to Alaska for two years and continued to learn the craft through tourism. Over the summer, Stephensen gave dog sled tours on a glacier just outside of Juneau, and in the winter, he trained with Linwood Fiedler, a musher who has raced in the Iditarod 25 times.
After that adventure, Stephensen married his wife, Amy, and wasn't sure if he would be able to continue mushing due to back and knee problems.
"I wasn't sure if my body could hold up," he said.
But then he got into CrossFit and hardcore exercise and all those issues went away, giving him hope that he could pursue his dream.
About four years ago, he bought four dogs from Alaska, bred them and continued to build his team from there.
He's had four litters of puppies, and for the most part has kept them all to make his current team of 17 dogs.
Mushing has also assisted Stephensen in the ER when he's saving lives. He said trying to keep a pack of howling dogs in line and solving problems all on his own in the middle of the night in the mountains, has taught him how to stay calm in the midst of chaos.
Stephensen's business, Nordic Wayfinding, pays homage to his ancestors and its name represents the "spiritual experience" he is currently on to reach his goal.
"I kind of contribute my passion for the cold to my Scandinavian heritage," he said.
Training, fueling the 'athletes'
A crescendo of howls echoes up and down Upper Gold Creek Road — it must be training time.
One-by-one, Stephensen unloads his sled dogs from the dog box in the back of his truck that he calls the Millennium Falcon. He guides each dog to the front of the truck, puts a harness on them and hooks them up to the rope tied to the front.
He connects 10 dogs this time, unties the rope from a tree, taps the gas to set the pace and the team heads down the road. His main lead dog, Seabiscuit, and Seabiscuit's copilot, Panda, guide the way. Lead dogs are the most important as they keep everyone else in a straight line.
The dogs hug the right side of the road, leaving plenty of room for traffic to pass on the left.
About halfway through the two-mile training session, Stephensen opens up his door, pokes out his head and asks his team to come to a halt for a breather.
A minute later, the dogs get back to business, traveling down the gravel surface at about 10 miles per hour and past dogs in the neighborhood that are vocalizing their curiosity for what they are witnessing through roaring barks. Stephensen's crew is unfazed by the distractions and carries on until they reach the stopping point.
Stephensen hops out and places a bowl of water in front of each dog. Some take a few licks, others look around and kick up their hind legs, expressing their desire to keep going.
Stephensen unhooks each dog, places them back in the dog box and returns home.
This is the process Stephensen goes through nearly every day while training his sled dogs during the summer months when snow is nowhere to be found.
The dogs prefer frigid temperatures, so Stephensen typically gets up at around 3:30 a.m. and hooks them up to give them cooler air. He typically won't train them in temperatures above 50 degrees.
As a part-time ER nurse, Stephensen works four straight days and then gets 10 days off. The only time he doesn't train the dogs is when he is fully submerged in his job.
"I've got a very small amount of time to do all this," he said.
Most days, Stephensen tries to hook up all 17 dogs to the "sled," but when he doesn't, he takes the ones that stayed in the dog box free running for about three to seven miles. That may seem like a lot, but it's nothing for these dogs.
"That doesn't even tax them," he said about free running. "Pulling is a whole different animal in terms of exercise."
Once September rolls around, Stephensen will crank up the training and by the end of November hopes to have the dogs mushing through the snow in 50-mile increments. He said that mileage is about what the dogs will have to run from village to village during the Iditarod.
To get his dogs ready for that, Stephensen will take his team out on trails near Trestle Creek in the winter. They will mush 50 miles overnight, rest for four to six hours and then do it all over again.
Stephensen said the dogs can do 100 miles, but he doesn't want to push them to that point because that's not why he mushes.
"You mush to have a happy, healthy team that enjoys what they are doing," he said.
Once in a race, Stephensen pushed his team 100 miles and afterwards he felt terrible.
"I don't ever want to get to their limits," he said. "I always want to conserve their potential so the next time they run they've still got some fuel in the tank."
All 17 of Stephensen's dogs are mutts. They all have some sort of husky in them, but Stephensen said it's difficult to know what breeds make up each one. Generically, they are called Alaskan huskies, he said, which just means dogs bred to run in the Iditarod.
In Iditarod qualifying races, a maximum of 12 dogs are allowed to pull the sled. At the Iditarod, that number bumps up to 14. Stephensen always brings his full crew to every event.
He has four dogs that are just over a year old and are still learning, but it doesn't take them long to catch on.
Almost instantly when Stephensen hooks his dogs up to the sled for the first time, they understand it. He also likes to put his younger dogs next to a veteran dog on the sled, allowing them to get the hang of it even faster.
The calls Stephensen yells out to his sled dogs come naturally as well. Although, there's one they sometimes struggle with.
"They're really bad at stopping because they don't ever want to stop," he said, "so they kind of know that one. They know that one when it's convenient for them."
As much as Stephensen loves mushing, it's an expensive passion. He said sled dog racing is something you rarely make money in because of how much it costs to take care of the dogs.
Stephensen feeds his dogs a mix of water, raw meat and high-grade kibble that isn't found in just any pet store.

"It makes owning a horse look like a walk in the park," he joked.
Given that, Stephensen accepts donations to his support journey online at jedstephensen.com. Short profiles on the sled dogs are on the website and each one is available to be sponsored.
'Whatever I ask the dogs to do, I can do'
Stephensen embraces the opportunity to aim high when he pursues something, so why not train to run ultramarathons on top of what he already does.
That quest is part of Stephensen's efforts to prove to the world that he can do anything he asks his sled dogs to do. He is building up to run 50 miles, just like his dogs.
At the end of May, he competed in the Coeur d'Alene Marathon. Next Sunday, he will run the 52K in the Race the Wolf at Schweitzer Mountain, and then about a month later he hopes to complete a 50-mile run.
Obviously, Stephensen can't do exactly what his dogs can, but he hopes this shows he won't push his dogs any further then he'd push himself. He said it's also a way of countering those that question the ethics of dog mushing.

He said some people don't understand what these sled dogs are capable of. They are extremely difficult to tire out and they enjoy pulling the sled because it's what they were born to do. He said the dogs are "freak athletes" that don't like lying around.
"They're not couch potatoes, that's not what sled dogs are about," he said. "They're about working and if they don't have a job, it drives them crazy. They want to work and I provide that for them and they love it. It's amazing to watch."
The dogs aren't shy about expressing how much they appreciate getting hooked up to the sled each day either, Stephensen said.
"The dogs speak for themselves, I don't have to speak for them," he said. "They're pretty vocal."
Pushing himself to compete in ultramarathons also allows Stephensen to relate to what the dogs are going through when they are pulling the sled.
"It gives me a lot of insight into what the dogs are experiencing themselves," he said, "and so all the aches and pains I feel now, I understand what the dogs are feeling."
Stephensen runs up to 20 miles per day while a group of his dogs free run right by his side. He has a tight bond with each one, but he needs help taking care of them. Luckily, he has his twin sons, Leif and Pax.
They engage in chores daily — scooping poop, feeding the dogs and settling them down in the barn at night. The 7-year-olds have competed in peewee sled dog races, such as the one in Priest Lake, and are essentially dog mushers-in-training.
Stephensen said one of the reasons he is pursuing a trip to the Iditarod has to do with his boys. He wants to show them the hard work and perseverance it takes to turn dreams into reality.
"Following your dreams is not only worth it, but necessary in life," he said. "Dreams aren't easy, dreams are tough. They're not rainbows and unicorns."
Once Stephensen achieves his dream of completing the Iditarod, he'll get rid of the team and shift his focus to other lofty goals like finishing hiking the over 2,600-mile Pacific Crest Trail with his boys by the time they turn 18. He may even sail around the world.
"I don't want to just live a boring life," he said.
As Stephensen navigates his journey to the Iditarod, some days he wakes up and wonders what he's doing because of the amount of effort he is putting in to make it happen. However, he said the grind is so rewarding and he wouldn't want to be doing anything else.
"Sometimes I think about, 'Oh, if I was to die tomorrow would I do anything different?,' he said, "and the answer is, 'No, I'm maxed out.' I'm following my dreams … I'm doing everything I want to do."
Recent Headlines
---