Long road to Quick Launch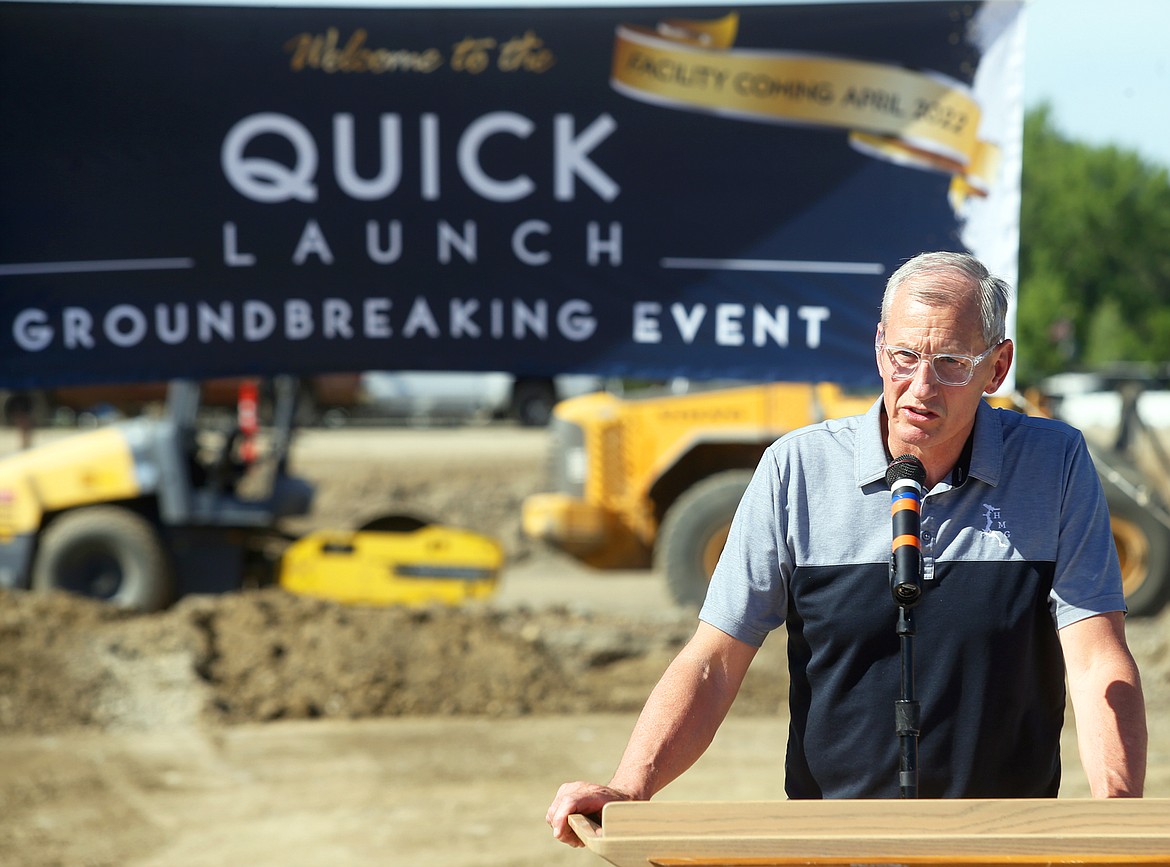 Hagadone Marine Group President Craig Brosenne speaks at Friday's groundbreaking of the $15 million Quick Launch Dry Stack facility.
BILL BULEY/Press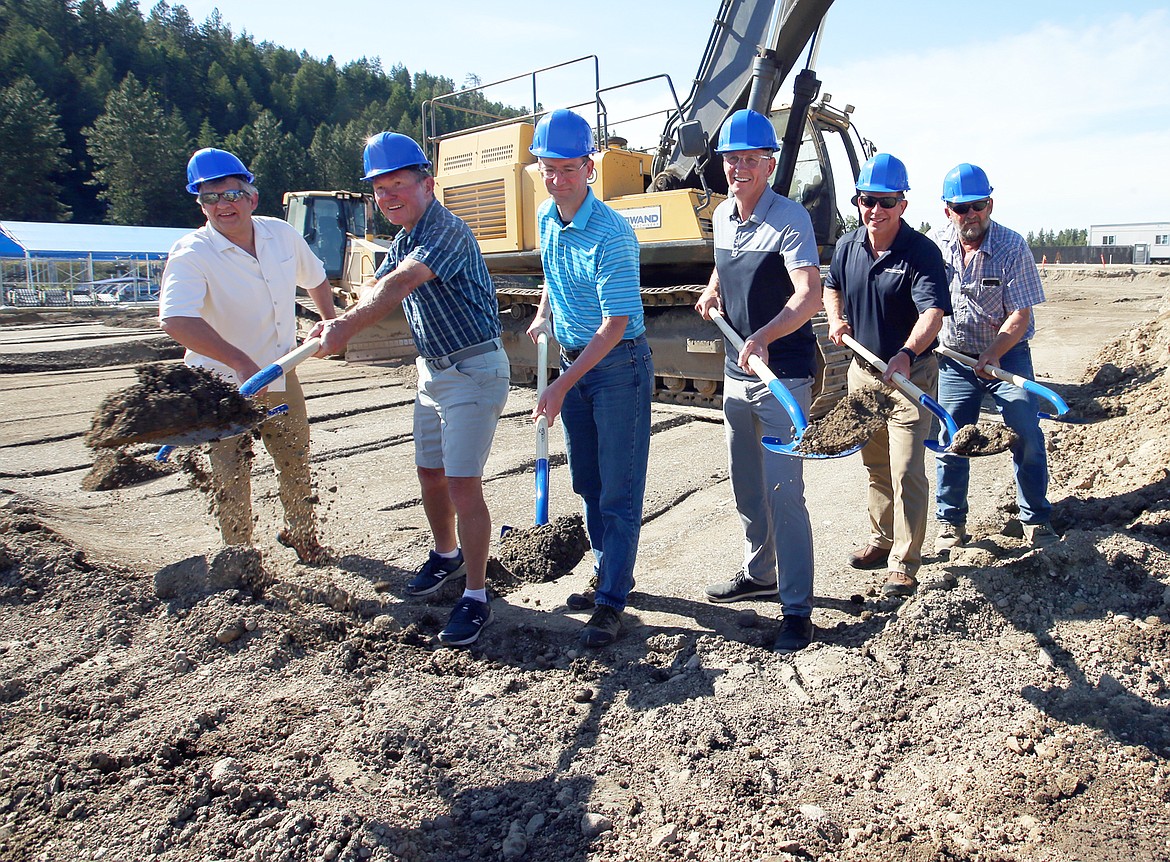 Officials break ground on the Quick Launch Dry Stack facility at the Hagadone Marine Center on Friday. From left, Kol Nelson, architect with BP Design Works; John Barlow, owner's representative; Jon Huettl, TW Clark Construction project manager; Craig Brosenne, Hagadone Marine Group president; Phil Boyd, Welch Comer, engineer; and Craig Turner, TW Clark Construction superintendent.
Previous
Next
by
BILL BULEY
Hagadone News Network
|
June 24, 2021 1:00 AM
COEUR d'ALENE — Four and a half years ago, Hagadone Marine Group President Craig Brosenne, in a conversation with owner Duane Hagadone, spoke of a "dry stack."
Hagadone's response was blunt.
"Brosenne, what the hell's that? I never heard of it."
That was the beginning of planning for a building that would provide indoor vertical dry boat slips.
"He's a very detailed man. He likes everything perfect," Brosenne said.
While the numbers initially didn't pencil out, Hagadone insisted they could.
"He kept on challenging me to go back to the drawing board and say how we could make it work," Brosenne said.
So he did.
"We ended up with a building 60 feet tall, 50,000 square feet, holding 380 boats," Brosenne said.
The Hagadone Marine Center broke ground on the $15 million project Friday afternoon before about 50 people on Blackwell Island. Construction will start in June and completion is targeted for April 1, 2022.
It will be the region's first and only dry stack facility, with a five-story custom racking system.
The first phase — a commercial ramp, seawall, valet slips — was finished last year.
"The second phase is the building behind us," Brosenne said as he stood at the lectern and delivered a short speech.
There will also be a clubhouse, concierge service, storage lockers and plenty of parking for Quick Launch members.
"It's going to be a great addition to a marine business that's grown exponentially," he said.
John Barlow, company representative, will be supervising construction. The design team includes Welch Comer Engineering and architect Kol Nelson of BP Design Works. The project general contractor will be T.W. Clark Construction of Spokane.
The Quick Launch is considered a game-changer in the boating industry. It allows members to call ahead so their boat will be ready and waiting at a slip for a day on the water when they arrive.
Boat are stored inside, out of the elements, so they will always be clean and maintained. It also meets a rising demand for boat slips.
"This facility handles the boat from one end of the year to the other," Barlow said.
It also enhances the offerings of the Hagadone Marine Center, which includes sales and service.
"There's nothing like it anywhere around," Barlow said. "The real winners will be our customers who get to enjoy a different way of boating."
"For me it's a whole different Sunday afternoon," he continued. "You just hand it to Craig and go home."
There's already a waiting list for the program.
Due to the high demand of slips on Lake Coeur d'Alene, the Hagadone Marine Center is offering Quick Launch Membership to customers who buy a new 2022 boat model from the Hagadone Marine Group.
And due to high volume of boat orders, if you want the boat by the 2022 season, you need to order now.
Much of the credit for the success of the development went to company owner Duane Hagadone of Coeur d'Alene, who died April 24 at the age of 88.
Brosenne said Hagadone always led spirited discussions about their projects, questioning every detail — which led to success.
"Duane Hagadone was a true visionary," Barlow said. "He always challenged us to be better than we were."
Brosenne said the Hagadone family acquired the Blackwell Island site in 2005.
It was previously a landfill, a sawmill and a FEMA floodplain. But the company had bigger and better plans for it, including beautifying the west entrance to Coeur d'Alene. It went to great lengths and cost to remediate the land.
"It was no small undertaking given the issues of the property," Brosenne said.
Under Hagadone's watch, they built up the boat business, adding brands, consolidating at the site and opening the 50,000-square-foot service center in 2017.
"His vision was to buy something, improve on it and run it, make it better than it ever has been going forward," Brosenne said.
Friday's groundbreaking on the site of a former dump site and sawmill was evidence of that philosophy.
"Now it's a productive, taxpaying property for the benefit of all the citizens," Barlow said.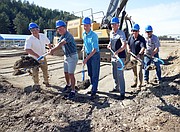 ---