Litsinger finds his 'Voice'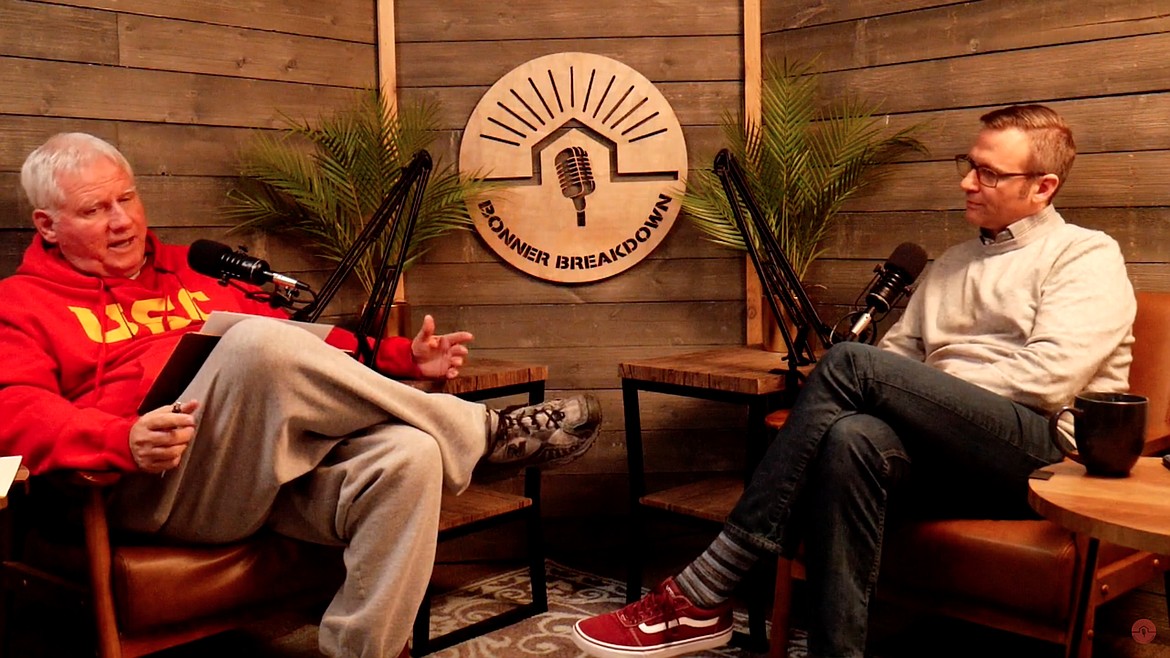 In this screenshot, Bill Litsinger, host of the new podcast The Voice North Idaho, talks to Chris Bassett, who runs Bonner Breakdown, during an episode of the long-form interview platform.
SANDPOINT — It's not like Bill Litsinger wasn't keeping busy.
He serves on the board of Bonner Partners in Care, serves as a ministry lead at North Summit Church for Safe Families for Children and is a hospice volunteer.
And, Litsinger told the Daily Bee, he figured his career in radio was over after when Blue Sky Broadcasting dropped his weekly radio program "The Voice" from its KSPT/KBFI lineup.
"I thought I was done because that's the only radio station in town," Litsinger "Until people were saying, 'Yeah, you need to do a podcast, you need to do this, you need to you know, you need to stay active.'"
After taking some time off to visit family, Litsinger met with Chris Bessler of Keokee Publishing and Chris Bassett, who hosts Bonner Breakdown, described as an open conversation, long-form interview platform.
"Quite frankly, up until about two months ago, three months ago, I didn't even know what a podcast was," Litsinger said.
But after meeting with the pair, he quickly got on board and began to get immersed in the world of online shows and podcasts. He asked people who knew if they'd share his link on their webpages, many of whom agreed without hesitation.
Litsinger has a few podcasts under his belt and already has ideas in the books for the next few weeks as well. At first, it took a bit of getting used to; Litsinger said he was used to the format of a traditional radio show with set breaks and a certain format.
"I was a little nervous because we it's not structured," he said. "At the radio station, I knew exactly when I would take a break. I knew exactly when we would come back. And I knew exactly when I had to get ready to sign off. But a podcast can be 15 minutes, an hour in 10 minutes. And you don't have to take a break. And then you can, you can stay on a subject for as long as you want."
Litsinger said the basic structure of the show won't change from his radio days. He'll still be talking to guests about local issues and personalities as well as state and national issues that impact Bonner County.
However, he said he thinks he'll have more freedom, noting that his show is ideal for podcasting since conversations won't have to stop for a commercial and he gets to pick whoever he wants, speak about any topic he wants — from politics to COVID-19 to gun control.
"I'm going to continue doing the same things I was doing [at Blue Sky,]" he said. "If if people are upset about what's said, well, I, I don't know what to tell them … that's just the way it is. I'm not going to try to make the news. I'm just going to try to report what's going on in Bonner County."
At the end of the day, Litsinger said he's excited to be back behind a microphone talking to the community about the issues that they themselves are talking about.
"It does feel good," he said.
The podcast — called "The Voice at North Idaho" drops Fridays at 11 a.m. Litsinger can be reached by phone at 208-265-5599 or via email at talk@thevoicenorthidaho.com.
Recent Headlines
---