The face of Idaho's outdoors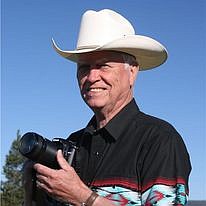 by
BILL BULEY
Hagadone News Network
|
March 24, 2021 1:06 AM
COEUR d'ALENE — Jack McNeel, longtime Press columnist, Idaho Department of Fish and Game representative and outdoorsman, died Sunday. He was 84.
McNeel and his wife, Jackie, lived in Hayden
"He was a great spokesman for hunting and fishing," said Chip Corsi, regional supervisor of Idaho Department of Fish and Game.
"He was kind of the face of the department for a lot of people."
For years, McNeel handled public relations for IDFG in North Idaho and was in the field. It gave him a chance to utilize his writing and photography skills and knowledge of the wildness and its creatures while showcasing Idaho's natural beauty.
Later, as a freelance writer, he wrote on Native American subjects and about his travels, as well.
McNeel, born and raised in Idaho, wrote about the Kootenai Tribe, the Cataldo Mission and The Bridges of Lane County.
He and Jackie teamed up, with Jack handling the writing and Jackie, the photography.
In the early days, well before Facebook, he connected with people via face-to-face encounters, his Press column, school visits, radio and TV interviews. He worked hard to be sure people had the information they needed before venturing into Idaho's outdoors.
His column in The Press was accompanied by his photo.
"A lot of people knew Jack," Corsi said. "They asked about him. 'Hey, Jack said this.' He was very much a recognizable face of the agency because of the way he did outreach in his career."
Mike Brodwater, a longtime friend of McNeel's and fellow Press columnist, said they occasionally met over coffee and chatted about their latest photography and travel adventures.
"Jack was a really sharp guy," Brodwater said. "He remembered stories and he remembered people
He said in McNeel's work with Fish and Game, he probably talked to thousands of children about gun safety.
"That's something he was quite proud of," Brodwater said.
---