Sandpoint tennis rattles rival Moscow 10-2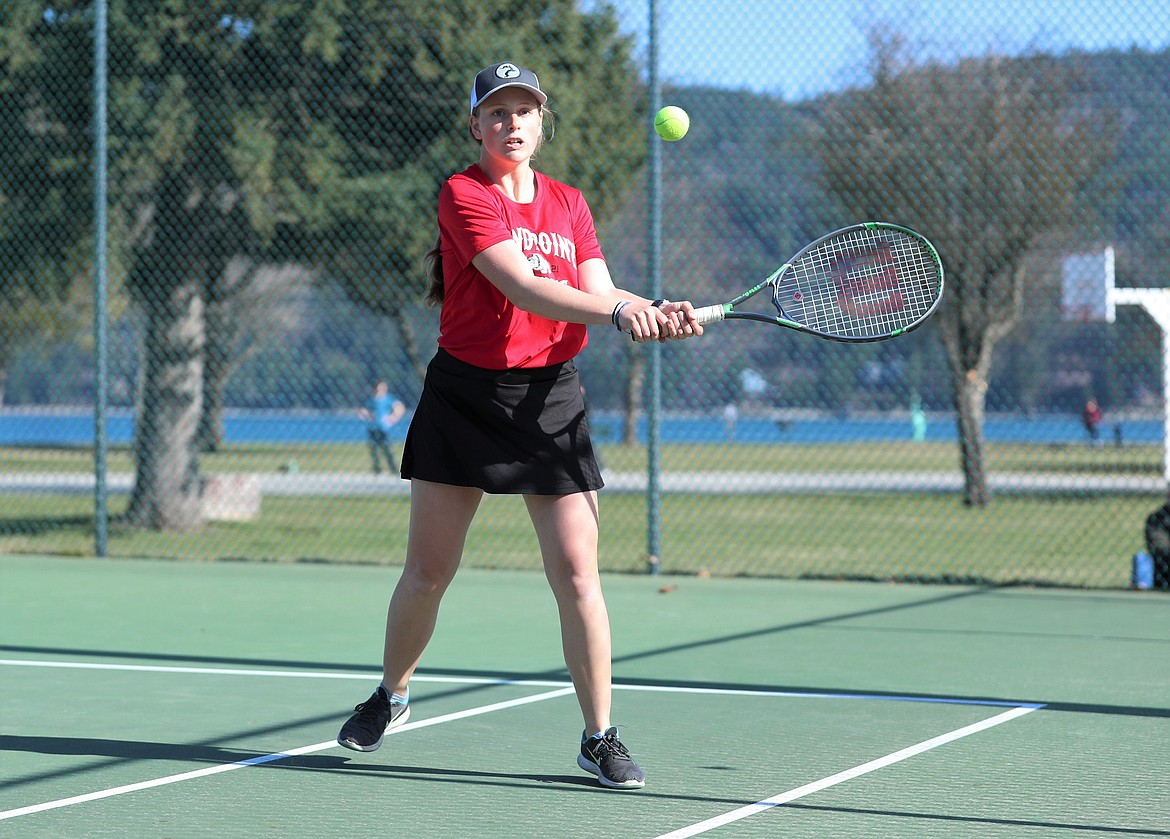 Patch Howard prepares to hit a backhand during mixed doubles play at City Beach on Wednesday against Moscow.
(Photo by DYLAN GREENE)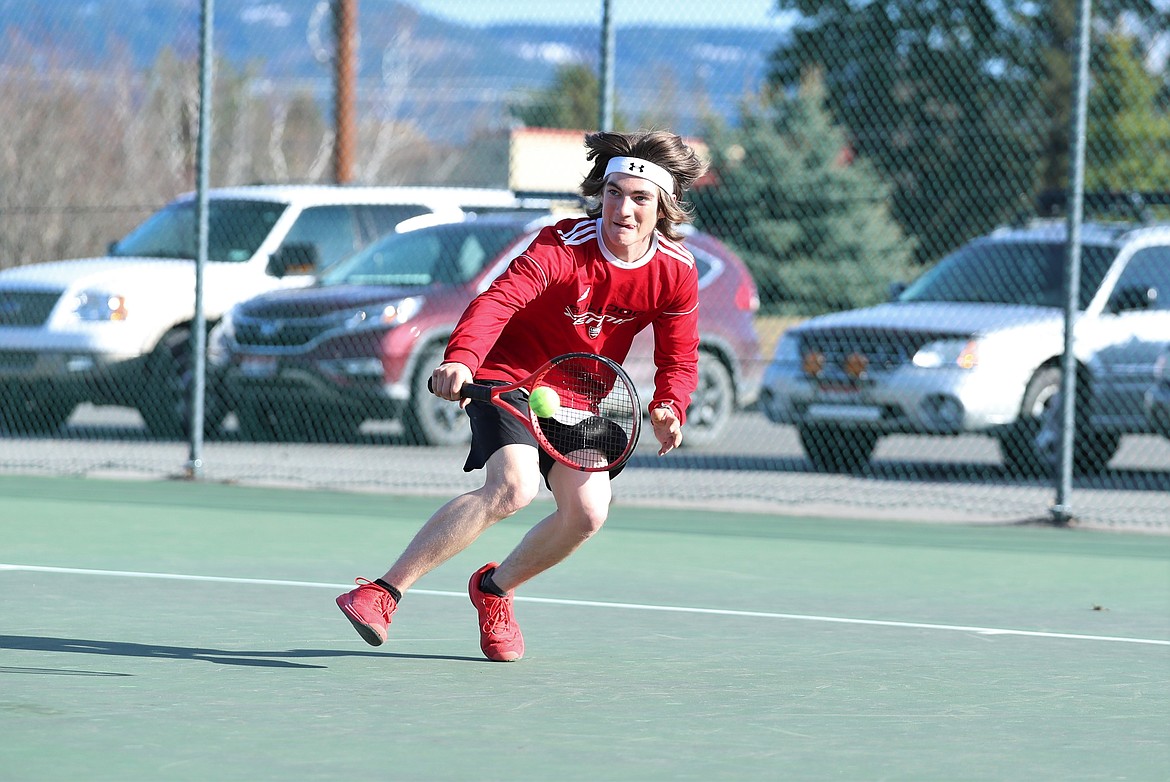 Tyler McNamee gets down low to return a backhand in singles play on Wednesday.
(Photo by DYLAN GREENE)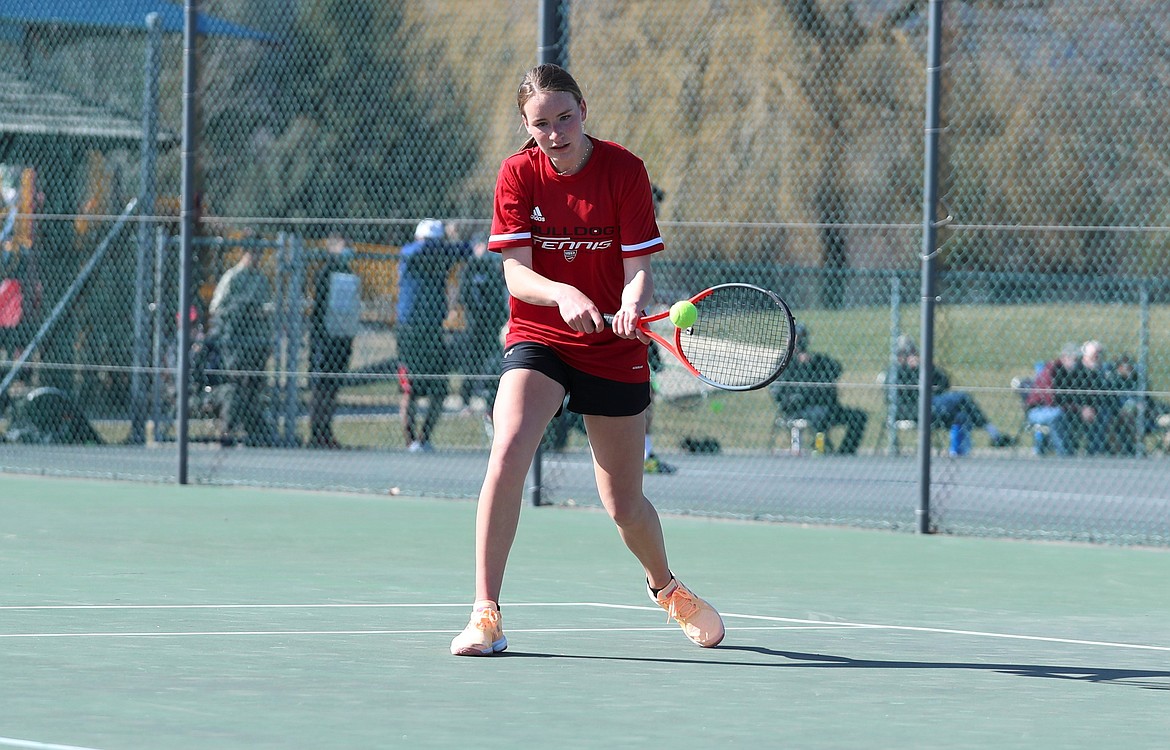 Neva Reseska hits a backhand on Wednesday.
(Photo by DYLAN GREENE)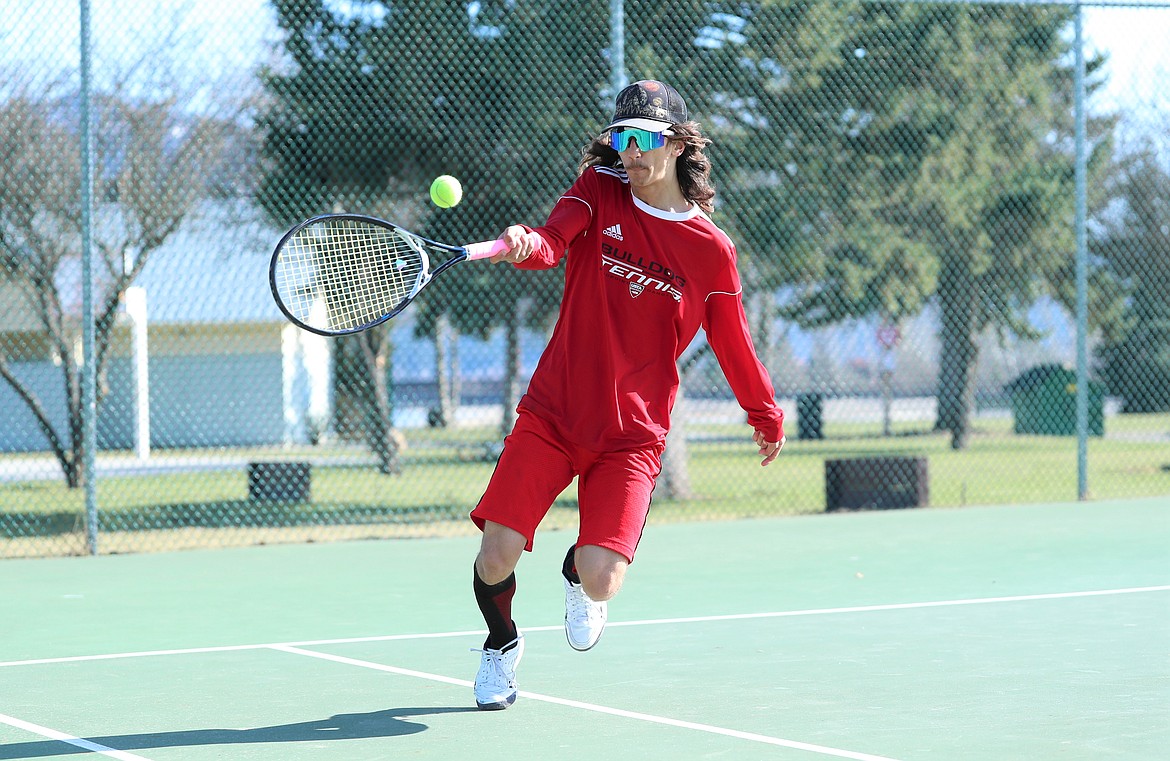 Aden Heitz chases down a ball and hits a return on Wednesday.
(Photo by DYLAN GREENE)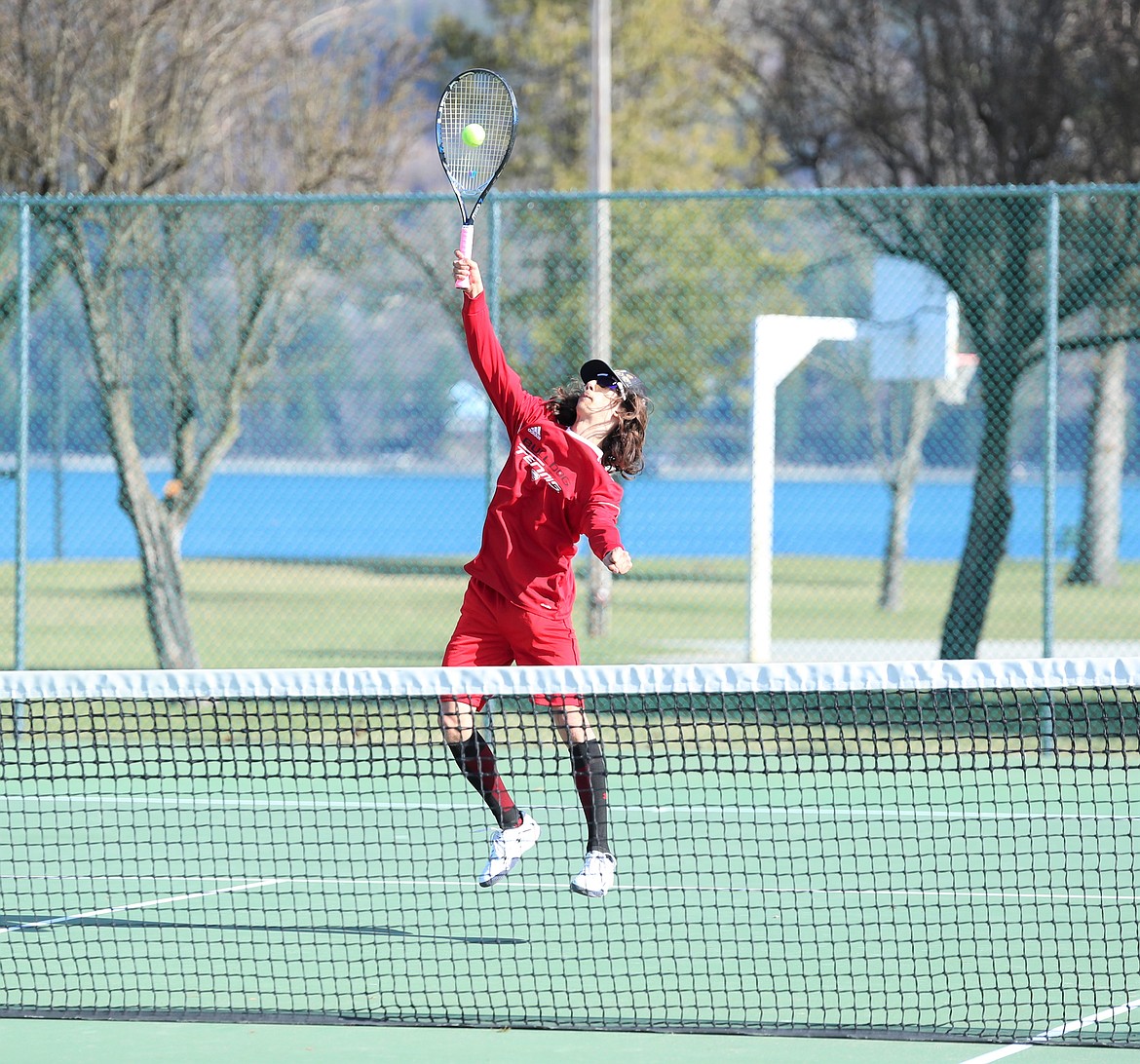 Aden Heitz hits a volley on Wednesday.
(Photo by DYLAN GREENE)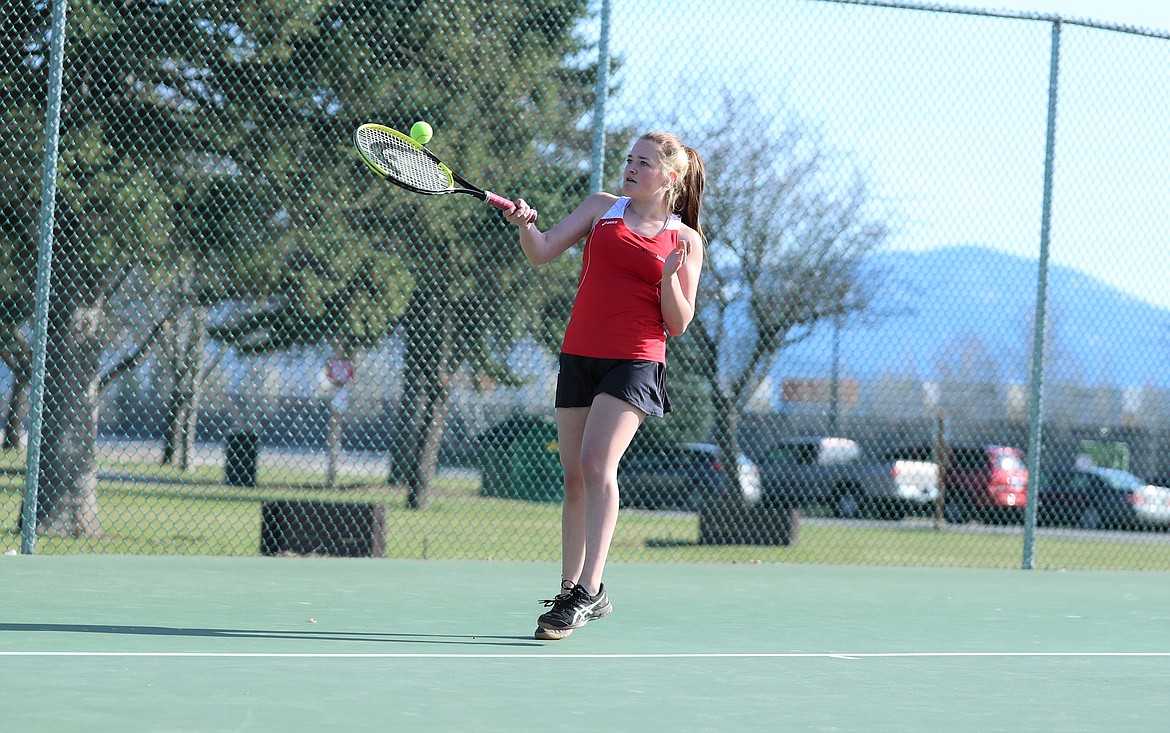 Adrian Doty eyes a return shot on Wednesday.
(Photo by DYLAN GREENE)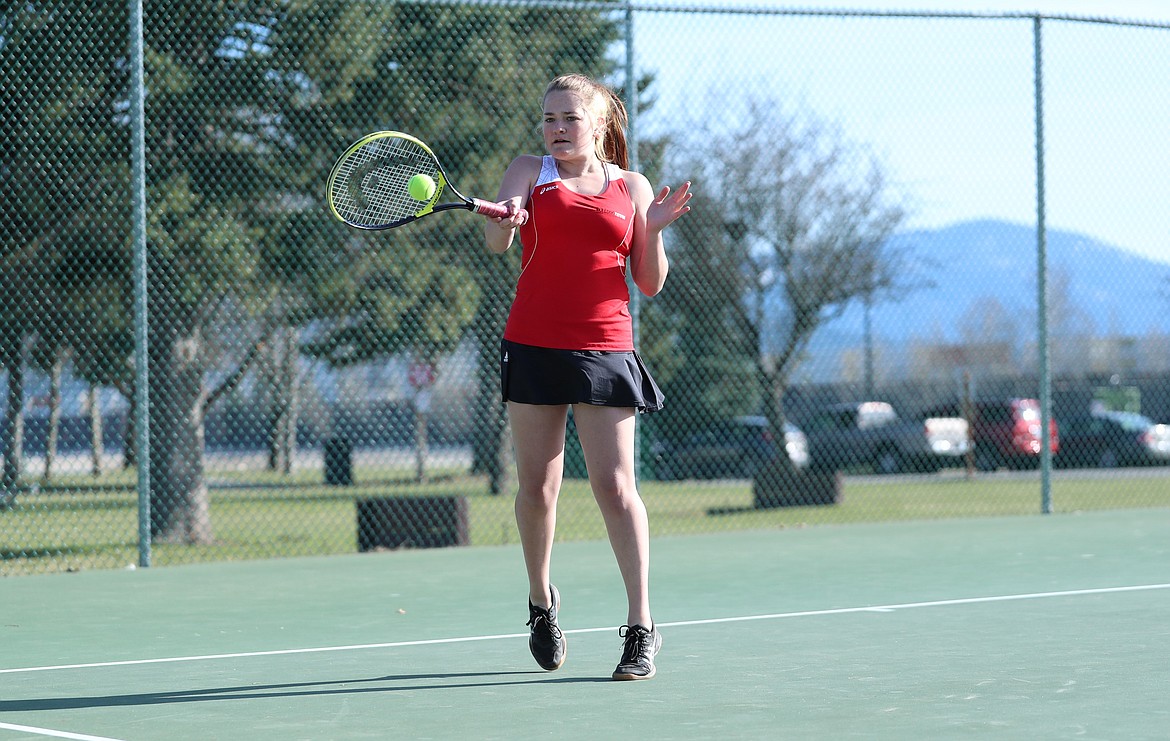 Adrian Doty hits a forehand on Wednesday.
(Photo by DYLAN GREENE)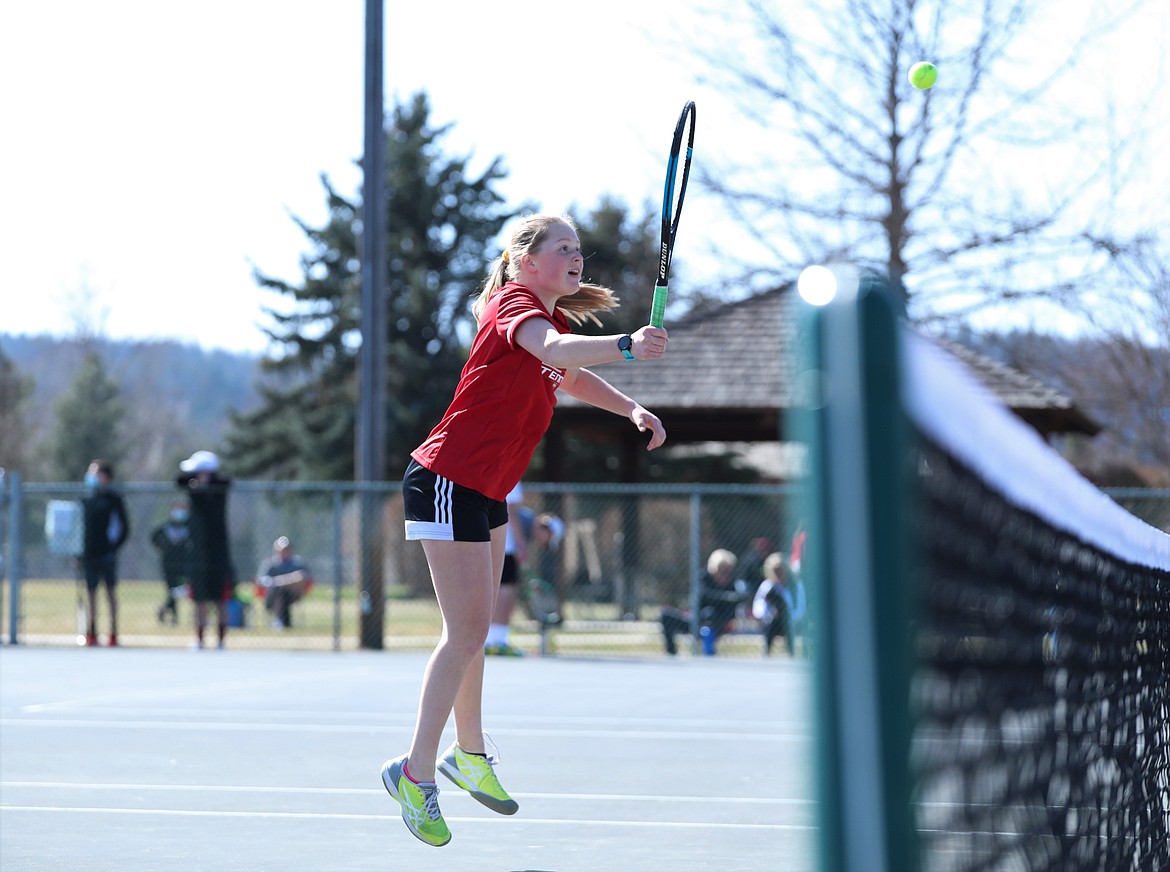 Berkeley Cox attacks the net and hits a volley on Wednesday.
(Photo by DYLAN GREENE)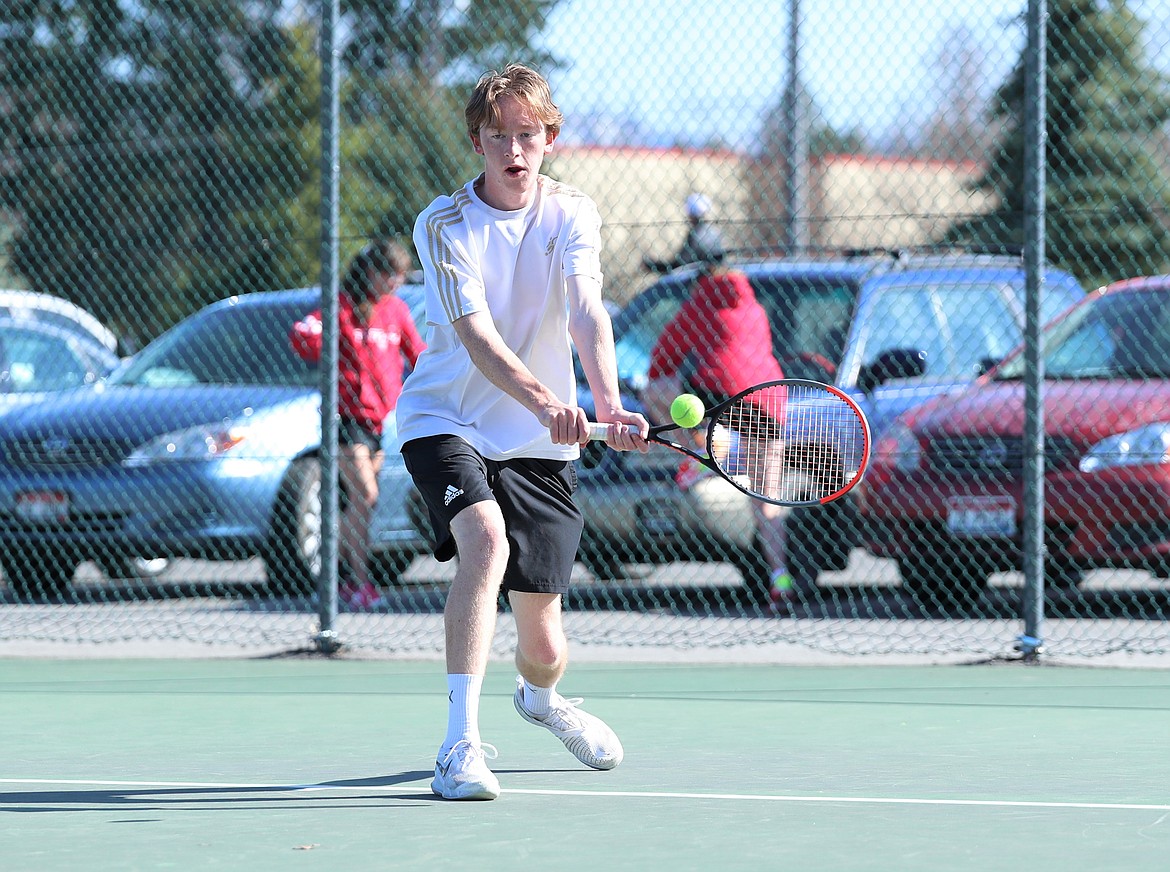 Charlie Johnson hits a backhand on Wednesday.
(Photo by DYLAN GREENE)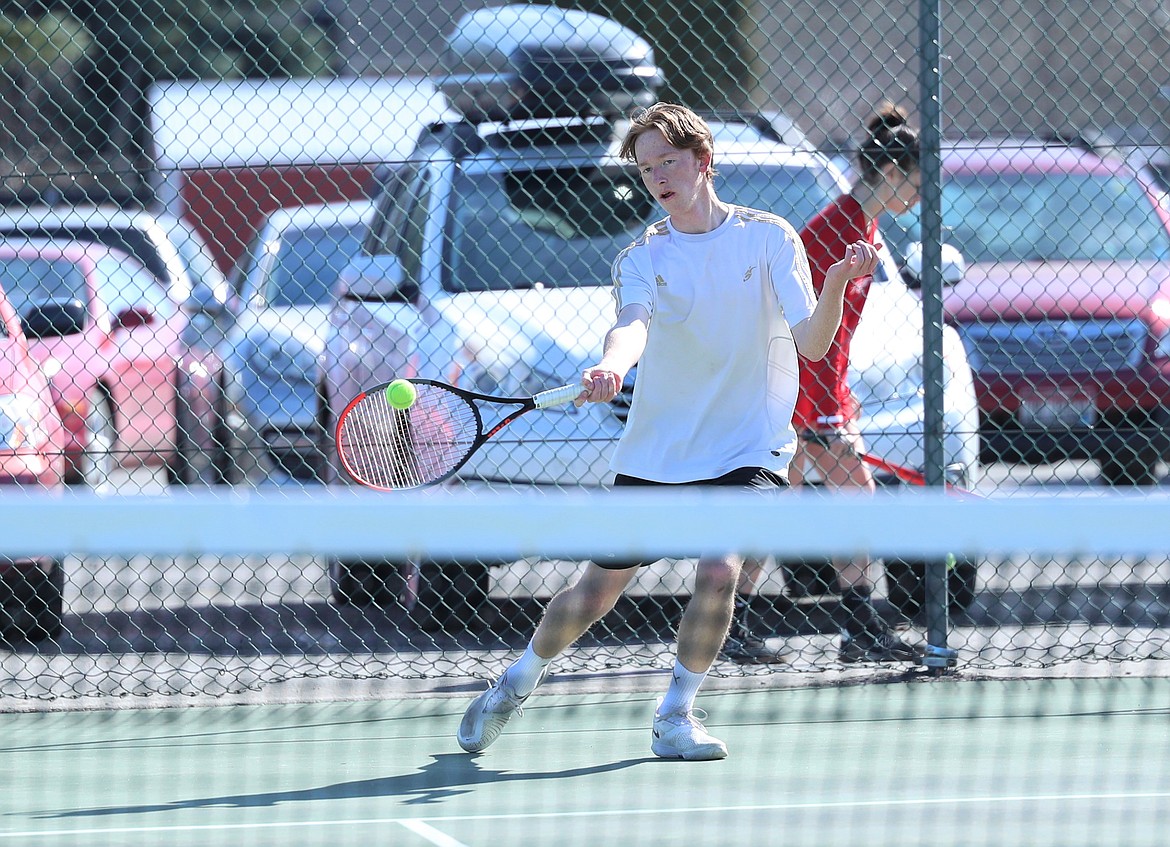 Charlie Johnson hits a forehand on Wednesday.
(Photo by DYLAN GREENE)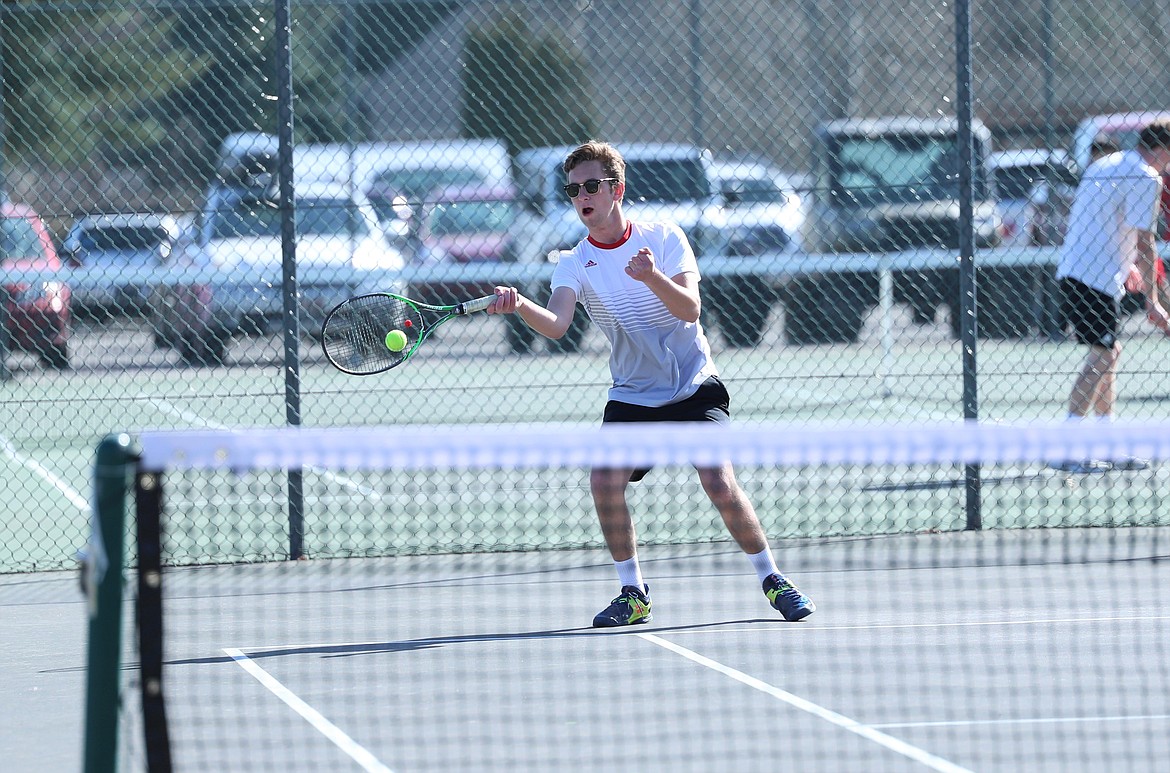 Christian Story hits a forehand on Wednesday.
(Photo by DYLAN GREENE)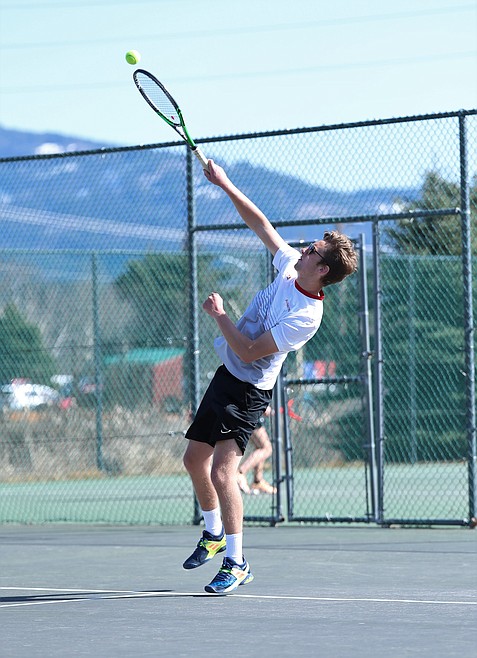 Christian Story serves on Wednesday.
(Photo by DYLAN GREENE)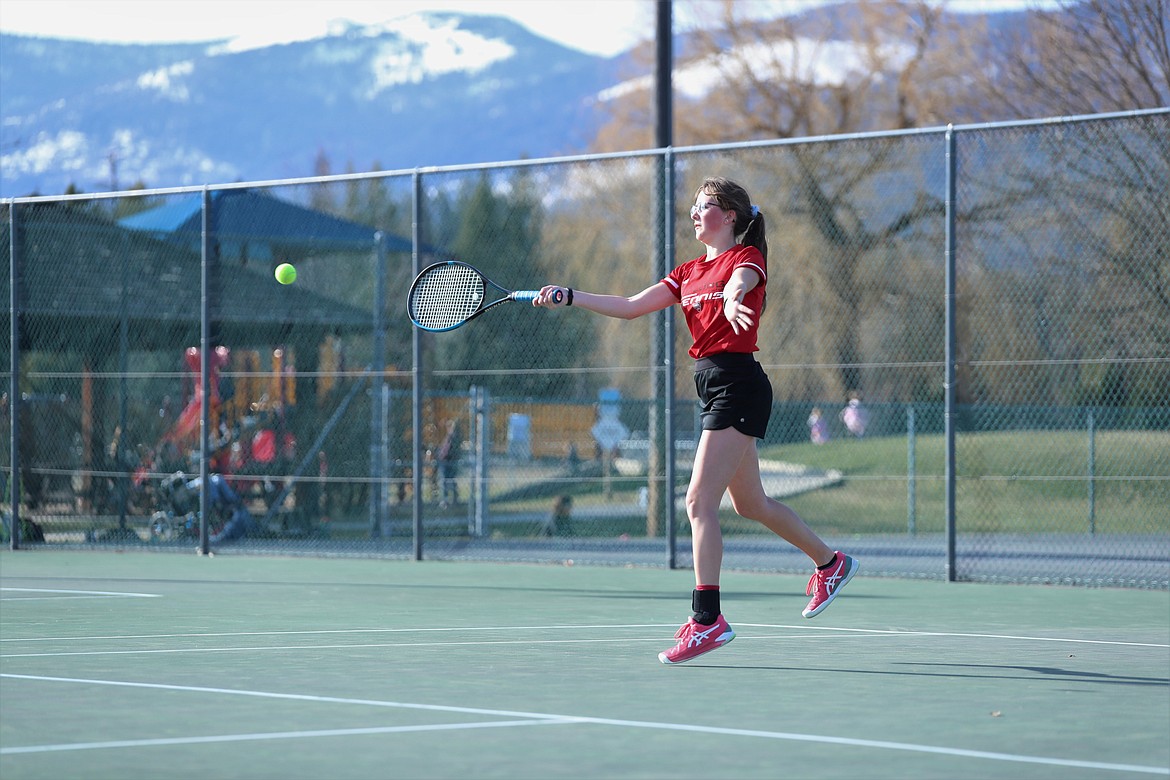 Denali Terry elevates to hit a forehand on Wednesday.
(Photo by DYLAN GREENE)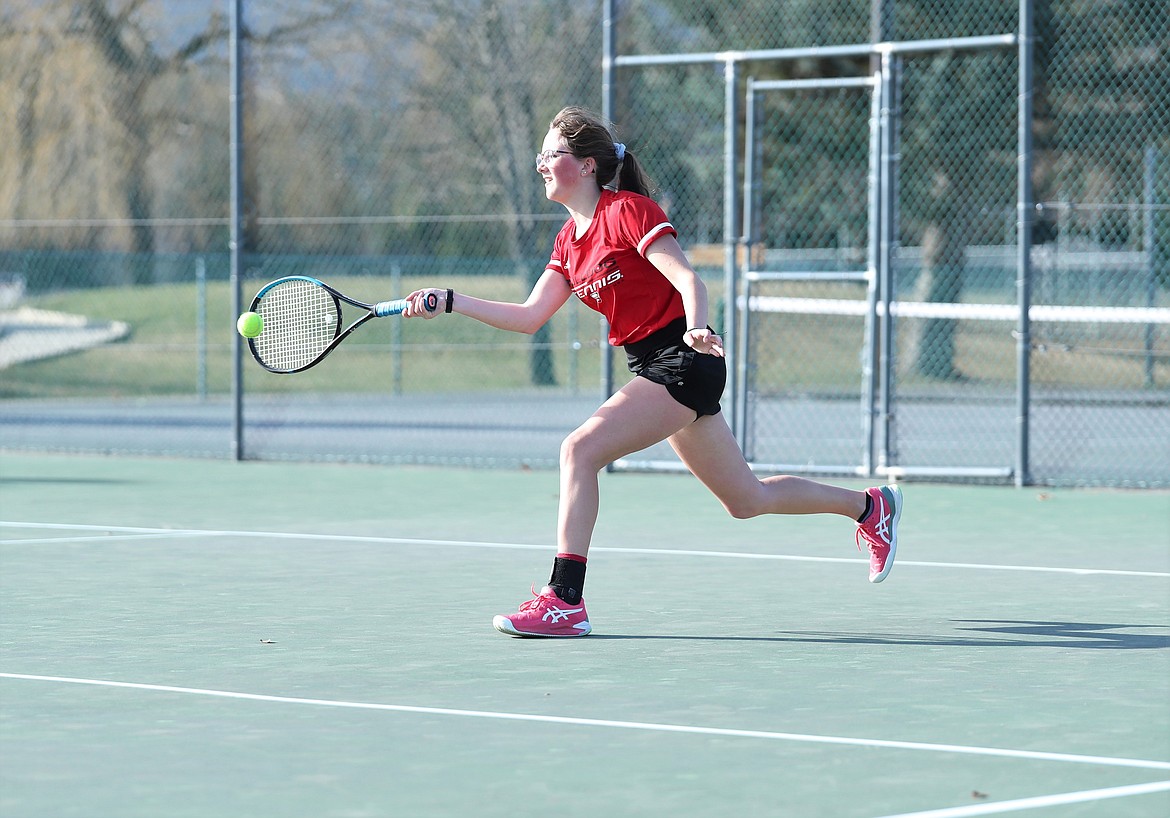 Denali Terry hits a return on Wednesday.
(Photo by DYLAN GREENE)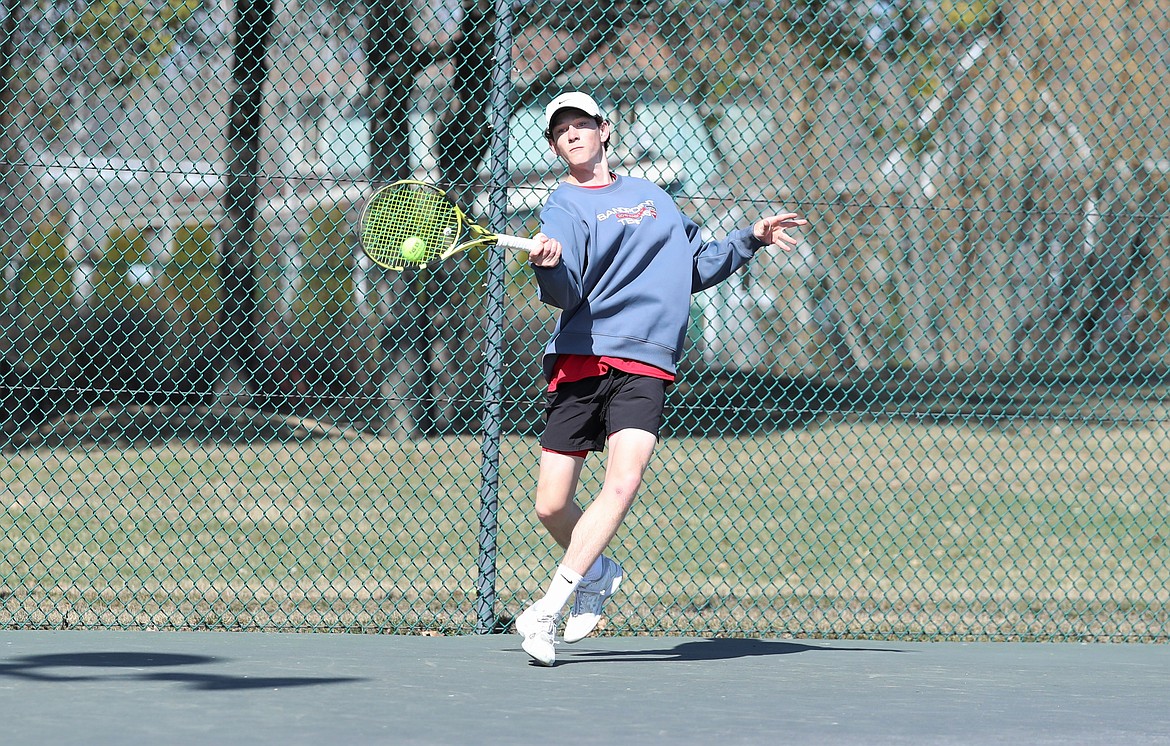 Josh Embree steps back to hit a forehand on Wednesday.
(Photo by DYLAN GREENE)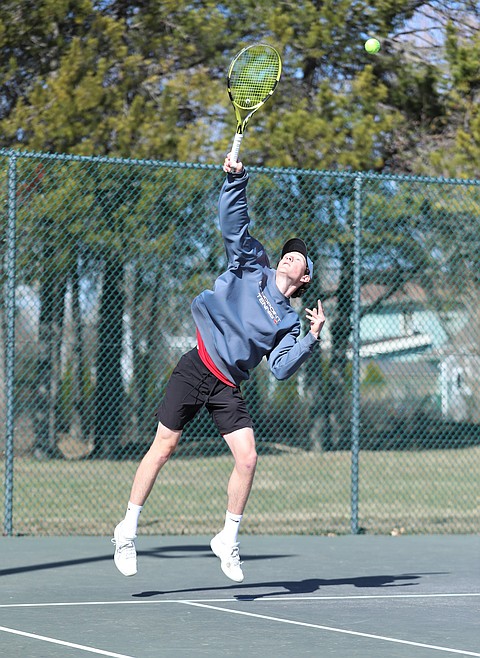 Josh Embree serves on Wednesday.
(Photo by DYLAN GREENE)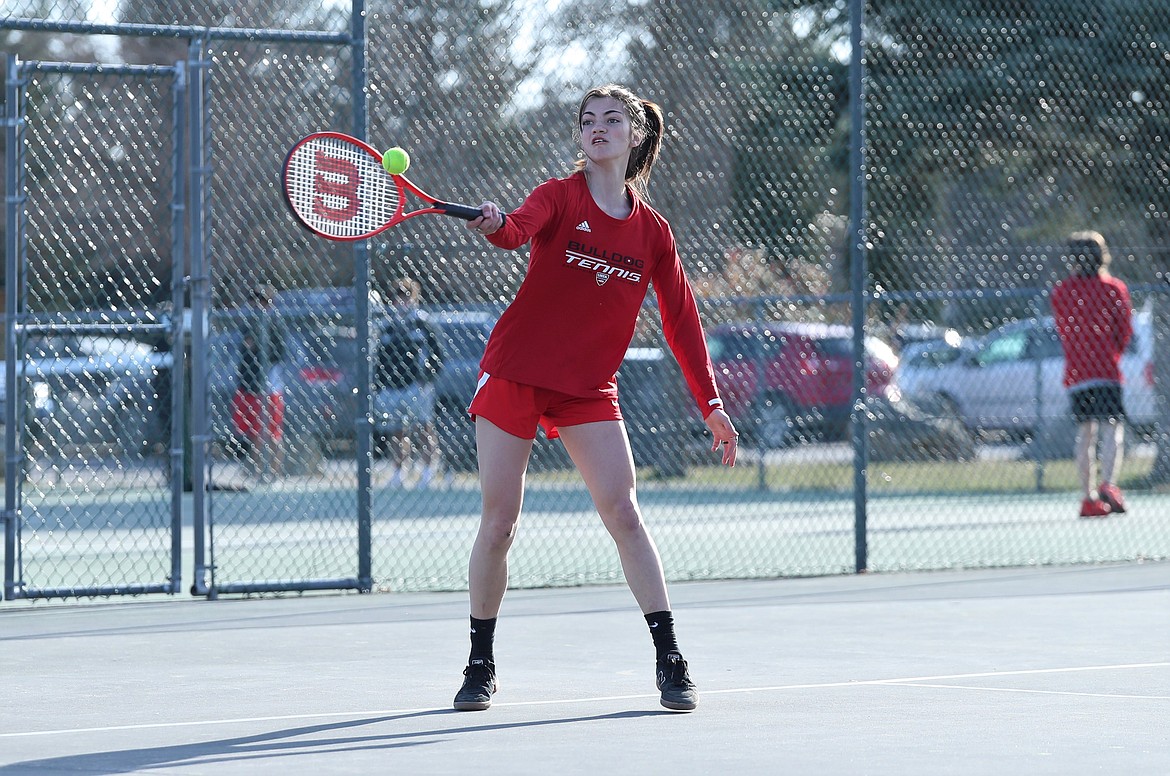 Kailee McNamee hits a forehand on Wednesday.
(Photo by DYLAN GREENE)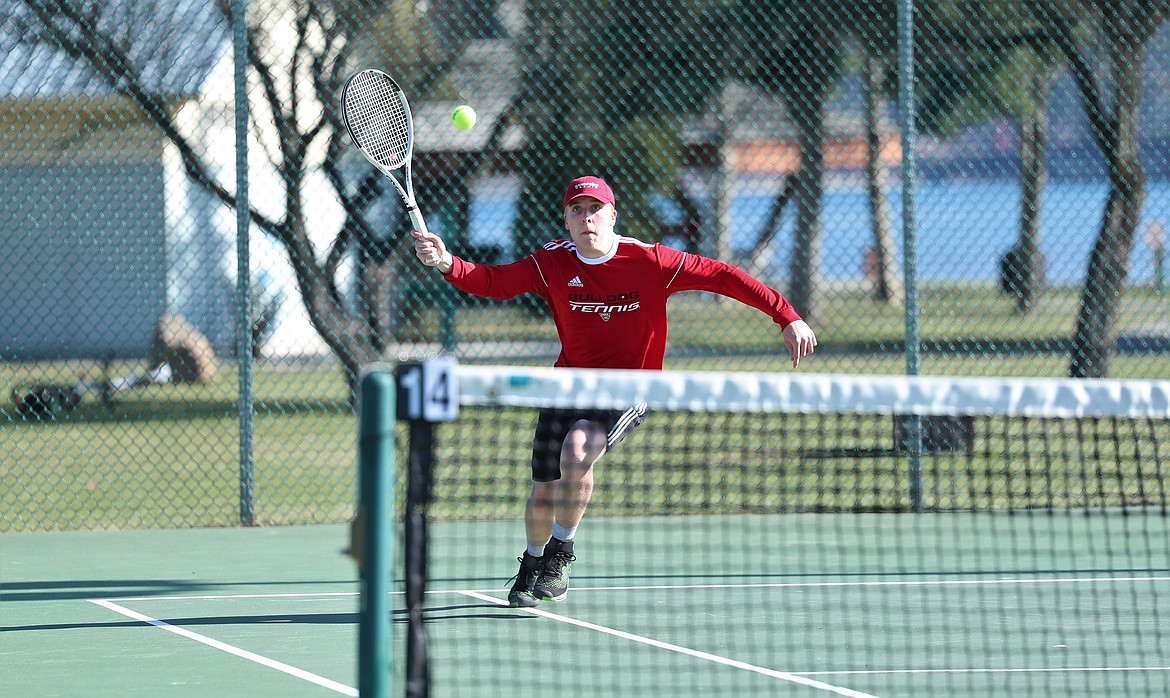 Josh Jessen eyes a return shot on Wednesday.
(Photo by DYLAN GREENE)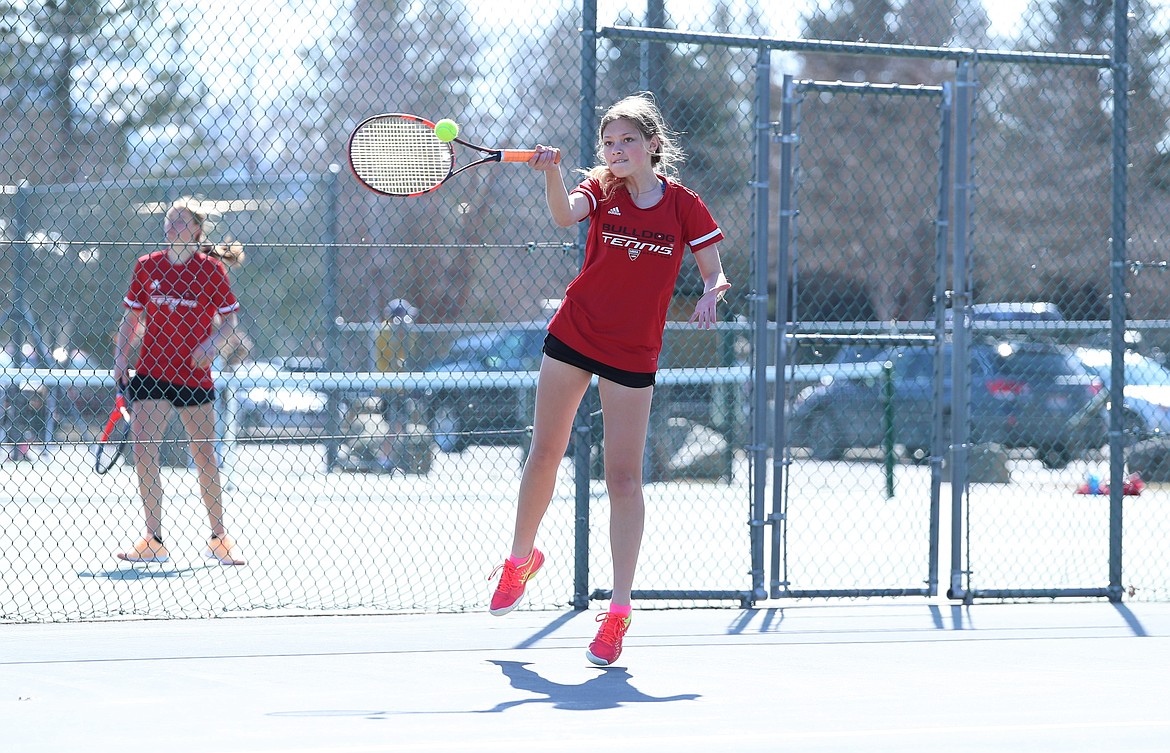 Maile Evans elevates to hit a forehand on Wednesday.
(Photo by DYLAN GREENE)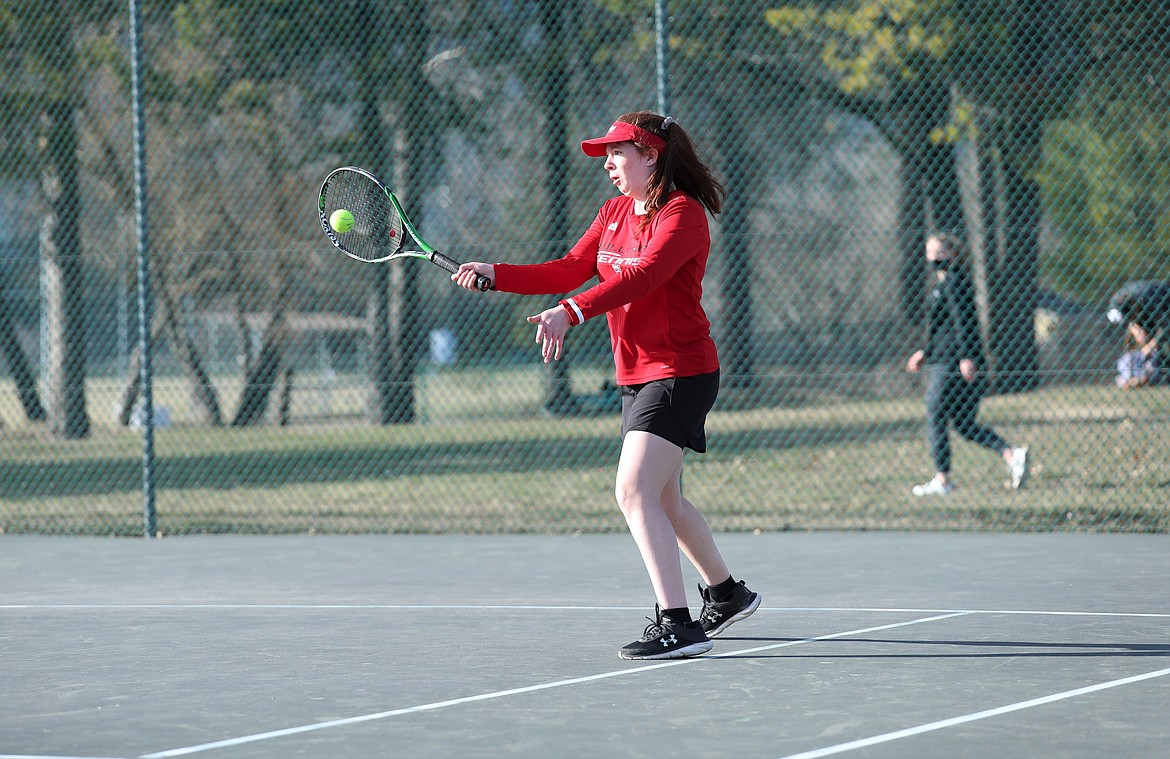 Maise Brazill returns a shot on Wednesday.
(Photo by DYLAN GREENE)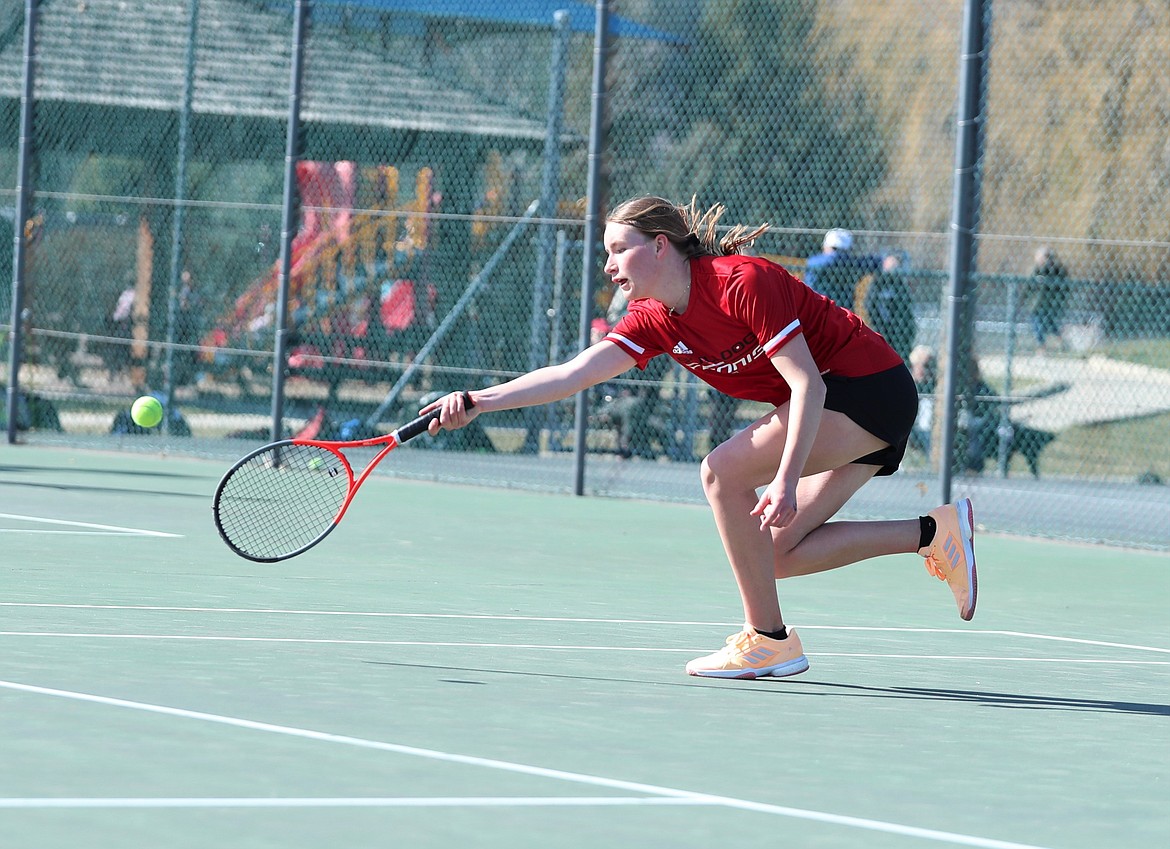 Neva Reseska gets down low to return a shot on Wednesday.
(Photo by DYLAN GREENE)
Previous
Next
by
DYLAN GREENE
Sports Editor
|
March 31, 2021 11:02 PM
SANDPOINT — In its final test before entering spring break, Sandpoint tennis stormed past league foe Moscow 10-2 on Wednesday.
Head coach Kent Anderson was thoroughly impressed with his team and the continued growth of his younger players.
"This team has the best attitude and from a coaching perspective, this is a really special year," he said.
The Bulldogs swept girls singles, boys doubles and mixed doubles to cruise past the Bears.
At No. 1 singles for the girls, Neva Reseska, a freshman, marched to a 6-1, 6-1 win.
With her doubles partner, Olivia Petruso, on spring vacation, Denali Terry moved to No. 2 singles and picked up a 6-4, 6-2 victory for the girls.
"Denali played really well," Anderson said. "It was good to see Denali get that many hits in a singles match and she was pretty much able to dominate."
Adrian Doty completed the singles sweep for the girls with a 6-1, 6-4 win at No. 3.
Anderson stuck with Christian Story and Josh Embree at No. 1 boys doubles and the duo didn't disappoint the home crowd. They won 6-0, 6-0. In doubles action, the pair still hasn't lost a game in a match with full sets.
At the No. 2 slot, Tyler Korn and Carter Johnson kept their unblemished record in doubles play intact with a 6-1, 6-1 victory.
Anderson said he loves watching those two play because they put so much pressure on their opponents.
"They play with no fear," he said. "I mean they'll stand right on top of someone even if they've got a point-blank shot at them. They just feel their hands are good enough that they're going to fight off any shot and win the point."
Tyler McNamee and Aden Heitz breezed to victories at No. 2 and No. 3 singles for the boys.
"Tyler has an ability to get his strings on the ball in the strangest positions," Anderson said. "He's a great athlete."
At No. 1 mixed doubles, Patch Howard and Josh Jessen teamed up for a 6-1, 6-2 win.
Anderson said Howard is making big strides fast.
"Patch is one of the fastest improving kids on the team," he said.
Sandpoint won the No. 2 mixed doubles match by default.
Kailee McNamee made her varsity debut at No. 2 girls doubles, alongside Maise Brazill, who hasn't lost a match all season. The freshman joined the team just over a week ago, but is no stranger to the game of tennis.
Anderson said Kailee played on the middle school tennis team for two years and was a star, and she recently decided she wanted to commit to playing for the Bulldogs while also pursuing her other passion — soccer.
She made quite the first impression, grabbing a 6-1, 6-3 win with Brazill.
"Kailee was probably the strongest person on the court in that match," Anderson said.
Going into Wednesday's match, Anderson wanted his team to be aggressive on first and second serves, and he said they did a great job of executing that goal.
"By the time we get to districts, these guys are going to be dominating every single person they play with their serves, I guarantee you," he said.
Now the Bulldogs head into spring break, but for the tennis team there is no break. Anyone on the team who sticks around will be crushing balls all next week, and Anderson said that's when he really sees improvement from his players.
Anderson likes where the Bulldogs are at for this point in the season, but he wants them to work on footwork, racket speed and their willingness to attack the net.
Sandpoint returns to action Wednesday, April 14 when they travel to Lewiston for a match.
Sandpoint 10, Moscow 2.
Sandpoint athletes in bold
GIRLS SINGLES — No. 1 Neva Reseska d. Jayden Pope, 6-1, 6-1. No. 2 Denali Terry d. Natalie Rice, 6-4, 6-2. No. 3 Adrian Doty d. Autumn Tafoya, 6-1, 6-4.
GIRLS DOUBLES — No. 1 Serena Strawn/Aneesha Shrestha d. Maile Evans/Berkeley Cox, 6-4, 7-5. No. 2 Maise Brazill/Kailee McNamee d. Brigid O'Sullivan/Mille Richards, 6-1, 6-3.
BOYS SINGLES — No. 1 Lynnsean Young d. Charlie Johnson, 6-4, 6-4. No. 2 Tyler McNamee d. Brayden Pickard, 6-1, 6-0. No. 3 Aden Heitz d. Kolby Clyde, 6-1, 6-1.
BOYS DOUBLES — No. 1 Josh Embree/Christian Story d. Kel Larson/Clayton Hemming, 6-0, 6-0. No. 2 Tyler Korn/Carter Johnson d. Colin Wessels/Jack Landis, 6-1, 6-1.
MIXED DOUBLES — No. 1 Josh Jessen/Patch Howard d. Ellen Heyns/Micah Wolbrecht, 6-1, 6-2. No. 2 Brahma Heitz/Elly Tutin won by default.
---