SMR expects success to exceed expectations this coming year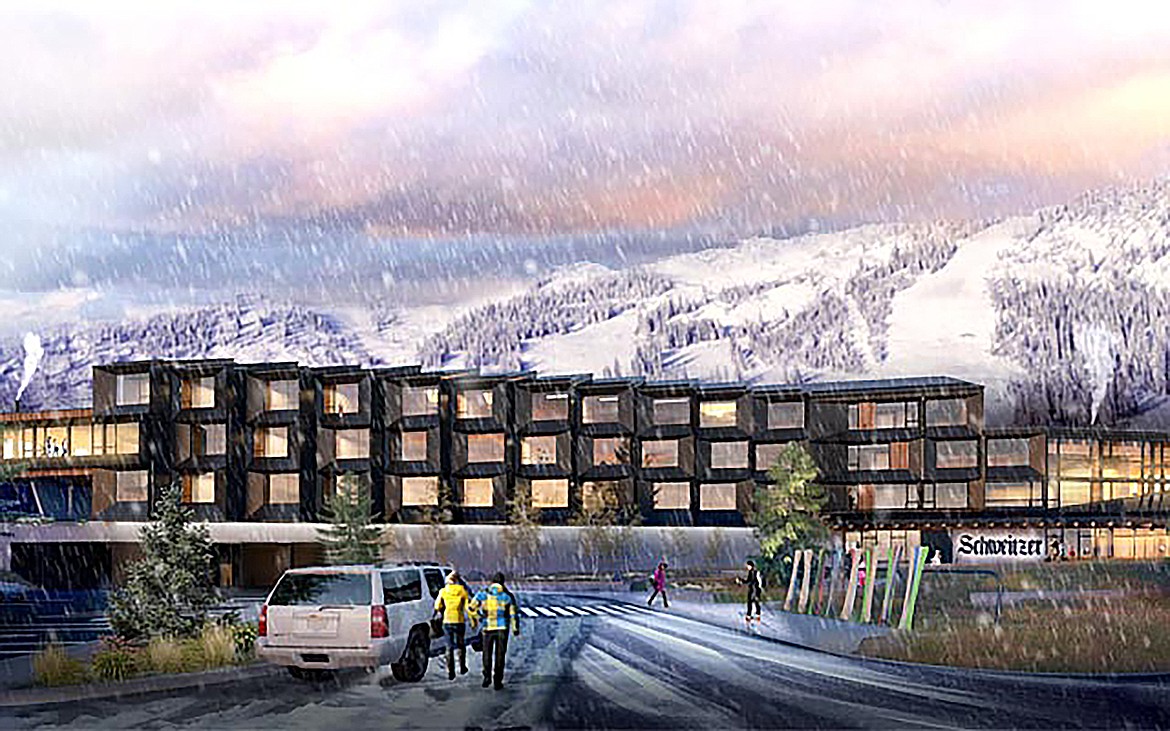 Schweitzer Mountain Resort's new hotel, Humbird, will open in the fall of 2021 with over 66,580 square feet and a 31-unit ski-in, ski-out hotel complex.
(Courtesy illustration)
by
KATHY HUBBARD Contributing Writer
|
March 31, 2021 1:00 AM
Every ski season has its ups and downs. Literally and figuratively. This past season wasn't without its challenges, but the staff at Schweitzer Mountain Resort bent over backwards to make this a fun time for all their pass holders and guests. They not only met, but exceeded the expectations of many locals and out-of-towners.
"Our goal has been to provide an escape, both mentally and physically from the pandemic and we've succeeded to do that," Marketing Manager Dig Chrismer said. "It hasn't always been easy but the majority of our Schweitzer family understands the importance, and has been very supportive."
Word on the street was that SMR and folks visiting the mountain did a great job adhering to COVID-19 restrictions despite or perhaps because of a threat from management to shut down the mountain if people didn't comply. Chrismer said that at times a big challenge was in keeping up staff morale while enforcing the mask mandate.
As this season comes to a close – Sunday, April 11, at press time – SMR staff is looking towards summer activities and next year's skiing and snowboarding. When asked what best practices would be carried over to next winter, Chrismer replied, "the ability to pre-purchase lift tickets in advance."
She said, "Having the potential to institute daily limits allows us to forecast business expectations better, which creates a better overall guest experience. We'd rather limit numbers than just crowd people in. That's a real dis-satisfier for our pass holders and guests."
Anyone who's been up to the mountain in the last several months has noticed the construction of the new hotel. Recently announced as being named for Humbird Lumber Company, the mill that brought so many families to North Idaho, Humbird is slated to open this coming November.
"Humbird will provide much needed lodging and a larger food and beverage outlet for our guests," Chrismer said. "We also are looking to develop more satellite food and beverage operations on the Chair 5 saddle (just down from the Stella offload) and continue to promote the food trucks in the Gateway parking lot.
"On the mountain, we'd like to augment lift capacity by adding fourteen chairs to our existing six-person chairlift, Stella. This will increase capacity by 500 skiers per hour," Chrismer said.
A quick look at real estate available on the mountain is just that – a quick look. That's because available properties are at an all-time low.
"Demand for real estate has outpaced inventory which has pushed sales prices on the mountain to new levels. Schweitzer will launch several development projects, beginning this summer, with a variety of unit types available. It's a strong market and we plan to offer a mix of condos, single family home sites, and smaller cabin type products. We look to announce more details as we approach the summer season."
Speaking of the summer season, hiking and biking trails will offer an outdoor experience unparalleled in the area. Huckleberry picking will be at its prime around mid-August. These are some of the activities that can happen regardless of pandemic restrictions.
"The summer season is scheduled to kick off the last weekend of June," Chrismer said. "We are looking forward to getting back to "normal" as much as we possibly can. A lot of that will depend on where the state of Idaho is in terms of its COVID reopening plan.
"Zip line and other village activities will be available regardless as we were able to adapt accordingly last summer. The village restaurants will be open with varied hours to ensure that there are food and beverage options in the summer. Sky house will be open every day the Great Escape Quad is in operation, weather depending."
For most readers of this publication, SMR is a day trip destination. A good thing, because lodging at Schweitzer is limited. The new 31-room Humbird with both queen and king-sized units opening in the fall will be a big help.
"Currently, Schweitzer doesn't own any of the available lodging in the village, and with the current trend of high owner-use, the new hotel will give us more available units to rent on any given day. Currently, we have about 85 units available through our rental pool. With the addition of Humbird, that will increase to 120 units," Chrismer said.
A page on Schweitzer's website (www.schweitzer.com) says that the resort is committed to being the best ski destination in the Pacific Northwest. Many locals who recreate on the mountain winter and summer think they've met their commitment. But, that doesn't mean that SMR management will rest on their laurels.
"Schweitzer is still family owned and proud of it," Chrismer said. "There has been organic growth in the region and we are trying to make decisions that will accommodate our new neighbors while at the same time maintaining the spirit of Schweitzer.
"We don't want to grow for growth's sake. We are committed to sustainable growth with the overall goal of looking to make things better, not necessarily bigger, for our Schweitzer pass holders and guests."
For more information go to www.schweitzer.com.
---