Solar Roadways' future is as bright as ever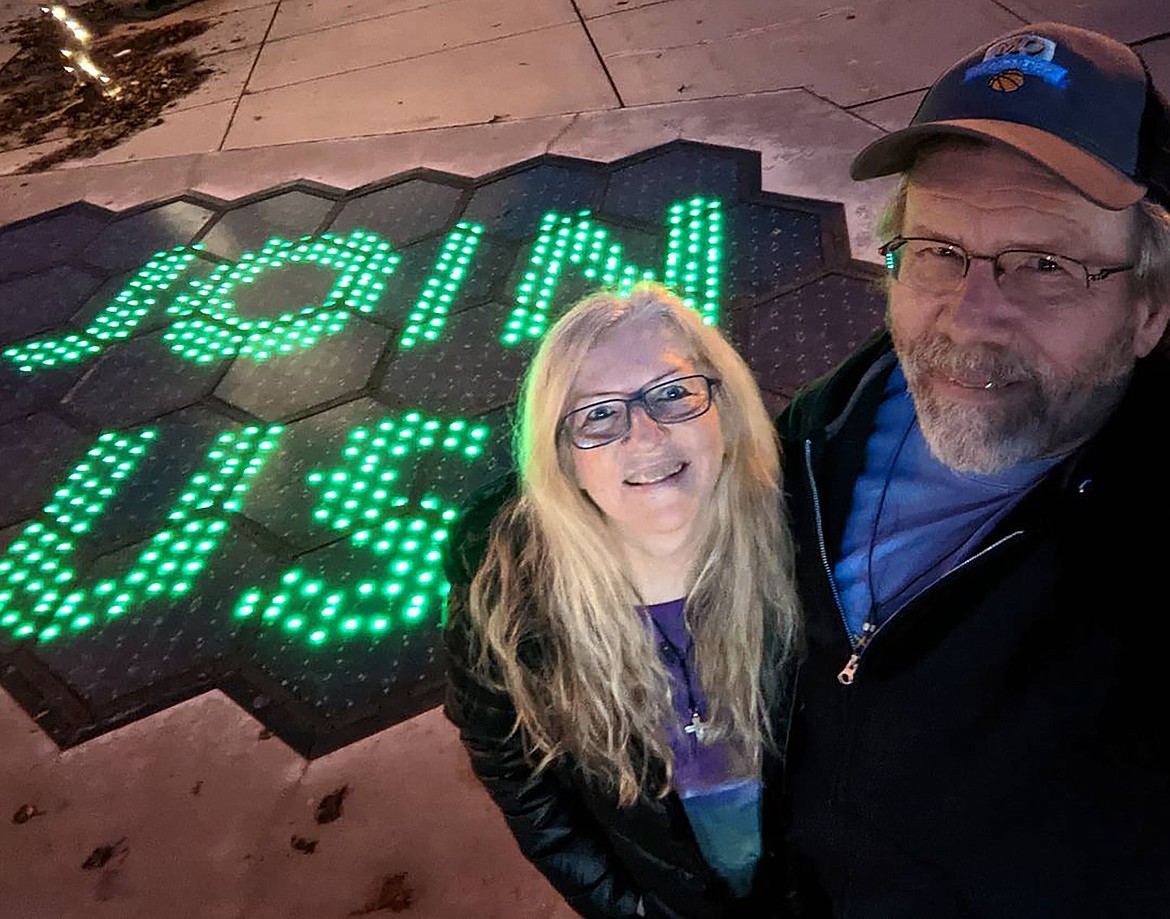 Julie and Scott Brusaw of Solar Roadways.
(Photo courtesy SOLAR ROADWAYS)
SANDPOINT — The future of Solar Roadways is as bright as ever as the Sandpoint-based company continues to improve its solar panels and gain traction with both investors and industry officials.
The company, founded by Julie and Scott Brusaw, has designed solar-powered road panels, which also could be used as a way to charge electronic vehicles and generate power.
Right before Christmas, Solar Roadways launched a fundraising effort on Start Engine, an equity crowdfunding platform that connects startups with investors. In less than 24 hours, the Sandpoint company — valued at about $30 million as part of the process — raised the $1.1 million it was seeking to fund the approval process with both Underwriters Laboratory and the Federal Communications Commission.
Since Solar Roadways essentially creates a new product category, the company was told it could cost as much as $500,000 for the UL certification process, which is required by some potential customers.
In addition, funds will go toward design of its own micro-inverter/optimizer instead of off-the-shelf ones designed for rooftop solar systems. That will allow Solar Roadway to design a system that achieves maximum energy harvesting.
"We're excited to bring micro-inverter design in house so that we can offer a complete system to customers and add a new product to our portfolio," the company said on its page.
Solar Roadways is working on the fifth iteration of its panels, SR5, which will be the culmination of all that was learned through various tests and previous designs — and will become its first commercially available product.
"We are currently working with manufacturing engineers and mass manufacturing entities with an eye toward ease of manufacturing for mass production," the Brusaws said on the page. "Costs will drop with economies of scale – our goal has always been to make the panels affordable for the average homeowner."
The company recently received two Department of Defense grants, both with the Air Force.
Solar Roadways is working to get memorandum of understandings with approximately 10 from multiple Air Force bases.
"If we are awarded Phase II contracts, it will be from this list that our first military pilot sites will be chosen," Julie Brusaw said. "We're excited to work with military bases and experience the many potential benefits of the Solar Road Panels, including clean energy, dynamic LED lighting, intelligence and safety features." "So now this is to work with a military base and look at what we can offer to military bases."
If the first phase of the DOD grants, set at $150,000 and $50,000, is successful, than then Solar Roadways could be in line for a $750,000 grant for a second phase with commercialization included as part of a third phase, which could include contracts with military bases, Scott Brusaw said.
While they can't name them, Solar Roadways is exploring mass manufacturing with companies in the Midwest interested in potentially converting factories to produce the solar road panels. Scott Brusaw said those conversations, combined with the design improvements, mean the first commercially available panel — SR5 — is closer than ever.
"[These companies] believe that at one facility, they can create 600,000 panels per year," he said. "And they have facilities all over the world, which allows us to expand beyond that, that brings the cost way down, because now you're buying in mass quantities."
"And our goal is to make it affordable for homeowners and business owners for driveways and parking lots and such," Julie Brusaw added. "And this does that."
With the technology starting to take off, the company is looking for help — Scott Brusaw with engineering and Julie Brusaw for an assistant. (Resumes can be sent to careers@solarroadways.com.)
Information: Solar Roadways, facebook.com, solarroadways; twitter.com, SolarRoadways; or instagram.com/official_solar_roadways
Recent Headlines
---