Reuter takes second at St. Maries Invitational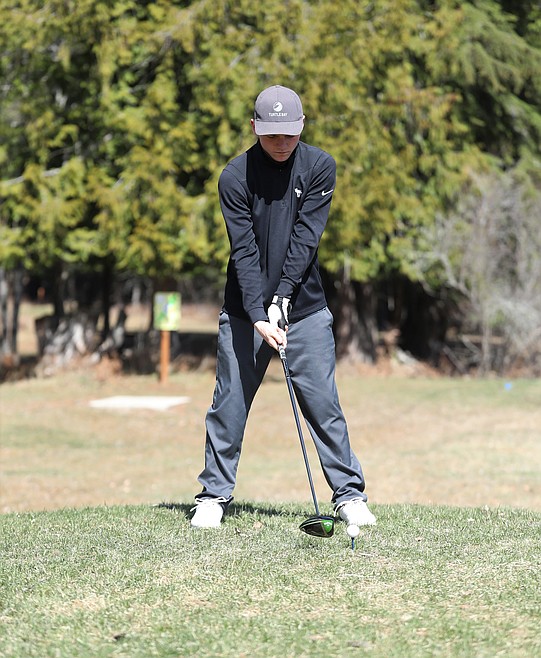 Cole Reuter setups for a drive during practice at Wampus Park on April 2.
(File photo by DYLAN GREENE)
ST. MARIES — Clark Fork junior Cole Reuter shot a 2-over-par 72 at the St. Maries Invitational on Friday to place second as an individual.
Reuter missed out on earning medalist honors by one stroke. Seth Swallows from St. Maries posted a 71.
"It came down to the end," head coach Brian Arthun said about the battle for medalist honors. "Cole was down by one stroke going into the 18th hole and [Swallows] parred it and the best Cole could do was par it ... I was hoping for a playoff type situation."
Despite missing out on a tournament victory, Reuter was pretty pleased with his round.
"It's the best he's done this year and he was pretty excited about it," Arthun said. "He was playing really well."
Freshman Landin Pierson carded a personal best 108. Jacob Abbott finished with a 133.
The Wampus Cats head to Shoshone Golf Club next Friday for the Wallace Invitational.
ST. MARIES INVITATIONAL
St. Maries Golf Course
Par 70
BOYS
TEAM SCORES — 1, Genesis Prep 363. 2, Wallace 366. 3, St. Maries 371. 4, Lakeside 381. 5, Mullan 500.
MEDALIST — Seth Swallows, St. Maries, 71.
GENESIS PREP — CJ Elliott 84, Caleb Schroeder 88, Carson Robert 89, Eli Gonzalez 102, Gabe Missamore 104.
WALLACE — Hayden Hogamier 79, Carter Bailey 96, Robbie Morin 100, Teagen Goldade 91, Luke Hull.
ST. MARIES — Seth Swallows 71, Corbin Scheer 91, Colby Renner 119, Deacon Machado 103, Landon Warren 106.
LAKESIDE — Jasper Abuan 92, Kenyon Spotted Horse 100, Tucker Sanchez 93, Beau Jones 96, Tsones Nomee 113.
MULLAN — Stephen Petit 123, Floyd Nelson 128, Austin Zingler 119, Zeke Hess 130.
CLARK FORK — Cole Reuter 72, Landin Pierson 108, Jacob Abbott 133.
---