SHS softball falls to Vikings, honors 8 seniors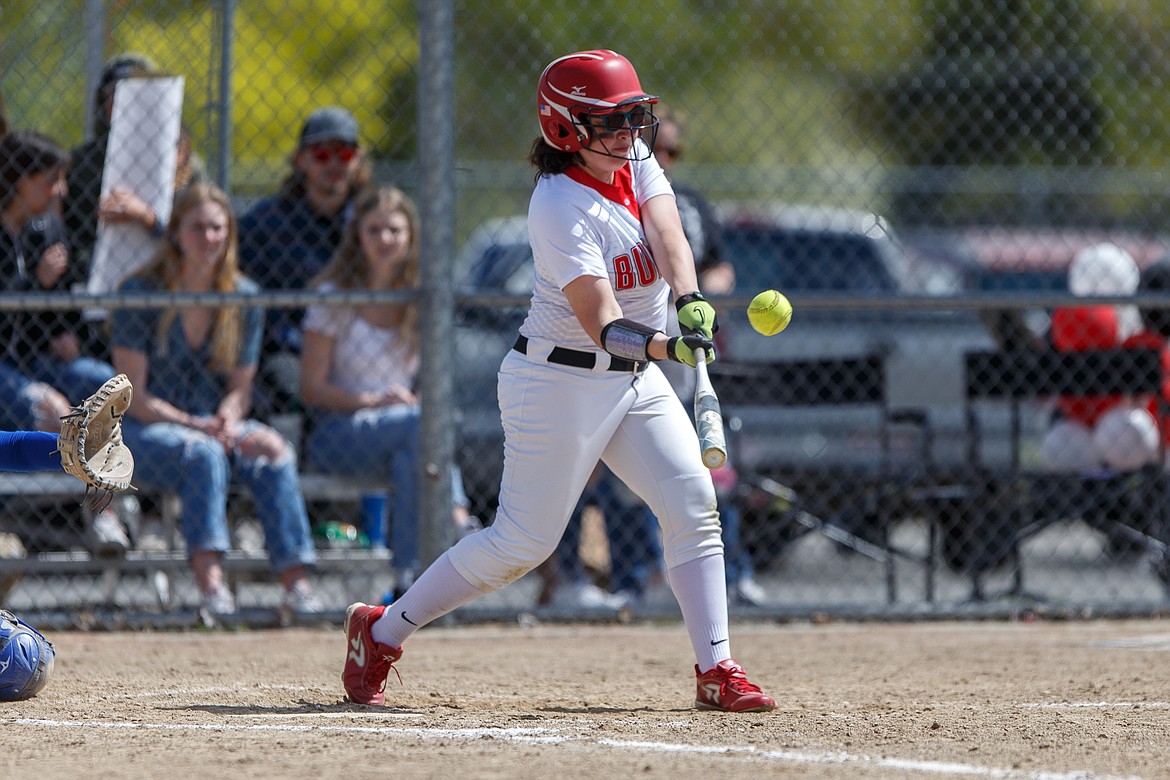 Senior AnnaMarie Gonzalez gets a single during Saturday's game against Coeur d'Alene.
(Photo courtesy of JASON DUCHOW PHOTOGRAPHY)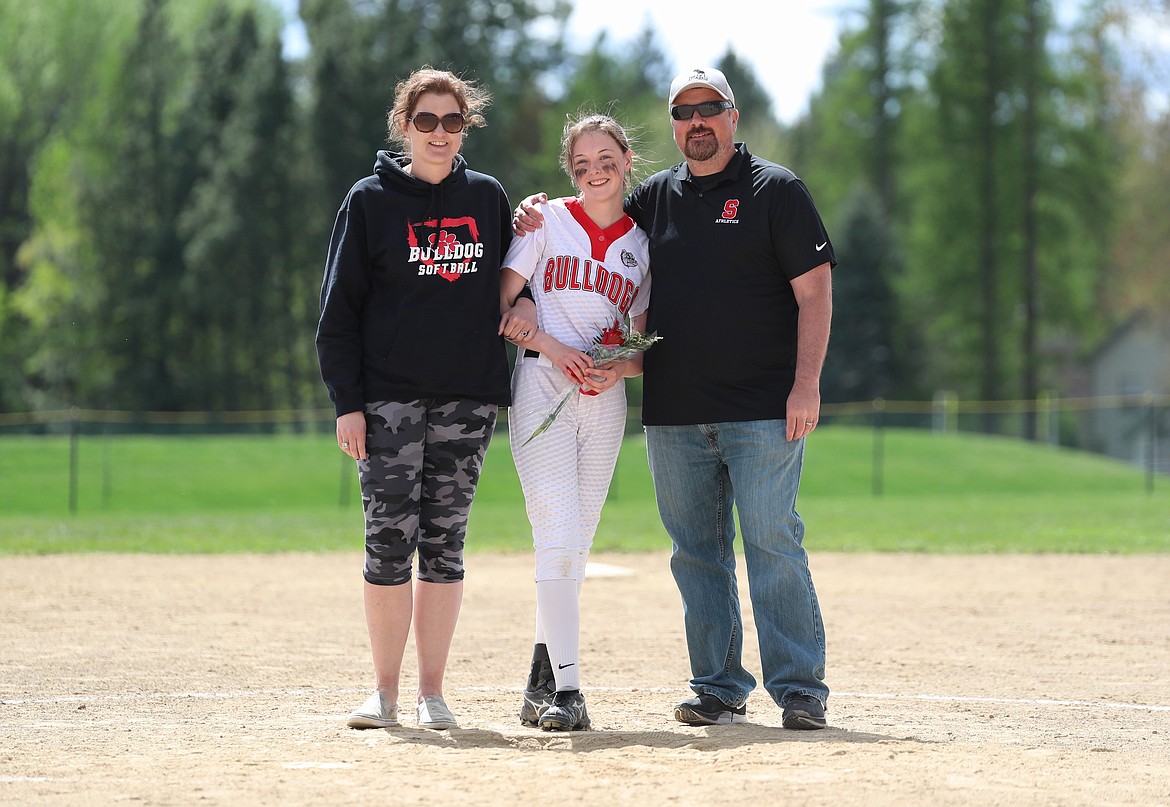 Jaden Dickinson celebrates Senior Night with her family.
(Photo by DYLAN GREENE)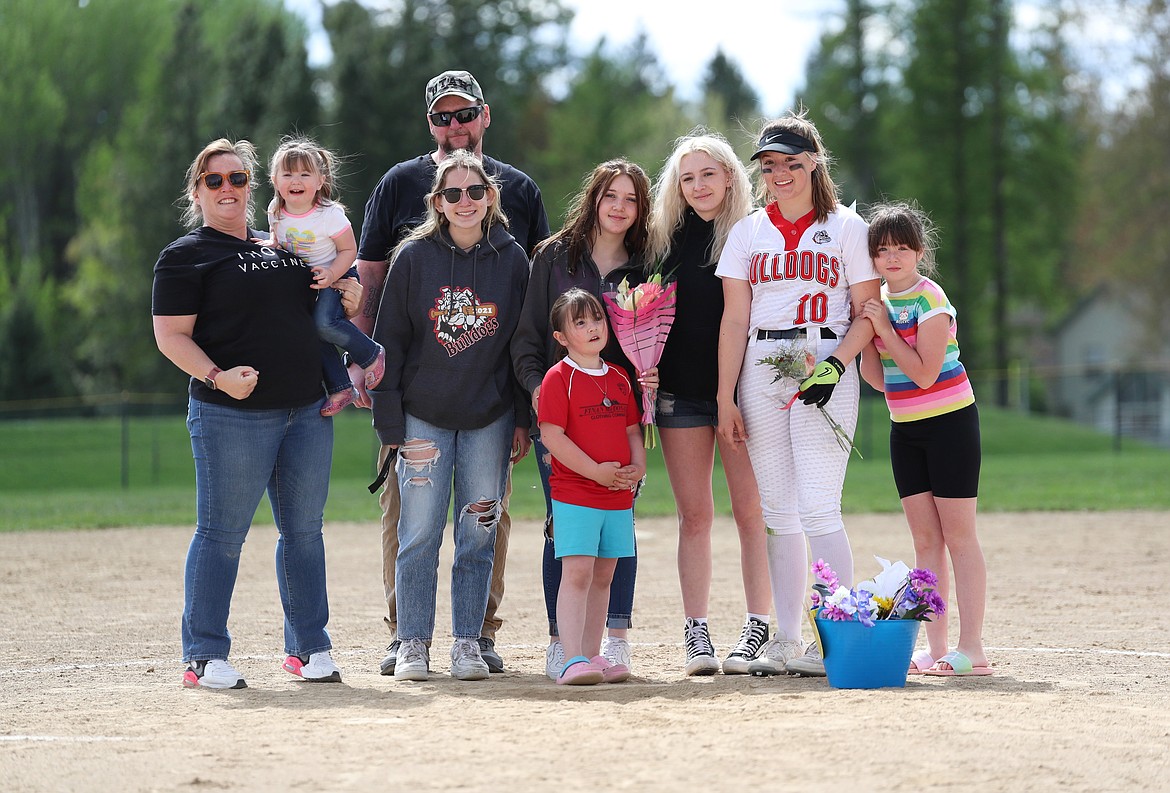 Shelby Lanie celebrates Senior Night with her family.
(Photo by DYLAN GREENE)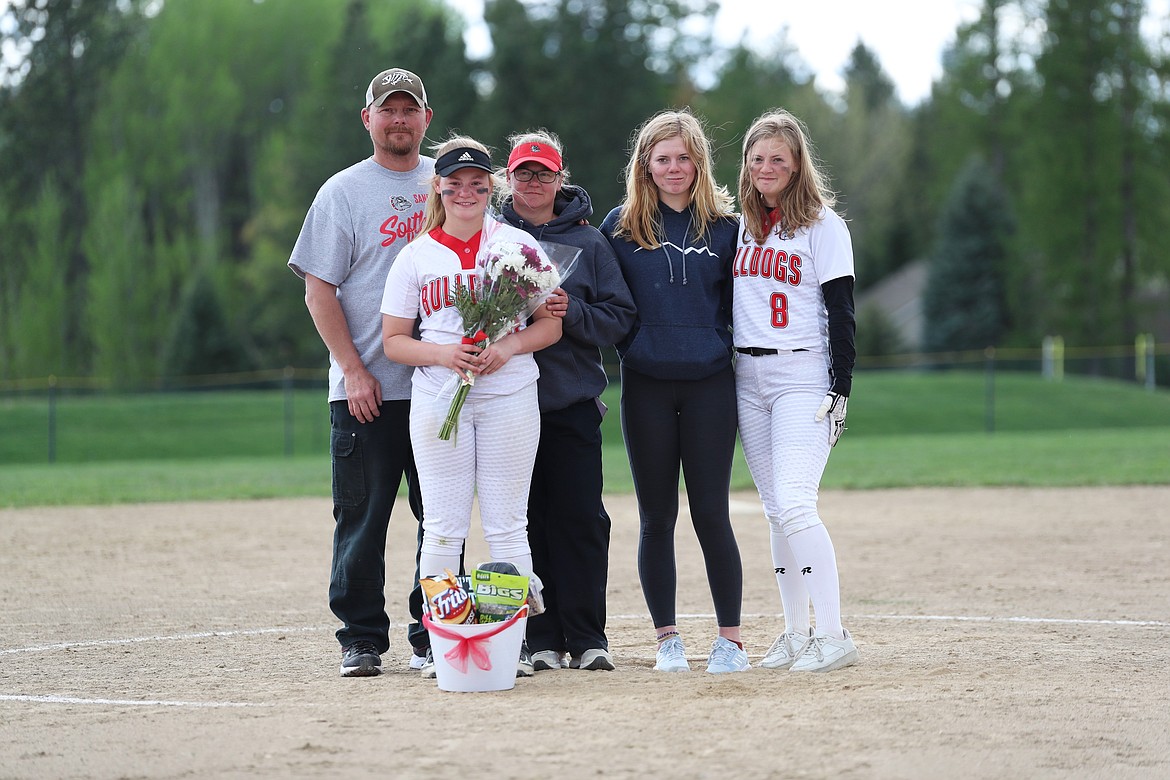 Riley Cessna celebrates Senior Night with her family.
(Photo by DYLAN GREENE)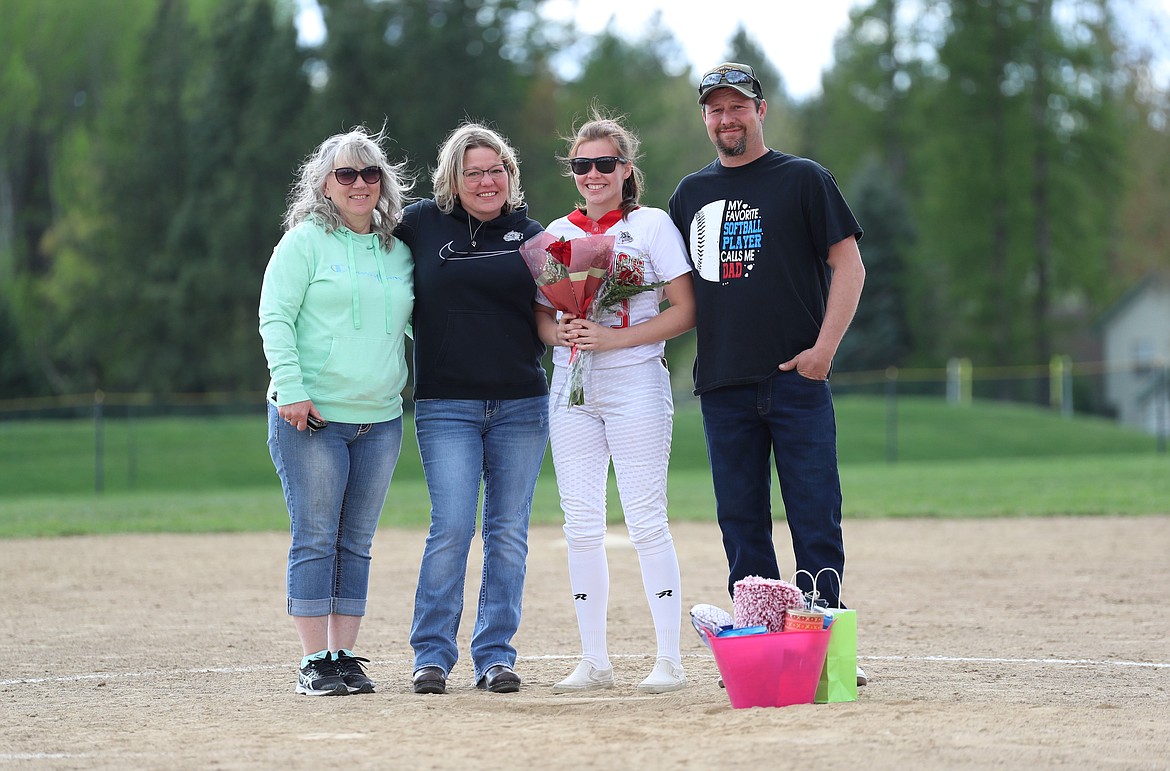 Madi Garman celebrates Senior Night with her family.
(Photo by DYLAN GREENE)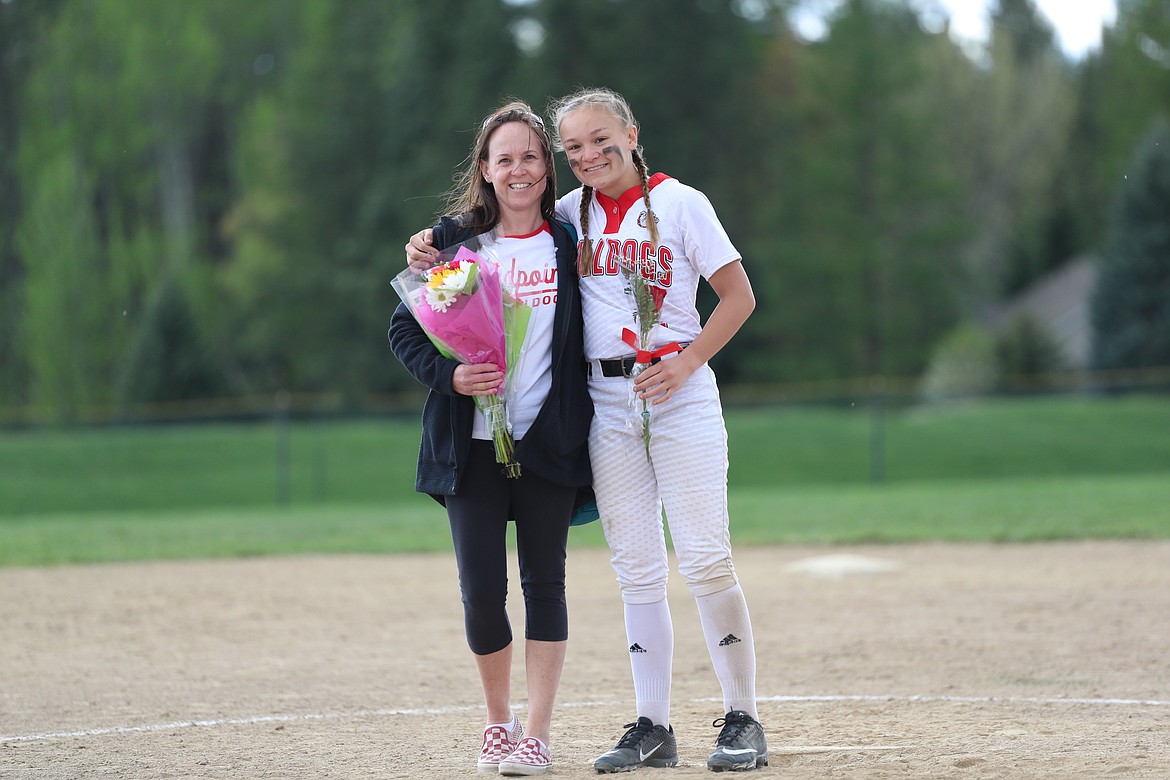 Lily Gammon celebrates Senior Night with her family.
(Photo by DYLAN GREENE)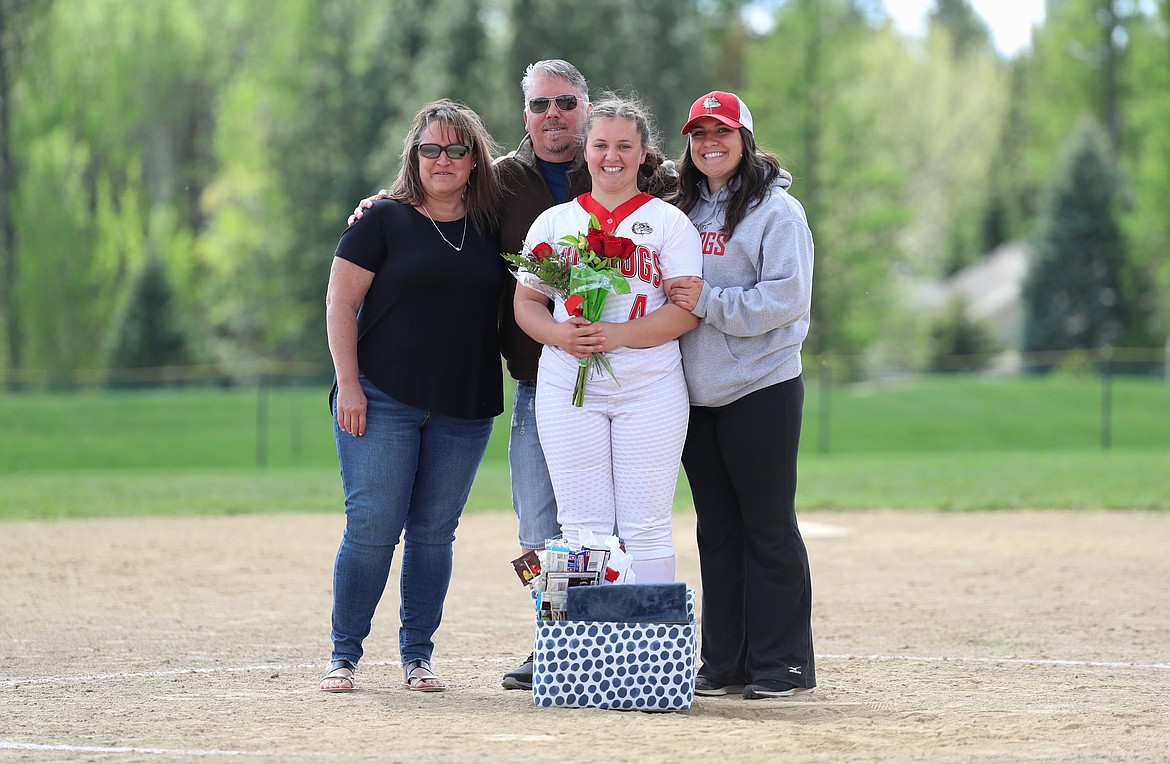 Kinzie Ward celebrates Senior Night with her family.
(Photo by DYLAN GREENE)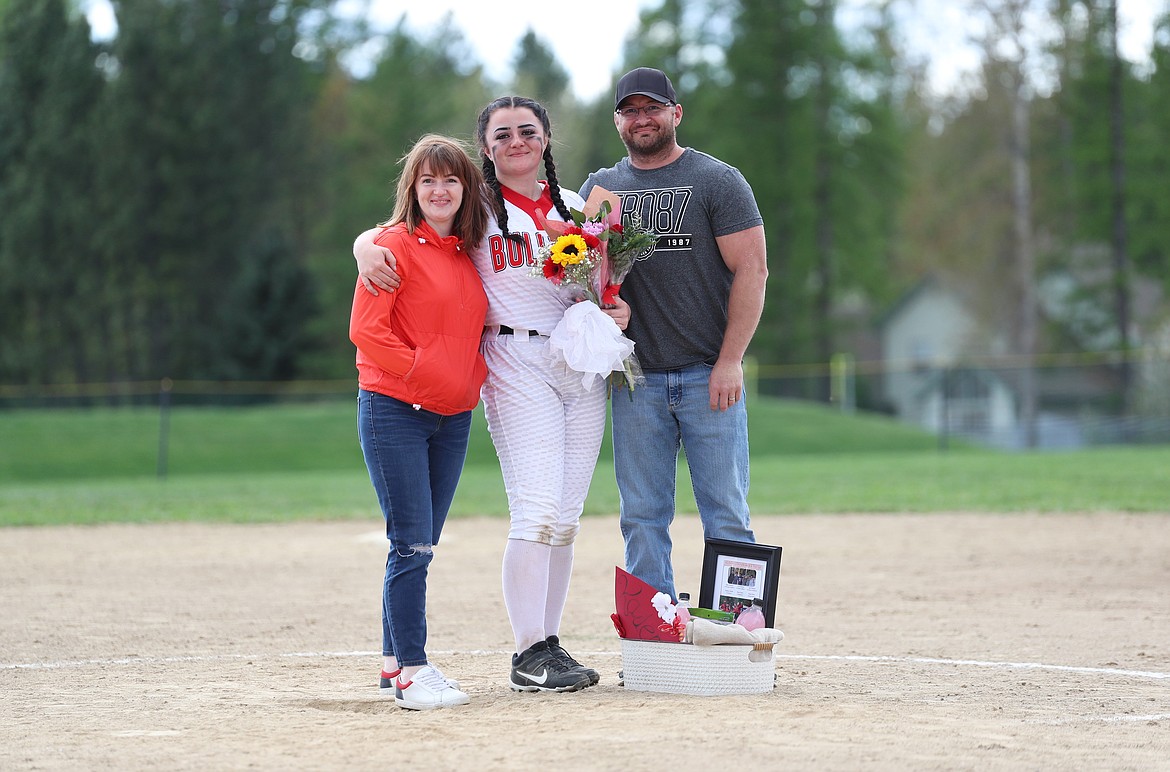 Kadence Marble celebrates Senior Night with her family.
(Photo by DYLAN GREENE)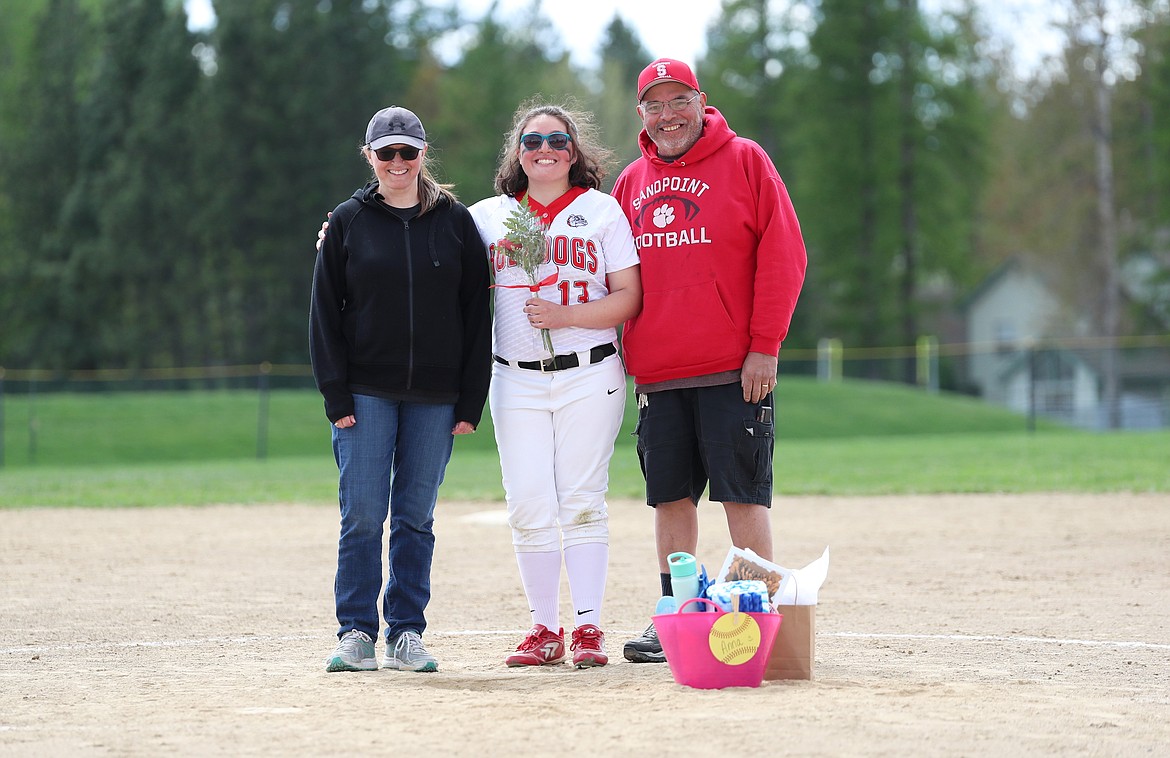 AnnaMarie Gonzalez celebrates Senior Night with her family.
(Photo by DYLAN GREENE)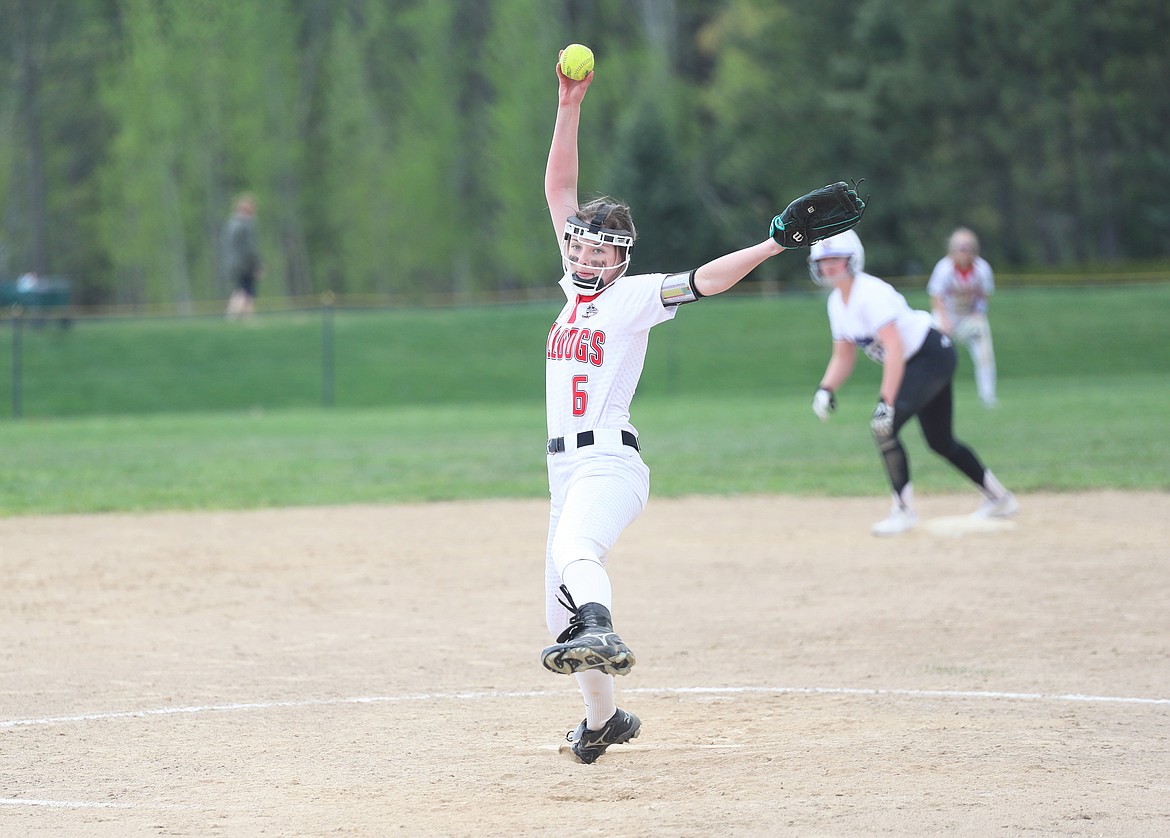 Senior Jaden Dickinson prepares to throw a pitch on Saturday.
(Photo by DYLAN GREENE)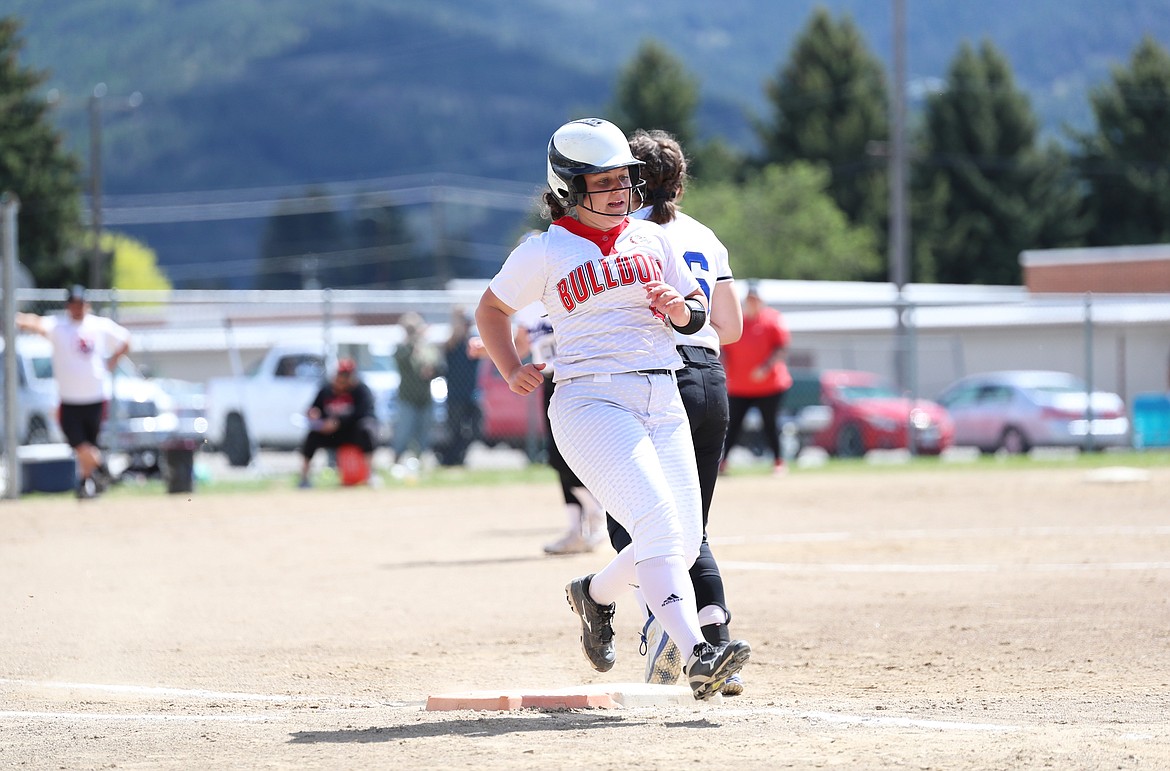 Senior Kinzie Ward crosses first base on Saturday.
(Photo by DYLAN GREENE)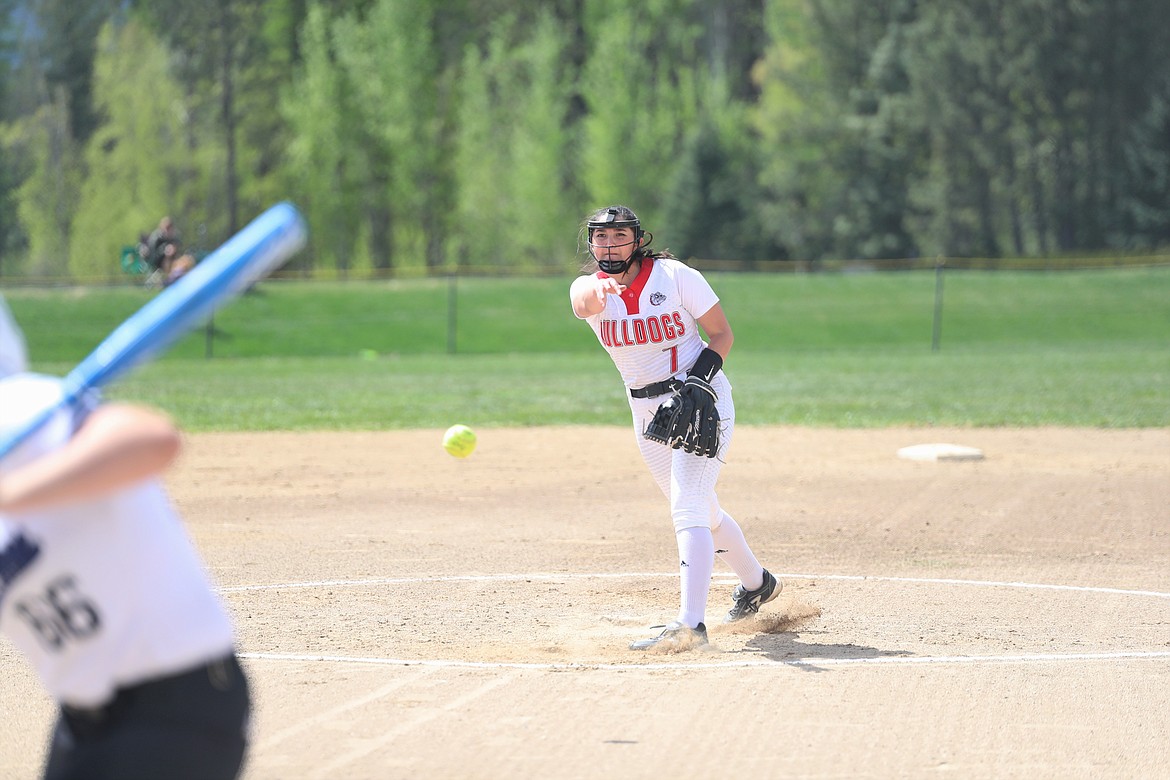 Cresanna Authier winds up to pitch on Saturday.
(Photo by DYLAN GREENE)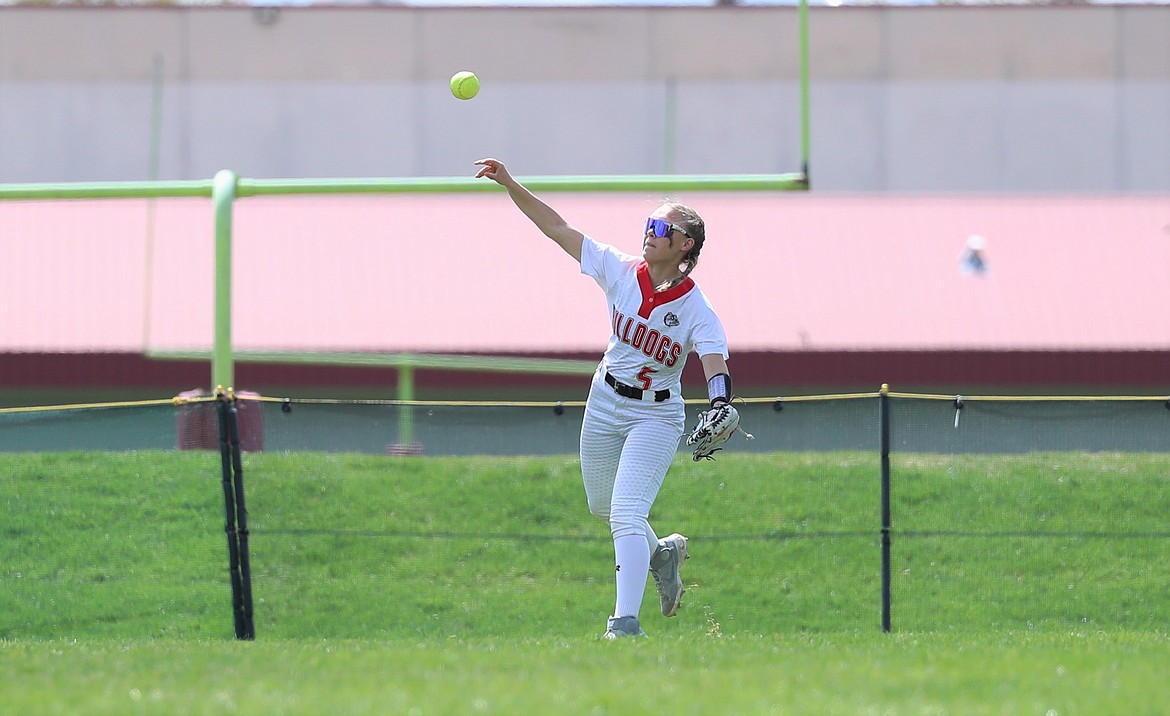 Jacey Cash makes a throw from center field on Saturday.
(Photo by DYLAN GREENE)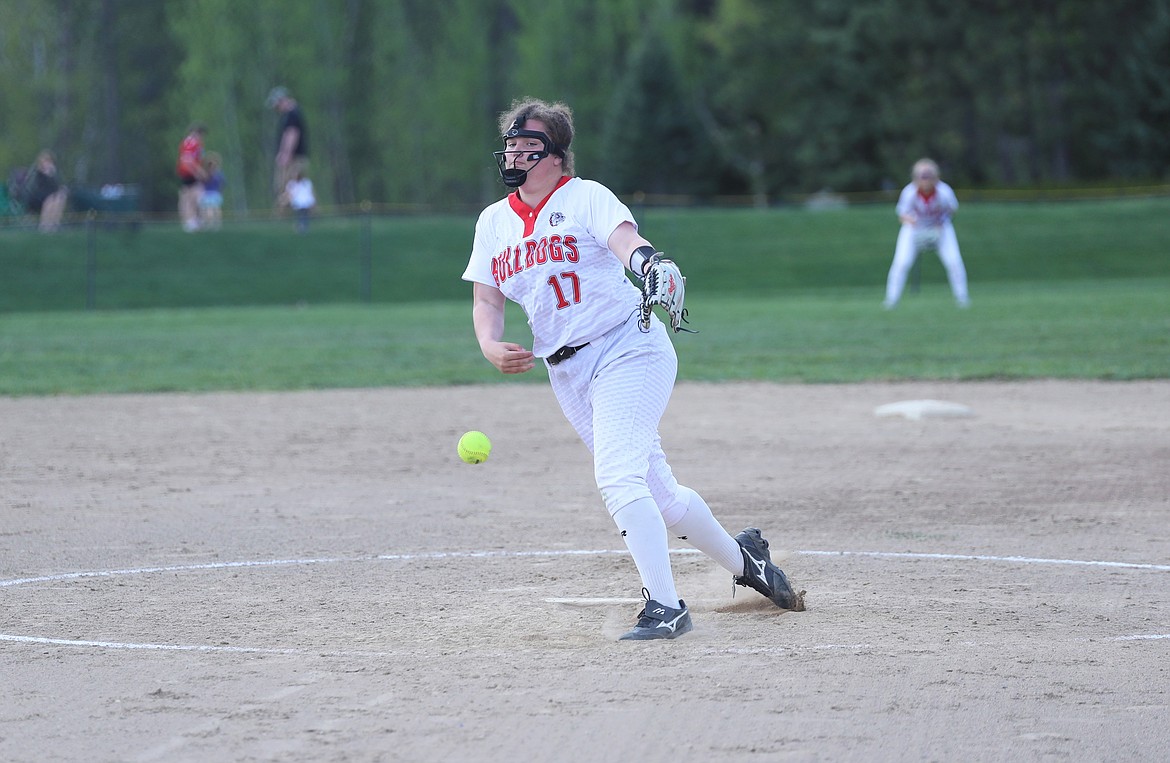 Via Barlow pitches on Saturday.
(Photo by DYLAN GREENE)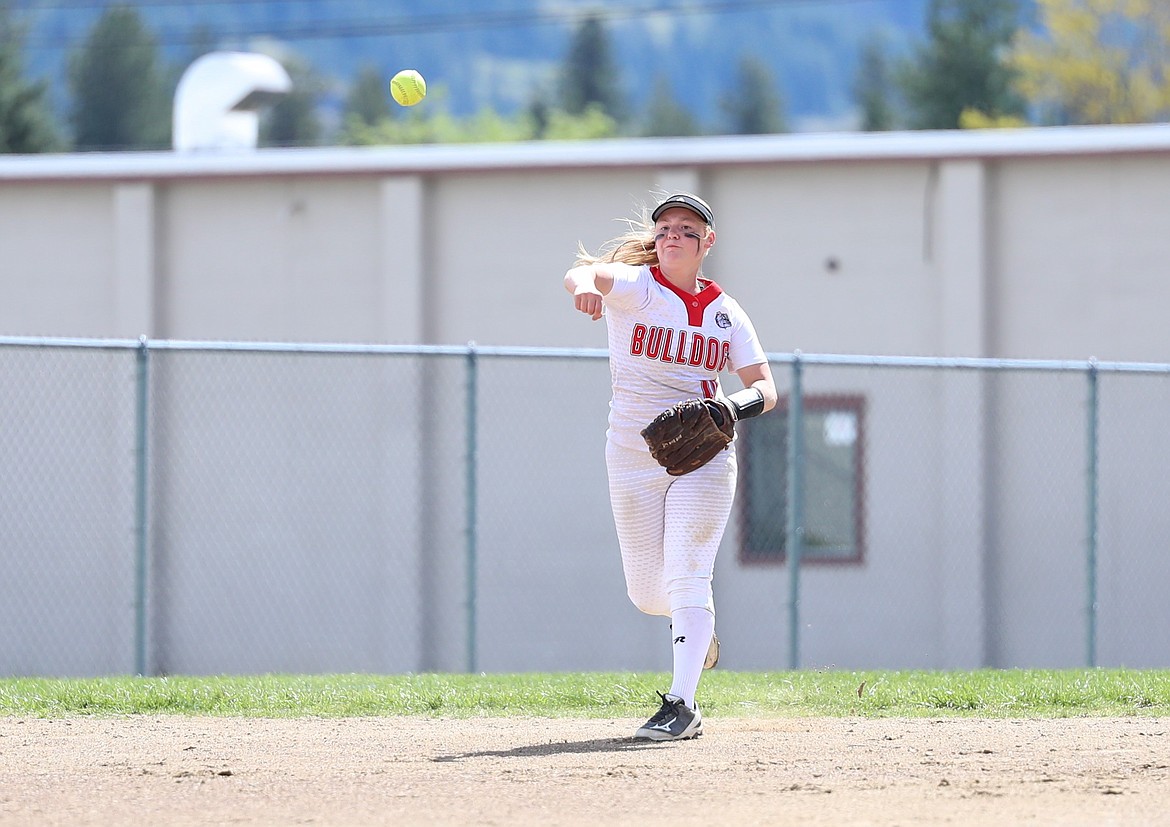 Senior Riley Cessna makes a throw to first to record an out during Saturday's game against Coeur d'Alene.
(Photo by DYLAN GREENE)
Previous
Next
by
DYLAN GREENE
Sports Editor
|
May 1, 2021 9:19 PM
SANDPOINT — Sandpoint softball was unable to keep up with Coeur d'Alene on Saturday, falling 23-1 to the Vikings.
The game was played at the Sandpoint Middle School softball field due to the Lax on the Lake tournament at War Memorial Field.
Coeur d'Alene scored six runs in the first and nine in the fourth to cruise past the Bulldogs.
Following the game, SHS honored its eight seniors — Riley Cessna, Lily Gammon, Madi Garman, Kinzie Ward, Jaden Dickinson, Shelby Lanie, AnnaMarie Gonzalez and Kadence Marble.
Head coach Elizabeth Hawkins-Williams said this group of seniors has been instrumental in setting the team up for success in the future.
"You need a strong foundation in order to find success when you're trying to rebuild," she said, "and these young women have created that foundation for us. They're very important to the success of our team, every single one of them. They've come out and led through example in their work ethic and it's been really important for the younger girls to see that."
SHS committed 12 errors on Saturday.
"Senior Day is always really emotional for the girls because it means so much to them and those heightened emotions tend to not translate into the best game you'll ever see us play," Hawkins-Williams said.
It certainly wasn't the outcome the Bulldogs were looking for on Senior Day, but Hawkins-Williams liked what she saw from her team at the plate. Sandpoint tallied five hits.
"I was really happy with how we hit today as a team," she said. "It's good to see the bats get hot again."
One of the highlights for SHS on Saturday came in the bottom of the third when senior AnnaMarie Gonzalez opened the inning with a single and eventually came around to score the Bulldogs' only run.
Gonzalez typically plays on the junior varsity team, but she took advantage of her opportunity to shine on varsity.
"She has worked harder than every player in this program, so for her to reap that reward was really exciting," Hawkins-Williams said.
Cresanna Authier started on the mound and struck out three over two innings. Via Barlow entered the game in the third and Dickinson stepped on the bump in the fifth.
Hawkins-Williams was really impressed with Barlow.
"She did excellent for us," Hawkins-Williams said. "She's been building up her speed, her control and her mental toughness out on the mound. Now she's getting into a rhythm when she's out there and she has been very strong."
Sandpoint was scheduled to play at Coeur d'Alene this past Tuesday, but the game was not played because of a communications snafu concerning umpires. That game will not be made up because the Bulldogs have doubleheaders with Lakeland and Moscow this week.
Because Sandpoint and Coeur d'Alene will not be able to play both of their league games against each other, the league reverts from a combined Inland Empire League to separate 5A and 4A IELs.
Since spring break, the Bulldogs have lost 10 straight games.
Sandpoint (6-13) travels to Moscow for a doubleheader starting at 2 p.m. Tuesday.
Coeur d'Alene 640 94 — 23 16 2
Sandpoint 001 00 — 1 5 12
Game called after 5 innings due to 10-run rule.
Schmidt, West (5) and Constable; Cresanna Authier, Via Barlow (3), Jaden Dickinson (5) and Lily Gammon.
HITS: CDA — Blankenship 3, Farrar 3, West 2, Burke 2, Dorame 2, McPhedson 2, Bakken, Cleave. SHS — Barlow, Ward, Brackett, Gonzalez, Gammon. 2B — Blankenship, Farrar, McPhedson, Gammon. 3B — Dorame.
---