Girls take first, boys secure second at Sandpoint Invitational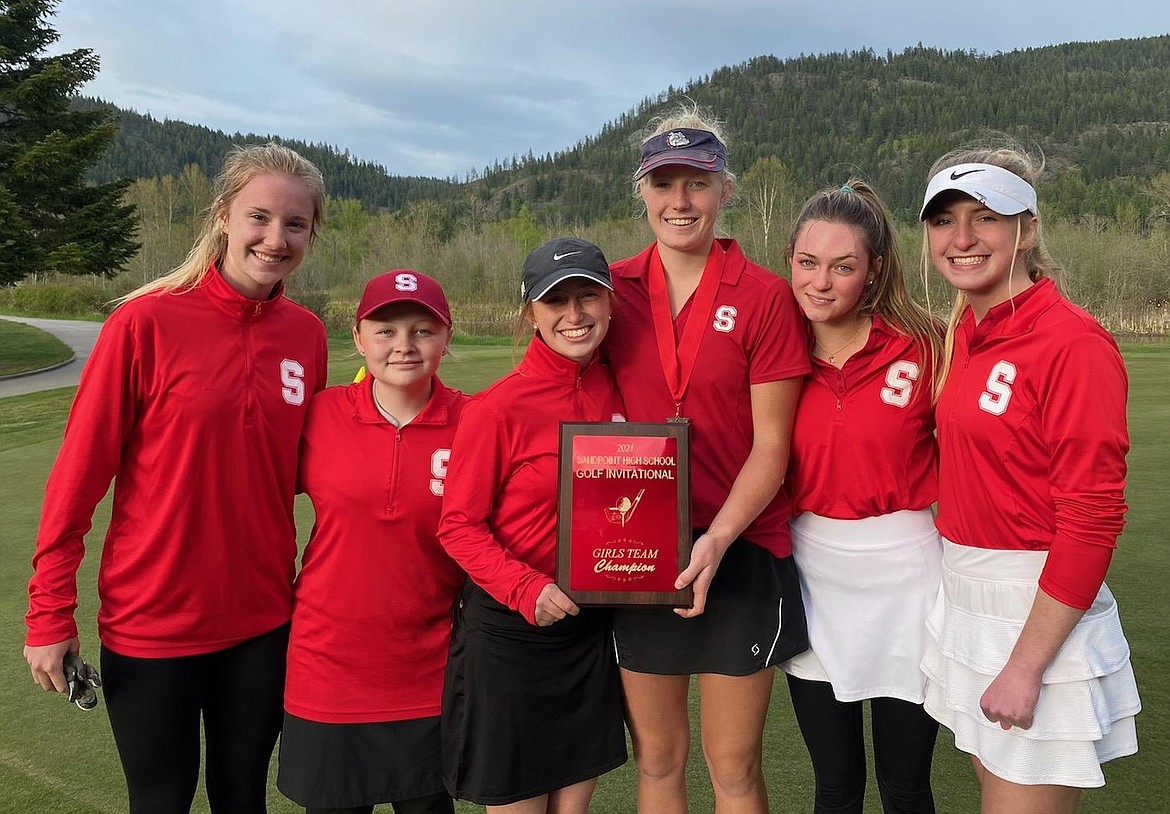 The girls captured the team title at the Sandpoint Invitational on Monday. Pictured (from left): Audrey Sheffler, Lyndie Wilks, Camille Neuder, Hattie Larson, CeCe Deprez and Annaby Kanning.
(Courtesy photo)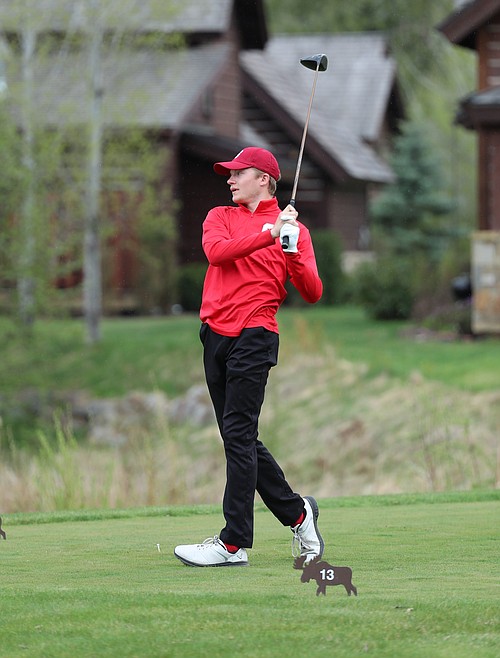 Darren Bailey holds his follow through on a tee shot on Monday.
(Photo by DYLAN GREENE)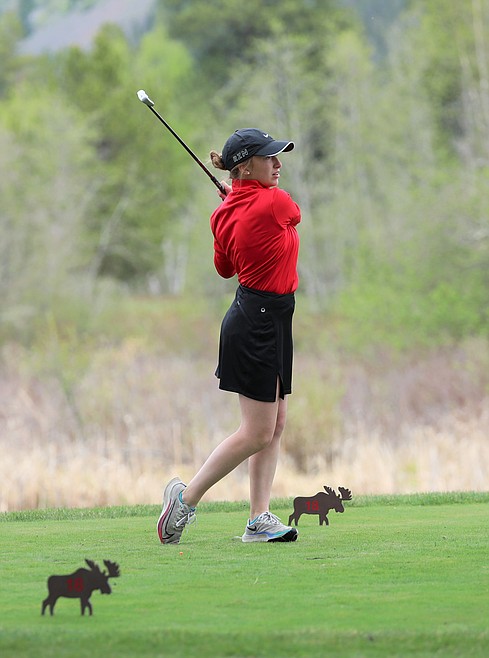 Camille Neuder tees off on Monday.
(Photo by DYLAN GREENE)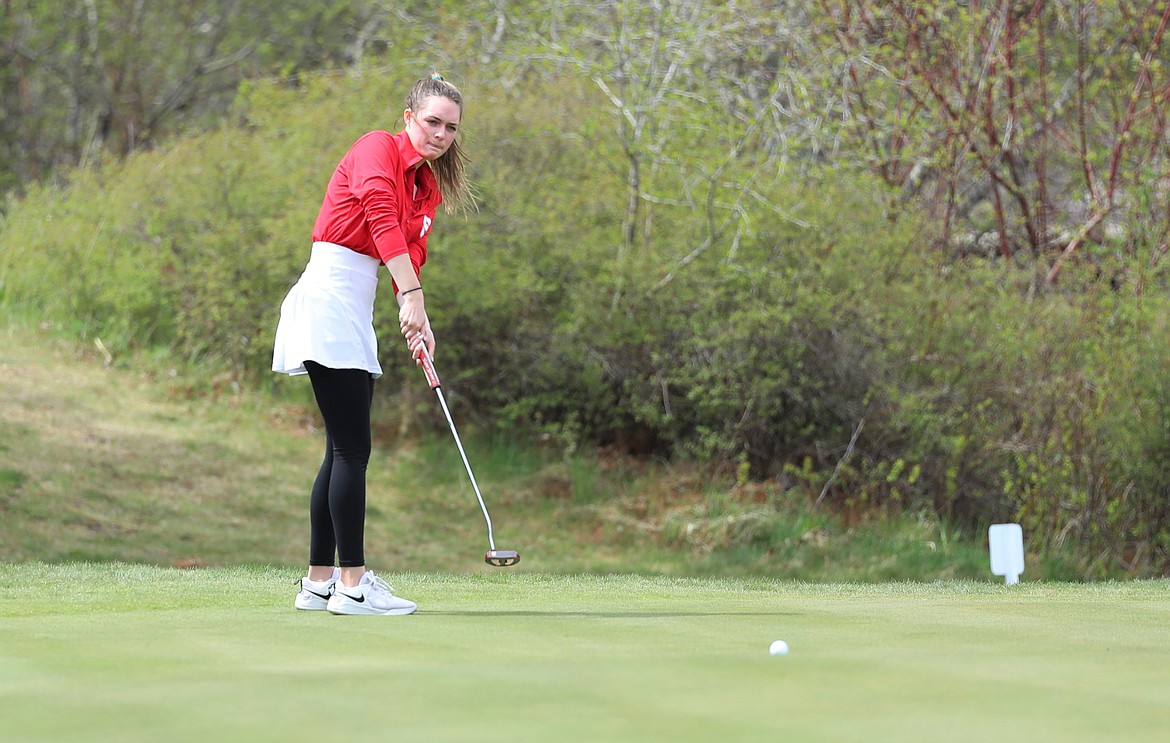 CeCe Deprez putts on Monday.
(Photo by DYLAN GREENE)
Harley Wilks hits a tee shot on Monday.
(Photo by DYLAN GREENE)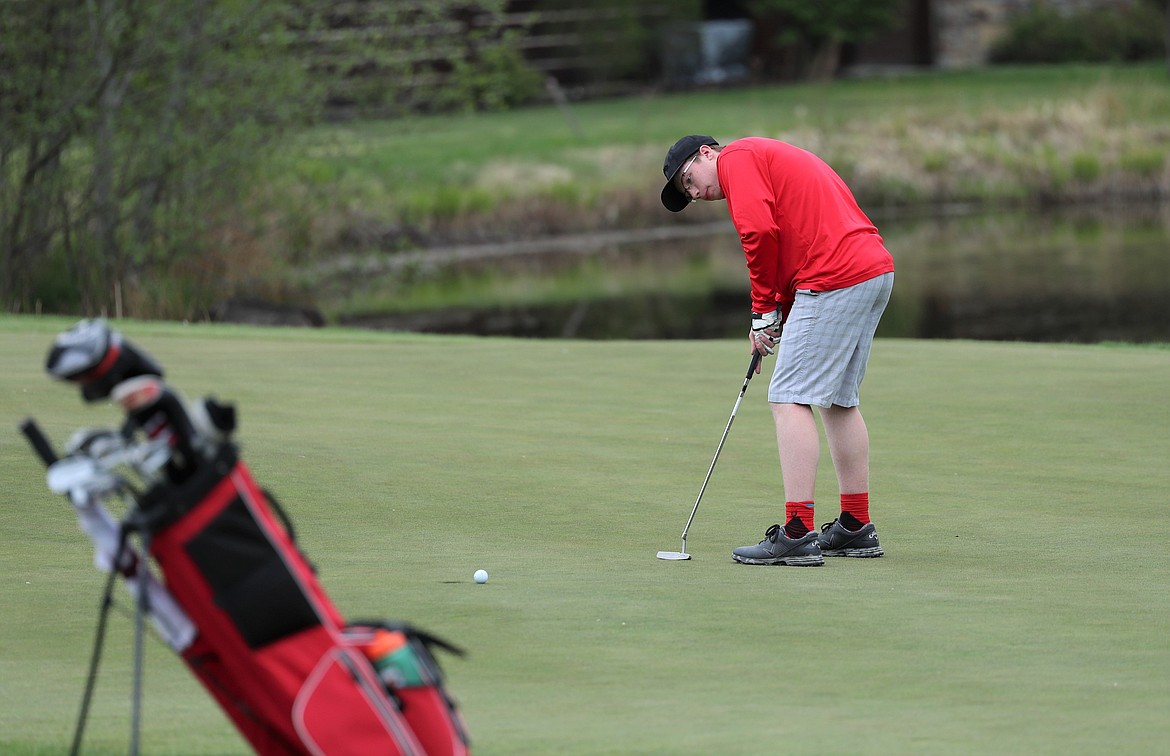 Dawson Owens putts on Monday.
(Photo by DYLAN GREENE)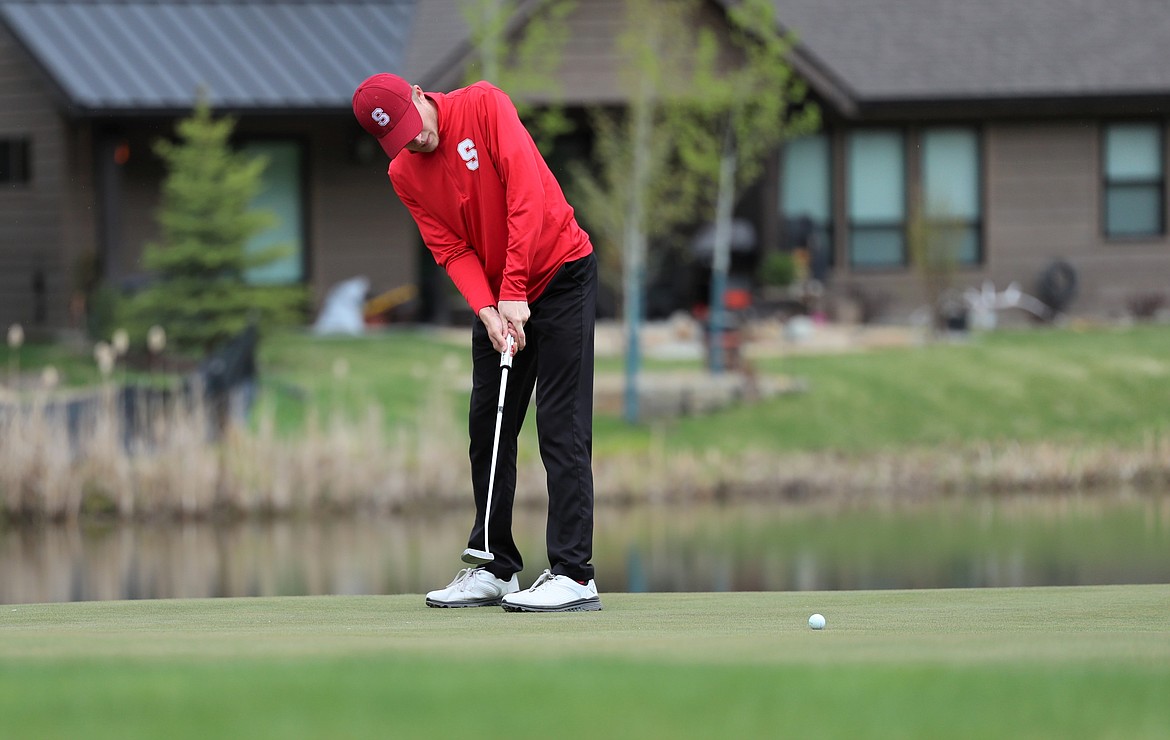 Darren Bailey putts on Monday.
(Photo by DYLAN GREENE)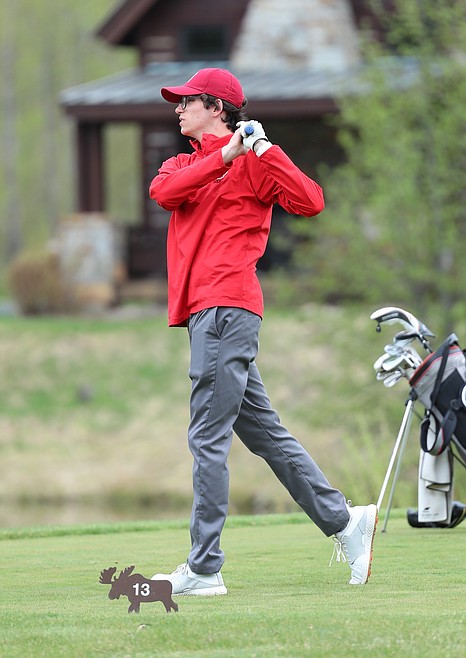 Connor Bird tees off on Monday.
(Photo by DYLAN GREENE)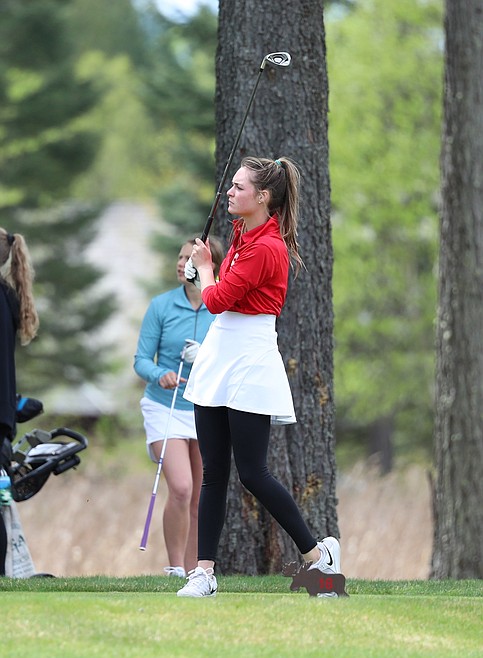 CeCe Deprez holds her follow through on a tee shot on Monday.
(Photo by DYLAN GREENE)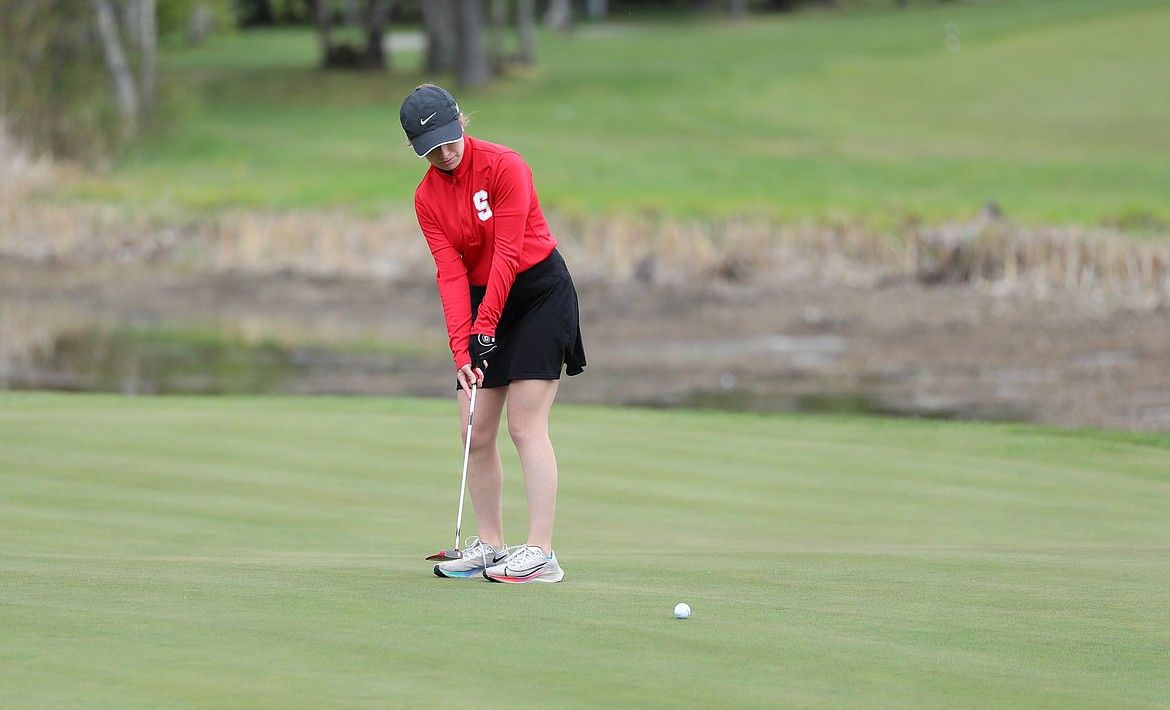 Camille Neuder putts on Monday.
(Photo by DYLAN GREENE)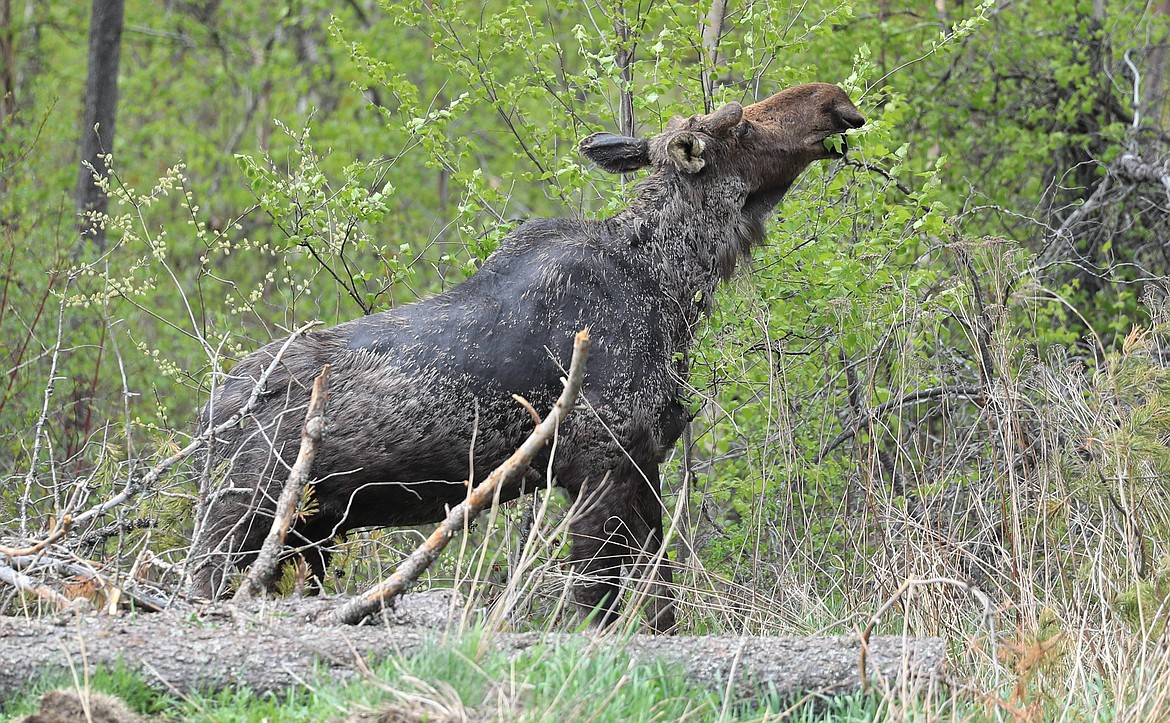 The Idaho Club maintenance crew takes care of some low-hanging branches during Monday's Sandpoint Invitational.
(Photo by DYLAN GREENE)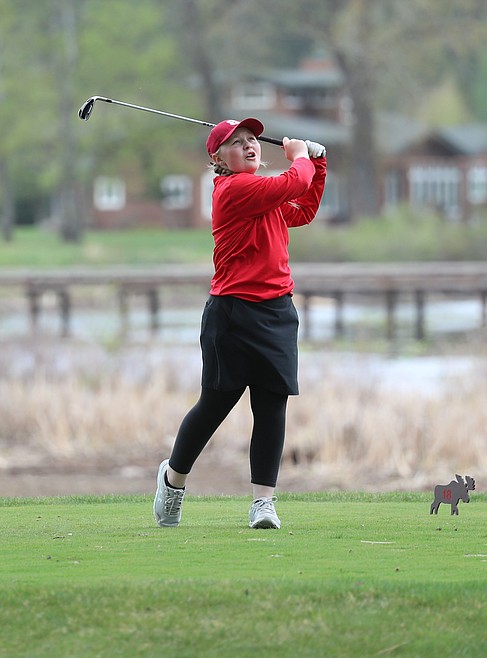 Lyndie Wilks tees off on Monday.
(Photo by DYLAN GREENE)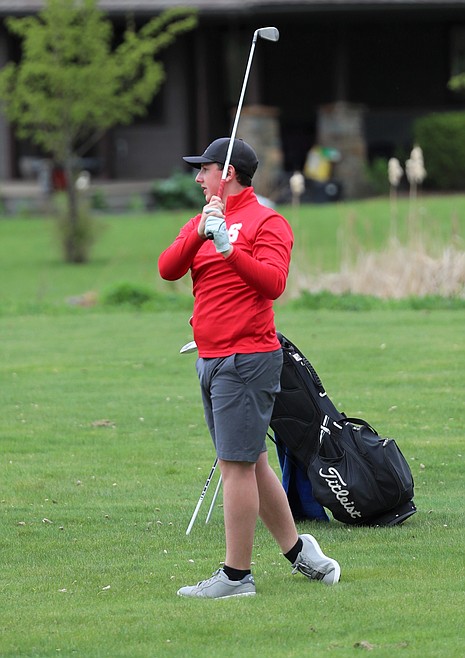 Jake Samuels holds his follow through on a shot from the rough on Monday.
(Photo by DYLAN GREENE)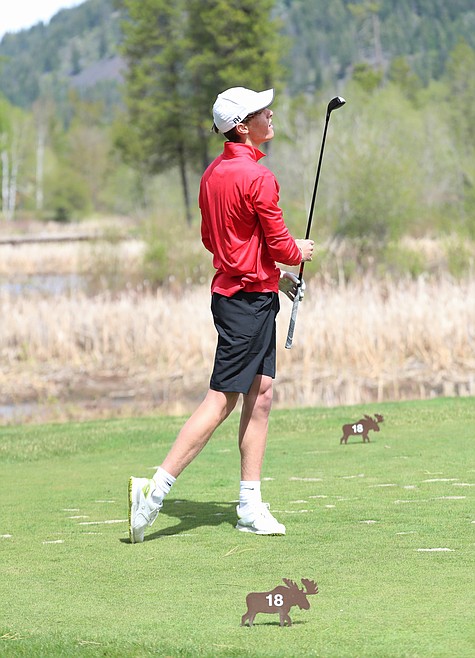 Jacob Gove hits a tee shot on Monday.
(Photo by DYLAN GREENE)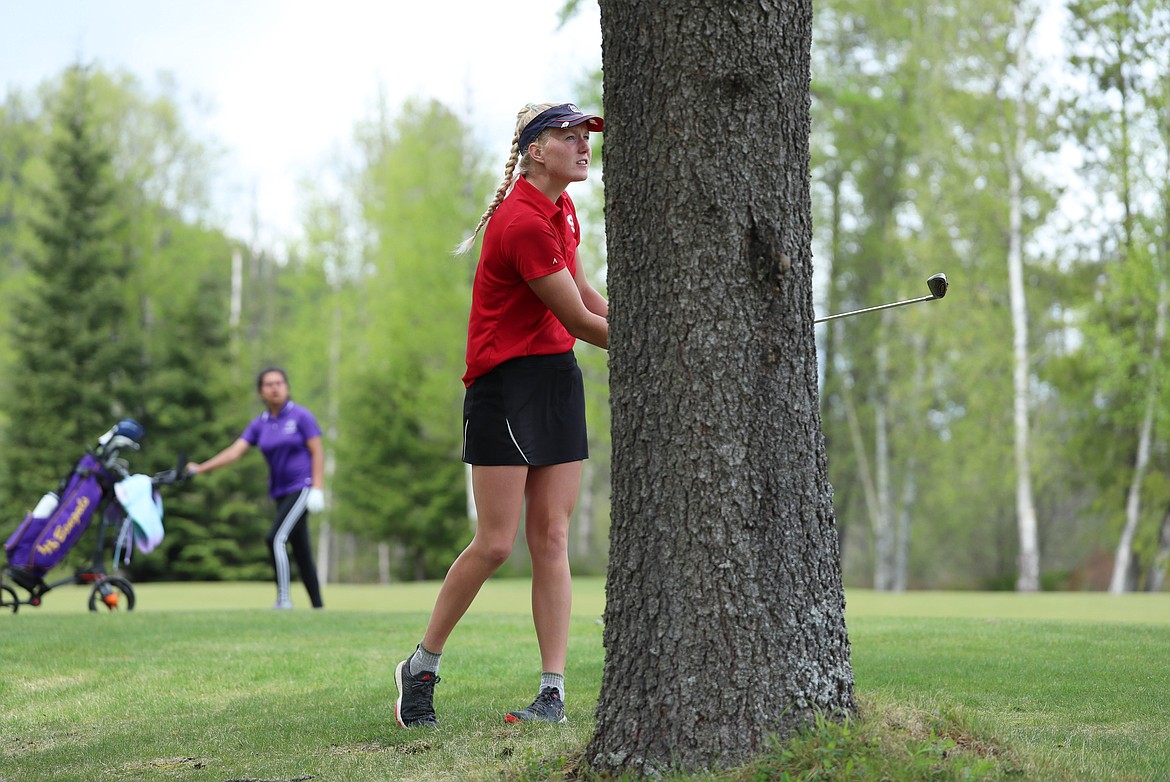 Hattie Larson hits a shot from the rough on Monday.
(Photo by DYLAN GREENE)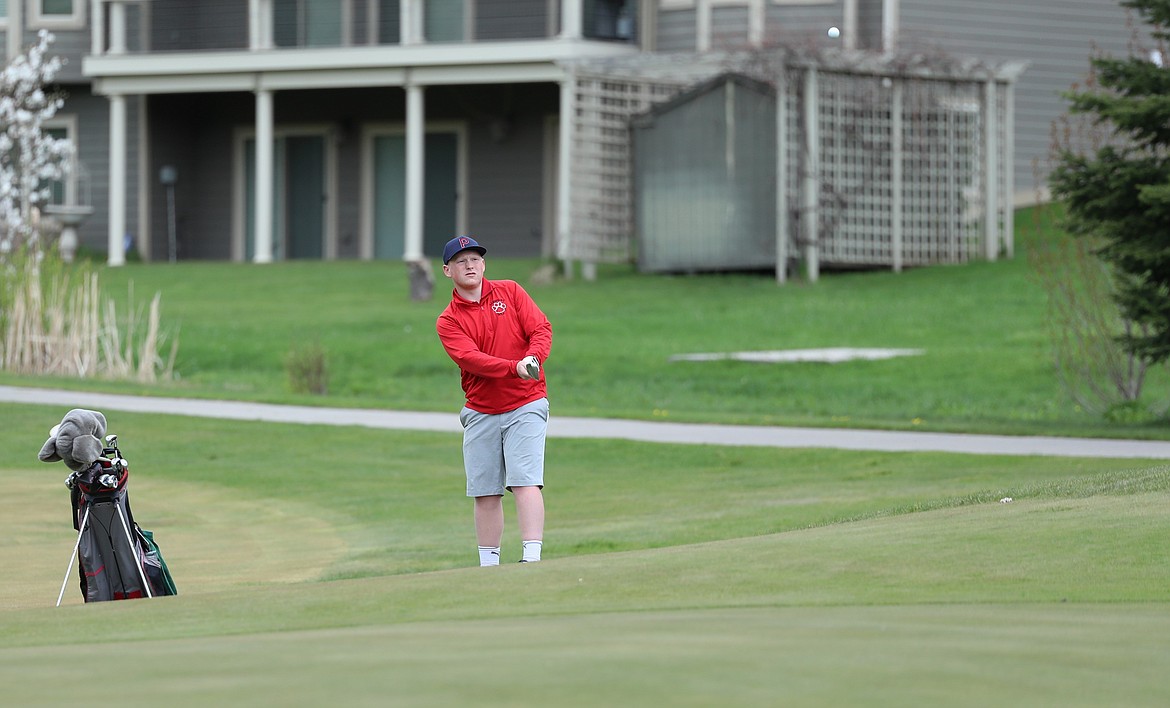 Harley Wilks chips the ball onto the green on Monday.
(Photo by DYLAN GREENE)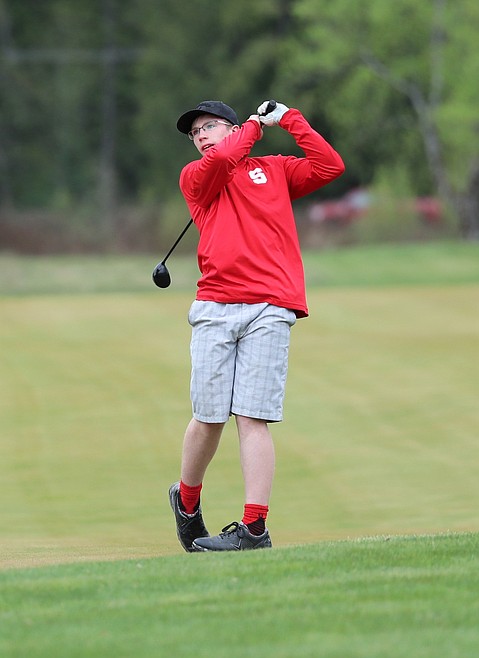 Dawson Owens holds his follow through on a shot from the fairway on Monday.
(Photo by DYLAN GREENE)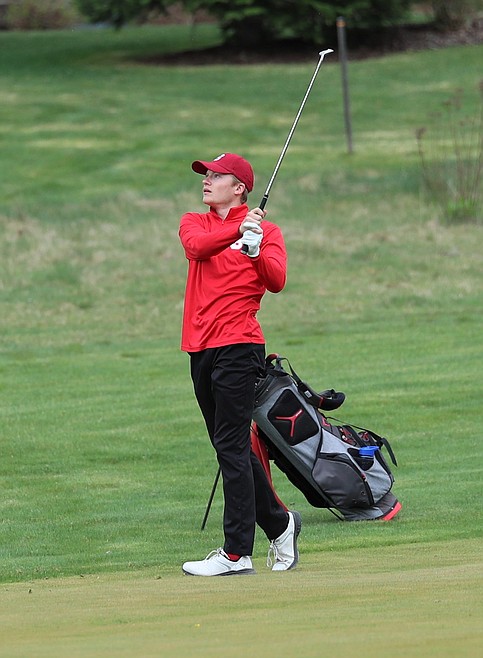 Darren Bailey hits a shot from the fairway on Monday.
(Photo by DYLAN GREENE)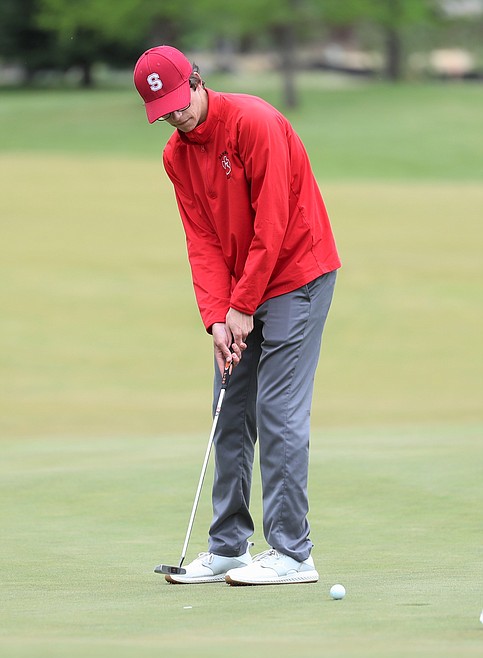 Connor Bird putts on Monday.
(Photo by DYLAN GREENE)
CeCe Deprez holds her follow through on a fairway shot on Monday.
(Photo by DYLAN GREENE)
Camille Neuder hits a chip on Monday.
(Photo by DYLAN GREENE)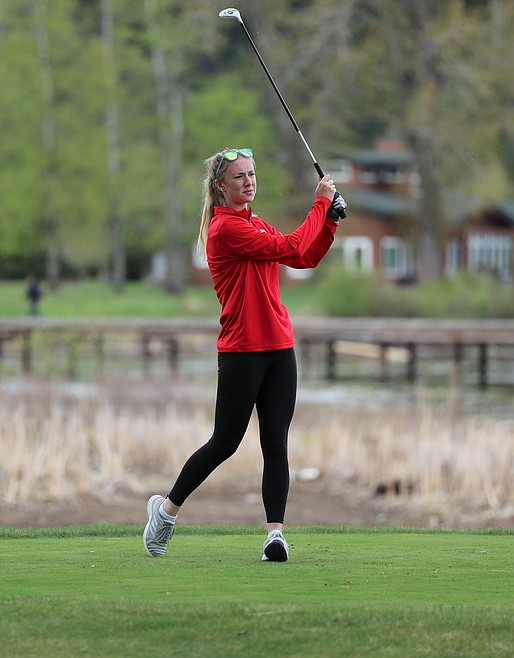 Audrey Sheffler tees off on hole No. 18 on Monday.
(Photo by DYLAN GREENE)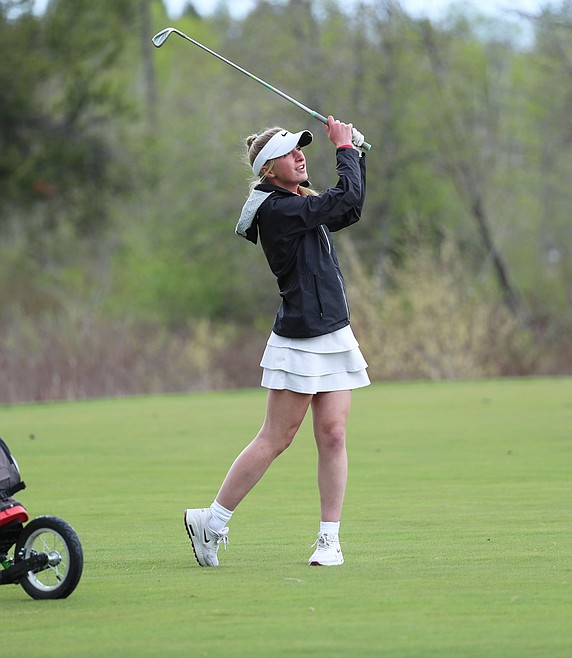 Annaby Kanning holds her follow through on a shot from the fairway on Monday.
(Photo by DYLAN GREENE)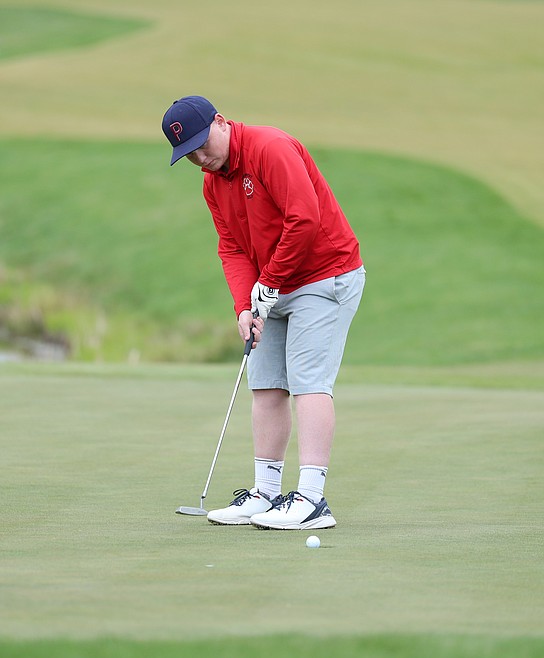 Harley Wilks just misses a putt on hole No. 12 on Monday. He carded his lowest round of the season.
(Photo by DYLAN GREENE)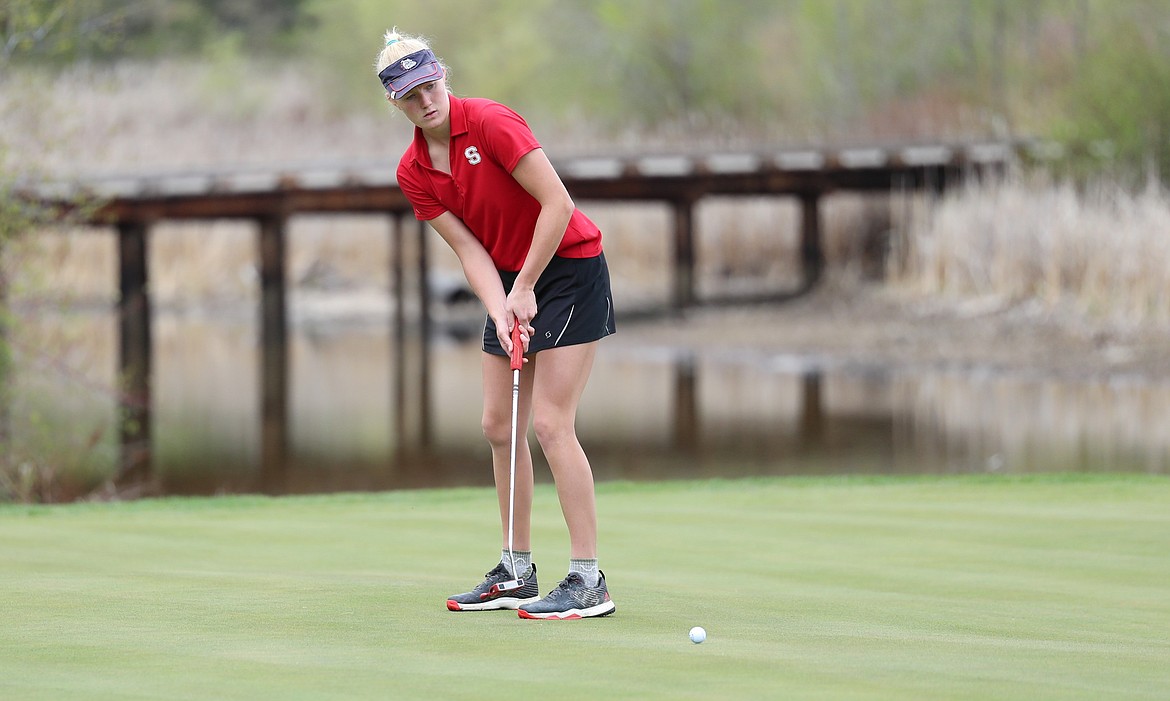 Hattie Larson hits a putt for par on hole No. 18 Monday at The Idaho Club.
(Photo by DYLAN GREENE)
Previous
Next
by
DYLAN GREENE
Sports Editor
|
May 3, 2021 10:53 PM
SANDPOINT — For the first and only time this spring, the Sandpoint golf team had home-course advantage.
The Bulldogs hosted the Sandpoint Invitational on Monday at The Idaho Club, and SHS took advantage of the familiar surroundings.
The girls captured the team title while the boys finished second to first place Coeur d'Alene.
"It was great not having to travel," head coach Mike Deprez said.
It was the best team finish for the boys this season and Harley Wilks led the way with an 81 to capture fifth. It was his lowest round at a tournament this year.
"Harley started poorly, but then he righted his ship very well," Deprez said.
Darren Bailey and Connor Bird each shot an 88, Dawson Owens carded an 89 and Jake Samuels posted a 93.
"All five boys played well," Deprez said. "This is the first time that they've all kind of linked together a little bit according to their numbers."
Deprez said the boys utilized their knowledge of The Idaho Club.
"They've played it a lot ... and that definitely helped them, no doubt about it," he said.
Hattie Larson carded her lowest score (91) of the season to help the girls beat Coeur d'Alene by five strokes.
Larson placed second overall and Deprez said it was great to see her breakout.
"We've been working a lot on Hattie's golf game," he said, "and I felt like she was close every single event she was teeing it up at ... and finally it happen."
CeCe Deprez shot a 94 to secure third. Annaby Kanning posted a 102, Camille Neuder finished with a 103 and Audrey Sheffler had a 112.
"All of the girls played reasonably good golf," Deprez said, "and walked away with more optimism than pessimism after that round because of how difficult the golf course is."
Out of bounds borders every hole at The Idaho Club and water is in play on a number of them. The course was quite challenging for all golfers, and the windy, cooler than expected conditions didn't make it any easier.
Deprez was proud of the way his team moved on from the bad shots.
"The kids showed a lot of resiliency today," he said. "They knew it was going to be a long day."
The Bulldogs head to The Links Golf Club on Thursday for the Lakeland Invitational.
BOYS
Par 70
The Idaho Club
TEAM SCORES — 1, Coeur d'Alene 306. 2, Sandpoint 346. 3, Lewiston 348. 4, Moscow 357. 5, Post Falls 363. 6, Lake City, 385. 7, Priest River 417. 8, Bonners Ferry 453.
MEDALIST — Cole Jaworski, Coeur d'Alene, 71.
COEUR d'ALENE — Cole Jaworski 71, Parker Freeman 74, Wyatt Williams 78, Luke West 83, Jamison Dale 94.
SANDPOINT — Harley Wilks 81, Dawson Owens 89, Darren Bailey 88, Connor Bird 88, Jake Samuels 93, Merek Bauck 100, Jacob Gove 103, Andrew Hernandez 107.
LEWISTON — Jack Seibly 84, Carson King 83, Justin Sandvick 92, Christian Lybyer 92, Dylan Braden 89.
MOSCOW — Bryden Brown 76, Sam Kees 108, Taylor Strong 101, Alex Lee 91, Parker Beebe 89.
POST FALLS — Dominic Mosby 99, Cameron Rotchford 80, Boen Torgerson 96, Connor Patterson 92, Trevor Bennett 95.
LAKE CITY — Wyatt Johnson 98, Max Hosfeld 89, Cole Kimball 94, Seth Hartley 104, Sean Hecomovich 115.
PRIEST RIVER — Luke Butler 99, Kameron Salesky 93, Bowen Fegert 111, Jace Yount 114.
BONNERS FERRY — Wyatt Iacolucci 91, Trent Freeze 112, Zane Carver 136, Evan Nesbitt 121, Tyson Tadlock 129.
GIRLS
Par 70
The Idaho Club
TEAM SCORES — 1, Sandpoint 390. 2, Coeur d'Alene 395. 3, Bonners Ferry 409. 4, Lake City 442. 5, Lewiston 450. 6, Post Falls 461. 7, Moscow 482.
MEDALIST — Braylyn Bayer, Bonners Ferry, 84.
SANDPOINT — CeCe Deprez 94, Hattie Larson 91, Camille Neuder 103, Annaby Kanning 102, Audrey Sheffler 112, Lyndie Wilks 120.
COEUR d'ALENE — Holly Hudson 95, Brianna Priest 99, Marin Rowley 100, Taylor Potter 113, Paige Crabb 101.
BONNERS FERRY — Braylyn Bayer 84, Avery Bayer 101, Cali Iacolucci 98, Mia Blackmore 126, Lily Blackmore 131.
LAKE CITY — Hannah Hall 106, Ashlynn Shanley 107, Lindsey Angelo 116, 4, Lily Kimmel 126, Joey Heick 113.
LEWISTON — Mollie Seibly 111, Abbigail Teller 107, Julia Brune 109, Lillie Samuels 123.
POST FALLS — Hannah Christensen 117, Laraina St. John 116, Payton Blair 122, Keaton Delaney 120, Hannah Conjin 108.
MOSCOW — Myah Parsons 119, Mia Barrett 108, Marissa Lewis 122, Hanna Gregory 133.
Recent Headlines
---