Sandpoint teen accepted into Naval Academy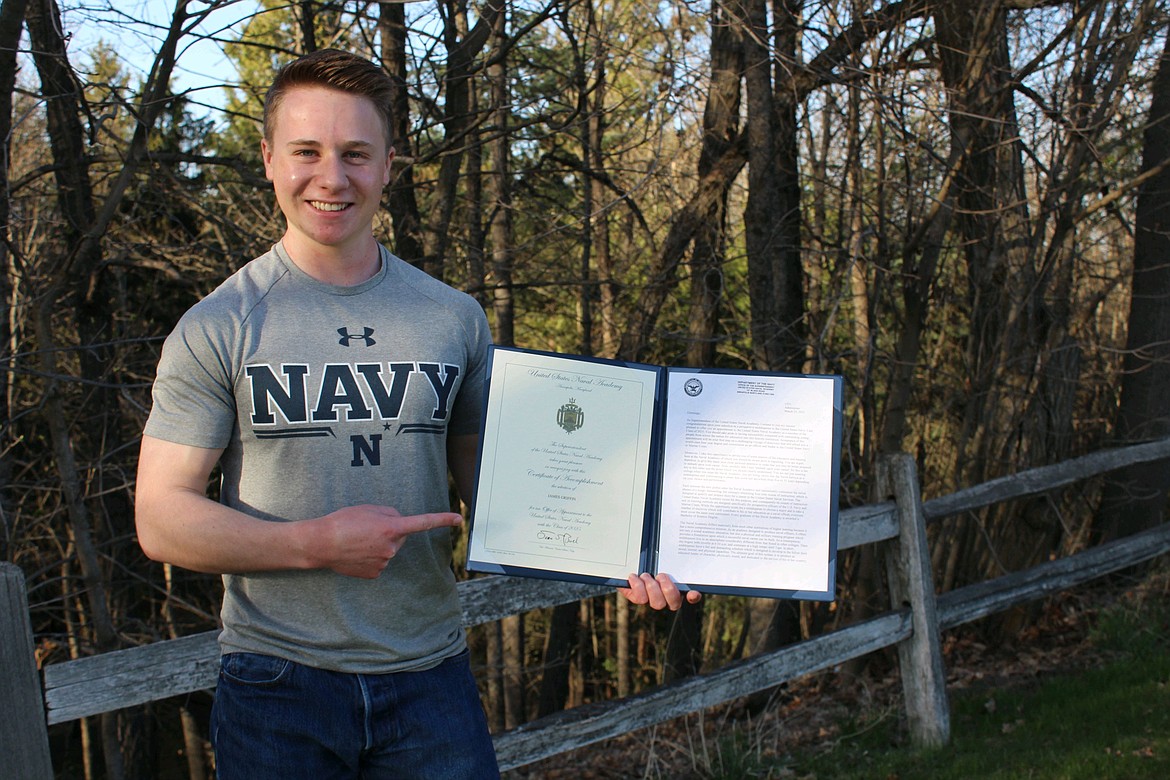 James Griffin poses for a photo with his letter of appointment to the U.S. Naval Academy.
Courtesy JAMES GRIFFIN
by
RACHEL SUN
Staff Writer
|
May 4, 2021 1:00 AM
▶️ Listen to this article now.
The desire to fly was a lifelong dream for James (J.D.) Griffin.
It began at the age of 3, growing up near Gowen Field in Boise. It was there that Griffin would see planes flying above near his home, and wish to do the same.
"I'd always look up and say, 'Man, I want to be flying one of those one day,'" he said. "So really, my desire to fly was sparked at a young age."
Now 18 years old with a year of undergraduate study under his belt, Griffin has officially been accepted into the U.S. Naval Academy.
The academy has a roughly 8% acceptance rate admitting 1,200 students each year with around 18,000 to 20,000 applications each year. Griffin first applied in 2019 and was rejected, but he wasn't ready to give up.
Instead, he attended a year at the University of Idaho while participating in their ROTC program. After applying a second time, he received word of his acceptance one morning while preparing to leave for class.
"So that was, it was a great way to start the day," he said. "I called my mom and dad as soon as I found out. Those were the first two people [who knew], and then I had to get to calculus."
Jeralyn Mire, a post-secondary transition counselor at Sandpoint High School, has been watching Griffin's growth since he first approached her about building up his resume in the eighth grade.
"His tenacity — he never gave up. No one has worked harder to get an appointment than this young man. Hard work pays off," she said. "He didn't get in the first year, but he didn't give up. And I think that's such a great message, especially with COVID this year."
The journey was certainly a long one for Griffin. At 4 years old, he moved to Sandpoint but never lost his desire to fly. In the eighth grade, Griffin started Civil Air Patrol, a civilian auxiliary of the Air Force.
"It's kind of like Boy Scouts, but it's more like you learn drill movements and everything," he said. "You learn how to learn how to wear military uniforms. The squadron that I was at in Coeur d'Alene [also] had two aircraft, two Cessna 180s. So we do search and rescue missions and stuff like that."
In his sophomore year, Griffin began ground school training before starting lessons to earn his pilot's license, for which he's nearly completed the requirements.
Griffin also spent his high school career filling out his resume, captaining the lacrosse team, volunteering dozens of hours to community service, joining the National Honor Society and working for a fishing charter the last three summers in Alaska.
"That's why I really fell in love with the ocean," he said. "So I figured, you know, if I can join the Navy and fly on and off aircraft carriers and be close to the ocean and fly, then, heck, that would be awesome. I'd love to do that."
This summer, Griffin will report to the academy July 28 for "plebe summer" — seven weeks of basic training, before he begins his studies.
He plans to major in oceanography, he said, and hopes to eventually be selected for Naval Aviation.
"That's the service community that I want to go into, and hopefully, do at least 20 years," he said. "If everything works out, retire from the Navy, and then maybe I'll be on a coast somewhere, doing oceanography stuff, I'm not quite sure. But I'd love to be back here in North Idaho."
In her letter of recommendation for Griffin, Mire described him as honest, humble, patient and willing to serve.
"J.D. typifies the ideal student a teacher wants to have in class. He wants to learn and is willing to engage in the class discussions and follow up with the necessary homework. But, J.D. realizes he does not know it all and works hard," she wrote. "He will take charge of a situation and other people listen to him because he has great social skills and amazing follow-through. My husband was in the U.S. Coast Guard and I know he would have wanted someone like J.D. to serve with and lead.
---