SHS softball comes up just short in back-and-forth regional title game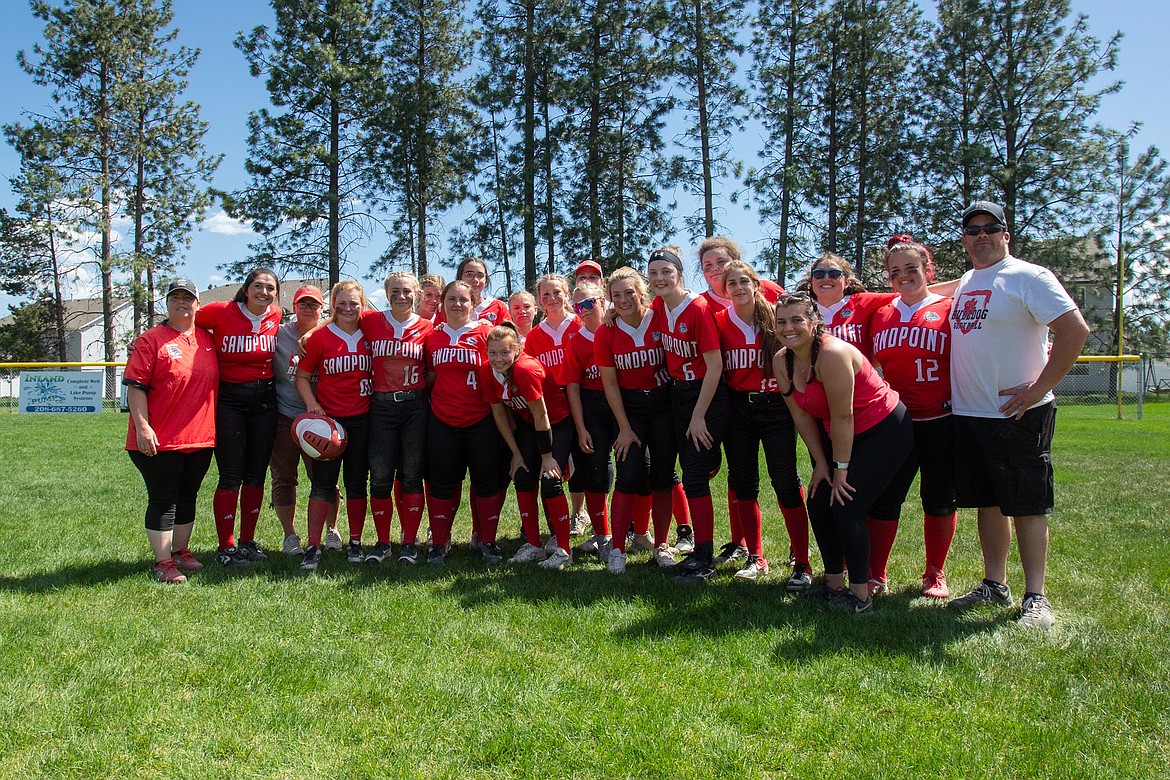 The Sandpoint softball team poses for a photo following a hard fought Game 3 4A Region 1 loss to Lakeland on Saturday.
(Photo courtesy of JASON DUCHOW PHOTOGRAPHY)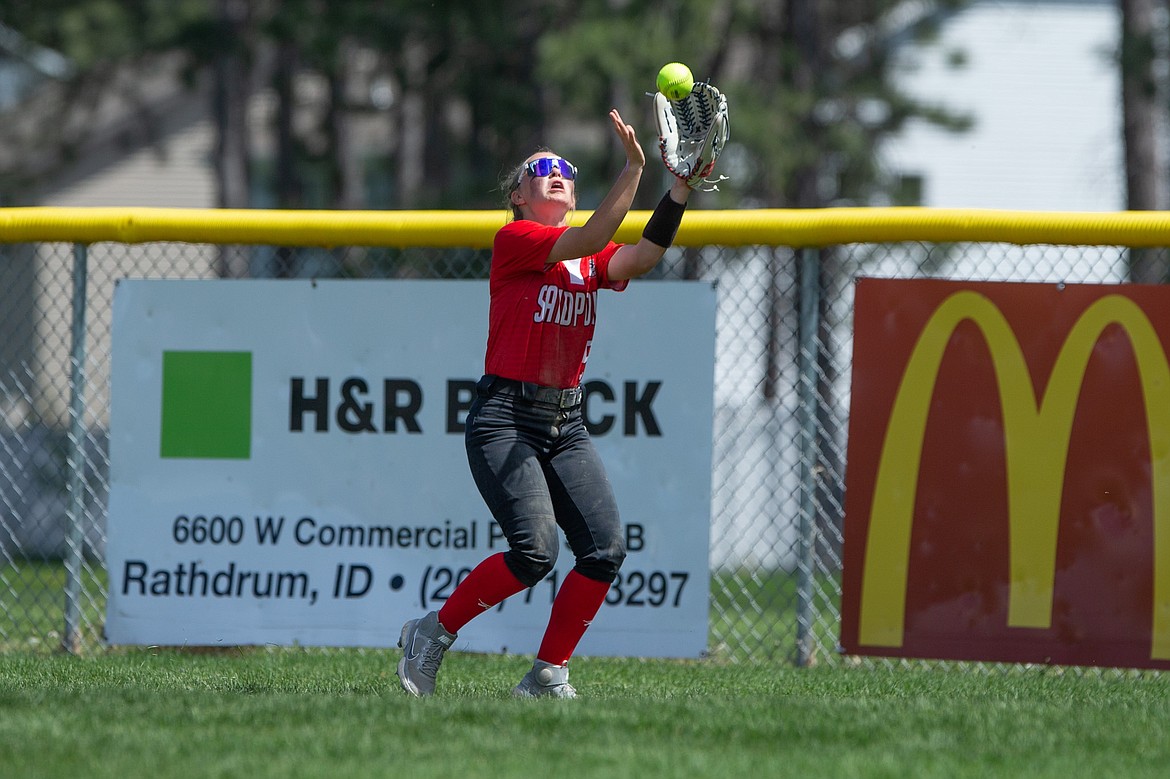 Jacey Cash secures a catch in the outfield during Game 3 of the 4A Region 1 championship series at Lakeland on May 15.
(Photo courtesy of JASON DUCHOW PHOTOGRAPHY)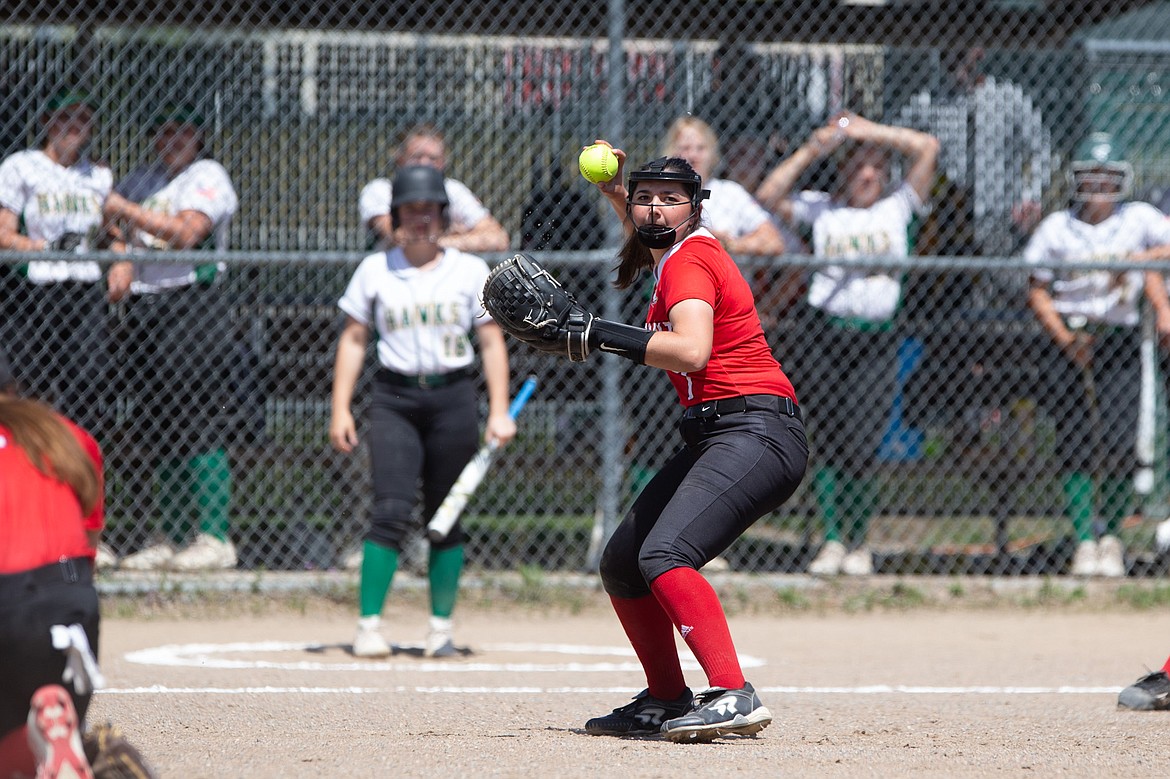 Cresanna Authier prepares to make a throw to first on Saturday.
(Photo courtesy of JASON DUCHOW PHOTOGRAPHY)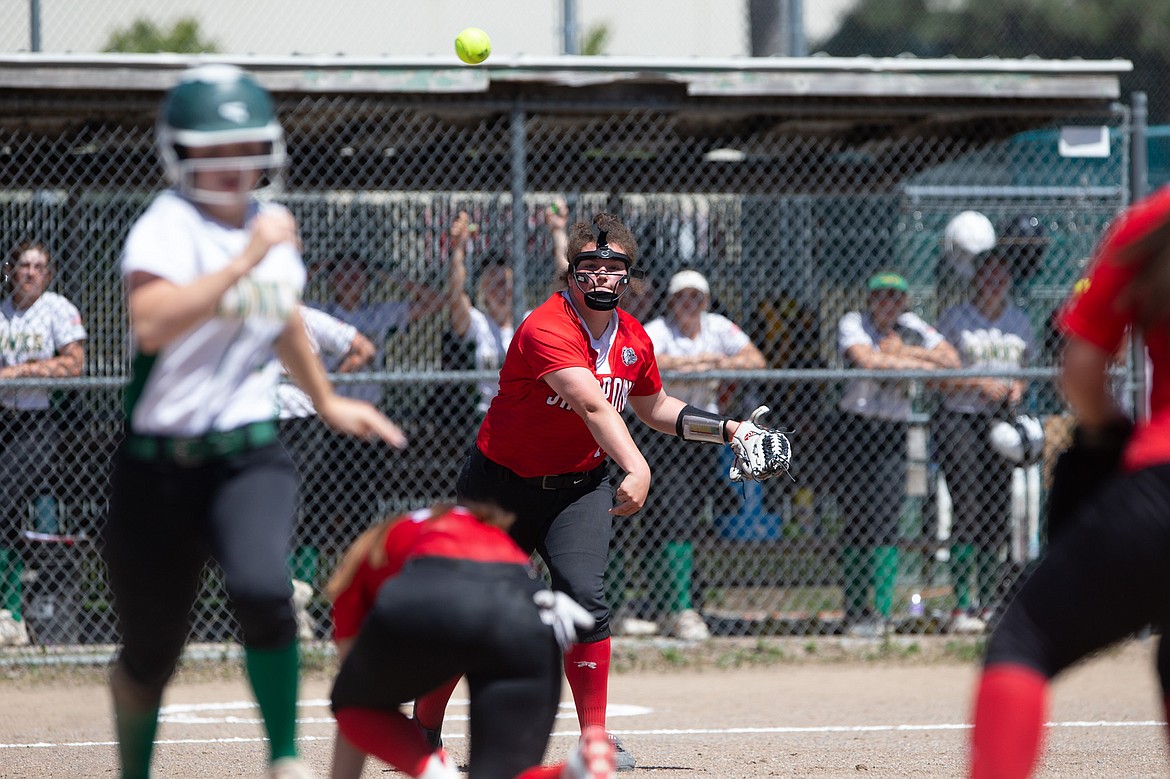 Via Barlow makes a throw to first on Saturday.
(Photo courtesy of JASON DUCHOW PHOTOGRAPHY)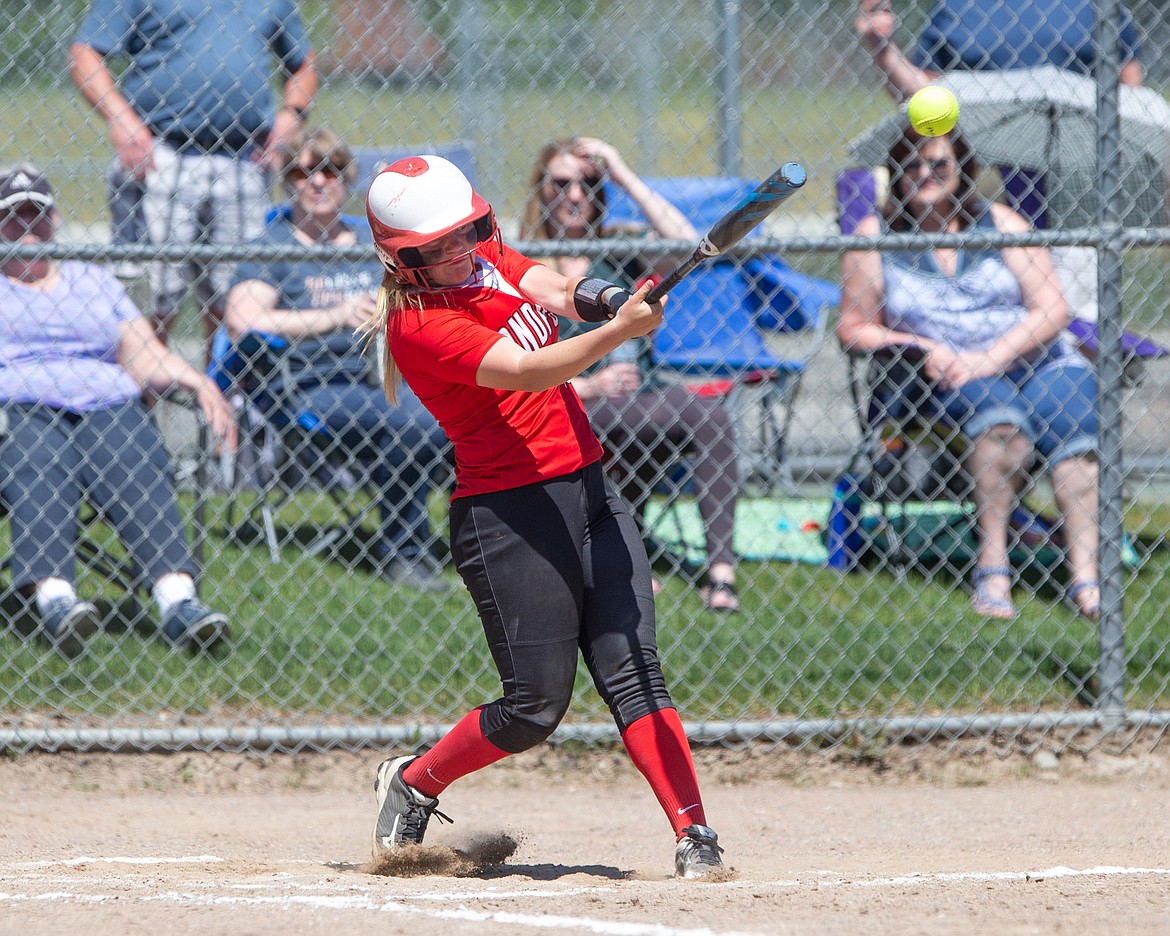 Riley Cessna gets a hit during Saturday's game.
(Photo courtesy of JASON DUCHOW PHOTOGRAPHY)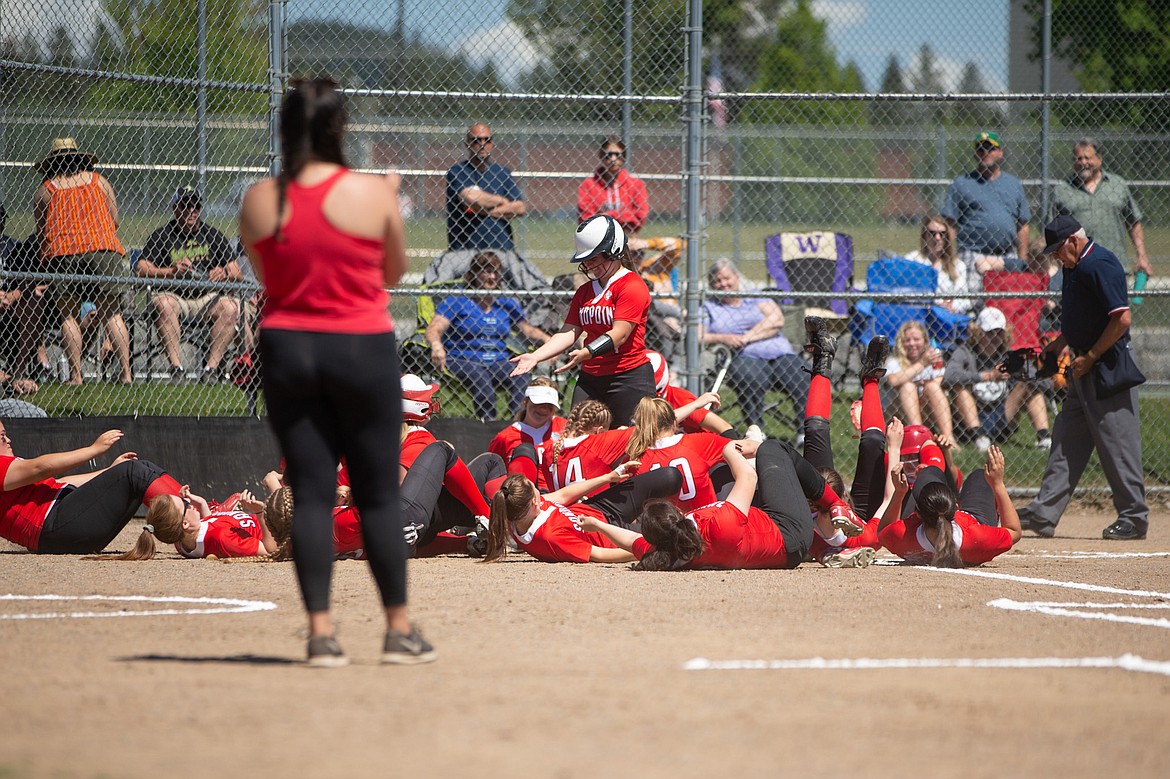 Sandpoint celebrates after Kinzie Ward's homer on Saturday.
(Photo courtesy of JASON DUCHOW PHOTOGRAPHY)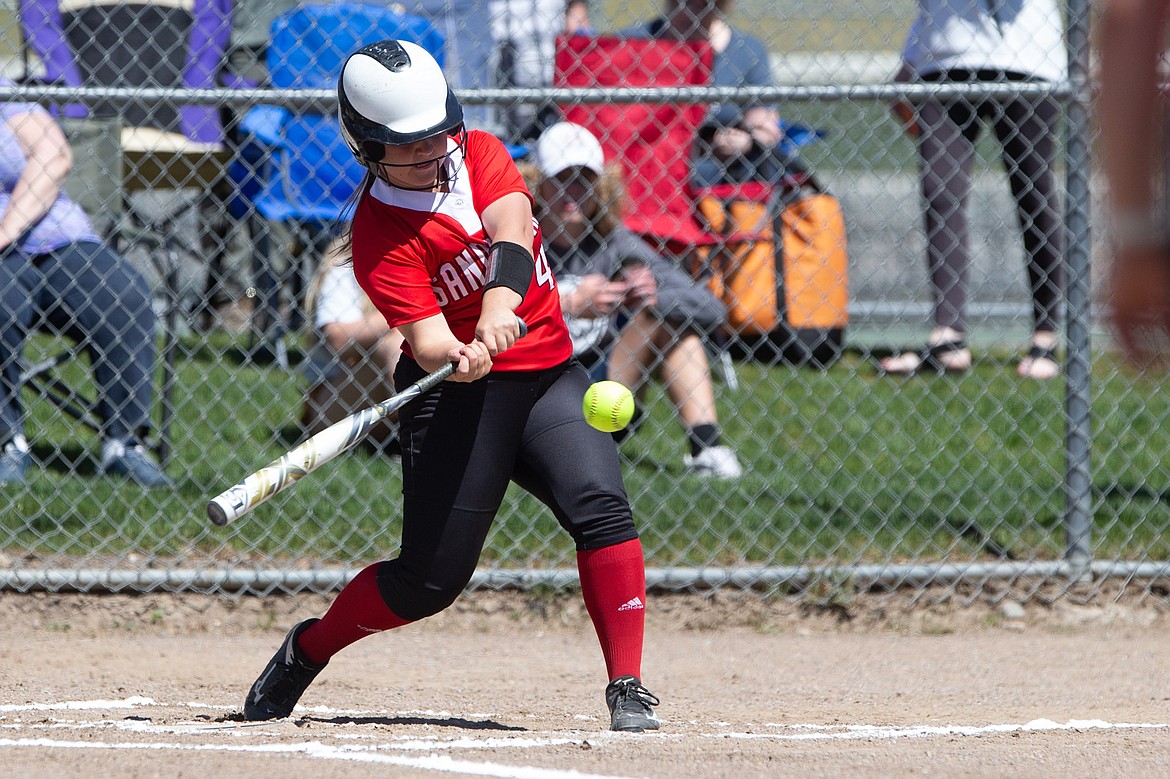 Kinzie Ward hits a two-run homer on Saturday.
(Photo courtesy of JASON DUCHOW PHOTOGRAPHY)
Previous
Next
by
MARK NELKE
Hagadone News Network
|
May 15, 2021 10:48 PM
RATHDRUM — Sandpoint and Lakeland have developed quite the softball rivalry over the past seven seasons.
And for 3 1/2 innings on Saturday, things were trending in Sandpoint's direction this year, with the Bulldogs leading by five runs.
But Lakeland had four more at-bats — emphasis on bats.
The host Hawks scored nine straight runs and went on to hold off the Bulldogs 13-11 in the winner-take-all, Game 3 of the 4A Region 1 softball championship series.
"It was a great game," Sandpoint head coach Elizabeth Hawkins-Williams said. "Both teams played hard, going back-and-forth and fighting for it."
Lakeland (12-15) advances to state Friday and Saturday at Skyview Park in Nampa. Sandpoint, which won Game 1 of the series 8-5 in Rathdrum before falling 13-4 at home in Game 2, finishes the season 9-18.
Hawkins-Williams said her team showed how much they wanted a state berth on Saturday.
"I was very proud of how hard this team worked to get here, and be competitive in regionals," Hawkins-Williams said. "Because up to this point we've struggled scoring, we've struggled on defense. To wrap it up with such a strong performance today, it really is great to see ... In today's game, they worked hard, they came back when they needed to. I really am very proud of this group and how hard they worked."
Either Sandpoint or Lakeland have won the last six regional titles — Sandpoint won three straight (2016-18), and Lakeland won in 2015 and '19 before winning this year.
Senior Kinzie Ward hit a two-run homer for Sandpoint in the top of the first inning. Lakeland's Haylee Smit doubled in a run in the bottom half, and Olivia Staudinger's RBI single put the Hawks up 3-2.
Sandpoint scored six runs in the top of the fourth to take a 9-4 lead. Riley Cessna, who finished 2 for 5 with three runs scored, lined a single to left field, and when the ball got past the left fielder, two runs scored.
Ward's infield single scored another run, and Lily Gammon dumped a two-run double down the right field line. Kaylee Brackett's liner off the center fielder's glove plated another run.
Lakeland answered with four runs in the bottom half, helped by four Sandpoint walks. Smit grounded a two-run single up the middle to cut the Bulldog lead to 9-7, and Delaney Gosch followed with an RBI single to center.
In the sixth, Lakeland's Harley See led off with an infield single, and Hailey Gosch walked. Smit grounded an RBI single to center to tie the game.
Freshman Payton Sterling lined a single to center to score Gosch with the go-ahead run. Another run scored on a throwing error, and Kyleigh Dyer dropped a two-run double down the right field line.
Cessna drove in a run with an infield single in the top of the seventh, and Shelby Lanie's infield single scored another run. Sandpoint had runners on second and third before a fly ball to right field ended the game.
"When we got the momentum, Lakeland always hits well, so we have to be ready on defense," Hawkins-Williams said. "We just gave them too many free passes and too many errors with runners on base to really close it out. You always have to keep adding on when you're playing them."
Sandpoint pitchers struck out two and walked five. Lakeland pitchers fanned eight and walked five.
Both teams used three pitchers, with Via Barlow, who started for Sandpoint, returning in the sixth. Devry Bursch, Lakeland's third pitcher, weathered some early issues and pitched a pair of scoreless innings until her teammates rallied at the plate in the sixth.
"I think it gives teams an advantage, keeping batters off-balance is kinda the name of the game," Hawkins-Williams said. "Seeing them have their pitchers throw and us having to see us get our timing back every time we see a new pitcher makes it harder."
With COVID-19 wiping out the 2020 campaign, only two Bulldogs entered this season with any varsity experience. It was a unique challenge that made this spring one to remember, Hawkins-Williams said.
"This year was one of the hardest years I've ever coached because of the situation we were in," she said, "but it also became one of the most rewarding years for me because of how much this team had to fight and grow to become competitive."
The Bulldogs encountered some struggles throughout the season, but the players never quit and showed a lot of grit, Hawkins-Williams said.
"They've put in more hours than any team I've coached to get from where we started in March to where we were today," she said.
Sandpoint will bid farewell to eight seniors, but a group of battle-tested juniors will be back next season, and Hawkins-Williams said she is looking forward to working with them over the offseason and contending for another regional title in 2022.
Sandpoint 201 600 2 — 11 7 2
Lakeland 301 405 0 — 13 13 8
Via Barlow, Cresanna Authier (4), Madi Garman (4), Barlow (6) and Jaidyn Inman; Kathryn Wardak, Hailey Gosch (3), Devry Bursch (4) and Payton Sterling.
HITS: Spt — Cessna 2, Ward 2, Gammon, Barlow, Inman. LL — See 3, Smit 4, D. Gosch 2, Sterling 2, Staudinger, Dyer. 2B — Cennna, Dyer, Smit 2. HR — Ward.
Dylan Greene contributed to this story.
---