Residents band together to build strong community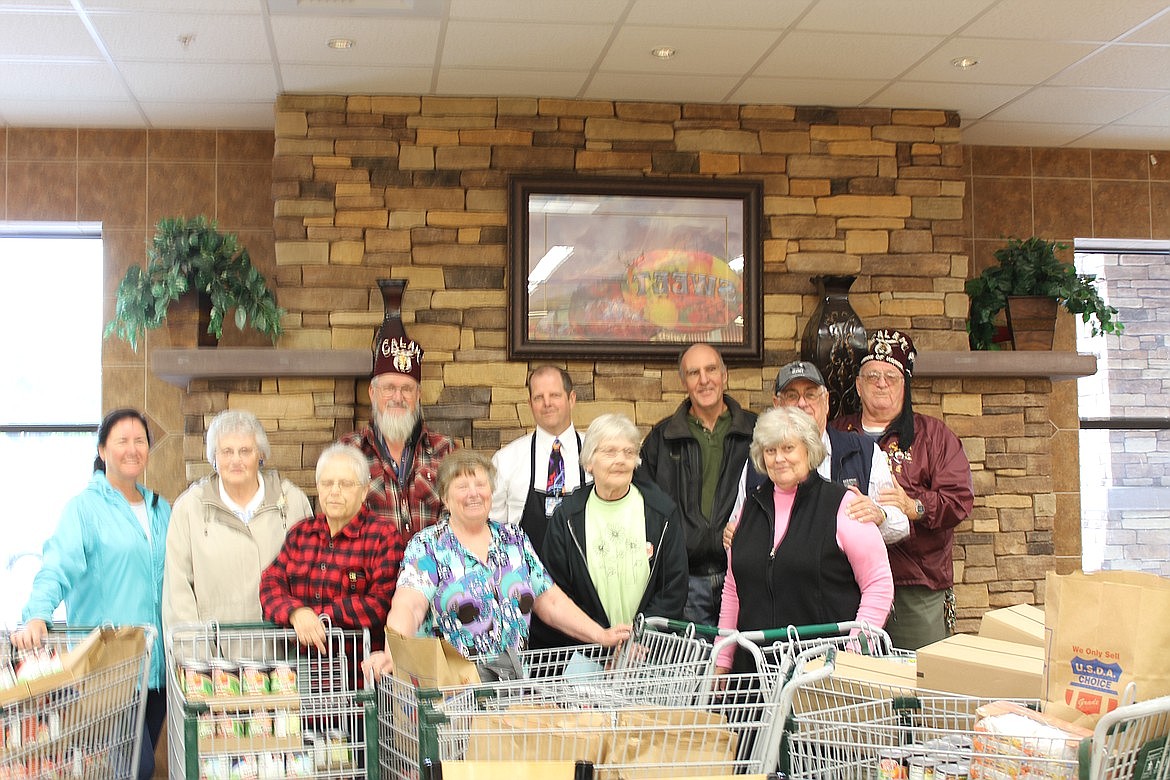 In this 2017 photo, Angie Wilkinson, Amy Anderson, Mel Libbey, Linda Cromwell, Mart Thompson, Nancy Myers, Mel Wod, Jeff Hamley, Don Gay, Ken Myers, and Richard Hollenbeck collected food from Super 1 Foods for the Naples Food Cupboard with help from the Shriners and Helping Hands in Naples.
by
VICTOR CORRAL MARTINEZ
Hagadone News Network
|
May 19, 2021 1:00 AM
A curated list of fundraising community events bringing Boundary County together published in The Bonners Ferry Herald:
July 2, 2020: Helping Hands of Naples held its biannual 'Take it or Leave it' event Saturday, June 27, at the Boundary County Fairgrounds, to reduce waste in the landfill by allowing people to repurpose belongings.
According to Helping Hands of Naples president Linda Cromwell, the event allows individuals to take what they want, later allowing thrift stores to sift through what's left, and finally allowing the city to pick up whatever is remaining.
The event supports the organization's values that include being environmentally conscious of our waste and helping those in need.
August 27, 2020: Second Chance Animal Adoption Shelter received more than $2,000 in donations from a fundraiser organized by Cheryl Britton, Deborah Griffin and Lori Werder.
These women worked with community members to raffle off prizes and conducted a bake sale at Super 1 grocery store and surpassed their fundraising goal.
The first year the three ladies raised $1,500, second-year $1,700, but in the third year, they raised $2,197 for Second Chance Animal Shelter.
The bake sale received baked goods from bakers Candi Doolin and Jeanine Betsher, who made delicious pastries and sweets; the bake sale fundraiser did not set a particular price but requested whatever donations felt appropriate by the people.
September 24, 2020: Valley View teacher receives a $3500 grant for physical education supplies after participating in the Kids Heart Challenge.
Through the Kids Heart Challenge, kids are moving with jump rope competitions, basketball skills, dance and "warrior" obstacle courses.
Besides taking a healthy pledge, students learn how their hearts work and raise money to keep other hearts working.
Valley View Elementary has been hosting an event for the past five years, with Mrs. Paula Petesch leading the cause after Mr. Beck handed over the program.
January 14, 2020: The Veterans of Foreign Wars Post 3326 hosted their third annual chili cook-off competition to benefit the many charitable causes the VFW Post conducts year-round.
The VFW chapter will continue to produce fundraisers and events to benefit the community.
In a post made by the VFW Post 3326 it states, "we hope to grow and continue to do more fun events to enable us to support our Veterans and Community."
February 4, 2021: County resident Jeff Avery was recently diagnosed with cancer, but community members have come together to offer support and hope as he fights his battle.
According to Kyle Watts, Jeff Avery is known in the community as a hard worker who has been an employee with Apple Creek Propagators for about a decade.
"Anyone who knows Jeff would say he is a man of conviction, a man of family values, and a man of Faith first," Watts said.
Watts made it clear that the Avery's are the type of people who would help others in the community in need if needed.
"We all have the ability to help a man and his family, that if given the opportunity, would help any one of us," Watts said.
Watt's and Woody's Gun and Pawn LLC have begun a raffle to raise funds for the Avery family to help cover any financial needs during this difficult time.
Tia Avery responded to all the support in the community by sharing her thoughts on Facebook, "Thank you all for the amazing love and support you are showing us as we walk this journey together!"
March 11, 2021: The Boundary Community Hospital Auxiliary is ready for their big annual fundraiser, and it's a sweet one. On Friday, March 12, from 9 a.m. to noon at the VFW Hall on Lincoln Street they will be selling a variety of pies and desserts.
Pies, cakes and other desserts will be available for sale in whole or individual portions. This year, there will be treats beyond the traditional pie selection; cheesecake, layer cake and other baked goods will be available, too.
The annual Pie and Dessert Sale is a late winter tradition that has been going on for decades. 40 to 50 years, said Jan Weaver, Auxiliary Treasurer and sale chairperson. No one seems to know the exact number of years but the Boundary County Hospital Auxiliary has been supporting the hospital through fundraising and volunteering since 1955. A number of members are retired from or currently working for the hospital.
Funds from the sale are used to purchase patient-focused items for Boundary Community Hospital. This year they are hoping to purchase a wheelchair, exercise balls for physical therapy, blood pressure cuffs for the clinic's lend-out program and a costly Alzheimer's game for the Extended Care Facility.
March 12, 2021: Valley View Elementary students rallied to raise $ 3,884.95 for the American Heart Association through their fundraising program, Kids Heart Challenge.
Their original goal was $1,500 but that was achieved quickly in the first week because of the good-hearted challenge of duct-taping their principal, Harmon Newhouse.
If they raised $100 individually, students were allowed to duct tape Newhouse.
The school's top fundraiser this year is a third grader, Chad Kerttu, who raised $656.56 in honor of his little sister, who has a special heart and who is genuinely a Heart Hero. Chad's brother Cameron, who is a sixth grader, was the top fundraiser last year.
April 15, 2021: Friends of Jake's Landing helped produce a fundraiser event for the Jacobson family who is struggling financially because of the Canadian border closure; the fundraiser had a packed and hungry crowd of friends, neighbors and congregation members.
Cedar Ridge Ranch, owned and operated by Ron and Kody Hanner, donated an entire hog for the auction donated and cooked the smoked pulled pork for the event.
The Hanners approached Jacobson with the idea for the fundraiser dinner to help keep Jake's Landing alive because of the importance to Boundary County and Porthill.
Many businesses donated, which included Mugsy's, Panhandle and Pearl, North Woods Realty, Homemade Revelation, Larch and Lavender Ranch and Boundary Consignment.
April 15, 2021: If you're considering going out for breakfast this weekend, look no further than the Bonners Ferry Rotary Club free Community Breakfast and Silent Auction. They'll be serving up a menu of sausage breakfast burritos, pancakes, biscuits and gravy, juice, coffee and tea.
The event is a fundraiser for the Rotary Club's scholarship program. They've been hosting the breakfast for more than 10 years, and have been able to give a number of scholarships to area seniors, as well as several adults seeking continuing education.
The Rotary Club is hoping to raise more than $12,000 this year. As a club, they have distributed over $125,000 in scholarships over the years.
April 17, 2021: Pack 114 Bonners Ferry Cub Scouts organized a pinewood derby race on April 17 with the older boy troop 114 involved in the fun.
Scoutmaster Tiffani Beggerly helped lead the annual event that featured multiple category races that included a turtle race, a race for the slowest of slow cars and a shark car race.
The pine derby was a fundraiser event to help raise money for the pack as a whole, to be able to buy camping gear and supplies for the scouts' summer activities.
The event will feature cakes for auction to help raise funds for the organization. There will be many events, but one of the events that many are excited about is summer camp.
---