Sheriff's office returns COVID relief funding
by
ANNISA KEITH
Staff Writer
|
November 3, 2021 1:00 AM
▶️ Listen to this article now.
SANDPOINT — Prompted by a request from Bonner County Sheriff Daryl Wheeler, county commissioners voted Tuesday to approve two resolutions returning $18,486.11 in ARPA funds received by the sheriff's office last month.
The funding was going to be used to cover "unanticipated COVID-related expenses."
Wheeler said Bonner County Clerk Michael Rosedale advised him of the terms and conditions that come with accepting coronavirus relief funding, which raised several questions.
Perhaps the most concerning of the terms and conditions is that any department accepting the funds would have to comply with all other applicable federal statutes, regulations, and executive orders," Wheeler said. It was his understanding that recipients also would have to ensure compliance by other parties in any agreements it enters into with other parties relating to this award, he told commissioners.
"In light of the discovery of the strings attached to the ARPA fund's monies, I will not follow applicable federal statutes, regulations, and executive orders of President Joe Biden or his administration," Wheeler said.
He then asked the commission to approve returning the money back to the county's ARPA funds.
Commissioner Steven Bradshaw made a motion to approve resolution returning the money to the county, Commissioner Jeff Connolly seconded.
When McDonald asked if anyone would like to provide public comment, 17 people spoke, making up the bulk of time spent at the meeting.
Those speaking expressed concern over why the commission's legal team would need to look into the legal details about rejecting federal funding. They also asked about when rules following federal stipulations were implemented, and if taxpayers would have to make up the gap in funding resulting from refusing the funds.
"The three commissioners here passed a resolution that we would obviously stand against the Biden administration," McDonald said. "If [accepting the money] ties our hands to a degree, we will certainly give it all back, that's a non-issue for us. But if it does not, then we are going to want to use it because it is your money, and our money."
"We didn't know what kind of strings were going to be attached," continued McDonald. "We are not going to be tied by the strings by the federal government and especially not by executive orders that are unlawful and beyond its constitutional power."
Then McDonald explained that there have been two Supreme Court cases that give the authority for mandating vaccines to the states, and not the federal government.
Other people who spoke said they supported the move to return the money, saying the sheriff was standing up for their rights and protecting their constitutional freedoms.
"I was going to just stay quiet until the sheriff said something important. He asked what is freedom worth? I drove 2,489 miles to move here, I'm going to lose my job on December 8 because of [the federal vaccine mandate]. That's what freedom is worth to me," said Dean Canon, explaining that he moved to Bonner County recently from Anchorage. "Whatever my share of [federal funding], I'm willing to pay that to be free."
"For me, it's not about the money, it's about being under the control of the federal government," Bradshaw said "It was written for them, by them. And it leaves an open door as wide as the equator for them to come in and take over the county."
After McDonald entertained a motion to approve returning BCSO's ARPA funds back to the county's ARPA budget, the resolutions were unanimously approved. Due to the federal funds being returned, the commission approved $10,000 in funding for unexpected COVID-related spending to be taken from the sheriff's office budget.
"We have done nothing but fight for the freedom of our constituents to make sure we protect everyone's rights," McDonald said. "I believe we have a very solid track record. We are on your side. I get it. Everyone's frustrated, we're frustrated. We appreciate that you all come in here and hit us up, but we are not the enemy, because we agree."
After the approvals, McDonald recessed the meeting before shortly after resuming for executive session. According to the agenda, the commission discussed two different action items regarding the hiring of new human resources personnel.
The commissioners hold a weekly business meeting every Tuesday at 9 a.m. in the administrative building at 1500 U.S. 2. Meetings are open to the public. Participants can also attend the meetings virtually over zoom, or livestream them on Bonner County's YouTube channel.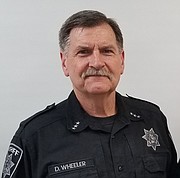 Recent Headlines
---