Donald Zahn
by
BARBARA RIDLEY Contributing Writer
|
November 11, 2021 1:00 AM
Donald Zahn enlisted in the U.S. Army Paratroopers in 1942. He was 22 years old when he arrived at Camp Toccoa, Georgia, and was one of the original "Toccoa Men."
He trained at Currahee Mountain, "3 miles up and 3 miles down they'd say." Zahn made the 132-mile march from Atlanta to Fort Benning, where he completed jump training and then a year of training in England.
He was a member of the 101st Airborne H Company, 506th Parachute Infantry Regiment. On June 6, 1944, he parachuted into France dropping in behind enemy lines ahead of the Allies beach attack. The troops' mission was to seize two bridges over the Douve River at Brevands.
He was the first to volunteer to cross the bridge as a scout and spent 30 minutes alone on the enemy shore. Armed with only a Tommy gun he was able to locate German troops and gun placements in the nearby woods. Eventually he was joined by three others including a sergeant in his company when they came under fire. The Americans returned fire and recrossed the bridge under the lower bridge supports to avoid further enemy fire.
Zahn was awarded the Distinguished Service Cross, the second highest valor award for his extraordinary heroism on that day. The award was given to him May 9, 1945, in a ceremony at Berchtesgaden by Major General Maxwell Taylor. 
He made two more combat jumps, Operation Market Garden and Bastogne. He was promoted from private first class, H Company, to lieutenant in C Company, 506th Parachute Infantry Regiment, from Bastogne to Austria. He received the Bronze Star for heroic service and two Purple Hearts.
In May 1945, he was the officer in charge of a platoon assigned to guard the Berghof, a Bavarian mansion located near the town of Berchtesgaden, Adolf Hitler's primary residence during World War II.
After World War II, Zahn served in the Army Reserves retiring after 20 years and attaining the rank of major. He was a member of the Old Guard of Minnesota. In 2013 he was awarded the distinction of "Distinguished Member of the 506th Infantry Regiment at Fort Campbell, Kentucky. His experiences have been chronicled in books by World War II historian Mark Bando.
Zahn passed away in 2015 at the age of 94 in Sandpoint.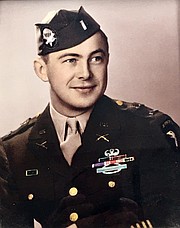 Recent Headlines
---