Harry F. Clark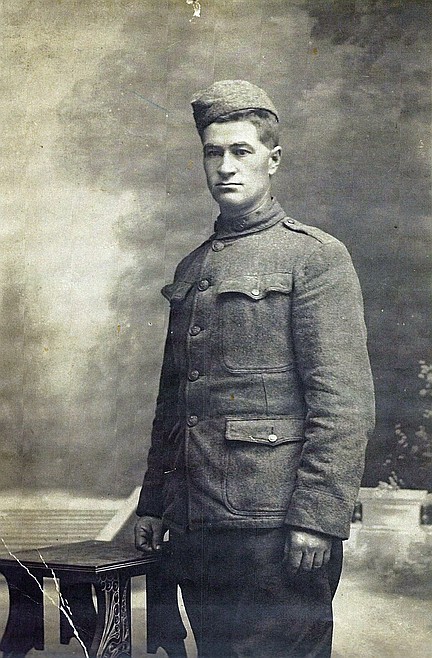 Harry F. Clark is pictured in his World War I uniform.
(Courtesy photo)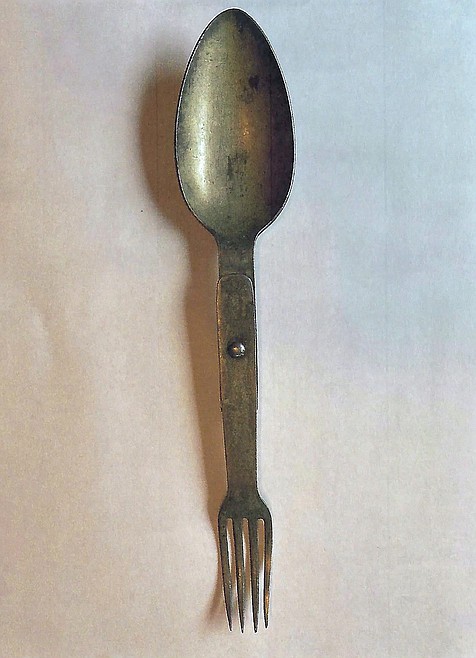 A memento of Harry F. Clark's time in the Argonne Offensive. From the mess kit of a fallen German soldier, the item is spoon-fork hinged combination, and is now over 100 years old.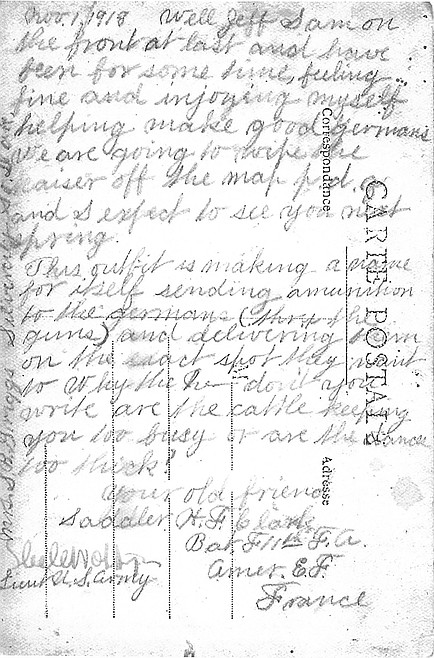 A letter written on the back of a postcard sent by Harry F. Clark from the front lines in France during World War I.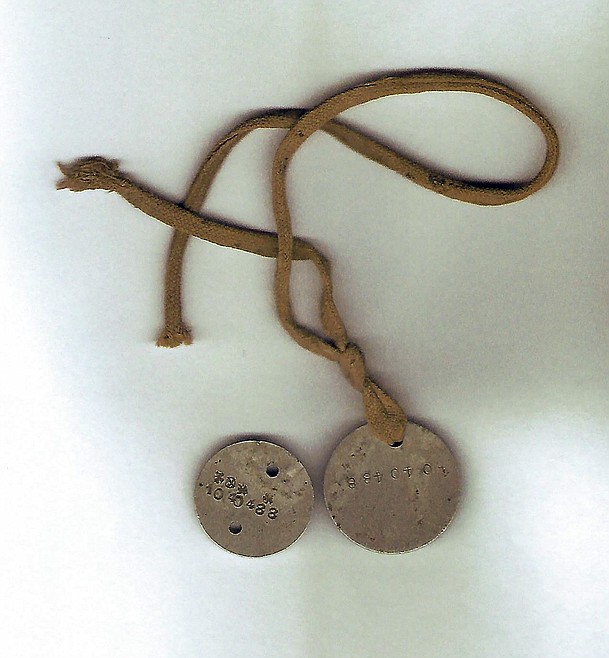 A photo of Harry F. Clark's dog tags from World War I.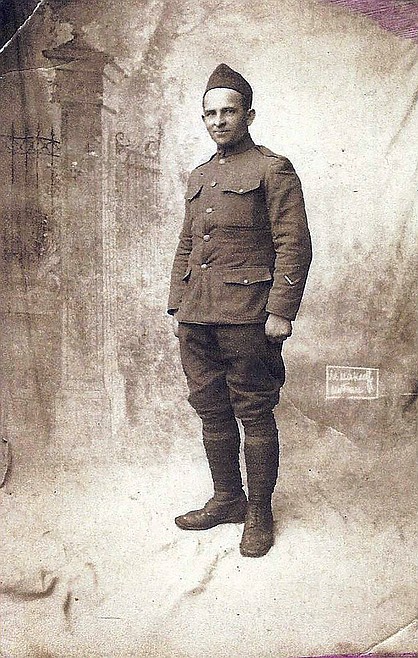 Harry F. Clark is pictured in a postcard he sent to a friend from the Meuse Argonne in 1918-'19.
Previous
Next
by
MARY PANDREA Contributing Writer
|
November 11, 2021 1:00 AM
My father Harry F. Clark was a true patriot. When the U.S. declared war against Germany on April 6, 1917 my father was fur trapping near Copper Center, Alaska about 200 miles northeast of Anchorage. He kept a diary of his time there that began October 10, 1915, and ended April 11, 1917.
On April 5, 1916, his diary entry reads, "Had big debate about women having equal rights. I won for them." He was obviously a man ahead of his time.
After fur trapping in Alaska for more than a year, my father was in excellent physical condition, snowshoeing for miles in often sub-zero weather (one entry in his diary mentions 60 below.) He was 29 years old at the time. On April 8, 1917, my father made the following entry in his diary, "First load to Government Road. Heard war was declared." He made the decision then to enlist to fight for his country.
He told me years later that his first attempt at enlistment in Anchorage was unsuccessful. But he was determined to serve his country. He then went by ship to Seattle where he enlisted successfully on June 14, 1917, at Fort Lawton, which is now a city park.
He told me that his training was in a hot, dry climate where they had to shake out their boots every morning to rid them of scorpions. I'm not sure where that was. From boot camp, which lasted 16 weeks, he was transported by ship to France where he served in the Meuse Argonne Offensive.
In a letter dated November 1, 1918, he wrote from France to a friend in Silvercity, South Dakota, "Well Jeff, I am on the front at last and have been for some time." So, from the time he made the decision to fight for his county on April 8, 1917 until his boots were on the ground in France, more than a year had passed. There was still no loss of enthusiasm, and in his letter to his friend he goes on to say, "Enjoying myself helping make good Germans. We are going to wipe the Kaiser off the map p.d.q." (meaning pretty damn quick). "This outfit is making a name for itself sending ammunition to the Germans (through the guns) and delivering them on the exact spot they want." He signed the letter, "your old friend Saddler H.F. Clark, Bat F11 F.A. Amer. E.F. France."
Unfortunately, while serving his country in the Meuse Argonne Offensive, my father received a near fatal dose of mustard (nerve) gas. He was hospitalized in Paris, France, until he was considered strong enough to make the arduous trip by ship back to the U.S. His papers list the field hospital at Camp Dodge, Iowa, where he was discharged from the Army on July 18, 1919; and was paid in full, including bonus, $142.03. His physical condition when discharged was listed as "good," though he had sustained damage to his lungs and stomach tissue that persisted throughout his life. However, he continued to live a long and productive life in the country that he loved and was willing to fight for.
In 1936, my father purchased land in the Upper Pack River Valley about 25 miles from the town of Sandpoint. He always alluded to the abundant, clean water as his reason for choosing to settle here. In 1946, at the age of 59, he built our log home here in the valley with a team of horses and no power tools. Today his daughter, Mary calls this home after a beautiful renovation by his grandson, John. Both Mary and her sister, Nellie, live in this valley today.
My father lived out his life here in Pack River Valley; dying with his boots on in a rollover tractor accident three weeks shy of his 88th birthday on June 23,1975.
My father was a true patriot and a pillar of our rural community for nearly 40 years. Today, my father is buried in a simple grave on a hill overlooking the Pack River Valley that he loved so well. His headstone is a simple military one that reads, "July 16, 1887 – June 23, 1975" and lists his military ranking simply as "saddler."
Recent Headlines
---