Season preview: Young Bulldogs look to keep state streak alive, take the next step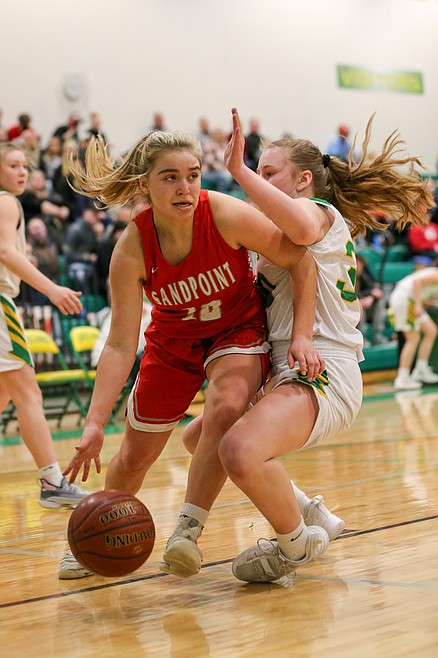 Destiny Lyons drives toward the basket during Game 3 of the 4A Region 1 championship series at Lakeland last season. Lyons is one of three seniors on this year's team that is looking to book a trip to state for the eighth time in the last nine years.
(Photo courtesy of JASON DUCHOW PHOTOGRAPHY)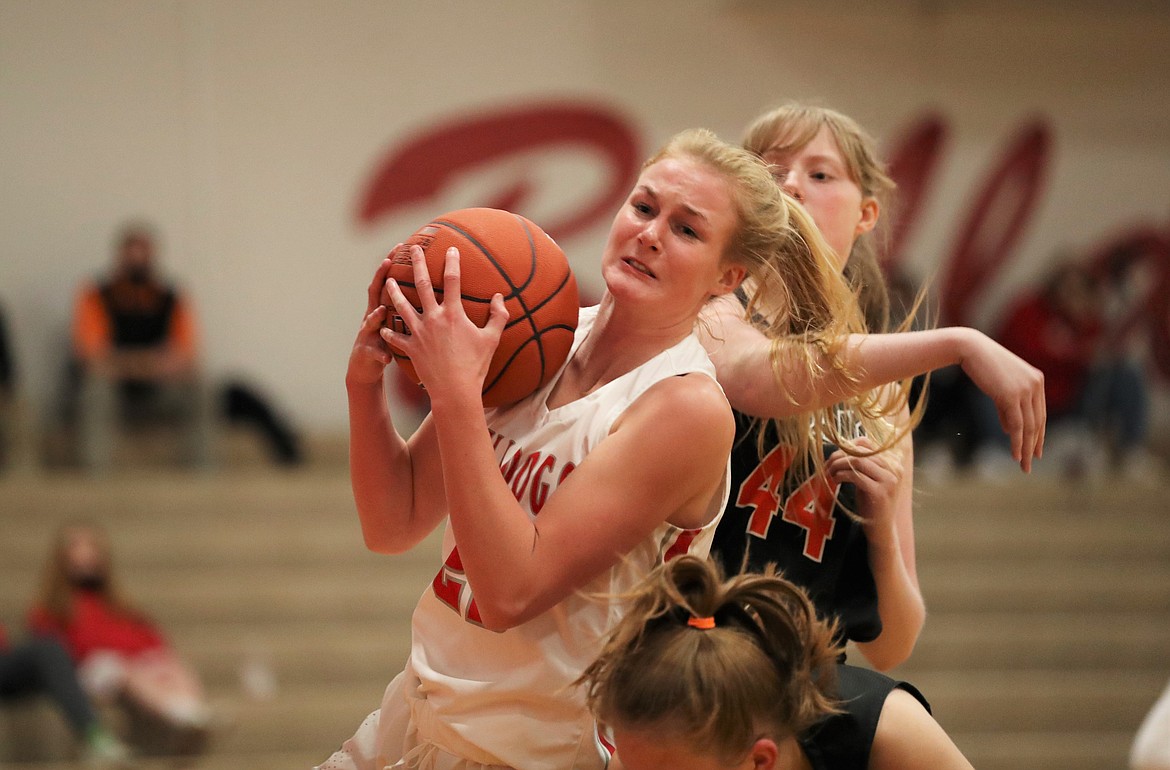 Sofia Platte battles for a rebound during a game against Post Falls last season at Les Rogers Court. Platte, a senior, will play a major role in the post for the Bulldogs this winter.
(File photo by DYLAN GREENE)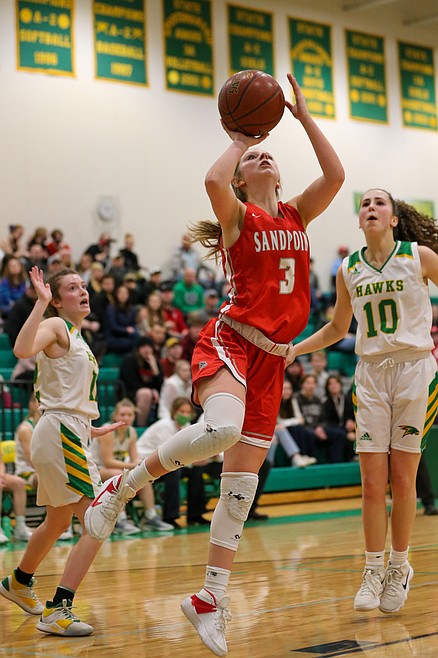 Daylee Driggs elevates for a layup during Game 3 of the 4A Region 1 championship series at Lakeland last season. The junior will be key to the Bulldogs' success this season.
(Photo courtesy of JASON DUCHOW PHOTOGRAPHY)
Previous
Next
by
DYLAN GREENE
Sports Editor
|
November 17, 2021 1:00 AM
SANDPOINT — Retool, rebuild, reload. Whatever you want to call it, Sandpoint girls basketball will be doing it this winter.
However, this group still has the potential for another special season on the court and is eager for an opportunity to make it to state for the eighth time in nine years.
"If we really want it and we all work together … I feel like this team will go really far," senior guard Destiny Lyons said.
Four of the five starters from last year's state squad will not be on the court this season. The Bulldogs lost league MVP Kaylee Banks, three-time all-league selection Hattie Larson and post Bella Phillips to graduation. Karlie Banks, who earned Newcomer of the Year honors last year as a sophomore, is not with the team this season.
Clearly, Sandpoint has a lot of holes to fill, but they have seven returners with state experience to lean on — seniors Sofia Platte, Destiny Lyons and Tru Tomco, juniors Daylee Driggs, Anna Reinink and Kelsey Cessna and sophomore Aliya Strock.
All those players contributed to a team that encountered plenty of adversity last season. From a team-wide quarantine to losing a starter four games into the season to having to hit the road to defend their 4A Region 1 title, the Bulldogs went through it all — and became stronger because of it.
There's no doubt that this team is battle-tested and they believe that will help them overcome any question marks they have entering the season.
"I think we're going to be a really tough team," Platte said. "We're going to be hard to beat just because of everything we've been through."
Fourth-year head coach Will Love said this group is resilient and that trait will allow them to recover from the loss of five impactful seniors.
"We've got a good group that's played a lot of basketball," he said. "I do think we have the tools in place to fill that scoring and the other intangibles [those seniors] brought."
Filling up the bucket might be the Bulldogs' biggest question this winter. Kaylee and Karlie Banks, and Larson led the team in scoring most nights last season. Fortunately, SHS has plenty of options at its disposal to fill that scoring need. It will certainly be a by-committee effort to put up points on the scoreboard, and Lyons said it may take them a few games for the Bulldogs to figure it out, but she expects them to grow stronger as the season progresses.
"It's going to be a bit of a problem," she said, "but I feel like it's just going to make girls step up and score more, which is what we've needed all along — but now we really need it."
One of the girls hoping to fill that scoring punch is Driggs. The junior has been on varsity since she was a freshman and earned a reputation as a pesky, relentless defender. But now Driggs knows she needs to raise her game on the other end of the court, and she put in the work over the offseason to make that happen.
Driggs had an opportunity to play alongside her older sister, Dawson Driggs, two seasons ago. Dawson, who is currently on the Whitworth University women's basketball team, made a name for herself at SHS as a guard that was never ever afraid to drive down the line, attack the basket and fight through contact.
Driggs is looking to emulate parts of her older sister's game this winter and she said she has worked on establishing a strong outside game as well.
Driggs' younger sister, Demi Driggs, is a freshman on this year's team and will swing between varsity and JV. Basketball runs in the family and Driggs is someone who is committed to the sport year-round and constantly searching for improvement in her game.
Driggs' intensity on the court is evident. Her ability to get steals and harass top players on opposing teams gives the Bulldogs quite the edge and she will be a getting fellow defensive menace back on the court with her this winter.
Cessna was recently cleared to play in games again, according to Love, and will be on the court for the team's season opener. Cessna was the starter that went down four games into last season with a torn ACL, and her return makes a Sandpoint team that already prides itself on defense that much more formidable.
"It's been nice to have her back because there's just some intangible things that she does," Love said. "She's always kind of coaching on the court, she picks up concepts really well and she's always able to tell girls where they need to be ... She's not going to back down to anybody."
Driggs and Cessna are essentially carbon copies of one another in terms of the mentality they bring to the floor. Neither one likes to hold anything back and always gives it their all.
Driggs said the duo has been playing together for years and that chemistry shows up on the defensive end. The Bulldogs are expecting plenty of steals from both of them.
"We really connect with defense," Driggs said. "We just know exactly where she should be and where I should be."
Driggs and Cessna are the leaders of a strong junior class that will be at the center of the team's success this season.
"It's great to watch them come along because they have worked really hard," Love said. "Their roles will be different this year, but they still have that experience so they're not going to be wide-eyed when they step onto a 5A court because they've played against those girls."
Strock is one of four sophomores Bulldog fans will see on the varsity stage this winter. Peyton Cessna and Livia Owens both played on the JV team last year, while Lily Richardson just joined the team a few weeks ago and Love already sees plenty of potential in the transfer from California.
"She's shown some really good things," he said. "She's a really good athlete and is going to bring a lot to our program."
Driggs and Lyons will share point-guard duties when on the court together this season, but Strock, who had a couple of 30-point games on JV last year, and Richardson will also come off the bench and command the offense. That versatility and depth will be key for a Sandpoint team that is once again a little undersized.
"We've got a few ball handlers and that's what you need in high school basketball," Love said. "If you don't have kids that can handle the ball, it's going to be a long night … We feel pretty comfortable with what we have."
The Bulldogs will lean on Platte and Owens to be forces in the post. Platte came off the bench last year and is ready to step into a larger role this season. The 5-foot-10 senior has found a way to prosper against larger posts in the league due to her athleticism.
"It's a lot about being quick," she said about being undersized. "I'm a lot faster than the bigger posts."
Last season at state, Sandpoint struggled to get the ball in the basket, scoring just 57 points over their final two games at the tournament. Love said the Bulldogs played championship-level defense during that state run, but struggles on the offensive end were their downfall. He said over the offseason the team put an emphasis on improving offensively and he's already seen the team make some significant strides in that area.
"I think we're going to have to spread things out and so we've been installing some new looks in our offense," he said. "It's still based on the four-out, but we'll do some five-out stuff, too, because we're pretty perimeter heavy. I'm pretty excited because some of the stuff that we've seen is pretty good."
Last year, the Bulldogs' offseason was essentially wiped away due to the COVID-19 pandemic. It wasn't completely back to normal this summer, but Sandpoint got in about 12 games between a camp at Lewis-Clark State College, a tournament at West Valley and scrimmages with Post Falls and Lake City.
That playing time will make a difference this season and Platte said the team got lots of opportunities to bond this offseason.
"Everybody is getting along and we have really good chemistry within the team," Lyons said.
Lyons, Platte and Driggs are all looking forward to taking on significant leadership roles this winter.
Lyons stormed onto the varsity scene last year and grew stronger with every game. As the season went on, Lyons said she got more comfortable with the team and she is eager to build off that success.
Lyons has been playing the sport since fifth grade and enjoys getting others involved and rewarding teammates who make a strong cut to the basket.
"That's the most satisfying feeling as a point guard is making a play and having the outcome score points on the scoreboard," she said.
The last two seasons for the Bulldogs have ended the same — a loss in the state third-place game. This team is determined to put the past behind them and make a run at the program's first trophy at state since 2016.
Driggs said the last two state trips have taught her that the team needs to have more belief in one other.
"I think we just need to trust each other, especially with what we can do," she said.
The Bulldogs will get a sneak peak at the competition they could encounter at state when they compete in the Timber-Lion Tournament in Boise on Dec. 28-30. They will play 3A Cole Valley Christian, 4A Columbia, who they beat 44-36 in their state opener last season, and a 5A school during the tournament.
Love said the trip will help prepare his team for another postseason run and boost their strength of schedule with MaxPreps rankings now seeding the state tournament.
In her final season, Platte would love to go out with a third straight 4A Region 1 title, but it won't come easy. Lakeland and Moscow will provide plenty of resistance and Love has tons of respect for the programs coaches Steve Seymour and Alexa Hardick have built. He anticipates another war for the regional crown.
"It's going to be a battle," he said.
With the young talent the Bulldogs have, Driggs believes there's an opportunity to bring home the program's first state title in the next few years. She said they look up at the wall inside Les Rogers Court for motivation often.
"Coach says every day, 'Look at the state titles, we don't have one,'" she said.
Sandpoint opens the season with a 5A-4A Inland Empire League game at Lake City 7 p.m. Thursday. The Bulldogs' home opener is next Tuesday against Bonners Ferry.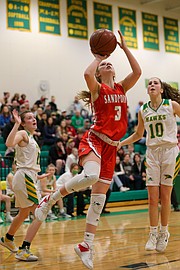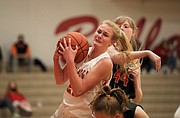 ---