Lewiston uses fast start to down SHS girls basketball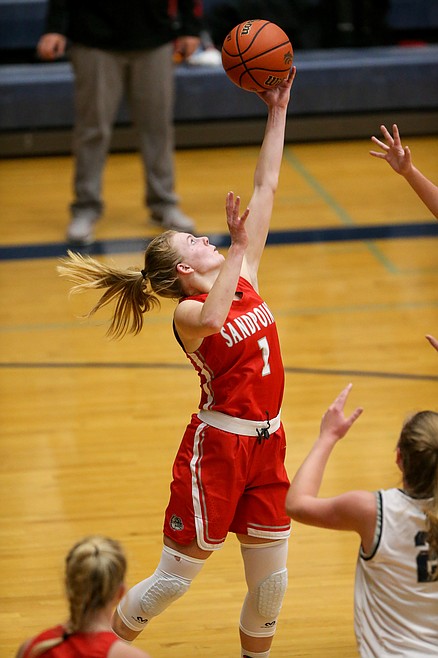 Junior Kelsey Cessna rises up for a rebound Thursday at Lake City High.
(Photo courtesy of JASON DUCHOW PHOTOGRAPHY)
by
DYLAN GREENE
Sports Editor
|
November 20, 2021 11:15 PM
LEWISTON — Sandpoint girls basketball was unable to overcome a hot start by the Bengals in a 54-34 loss at Lewiston on Saturday.
The Bengals scored 26 points in the first quarter to hand the Bulldogs their second loss.
"Credit to Lewiston, they hit a bunch of shots and ran some really good offense," head coach Will Love said.
But after that sizzling opening quarter, Sandpoint kept pace with the Bengals and was only outscored 28-24 over the final three quarters.
"I was really proud of the girls because after that first quarter, they really tightened things up defensively and did a really good job overall," Love said.
The Bulldogs struggled in a 44-point season-opening loss at Lake City on Thursday, but Love said they responded with a strong effort Saturday. SHS had 28 turnovers against the Timberwolves. They limited that number to 19 against the Bengals.
Kelsey Cessna and Tru Tomco led the team with 9 points each.
"I give credit to Tru Tomco," Love said. "She spaced really well tonight and hit some open shots."
Daylee Driggs scored 8 points and Sofia Platte added 4.
"We actually had some really good shots throughout the game, we just couldn't get them to fall," Love said.
With a couple varsity players gone on Thanksgiving break, Love said Peyton Cessna and Demi Driggs both stepped up and played significant minutes against Lewiston.
The Bulldogs (0-2) scored 15 points in the fourth quarter and will look to carry that momentum in Tuesday's home opener against Bonners Ferry. Tipoff is set for 7 p.m. at Les Rogers Court.
Sandpoint 10 6 3 15 — 34
Lewiston 26 8 10 10 — 54
SANDPOINT — K. Cessna 9, De. Driggs 0, Da. Driggs 8, Reinink 2, P. Cessna 0, Tomco 9, Owens 0, Lyons 2, Platte 4.
LEWISTON — Collins 4, O'Ren 6, Acellano 0, Wessels 16, Kessinger 8, Ortiz 7, Salim 0, Jackson 0, Taylor 3, Samuels 0, Burke 4, Riddle 6.
---