Devastated: Turnovers plague Bulldogs in heartbreaking state championship loss to Skyline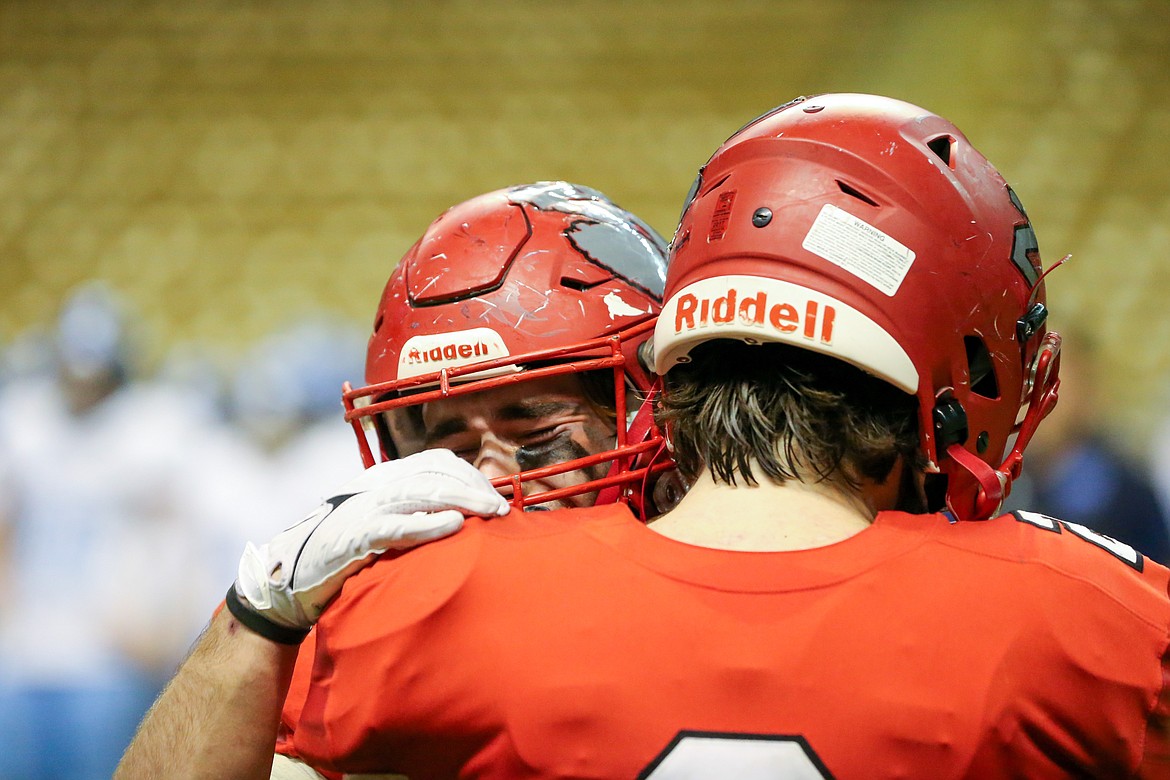 Junior Levi Balison consoles senior Gerrit Cox after Friday's 4A state championship loss to Skyline at the Kibbie Dome. This is Sandpoint's fourth runner-up state trophy in the last 18 years.
(Photo courtesy of JASON DUCHOW PHOTOGRAPHY)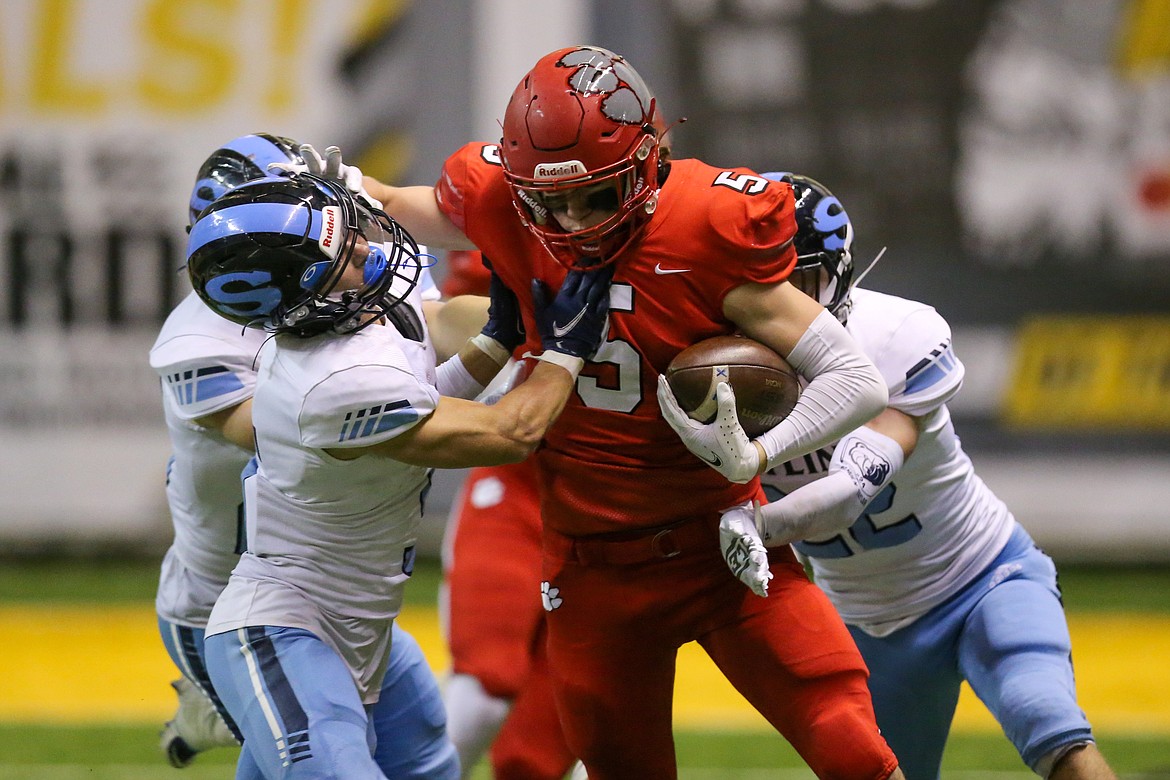 Sophomore wide receiver Max Frank, who played with a broken leg, stiff arms a Skyline defender Friday at the Kibbie Dome.
(Photo courtesy of JASON DUCHOW PHOTOGRAPHY)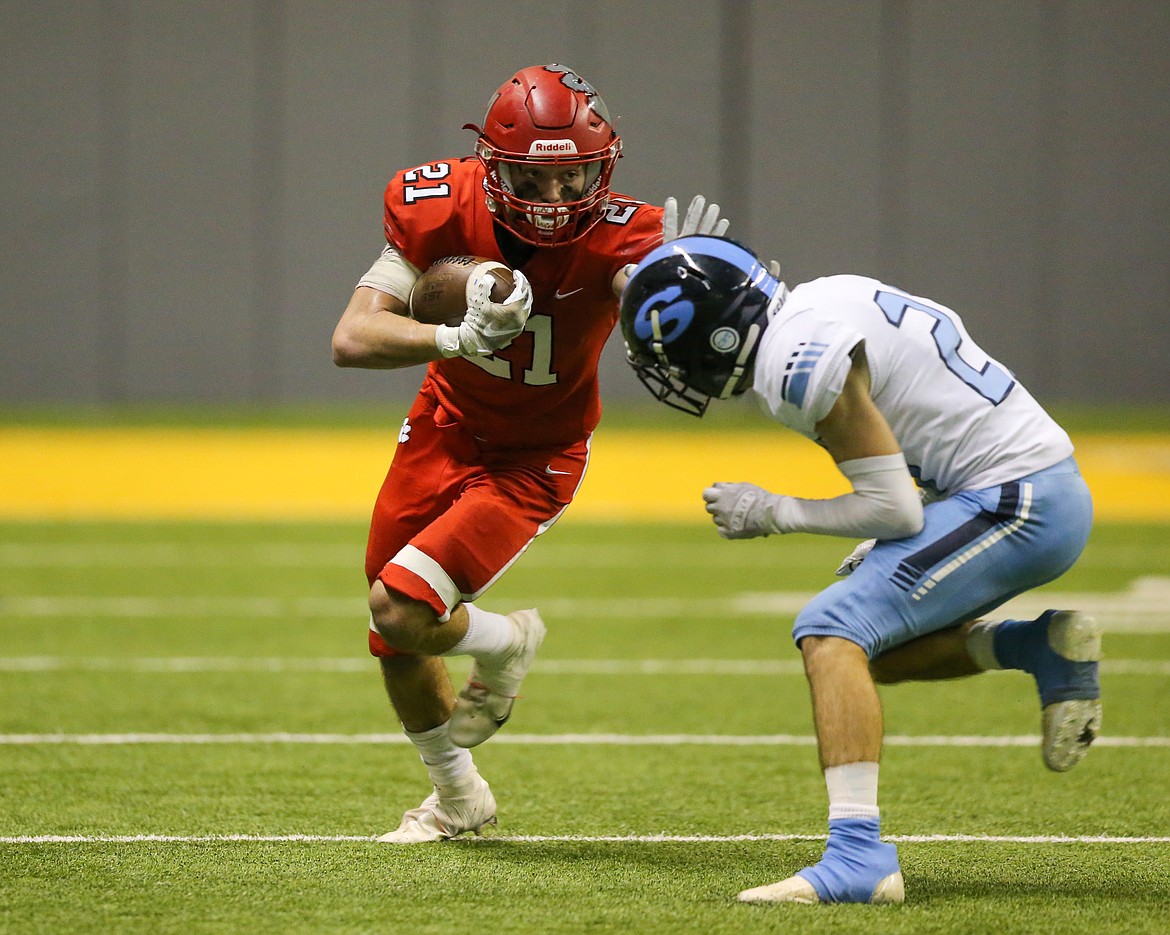 Senior Luke McCorkle catches a pass and looks to make a play during Friday's 4A state championship.
(Photo courtesy of JASON DUCHOW PHOTOGRAPHY)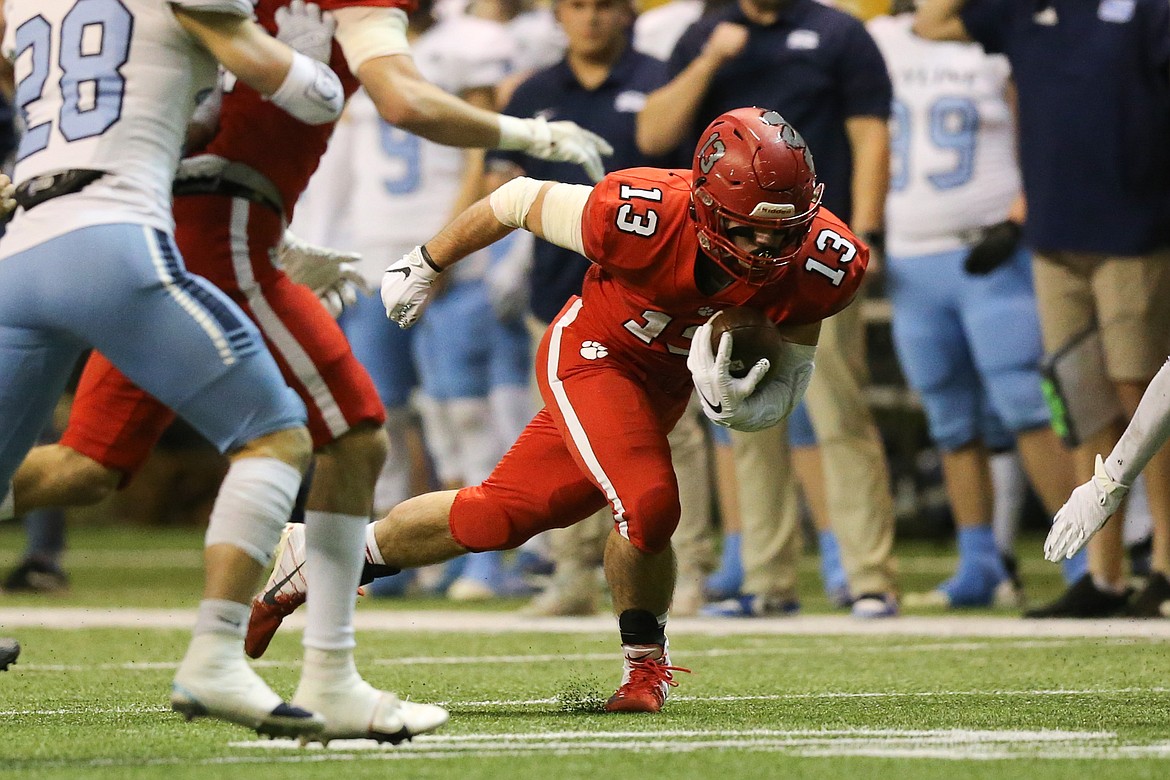 Senior Gerrit Cox carries the ball on Friday at the Kibbie Dome.
(Photo courtesy of JASON DUCHOW PHOTOGRAPHY)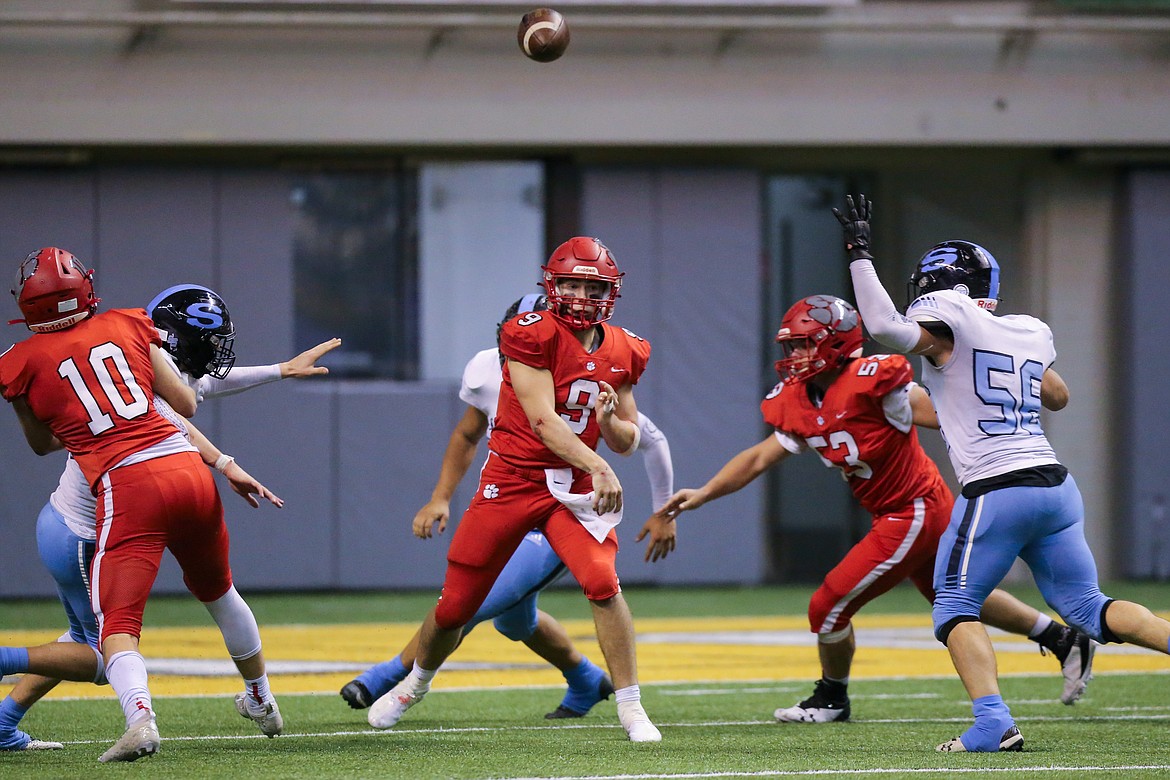 Quarterback Parker Pettit throws a pass during Friday's state championship.
(Photo courtesy of JASON DUCHOW PHOTOGRAPHY)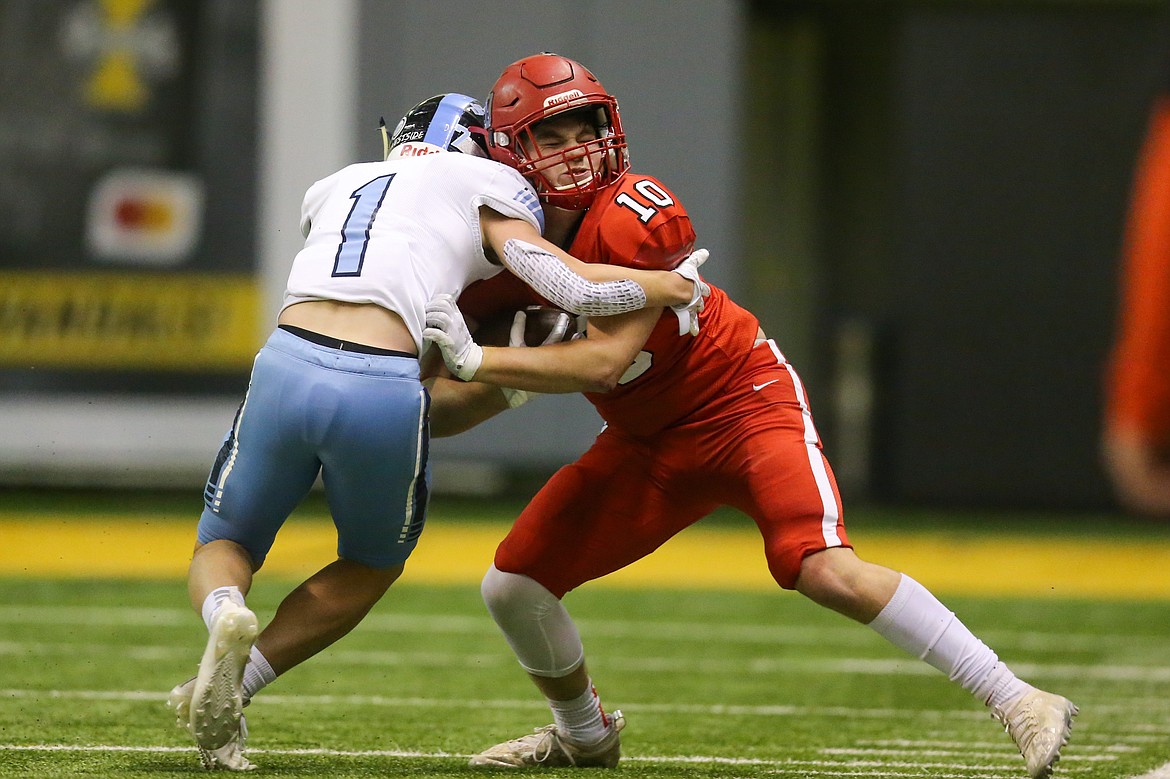 Junior Arie VanDenBerg tries to fight through a tackle from a Skyline defender during Friday's 4A state championship game at the Kibbie Dome.
(Photo courtesy of JASON DUCHOW PHOTOGRAPHY)
Previous
Next
MOSCOW — This was the Bulldogs' year.
Given everything Sandpoint went through to get to this point, and the blood, sweat and tears they poured in during the offseason, it felt like the 2021 football team was destined to bring home the program's second state title.
But it wasn't meant to be.
Skyline (9-4) took down Sandpoint 20-6 on Friday night in the 4A state championship at the Kibbie Dome to capture the team's fourth state title in the last six years and eighth overall.
The Bulldogs were devastated after the heartbreaking defeat, but head coach Ryan Knowles said he couldn't be prouder of what this group accomplished this season, especially Sandpoint's 12 seniors. This is Sandpoint's fourth runner-up finish in the last 18 years.
"It's outstanding," he said about the postseason run. "I just told the seniors I'll never forget them; they've been a great group of kids. We won five playoff games over the last two years. All we're going to think about is the ones we didn't win, but it's absolutely remarkable the work that they put in and I appreciate their trailblazing. It's all about the players, we got some guys out here."
The Grizzlies handed the Bulldogs a crushing defeat for the second straight season. Last year in the state semifinals, Skyline outlasted SHS 20-0 in a blizzard. Sandpoint was awarded a third-place state trophy after that loss, but Knowles didn't want it. He passed the trophy off to Athletic Director Kris Knowles. He did the same thing Friday when he was given the runner-up trophy because the Bulldogs weren't satisfied.
Ever since that long bus ride back from Rexburg last fall, all this team has been focused is capturing all the glory, and to come up just one game short makes it that much more painful.
"As a competitor you want to win every game," Knowles said. "It's hard to get to this level and you can never take it for granted, so to be here and not get it done hurts because it's going to be hard to get back — and we will. We'll put the pieces back together and pick it up."
Sandpoint is now 0-4 in state title games since claiming its only championship in 1997. They have also lost their last three championship games at the Kibbie Dome.
Three turnovers in the first half and a slew of uncharacteristic penalties were ultimately the Bulldogs' downfall in Friday's title game.
"I felt like our guys were a little bit caught in the big-game moment, so we just needed some breaks early and we didn't get one," Knowles said.
Their most costly turnover came less than a minute into the second quarter when senior running back Gerrit Cox fumbled on the Skyline 46. The Grizzlies picked up the ball on a bounce and returned it all the way to the Sandpoint 6. It was Cox's first fumble of the season and Skyline cashed it in for 7 points to go up 14-0 early in the second quarter.
On Skyline's first possession of the game, the Grizzlies decided to dig into their bag of tricks on fourth-and-2 from their own 39. Skyline playmaker Kenyon Sadiq tried to run past the Sandpoint defense on the right side on a fake punt, but the Bulldogs stuffed him.
The turnover on downs set the Sandpoint offense up with great field possession for its first drive of the night. However, three plays later on a third-and-1 from the Skyline 31, the Bulldogs fumbled, giving the ball right back to the Grizzlies.
Nearly six minutes later, Skyline capitalized on the mistake when Lachlan Haacke connected with Sadiq on a crossing route for a 19-yard touchdown to give the Grizzlies a 7-0 lead with 3:09 left in the first quarter. That drive by the Grizzlies was kept alive by a pair of Sandpoint pass interference penalties.
Sandpoint finally got on the board with 6:41 left in the second quarter when Cox broke free on a fourth-and-1 for a 32-yard touchdown run. The Bulldogs missed the extra point and trailed 14-6.
The real back-breaker for Sandpoint occurred just over a minute before halftime. On a fourth-and-16 from the Sandpoint 27, Haacke threw up a prayer to Sadiq just outside the end zone, and the 6-foot-4, 205-pound wideout came down with it. That score allowed Skyline to take a 20-6 lead into the locker room.
"Down there we had a chance to make a play, and he made a play," Knowles said.
Sadiq finished with seven receptions for 88 yards and two touchdowns.
The second half was a defensive slugfest that saw both teams struggle to move the ball. Sandpoint got on Skyline's half of the field three times in the second half, and came up empty-handed each time.
The Grizzlies defensive line harassed Sandpoint quarterback Parker Pettit and prevented him from making game-changing plays with his legs, sacking him six times in the second half.
"We just had a hard time protecting the quarterback," Knowles said. "They loaded the box and played man coverage and we really couldn't complete a lot of routes. Just tough sledding all night."
Skyline had 251 total yards and the Bulldogs finished with 230. Knowles thought his defense settled down in the second half and gave the team a chance to knock off the defending state champs.
"At a level like this you gotta be hittin on all cylinders," he said, "and I give them credit they did a good job and got it done."
While battling an injury to one of his fingers, Pettit was 9 of 21 for 114 yards and two interceptions. Cox rushed for 98 yards and a score and sophomore wide receiver Max Frank caught four passes for 33 yards while playing with a broken leg.
Knowles said his team showed a tremendous amount of fight and grit against the Grizzlies and never gave up.
The Bulldogs may have come up short, but they will have another chance to end their state-title drought next year with the amount of talent returning. Knowles recognizes the future is bright and can't wait to get back on the field and in the weight room.
"We'll get back to work here soon," he said. "We'll just have some more bulletin board material to motivate the guys."
Skyline 7 13 0 0 — 0
Sandpoint 0 6 0 0 — 0
First quarter
Sky. — Kenyon Sadiq 19-yard pass from Lachlan Haacke (Jacob Demott kick), 3:09.
Second quarter
Sky. — Caden Taggart 6-yard run (Demott kick), 11:00.
Spt. — Gerrit Cox 32-yard run (Lasse Kuhn kick no good), 6:41.
Sky. — Sadiq 27-yard pass from Haacke (Demott kick no good), 1:03.
INDIVIDUAL STATISTICS
RUSHING — Sky. — Silverio 16-93, Taggart 6-14, Nottestad 1-9, Haacke 4-20, Galbreaith 1-8. Spt. — Cox 14-98, Pettit 17-18.
PASSING — Sky. — Haacke 9-17-0-107. Spt. — Pettit 9-21-2-114.
RECEIVING — Sky. — Sadiq 7-88, Taft 1-17, Silverio 1-2. Spt. — Frank 4-33, VanDenBerg 3-27, Cox 1-5, McCorkle 1-13, Kuhn 1-36.
Recent Headlines
---