Group protests courthouse mask policy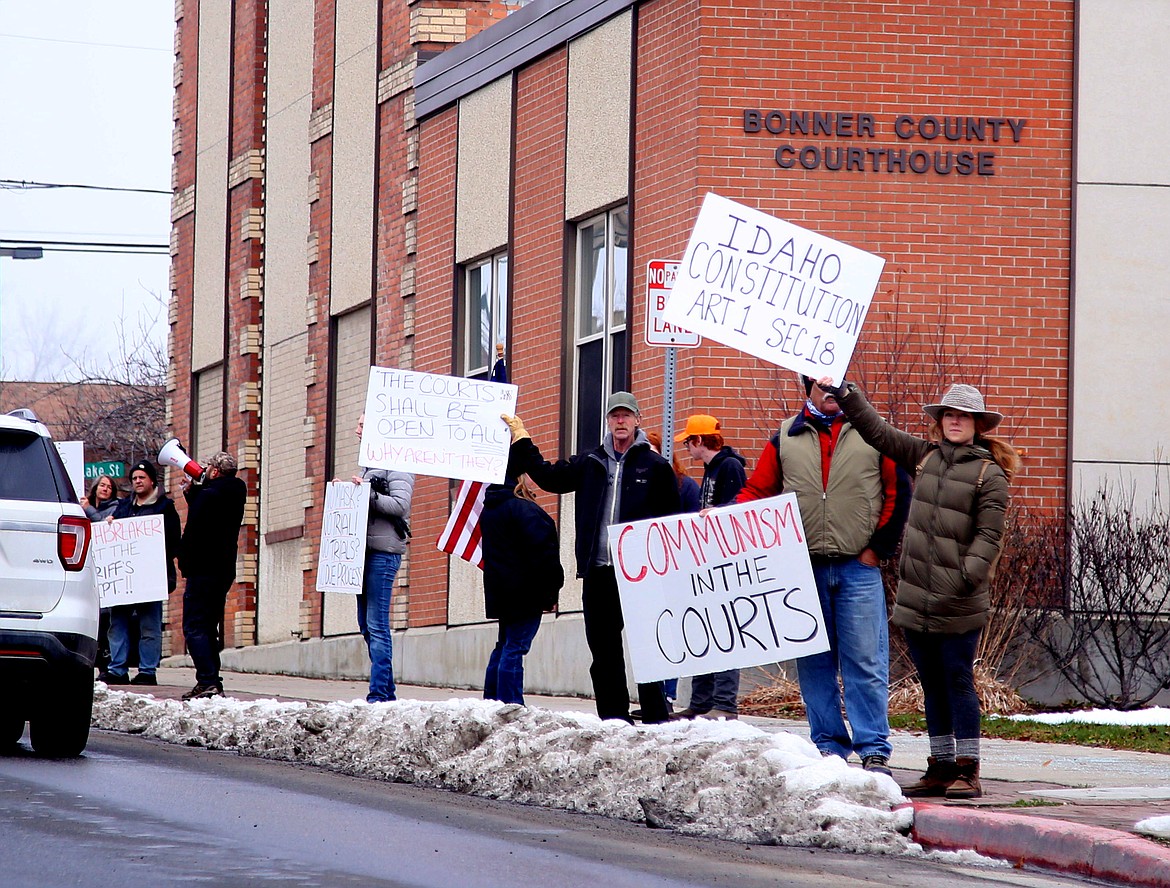 A group of 10-20 demonstrators gathered in front of the Bonner County Courthouse on Monday afternoon to oppose the state's masking guidelines citing that it inhibits their ability to civically participate.
(Photo by - Annisa Keith)
by
ANNISA KEITH
Staff Writer
|
November 23, 2021 1:00 AM
▶️ Listen to this article now.
Demonstrators stood in front of the Bonner County Courthouse on Monday to protest the courthouse's mask policy.
The policy, "Stay Healthy Guidelines" was enacted on May 11 mandating that all people within state buildings must wear a mask.
Governor Brad Little signed an executive order on May 28 restoring local government's ability to create their own mandates, or lack thereof.
Bonner County residents in conjunction with People's Rights group disagree with the policy. A demonstration of approximately 10-20 people met in front of the Bonner County Courthouse Monday afternoon to oppose the policy. They demand it's against their rights to wear a mask, notably in the courthouse.
Some participants said they were concerned about their restricted ability to civically participate in court proceedings.
According to the demonstrators, this is a restriction of their rights under the U.S. and Idaho constitutions.
"I am done wearing masks," said Paige Quan, "I believe masks have turned into a political statement and I think forcing them onto peoples faces is wrong. I am done wearing a symbol of fear. I don't want to follow the state's tyrannical processes, and I will not be wearing a mask."
Although not all demonstrators were with the Peoples Right's group, they all support the same cause, that state mandates violate their constitutional rights.
They brought emphasis to the clause in the Idaho constitution guaranteeing that justice be freely and speedily administered. The demonstrators brought hand-made signs to the courthouse because they believe their right is being denied because of the requirement to wear a mask in government buildings.
Two demonstrators were apprehended for trespassing. One demonstrator was released after approximately a half hour, the other was arrested on an outstanding warrant.
"They just let me go because they're trying to keep it on the down low," said Casey Whalen after he was released from the court house.
Recent Headlines
---