Forest Service seeks public input on fire salvage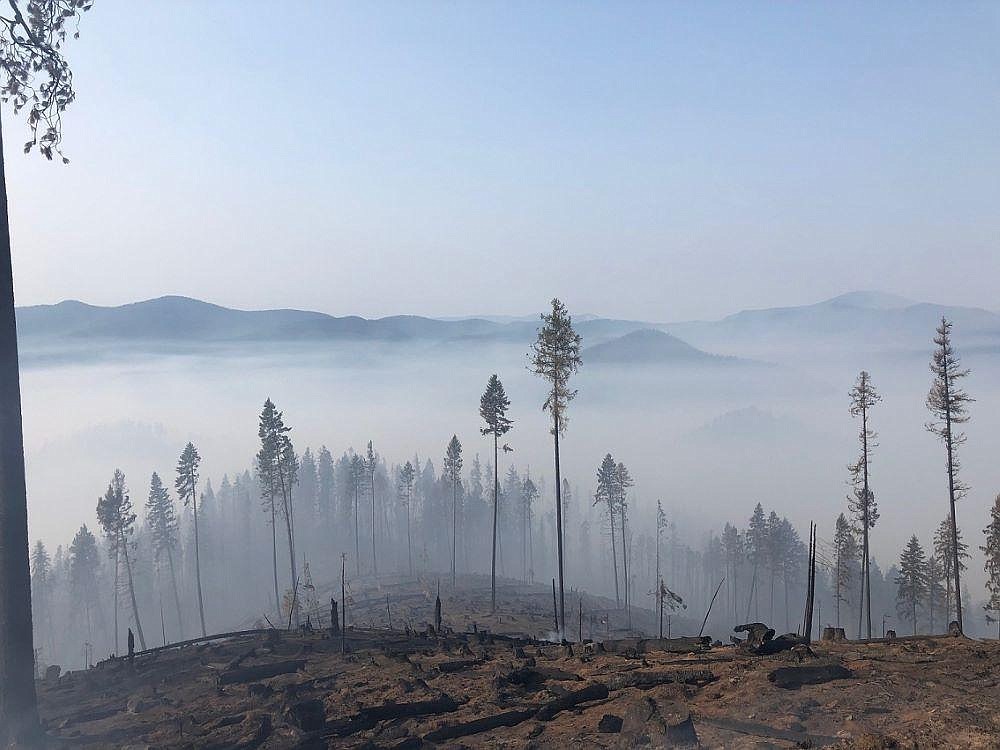 A photo of the Kings Ridge area on the Character Complex taken in mid-August. The Coeur d'Alene River Ranger District is seeking comments on a proposed salvage operation that would result in large openings in the forest canopy.
(Photo courtesy U.S. FOREST SERVICE)
|
November 26, 2021 1:00 AM
The Coeur d'Alene River Ranger District is seeking comments on the proposed Character Fire Salvage and Restoration Project.
The project area is located on National Forest System lands within the perimeter of the 2021 Character Complex Fire in the Eagle Creek drainage, about three miles north of Kellogg.
In early July 2021, lightning ignited multiple fires across the district, which were prioritized for suppression efforts. Most of the fires were contained or controlled although the Prichard and Deceitful fires grew to a size that required additional resources and were eventually managed as the Character Complex Fire, ultimately affecting nearly 12,400 acres. Fire suppression efforts continued well into September before a storm system dropped over an inch of rain in the area, allowing firefighters to get the upper hand.
The district is proposing to salvage timber on approximately 3,200 acres within the burned area, in stands where we can capitalize on the changed condition to improve forest health conditions by planting more resilient species such as white pine and larch. It is estimated some of the dead and dying trees also have enough merchantable characteristics to provide an economically viable timber sale. This would capture the commodity value necessary to accomplish project objectives while contributing to employment and income in local communities and protecting other resources in the area to the extent possible. Tree seedlings would be planted in the salvage units after completion of harvest and site preparation activities.
Salvage logging would result in large openings in the forest canopy. Of the proposed 34 salvage units, it is anticipated that 16 units would result in openings larger than 40 acres in size. Forest Service policy limits the size of harvest openings to 40 acres or less in size; however, exceptions are allowable with regional forester approval. A request will be to exceed the 40-acre limit in those 16 units.
A large-scale map, supporting documentation and information on how to comment on the project are available on the project website at www.fs.usda.gov/project/?project=61090. If you have questions about the Character Fire Salvage and Restoration Project, please contact Project Leader Kerry Arneson at 208-664-2318 or kerry.arneson@usda.gov.
Recent Headlines
---