Post Falls JV downs Lady Cats in four sets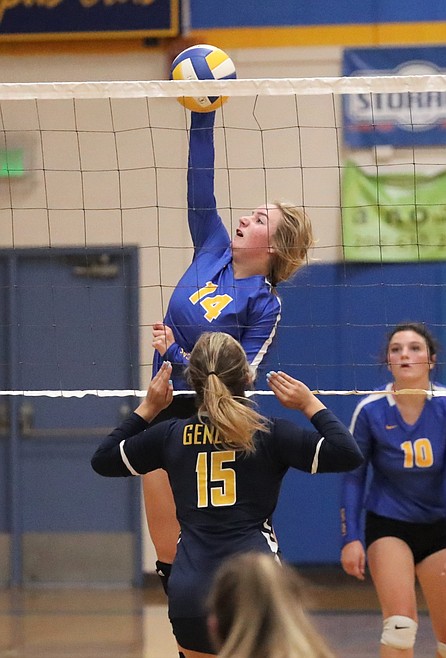 Senior Katelyn Matteson rises up for a kill during a home match against Genesis Prep on Sept. 16.
(File photo by DYLAN GREENE)
|
October 9, 2021 6:19 PM
POST FALLS — Clark Fork volleyball fell to the Post Falls junior varsity team on Saturday, 25-17, 25-16, 19-25, 25-16.
"Our serve-receive passing just really killed us in that match," head coach Michelle Valliere said. "We weren't passing as well as we normally do."
Paige Valliere tallied 17 assists, 12 digs and two aces, Katelyn Matteson had a team-high seven kills, Caiya Yanik finished with 12 digs and two blocks, and Taylor Staley and Eloise Shelton each served two aces.
Valliere said the Lady Cats were just out of sync against the Trojans.
"We would get behind and instead of attacking balls, we'd play it safe," she said. "We were just a little out of system and just not quite ourselves."
Clark Fork will play three matches this coming week, including two league ones, to wrap up the regular season.
The Lady Cats (9-6) head to North Star League foe Mullan at 6 p.m. Tuesday. With a win, Clark Fork would lock up the No. 1 seed to the 1A Division II District 1 tournament.
---