SHS football rolls over Lakeland to earn second straight regional title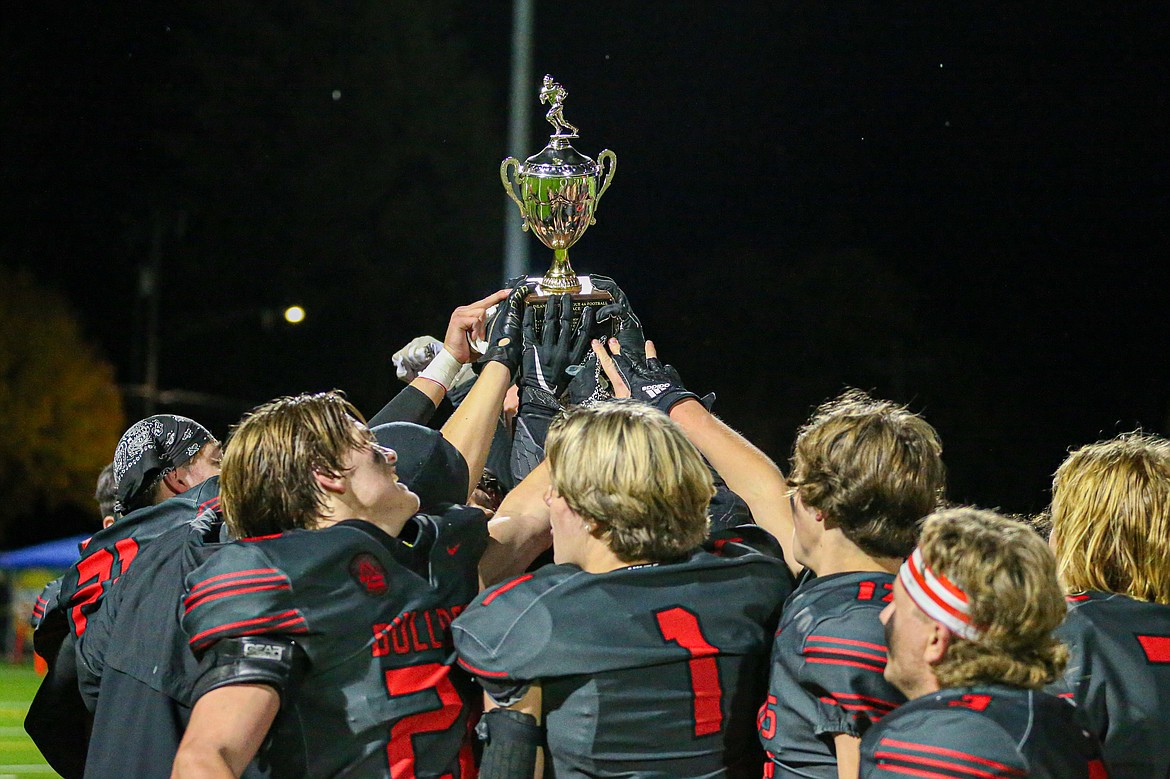 The Bulldogs raise the 4A Region 1 title after defeating Lakeland 37-10 on Friday night at War Memorial Field.
(Photo courtesy of JASON DUCHOW PHOTOGRAPHY)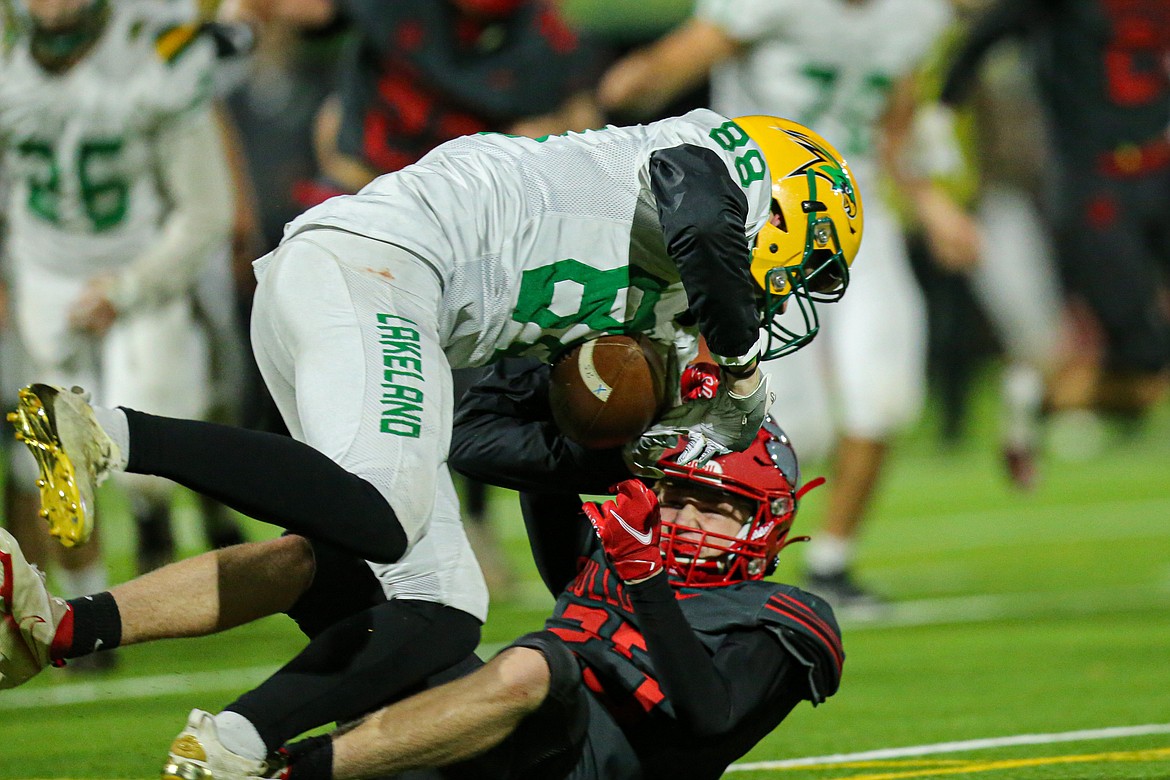 Koby Barlow breaks up a pass to Lakeland's Alden Waddington during Friday's game at War Memorial Field.
(Photo courtesy of JASON DUCHOW PHOTOGRAPHY)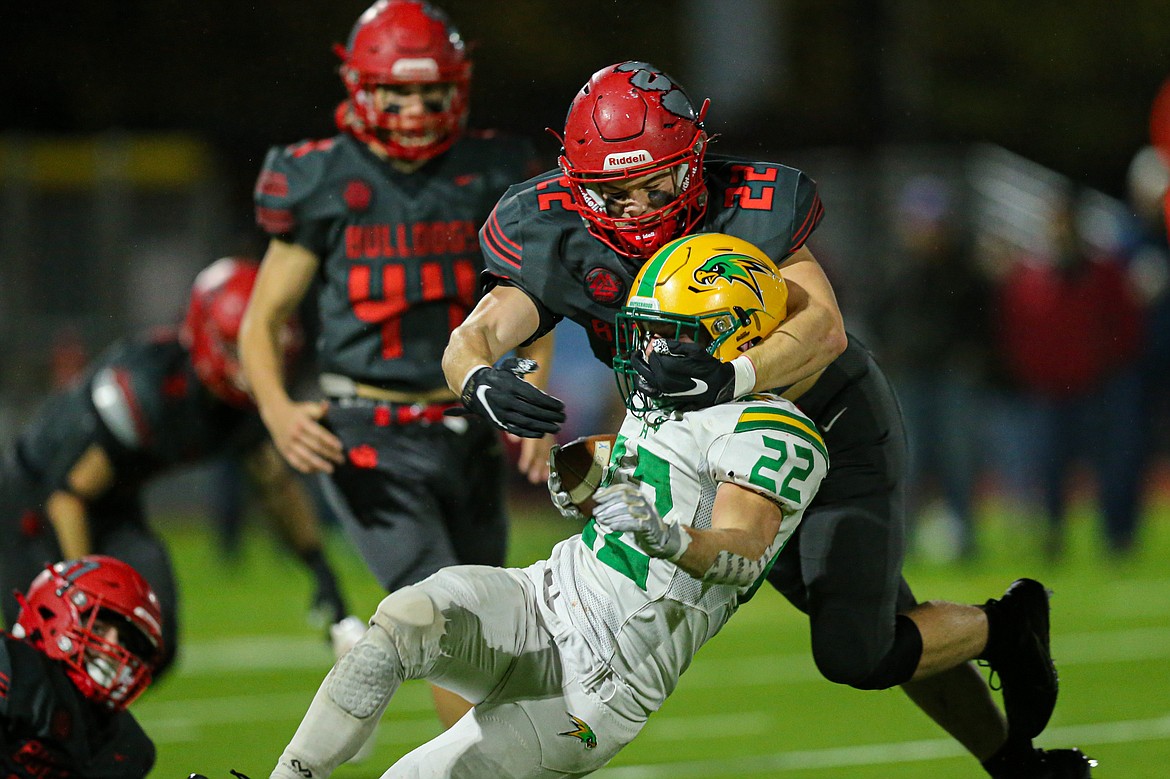 Wes Benefield tackles Lakeland's John Cornish on Friday.
(Photo courtesy of JASON DUCHOW PHOTOGRAPHY)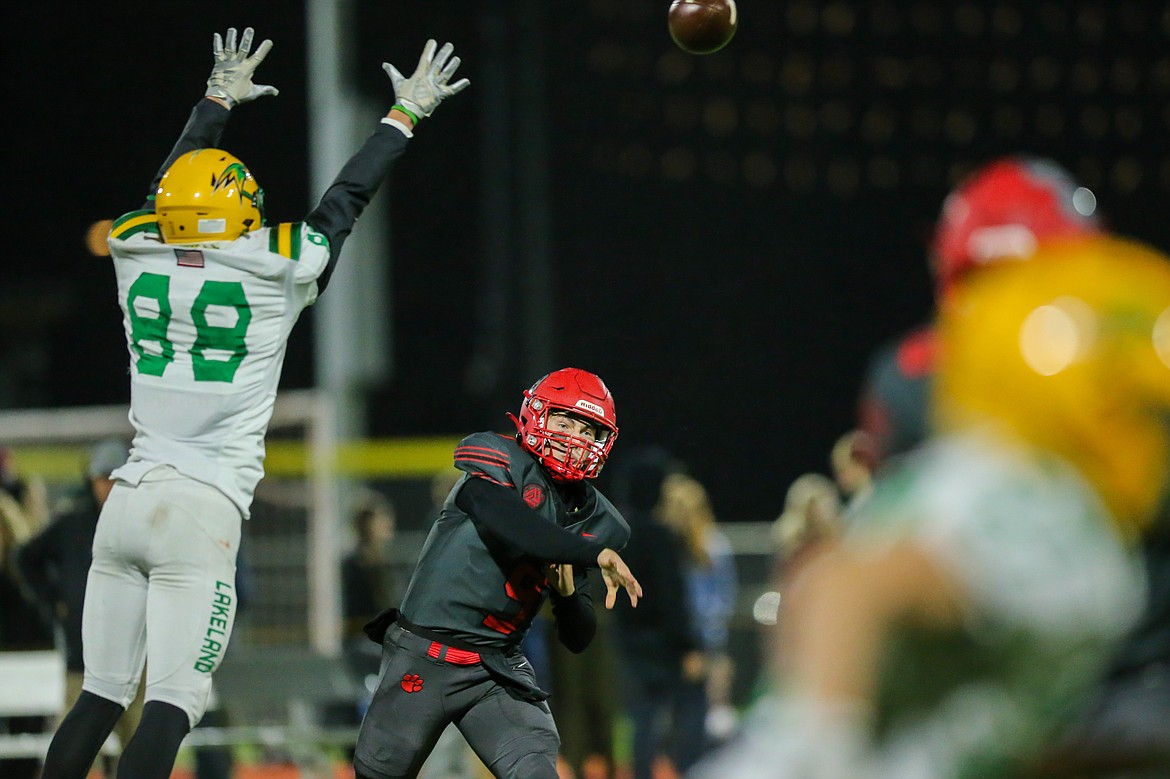 Junior Parker Pettit throws a pass on Friday.
(Photo courtesy of JASON DUCHOW PHOTOGRAPHY)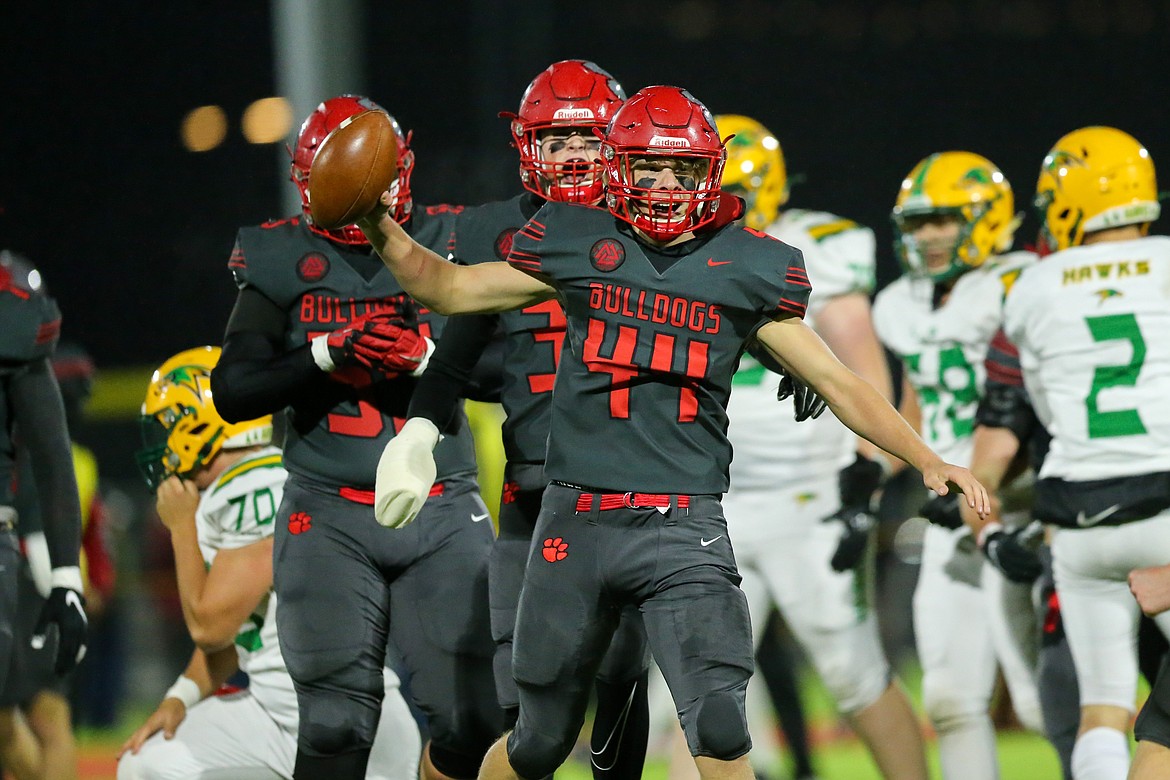 Junior Joseph Hughes recovers a fumble in the second quarter of Friday's game against Lakeland at War Memorial Field.
(Photo courtesy of JASON DUCHOW PHOTOGRAPHY)
Previous
Next
by
DYLAN GREENE
Sports Editor
|
October 23, 2021 12:40 AM
SANDPOINT — The Bulldogs went Hawk hunting on Friday night, dominating Lakeland 37-10 to secure their second straight 4A Inland Empire League title.
With the win, Sandpoint likely earned the right to host at least two games in the 4A state playoffs that start next week.
"I'm happy these boys can call themselves champs," head coach Ryan Knowles said.
The Bulldogs jumped out to a 17-0 lead and never looked back.
"I thought we did what we are capable of," Knowles said. "We had a lot of unknowns about that Lakeland squad and a lot of respect for what they've done this year and I have more respect for our squad now for taking care of business."
Quarterback Parker Pettit stole the show with his legs. The junior ran for 172 yards and two touchdowns on 18 carries. Pettit was making plays all night and tore apart the Lakeland defense. The Hawks just couldn't find a way to slow him down.
Knowles said he enjoyed watching his dual-threat signal caller go to work. When Pettit puts his foot in the ground he's hard to stop, Knowles added.
"There were a lot of times where I just found myself saying, 'That's a dude making dude plays,'" he said. "As you look at it as a coach, you want a quarterback that wants to throw, but can run and he has the nice balance of it. He's not just looking to run every play."
Lakeland head coach Tim Kiefer said coming into the game they were focusing most of their attention on containing Sandpoint running back Gerrit Cox, but Pettit turned into a problem they just couldn't solve.
"I think from our perspective we were focusing on Gerrit Cox," he said, "and I think as a coaching staff we knew that Parker Pettit was a good player, but I don't think we totally understood how good he was until we saw him. I know we saw him last year, but it was in 6 inches of snow ... We had no answer for him."
The Bulldogs honored their 12 seniors prior to Friday's game, and one of them made an immediate impact to set the tone for the winner-take-all battle. On the opening kickoff, senior Luke McCorkle had an 80-yard return to set the Bulldogs up at the Lakeland 17 on their first offensive possession. Five plays later, Pettit scampered in for a 7-yard touchdown to give SHS a 7-0 lead 2:41 into the game.
After a Lakeland punt, Sandpoint went on a long drive that chewed up over seven minutes off the clock and ended with a 29-yard field goal from junior Jacob Gove to put SHS up 10-0.
On the next Hawks possession, Lakeland got to the SHS 42 and was faced with a fourth down and 2. Lakeland quarterback Devon Suko was unable to control the snap on the play and junior linebacker Joseph Hughes scooped up the fumble.
Four plays later on a fourth down and inches, Pettit fought through the Lakeland defense for a 43-yard touchdown run. However, the Hawks came right back with an 80-yard touchdown run from John Cornish on the first play of their next drive to make it 17-7 in favor of the Bulldogs.
Cox soared into the end zone from 14 yards out with 1:08 left in the half and Lakeland hit a 32-yard field goal as time expired in the second quarter to allow SHS to take a 24-10 lead into the locker room.
Cox punched in a pair of touchdowns in the third quarter and the Bulldogs rolled to their fourth straight victory.
The Sandpoint defense silenced the Hawks in the second half, pitching a shutout. Junior defensive back Jack Zimmerman picked off a pass in the fourth quarter and the Bulldogs forced a pair of Lakeland punts and turnover on downs.
"When you play with a lead, defense is a lot easier," Knowles said.
The Bulldogs held the Hawks to 83 yards through the air.
"I was really proud of our defensive backs," Knowles said. "They had some very good skill players and we challenged our guys a lot to play man and put them on islands."
Junior defensive back Koby Barlow shadowed Lakeland playmaker Alden Waddington most of the night and held him to seven catches for 63 yards.
"I saw Koby make a lot of plays," Knowles said. "That was a matchup that I think they were hoping and expecting to win."
The Sandpoint defense made key plays on crucial downs and McCorkle, who plays corner, said everyone was on the same page.
"Communication was key," he said. "We just kept communicating well, kept calling out plays, kept calling out the formations and it clicked for everyone."
Kiefer said his team just didn't execute well enough against a talented Sandpoint defense.
"They're disciplined, they're aggressive and they fly to the ball well," he said. "I think they just played good assignment football."
Cox finished with 65 yards and three touchdowns on 17 carries. Pettit was 10 of 17 through the air for 103 yards and Cody Newhart caught three passes for 50 yards.
Now the Bulldogs (5-2) wait to learn who they will face in the first round of the 4A state playoffs next Friday at War Memorial Field. Sandpoint is currently ranked second in the state in the MaxPreps rankings. If they keep that place, they would host three games in the state playoffs and Knowles likes the sound of that.
"It's a survive and advance world that we're in now," he said. "I think we put the resume down to say that we deserve a No. 1 seed."
McCorkle said it felt amazing to raise the league title over his head, but he wants something bigger.
"I can't wait to hold that state trophy," he said, "that's going to be even better."
Lakeland 0 10 0 0 — 10
Sandpoint 7 17 13 0 — 37
First quarter
SHS — Parker Pettit 7-yard run (Jacob Gove kick), 9:19.
Second quarter
SHS — Gove 29-yard field goal, 11:09.
SHS — Pettit 43-yard run (Gove kick), 6:25.
L — John Cornish 80-yard run (Owen Forsman kick), 6:07.
SHS — Gerrit Cox 14-yard run (Gove kick), 1:08.
L — Forsman 32-yard field goal, 0:00.
Third quarter
SHS — Cox 1-yard run (Gove kick), 6:51.
SHS — Cox 2-yard run (kick blocked), 3:19.
INDIVIDUAL STATISTICS
RUSHING — L, Cornish 12-110, Suko 5-27, Calder 2-7, Burcham 2-22, Loutzenhiser 1-0. SHS, Cox 17-65, Pettit 18-172, Wimmer 1-2, Frank 1-2, Brewster 5-14, Sherrill 3-19, Garcia 1-17.
PASSING — L, Suko 11-25-1-83, Loutzenhiser 0-2-0-0. SHS, Pettit 10-17-0-103.
RECEIVING — L, Waddington 7-63, Thomas 2-12, Calder 1(-4), Cornish 1-12. SHS, VanDenBerg 3-26, Newhart 3-50, Frank 4-27.
---