The power of community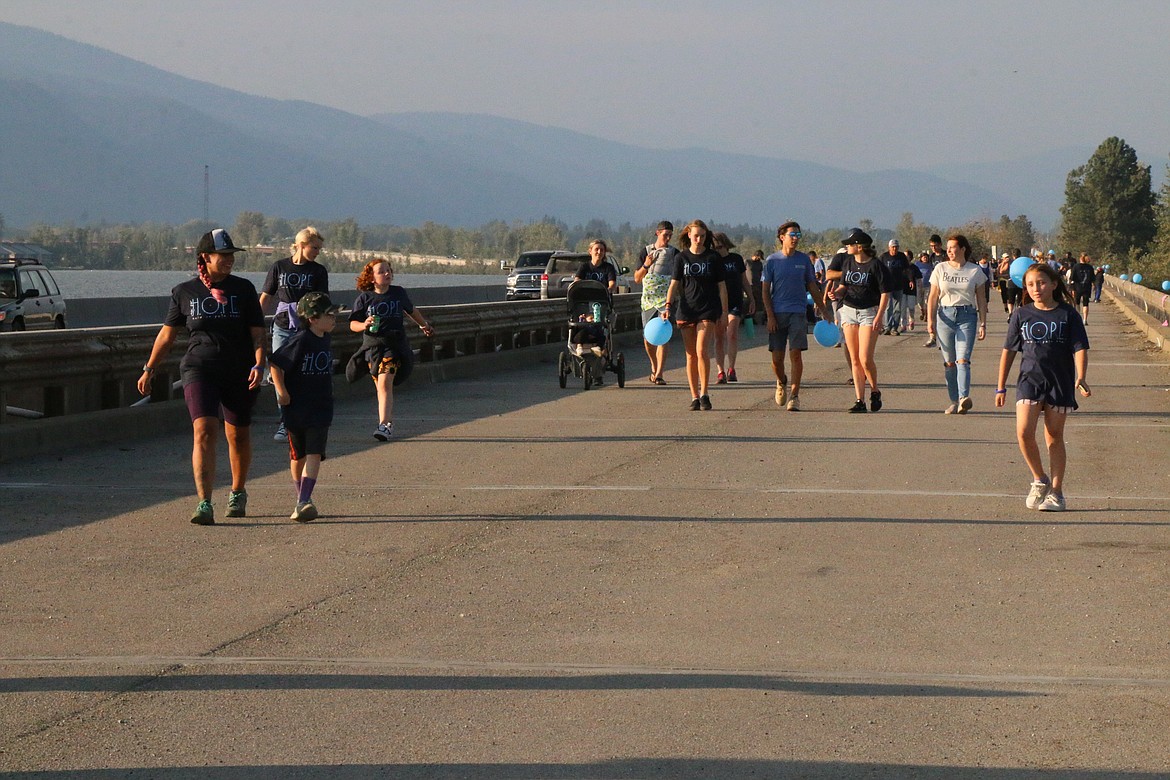 Participants in the annual Walk for HOPE cross the Long Bridge on Sunday to help raise awareness about suicide and suicide awareness.
(Photo by CAROLINE LOBSINGER)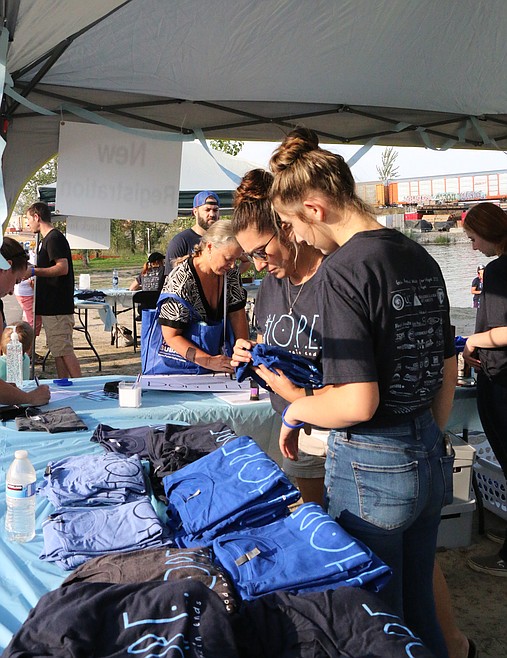 Jennifer Wyman, center, and a young volunteer help at the registration table at Sunday's Walk for HOPE.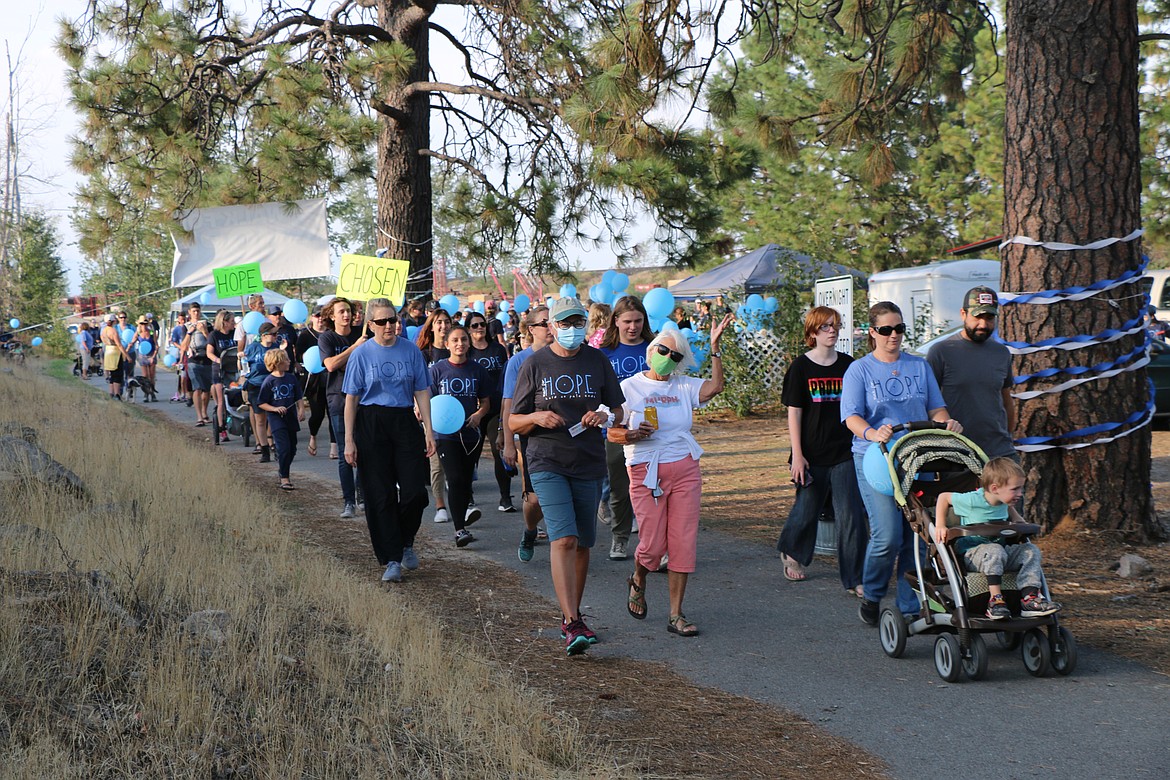 Participants take off from Dog Beach at the start of Sunday's Walk for HOPE walk. The annual event works to raise awareness of suicide and suicide prevention.
Brandon and Dana Bowen wave to passing motorists as they walk across the Long Bridge during the Walk for HOPE on Sunday.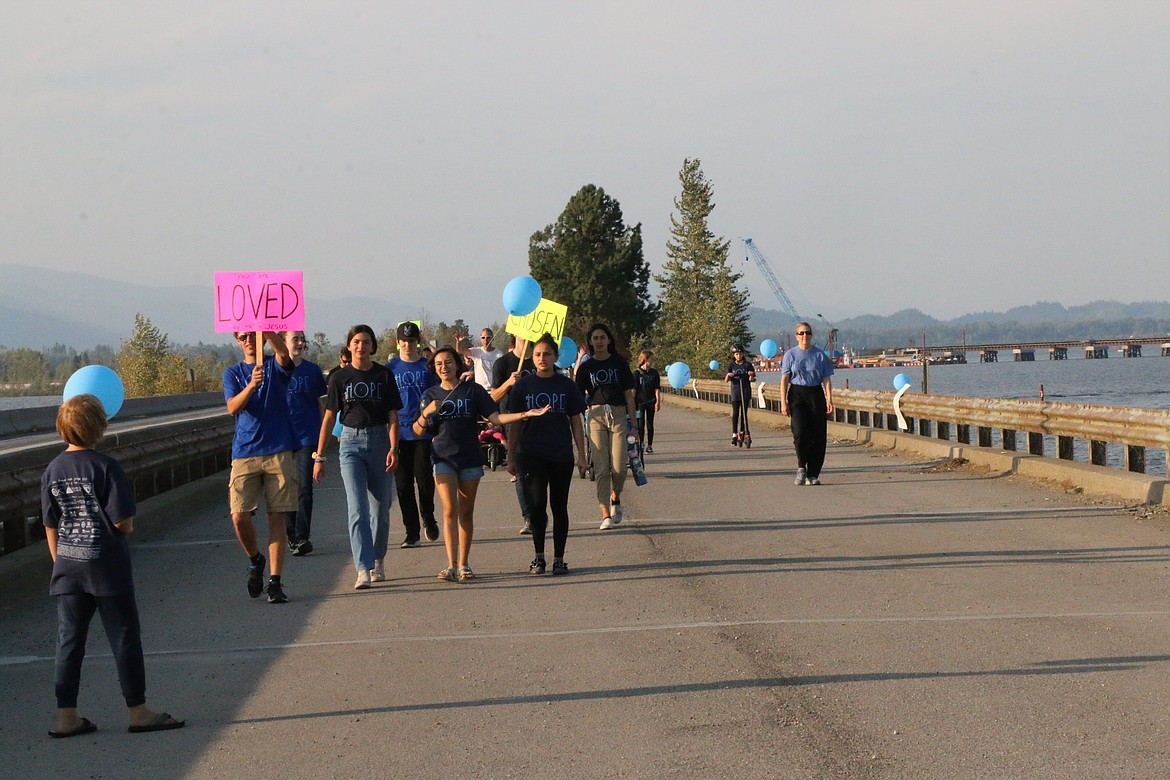 Participants take part in the 2021 Walk for HOPE on Sunday.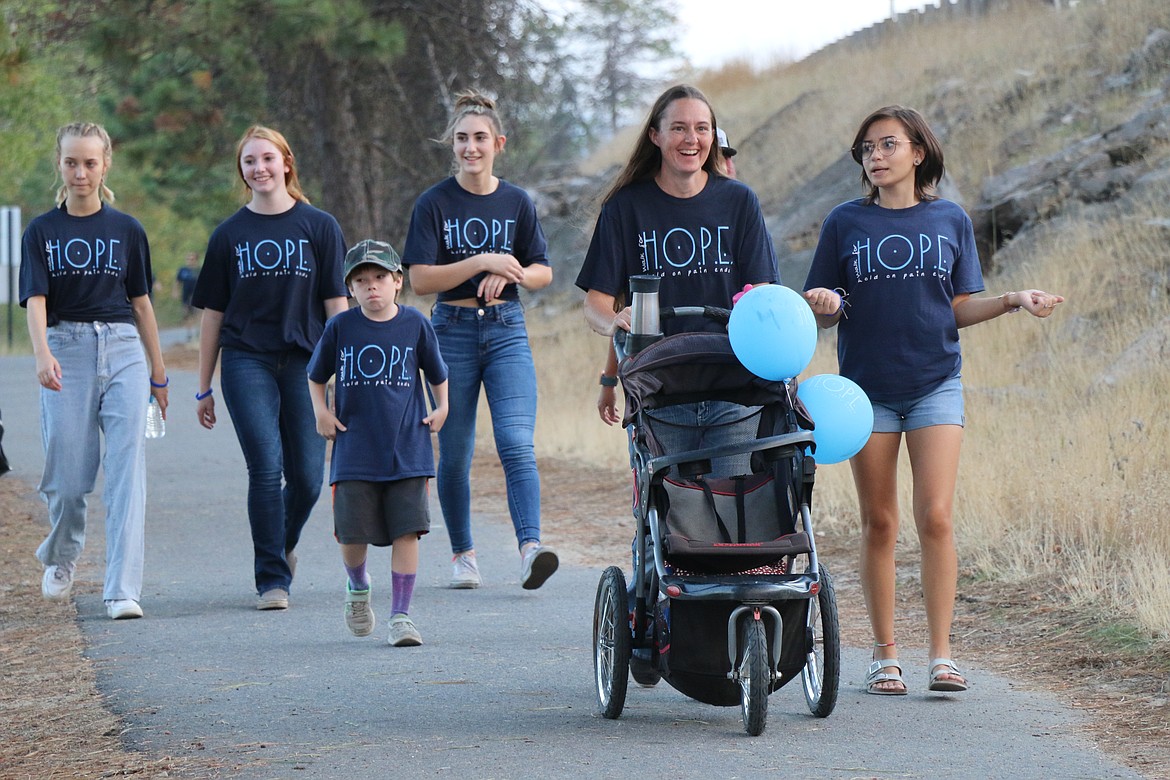 Participants take part in the 2021 Walk for HOPE on Sunday.
Previous
Next
▶️ Listen to this article now.
Hold on. Pain ends. The message is as simple — and as powerful as that. And support for that message brought hundreds of community residents out in force Sunday evening for the annual Walk for HOPE. Held the Sunday of Labor Day weekend, the walk is sponsored by Hold On Pain Ends, a non-profit that works to bring speakers to connect and guide youth and raise awareness about suicide.
"I think it's just important to raise awareness for this kind of stuff," said Connor Hines. "I can look at my high school," said Connor Hines. "And I hear a lot about teen suicides. And it's just, it's just sad. You know, it can really bring you to tears. And I think stuff like this … brings awareness for the people who may have kids of their own who are struggling."
Hines said spreading love is part of his mission as a Christian and taking part in the Walk for HOPE is a perfect expression of that faith.
"It just feel like that love, it definitely needs to be shared more, especially in this time when we have all this COVID stuff happening, all these political problems," Hines said. "You're so wrapped up in the world. It's good to get together in support."
Savannah Webb said she knows first-hand what it's like to struggle, and it was developing a relationship with Christ that ultimately helped pull her out of her own darkness.
"I really feel like this is just really important way of showing everyone else that's not here right now, how serious it is in this community and the world how real suicide is, especially among the teenagers," Webb said. "I myself used to be very depressed and struggling a lot and I've thought about it."
While friends and family knew she was struggling a bit, she was able to hide a lot of it. Webb said it finally was her relationship with God that helped her make that leap out of her own darkness.
"I think a lot of people do and that's the hard thing," she added. "I want everyone to know that if you're struggling, just tell somebody, let at least one person know and then go from there and they can really help you out."
While for some it was their faith that led them to take part in the walk, for others like Casey Reid, came simply to help raise awareness about the issue.
"It's important to walk for suicide awareness and to give the ability for people to understand really what it is, to come together as a community to really help each other and support one another."
If she could share any message with those struggling, Reid said it would be to let them know that things will get better.
"I would say it gets better, even though it might not seem in the moment," she added. "It definitely does. And to have hope in something, that's why we're walking and to have hope in something really encourages one another and to bring together, to have friendships and go to your friends. I think that's something that's really powerful."
Longtime sponsors Dana and Brandon Bowen, who own Four Seasons Exteriors, made it a point this year to be in town for the walk. They have two children, including one about to enter high school and feel it is important to let the area's youth know they have the community's support and love.
"As a parent, we would never want to experience what Jennifer and others have gone through," said Dana Bowen, who also is the assistant manager of Panhandle Escrow Company. "So we want to make sure that we support anyone who has experienced that and kind of let them know that they have a community around them. And then anybody who might be in a bad place, let them know that they have community and friends and that Sandpoint's like just one big family."
The pair said being a part of events like Walk for HOPE is important and part of what make the community the special place that it is.
"Because that's what keeps us a town, a community, as opposed to a city that's disconnected," Dana Bowen said.
It is also critical to let youth know that their teen years don't last forever and that support is there to help them get through the tough times, she said.
"Oftentimes, especially in the teenage world, I think they think that their teen years and high school is their whole life and you never want to invalidate their feelings," she said. "If they're having a hard time, those feelings are extremely important and extremely real to them. But also to let them know that [that time] is just a snippet of their lives. And if they're feeling hard now, you know, there's support for them to be able to get beyond that into their next chapter."
Some, like retired school counselor Lynn Bridges, have taken part in the walk every year.
"Working as a school counselor, you saw the need," Bridges said.
While she is retired now, Bridges said there are many people who struggle and it is important for the community to show support in whatever way they can.
"Part of it, I think, feeling alone and like they're the only one and not understanding that they are certainly not alone in their struggles but it's hard to see that when you're in pain."
Bridges said events like Walk for HOPE are unifying for the community, and help show the community cares.
"Suicide can reach any family and impact any family and you never know so to have an awareness of what might be out there, of what might be going on within your own family and to not negate it, is probably one of the most important things."
Hold on pain ends is a message that Jennifer Wyman and family have been spreading since they lost they lost their daughter, Madi, to suicide at the age of 14. To honor Madi, the family launched the nonprofit and its accompanying walk as a way to kick off Suicide Awareness Month and to raise awareness about suicide and suicide prevention.
The goal, Wyman has said, is to spread a message of awareness and hope, that no matter how bad things may seem, there is always tomorrow, there is always someone who cares.
"One of the most powerful things is our community and supporting each other," Wyman told the several hundred people gathered for Sunday's walk. "So many of us have been touched one way or another by suicide. We just need to remind each other that we're here for one another, and support each other through the talks of what might we might be struggling with or supporting each other because someone lost a loved one.
"Our story is not the only story out there and I know that. So I feel so strongly that together, we can make a difference."
With that, the crowd headed out down the trail away from Dog Beach toward the Long Bridge. Some carried rocks which had messages of love and support written on them, others carried ones that had a message of something that had been bothering them.
Others carried along a balloon to release with a message to a loved one or a message of hope.
"You know, this is a powerful movement," Wyman said. "We're going to be walking the bridge together. You're going to have honking cars and everybody will see us. We are a force for change."
To learn more about Walk For HOPE and its work to raise awareness about suicide and suicide prevention as well, go online to walkforhopesandpoint.org
If you or someone you know needs help, if you are concerned about a loved one, or are just seeking information, the number to call is the Idaho Suicide Prevention Hotline 208-398-HELP (4357) or the National Hotline at 1-800-273-TALK (8255).
Recent Headlines
---