Clark Fork soars past Lakeside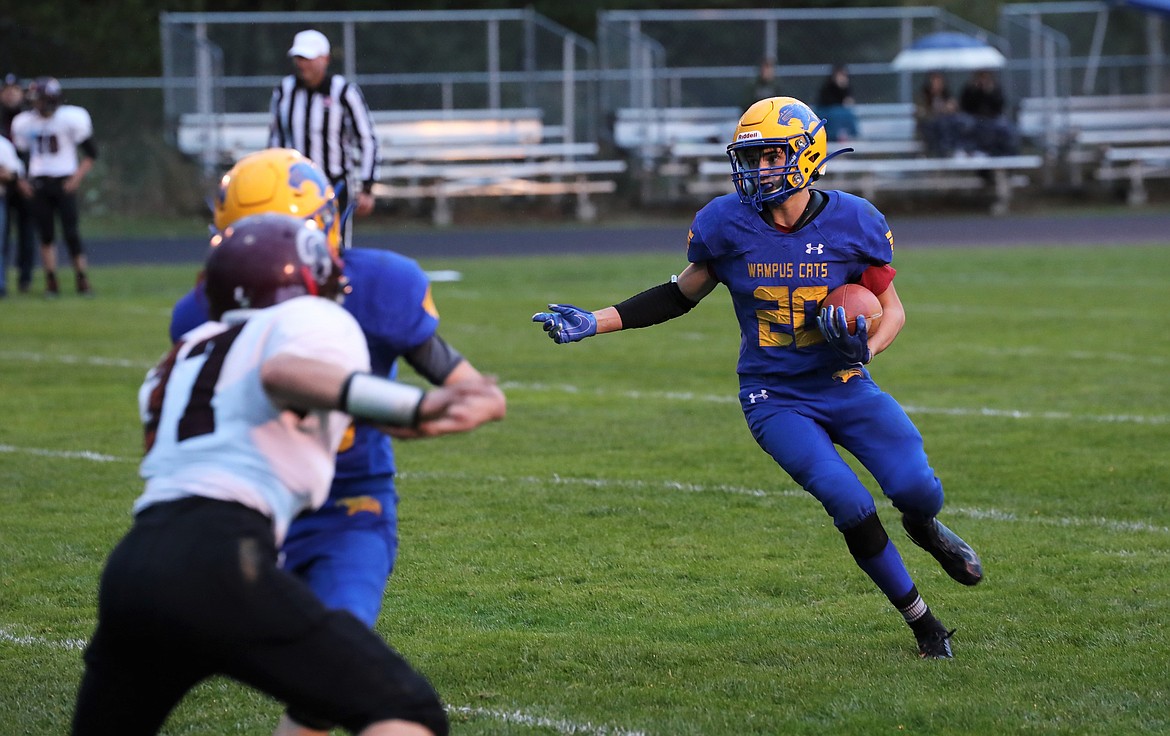 Sam Barnett tallied three total touchdowns and Carter Sanroman rushed for 180 yards as Clark Fork took down Lakeside 39-22 on Friday night.
(File photo by DYLAN GREENE)
|
September 17, 2021 11:57 PM
PLUMMER — Sam Barnett tallied three total touchdowns and Carter Sanroman rushed for 180 yards as Clark Fork took down Lakeside 39-22 on Friday night.
The victory allowed the Wampus Cats to end a three-game losing streak to the Knights.
"To get a win on their home field was nice for the boys," head coach Brian Arthun said.
The win allowed Clark Fork to improve to 3-0 on the season, but Arthun said his squad didn't play their best game. He said they were sloppy with the ball, coughing up four turnovers.
"A win is a win, whether it's ugly or not, we'll take it," he said.
The Wampus Cats trailed 8-6 at the end of the first quarter, but scored 22 points in the second to take a 28-14 lead into halftime.
"Once again we got off to a slow start," Arthun said. "The last couple weeks we just haven't been able to get off the bus running, but in the second quarter we settled down a little bit, put up a couple scores and played pretty well defensively."
Clark Fork controlled the clock in the second half to secure the win. Arthun said the defense had a pair of goal-line stands.
Sanroman grabbed a pair of rushing touchdowns and hit a 32-yard field goal.
"Carter played a monster game as he has all year," Arthun said. "We kind of rode him in the second half and he just kept on earning the yards."
Sam Barnett racked up 74 yards receiving and 53 on the ground. Sam and his brother, Hank Barnett, each had an interception.
Clark Fork heads to North Star League rival Mullan-St. Regis at 3:30 p.m. next Friday.
Clark Fork 6 22 3 8 — 39
Lakeside 8 6 0 8 — 22
First quarter
CF — Sam Barnett 11 pass from Ethan Howard (pass failed), 6:55
LS — Tucker Sanchez 3 run (Sanchez run), 1:07
Second quarter
LS — Quincy Hall 49 pass from Sanchez (pass failed), 9:31
CF — Barnett 7 run (Barnett pass from Howard), 9:15
CF — Barnett 4 run (Barnett run), 6:55
CF — Carter Sanroman 6 run (run failed), 1:19
Third quarter
CF — FG Sanroman 32, 5:31
Fourth quarter
CF — Sanroman 19 run (Howard run), 4:40
LS — Jonathan Sperber 2 run (Jamari Peone pass from Sanchez), 1:04
INDIVIDUAL STATISTICS
RUSHING — CF, Sanroman 27-180, S. Barnett 6-53, McDaniel 1-8, Howard 3-6, Montgomery 1-5. LS, Sanchez 20-55, Sperber 8-28, Hall 3-4, Brown 1-(minus 8).
PASSING — CF, Howard 5-10-2-74, H. Barnett 1-1-0-9. LS, Sanchez 6-12-1-126.
RECEIVING — CF, S. Barnett 5-74, Sanroman 1-9. LS, Hall 5-80, Peone 1-46.
---