City holds public workshops on sidewalk projects and park site concepts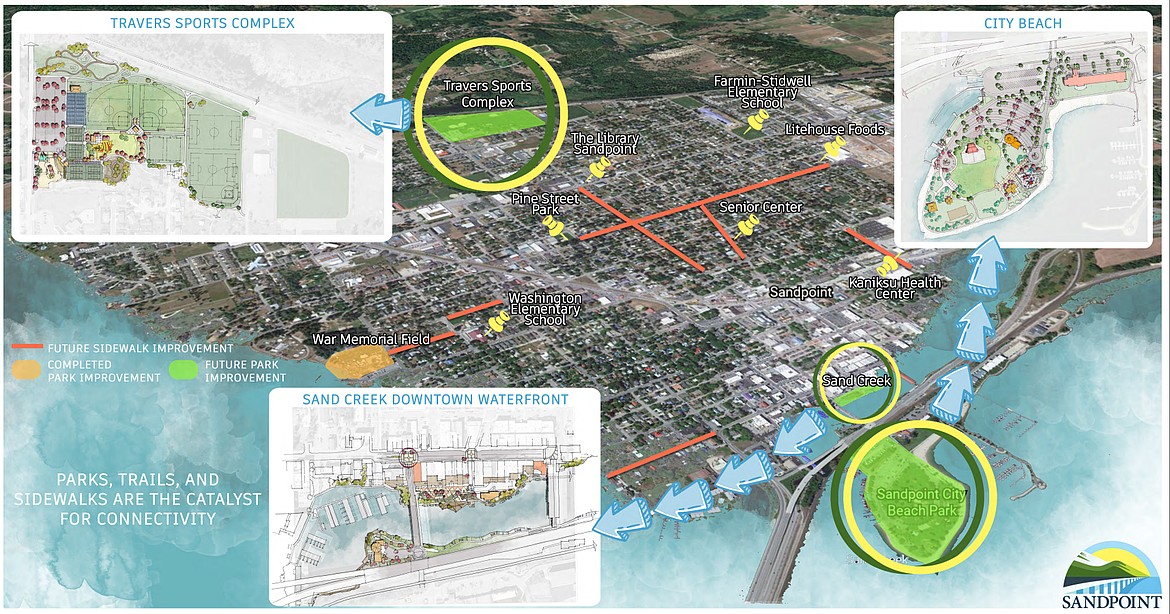 Sandpoint holds public workshops to discuss proposed sidewalk and park projects that would be funded by the proposed 7-year 1% sale tax.
(Courtesy photo)
by
EMILY BONSANT
Hagadone News Network
|
September 30, 2021 1:00 AM
SANDPOINT — Sandpoint officials plan to hold a series of public workshops to meet and discuss proposed sidewalk projects and park site concepts. The projects would be funded from the proposed 7-year 1% local option tax.
The sidewalk projects have been identified as critical connections to schools, parks, the library and senior center in the City's Pedestrian Priority Network in the adopted 2021 Multimodal Transportation Plan.
The site concepts for City Beach, the downtown waterfront and Travers/Centennial/Great Northern Sports Complex were developed as part of the city's Parks and Recreation Master Plan adopted in 2020.
Public workshops will kick off Friday Oct. 1, with more workshops to take place every week in October.
Oct. 1, 12 p.m. at City Beach with city staff at the Snack Shack.
Oct. 6, 7:25 a.m. city staff will participate in the Walk to School Day at the Lake Pend Oreille School District. After school starts staff will discuss sidewalk projects that will provide school connectivity.
The Washington Elementary Walking group will be meeting at the Bonner County Administration Building. The Farmin-Stidwell Elementary Walking Group will meet at the Library Sandpoint Branch.
Oct. 7, at 8 a.m. staff will go over the Sand Creek downtown waterfront. Meet with city staff at Farmin's Landing/Gunning's Alley.
Oct. 8, 12 p.m. Travers/Centennial/Great Northern Sports Complex. Meet with city staff at the Travers Skate Park.
The city encourages members of the public to dress for the weather and to wear walking shoes. In the month of October more workshops will be announced every week to inform the final design and phasing of projects.
The city estimates that the 1% sales tax will generate $12.9 million in revenue which will go to support Sandpoint parks projects, purchasing property for public open space, parks and recreation, sidewalk connectivity and improvements in the city's Pedestrian Priority Network.
The city predicts that of every dollar raised 85 cents will come from a non-Sandpoint resident.
For more information visit www.sandpointidaho.gov
Recent Headlines
---